Sliders Bella Women's Jeans Image Gallery
The Sliders Bella  women's riding jeans are protective, wear all day, decent-looking jeans.
It's sad but true that when it comes to motorcycle gear for women, the amount of choices available pale in comparison to plethora of gear available for men.
In recent years this has improved a bit, but the gear that is available sometimes suffers from being overly "girl" oriented with splashes of pink and sparkly bits.
While bits of bling might help move product of the racks, it does beg the question about how much care was taken to make the garment durable and protective versus "pretty".
I would prefer to see less fashion statement and more of an "I'm not going to let anything happen to you" endearment.
I was recently provided a pair of Sliders Bella Women's  jeans and upon receiving them, I was pleased at the absence of bling…but I also didn't see much that was shouting protection either.
Was I missing something here, or were the jeans?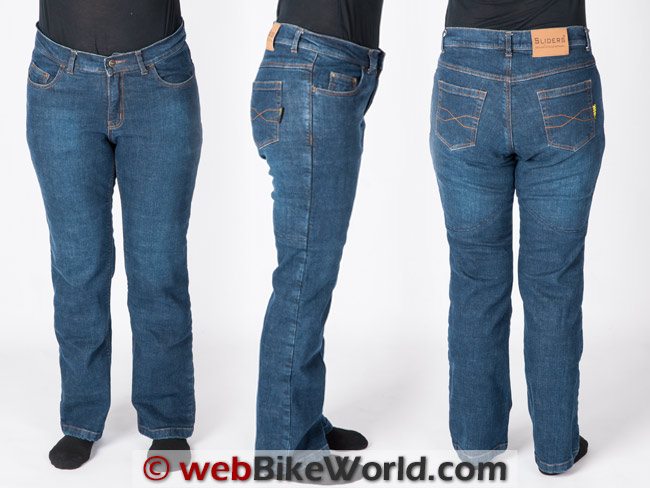 Sliders Bella  Women's Jeans
Upon opening the package, I noted that the jeans have a weighted feel and a soft cotton touch. The Bella jeans are available in both the blue shown here as well as black (in limited sizes presently on their website). The denim is dyed a relatively dark blue and the styling is rather subdued.
There are no fancy loops of embroidery climbing up the legs nor are there wild designs on the back pockets.
From the outside, these jeans look like your typical 5-pocket denim, with only a single row of double stitching on the back of the thighs giving a clue that these might be a little different. Have a peek at the insides though, and the story changes dramatically…
UPDATE (February 2014): The gloves do use DuPont brand Kevlar in the construction as the "aramid fibers", according to Competition Accessories, who has the gloves manufactured under the Sliders brand name.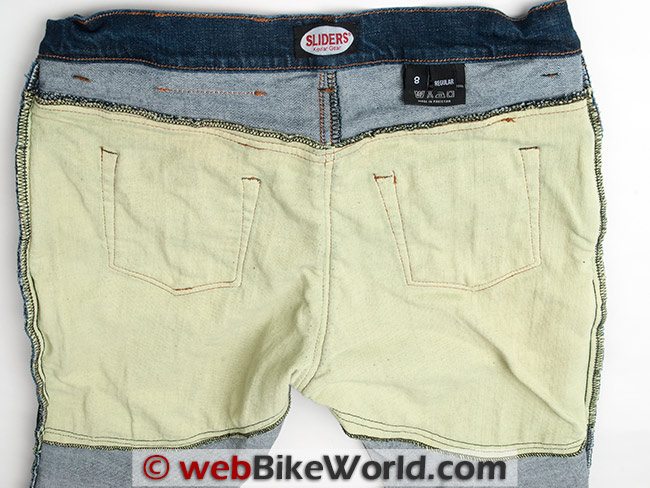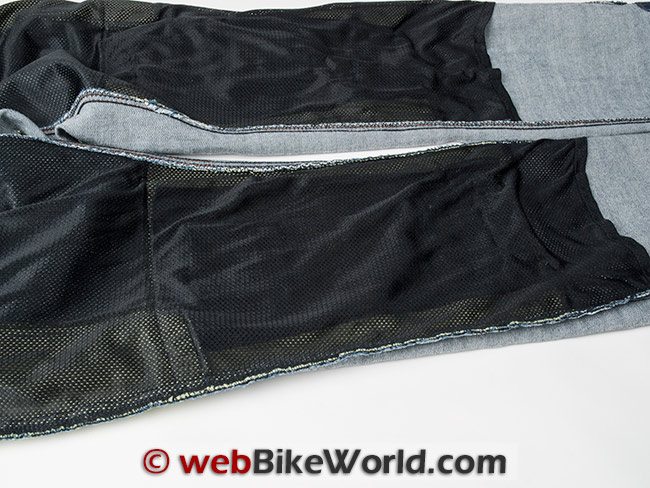 Construction and Protective Features
Based on the label sewn on the inside, the Sliders Bella Women's Jeans have an outer shell of 100% cotton and lining made up of 80% "aramid fibers" and 20% polyester. These extra protective layers are the reason for the weighty feel I mentioned above.
The outer shell has double stitching construction with the two back pockets having added mild decorative stitching.
There are two front pockets and within the right pocket is a place for coins. The zipper is devoid of branding and is a metal zipper with sturdy teeth and a fairly smooth zipper track. The front closure button is a metal button fastened by a metal tack.
Of note, the button hole did have double stitching but there were signs of fabric shredding and the stitching was coming loose. This is after only one wear before being washed.
The inside lining has yellow aramid fiber (DuPont Kevlar, according to Competition Accessories) for abrasion resistance that covers the hips, seat, back of the legs, mainly across the hamstrings, and at the front of the legs down to nearly the ankle. There is a soft polyester mesh lining located on top of the aramid fibers on the front of the legs and this runs all the way from the waist to just a bit higher than ankle. Inside that mesh lining are pockets that will accommodate optional knee armor.
Based on the way the lining is sewn in, the knee armor can be strategically placed in three possible positions through use of multiple hook and loop fastening strips at the opening and top of the pocket.
Even though these jeans are a relaxed fit, they still fit closely enough in the knee area that making use of the optional armor should be effective. In some informal testing (no real crashing) using some armor from other apparel, the knee armor should stay in place over the knee.
Also, the leg openings at 18″ were large enough to accommodate my riding boots so there was no need to tuck them if I didn't want to.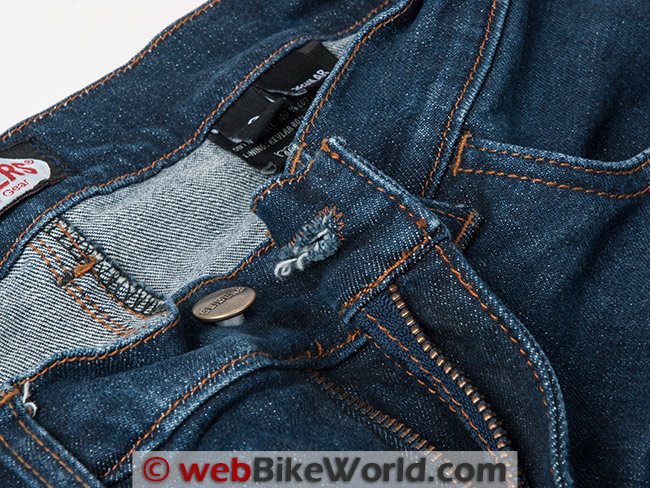 Fit, Sizing and Comfort
Sliders Bella Women's Jeans are accurately advertised as a relaxed fit jean. I wear a solid size 8 and I found these jeans to be a bit loose, meaning I needed to wear a belt to assure the pants did not sag below my waist.
It is also advertised that these jeans have a "premium stretch denim", which seems accurate, although according to the jeans label they are a 100% cotton outer lining which would not account for the "stretch" part of the denim unless there is some spandex or special weave that has not been included in the description.
The sizing chart at the Competition Accessories website states that the waist for a size 8 jean is between 32″ and 34″ for the waist and 30″ for the inseam. My size 8 jeans have a waist that measures 36″ and will stretch to nearly 38″. The inseam was accurate though, measuring right at 30″.
My initial perception of the "protective jean" description was that of a cotton/polymer blend that would be scratchy and stiffly fitted. The Sliders Bella Women's Riding Jeans are anything but that, as it turns out.
I find these jeans remarkably comfortable both on and off the bike. The stretch of the jeans makes it easy to swing a leg on and off the bike without any signs of discomfort. I wore the jeans an entire day once off the bike and did not find any issues in comfort or practicality of wearing what is basically a piece of protective gear as street clothes.
►
 Sliders 4.0 Cargo Pants Slide Show
 ◄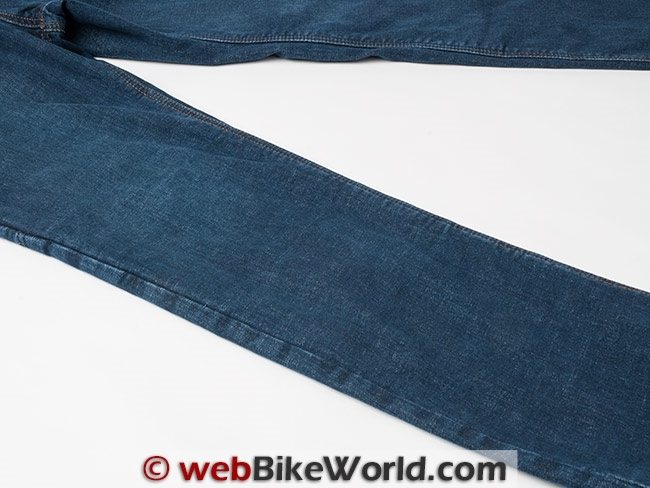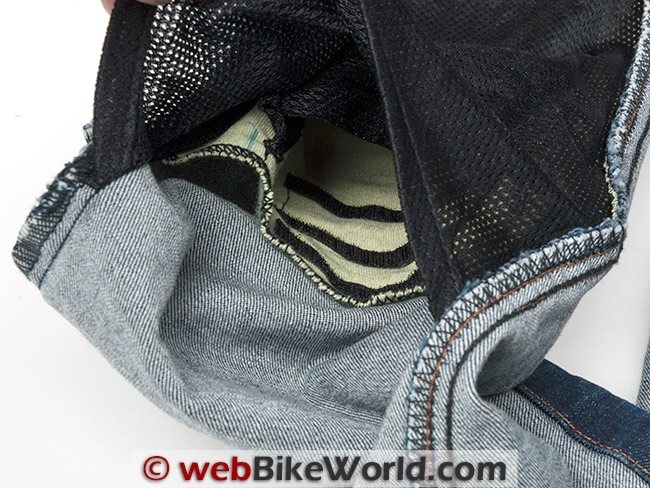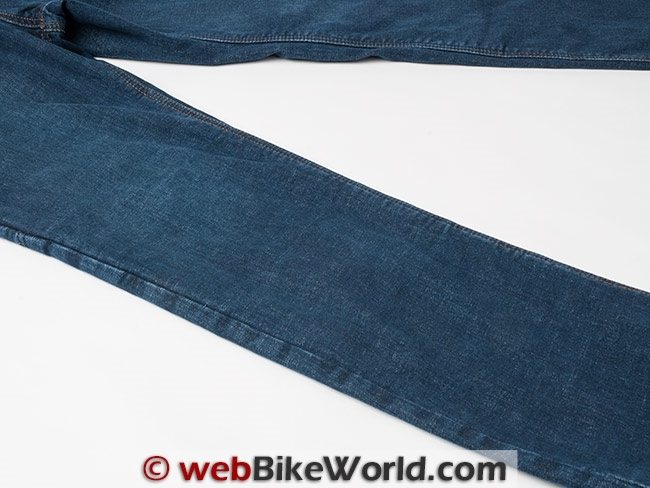 Conclusion
The Sliders Bella Women's jeans seem to be a great option for protective gear that can be worn on and off the bike.
These jeans are comfortable; they are available in multiple sizes (including short, regular and tall inseams); and with the quality construction and reasonable price, well worth the purchase.
I give the quality of construction a "good" rating and would have given it an "excellent" rating had it not been for the shredding button hole.
Also, I have been washing the jeans in cold water and used the warm setting for the dryer. I found that the color did not fade and the pants did not wrinkle with the exception of the front of the waist band.
Overall, the Sliders Bella Women's jeans are easy to live with and live in. For the $79.99 price they may not make much of a fashion statement, but they should be worth their weight gold if one were to have a crash.
The sizing appears generous, so if you teeter between two sizes I would suggest going to the smaller size, unless you prefer a truly loose fit. Sliders sizes can make a girl go with one size smaller than usual, and for some of us that is very satisfying!
More wBW Women's Motorcycle Clothing Reviews  |  Motorcycle Jeans Reviews
w

BW

 Review: Sliders Bella Women's Jeans
List Price (2013): $79.99
Note:
 For informational use only. All material and photographs are Copyright © webWorld International, LLC since 2000. All rights reserved. See the webBikeWorld® 
Site Info page
. Product specifications, features and details may change or differ from our descriptions. Always check before purchasing. Read the
Terms and Conditions
!
Owner Comments and Feedback
---
From "H.S." (September 2013): "Bought a pair of these for the GF a few months back when I bought another pair of Sliders 4.0 Men's Jeans for myself.
She had tried Sliders (version unknown) some time ago, but having previously only been offered in Men's sizing, did not fit her in a complimentary manner. As a result, a non-flattering fit resulted in her not  wearing them. As we all know, M/C safety gear not worn serves no purpose.
I took the gamble and ordered a size smaller than she normally wears based on the fitment comments in this wBW review, and my experience with the men's version. Note that the sizes offered are even numbers only. She normally wears a size 5R and is about 5'4", 120lb. I ordered a size 4R and they fit her fine and the length was long enough to provide coverage when riding.
The stretch fabric is a nice touch and they looked nicer on her than some of the "fashion" jeans she normally rides in. As she is an extremely active MSF-certified RiderCoach for several local providers, as well as a pro demo rider for a major M/C OEM, ATTGAT must be adhered to. She wears textile riding pants a fair portion of the time, but like most riders, she wants to ride in jeans as well.
The proper fit was a win-win for her and myself as riding in "fashion" jeans looks great on her, but offers virtually no protection. The good fit and looks  in tandem ensure that she voluntarily wears them. Now if I can only get her to use the optional knee armour I bought her for them!"