Padded seat in a pair of undershorts don't work very well for motorcycle use.
I can't remember how I first came upon the Sit Relief shorts, but they looked interesting, so I ordered a pair.
These shorts are made from a polyester and Spandex material that fits snug to the body. The seat of the pants has a large foam insert for padding.
Sit Relief pants were originally designed for medical purposes, for people suffering from lipoatrophy.
That is defined as "the loss of subcutaneous fat from specific areas of the body including the face, arms, legs and buttocks (lipo = fat; atrophy = loss).
The shorts are made in the U.S.A. and the manufacturer, LipoWear LLC sells them under the SitRelief and LipoWear brands, with the SitRelief brand targeted at the general public and for motorcyclists.
The shorts are available in sizes for men and women.
It looks like the shorts can only be purchased through the LipoWear website however. They do offer a money back guarantee "if you are not satisfied with the sitting pain relief".
I have never been diagnosed with lipoatrophy, but I don't have much fat or muscle in my butt and I get sore pretty fast sitting in a restaurant or on some types of motorcycle seats.
So I'm usually on the search for a solution.
I've tried the various types of saddle pads, like the type that are inflatable and the gel pads. They help, to a certain extent, but they all seem to be designed more for sit up straight cruisers than sportbikes.
On a sportbike or non-cruiser, the gel and especially the inflatable type of pads leave me feeling like I'm sitting on ball bearings or an exercise ball or something — like I'm elevated off the seat and rocking back and forth in the turns.
It affects the seat/body relationship that is needed to "feel" the bike and maintain good control in fast corners.
They also can add up to 50 mm or so in height, and this can make the difference between being able to touch the ground with my feet or not.
Usually, the best answer is a custom saddle, but that can be very expensive and there's no guarantee that after spending hundreds of dollars that you'll actually have solved the problem. Thus, the search for less expensive solutions.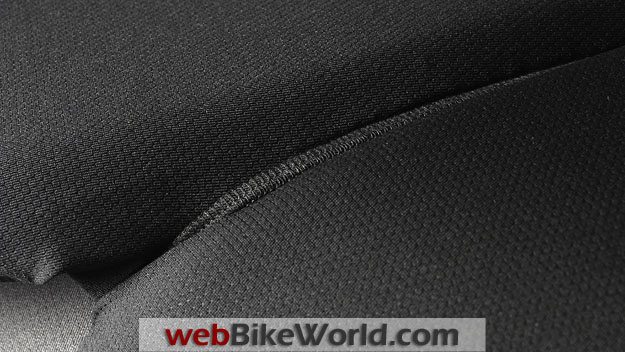 Sit Relief Shorts
The Sit Relief shorts are sized to run large, per the manufacturer. The sizing information isn't available until you click the "Buy Now" button, where you'll find a page with a lot more information on the product and a size chart.
I have a 35 inch waist, so I ordered the size "C" for the 34-36″ waist. It's a little more confusing than it should be because you have to order smaller than you think, then the sizes are listed as A through F, but when the shorts arrived, the label says "M".
Go figure. These fit me fine though.
The material that the shorts are made from with the Spandex fits very snugly but the company says they are not compression shorts.
They appear to be well made with good quality stitching and only a few loose threads here and there that I carefully trimmed off, hoping that they do not run.
The front of the men's shorts has a fly opening (no zipper) and the padding is permanently installed in the rear of the pants.
The foam felt very squishy when I squeezed it with my hands, but it seems to stiffen up once the pants are on, I think because there is a very large surface area to spread the weight of the wearer.
The foam pads cover the entire backside. There are two pads, one for each cheek.
In the size M, each pad (each butt cheek) measures about 10″ across at the widest, just below the crotch, and they are 18″ long from the bottom edge of the waistband to the bottom hem of the leg.
The foam feels pretty strange when I walk around wearing the shorts, sort of like I have a few newspapers or some cardboard stuffed in my underpants.
The manufacturer says that the foam will loosen up slightly after the shorts are washed a few times, and I've only washed these twice so far, and they seem to have loosened up maybe a little.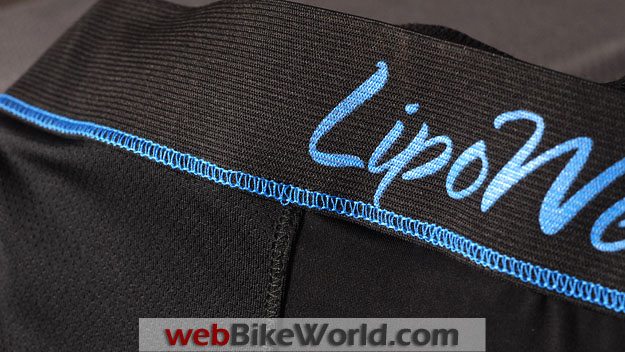 Results
I guess I'm of mixed feelings on how the Sit Relief shorts work. For motorcycle riding on a non-cruiser, like a sportbike or standard bike, with a seat that is not as wide and flat as a cruiser, the foam is spread too far out to the sides and not enough in the center.
A sportbike saddle usually carries more of the rider's weight towards the center than a big, flat, wide cruiser seat.
So the Sit Relief shorts don't cushion what I guess is my ischium bones (the bones in the lower pelvis that bump against the seat) as much as I'd like.
Too much of the foam is covering the outer portions of the rear of my thighs and this area doesn't sit on the saddle itself, it hangs off the sides.
I'd like to see them make a pair of these shorts designed specifically for sportbike riders, with less foam at the outer part of the seat and more in the center. I think this would help reduce the "big butt" look also when wearing the shorts under a pair of pants.
The build quality is good and the pants are comfortable (although you have to get used to the snug/tight feeling), but the large surface area of foam still gives me that rocking-horse feeling and doesn't protect me enough in the center.
The shorts do help when sitting on hard wood and I considered wearing them to a minor league baseball game around here, but they sort of make my pants look like, well, like I have a load in them, so I nixed that idea.
Conclusion
I think the concept of the Sit Relief shorts is good and I'm sure there are many users who benefit by them, especially those with medical problems. But for my type of riding, I have mixed feelings on them.
I also think they work better on a flat cruiser seat or a stadium seat than on motorcycles with narrower saddles, like a sportbike.
I think these are the type of product that some motorcycle riders will love and others may not.
The only way to find out is to try a pair, and I can only give you my impressions based on my particular situation.
w

BW

 Review: Sit Relief Shorts
Manufacturer: LipoWear LLC  (also Sit Relief)
List Price (2010): $89.00
Colors: Black
Made In: U.S.A.
Review Date: October 2010
Note:
 For informational use only. All material and photographs are Copyright © webWorld International, LLC since 2000. All rights reserved. See the webBikeWorld® 
Site Info page
. Product specifications, features and details may change or differ from our descriptions. Always check before purchasing. Read the
Terms and Conditions
!
Owner Comments and Feedback
---
From "C.B." (10/10): "My wife has very little fat (anywhere) and the "Sit Relief" shorts have been a tremendous asset to our motorcycling.
We ride two-up on a cruiser, the bike has a larger than stock pillion pad but she still would suffer from butt fatigue on long rides. We tried bicycle padded shorts and she really didn't feel much improvement or difference.
Lipo-wear shorts were recommended to us when we were at a travel-log at the local BMW dealership. I ordered the shorts online, they arrived quick, looked well made, and were made in USA!
The women's padded liners were sized as expected, the size small fit her perfect [she wears a 4 to 6 jean size]. She tested them on 150 mile ride through the Finger Lakes and was very pleased! Now I know she is enjoying the ride no matter how far we ride."
---
From "R.C." (10/10): "I have not heard of these before, but I had worked out my own solution over 20 years ago – high quality bicycle shorts with breathable, moisture wicking 'synthetic chamois' lining.
About 25 years ago I had begun using bicycle shorts with real leather chamois, but the newest synthetics are much superior – breathable, more durable, much softer, and easier and quicker to wash and dry.
The bicycle shorts do fit skin tight, like compression shorts, and with their smooth seams, long length, wick dry synthetic lining and lack of bulk, offer the best possible comfort for those long days in the saddle while riding cross country.
I will never again leave on a more than a day long ride without a pair on!
They never bunch up, never bite, reduce butt burn and feel and look 'slim and trim'…
The manufacturers also make full length pants and tops, with matching unsleeved tops and short sleeved and long sleeved tops, as well.
I love my Sugoi brand shorts, made here in Vancouver, British Columbia. Now that the fall weather has started, I am getting a pair of long leg cycling pants to wear under my riding pants soon.
When in casual slacks and pants, I often wear my Bohn armoured underpants, and wear the cycling shorts under everything, next to my skin. try some for yourselves."
---
From "D.S." (10/10): "Actually a lot of (bicycle) shorts do have some padding in the crotch and butt area. Frankly without that most road bicycle seats will get to know you a little too well if you know what I mean. You should check them out at one of the online bike shops. They are padded and are often made with Coolmax which can be a big help in the summer. And they do work even for a fat guy like me."
---
From "R.K.H." (10/10): "It was I who suggested you or your staff review these shorts. As I ride a BMW R1200GS my riding position is much more upright than a sport bike rider's position. Here's my take on the shorts.
Sitting upright on a Russell Day Long saddle, the shorts provide padding both on my ischium (tail bone) and down the back of my legs.
The Russell is a firm seat and the shorts provide just enough padding that my backside is much more comfy when I do longer rides (350+ mi) and especially when doing multi-day rides (e.g., 2,000 mi in 4-5 days).
I also like riding in the twisties and haven't felt that the padding interferes with my feeling of the bike. Maybe that's because I have a more upright riding position.
The only downside I see to the shorts is that they are too warm when the temps get above about 90 F.
Disclaimer: The developer and co-owner of the privately held company that produces these shorts is an old and long-time friend of mine.
When he started selling the shorts after 5 years of research I asked him to send me a pair to try out riding. They were a boon to my long distance riding and I suggested he market the shorts to the m/c riding community.
Some time later I had the opportunity to buy into the company and now own a small share (2%) in it so I do have a conflict of interest. I did not however, when I first told the m/c community about it on the Advrider site (in this thread)."