Australian company Saint has been instrumental in helping develop a single-layer denim to protect motorcycle riders from abrasion injuries.
Their "Unbreakable" range of riding jeans, jackets and gloves is made from a special blend of 34% cotton and 66% Ultra High Molecular Weight Polyethylene (UHMWP) that they claim now meets CE standards for six seconds of abrasion resistance or the equivalent of up to 75m of sliding.
We have reported before on Saint Unbreakable jeans which cost $300 to $700, but were unable to provide a verdict.
So Saint of Melbourne asked us if we would like to review a pair of their top-of-the-line Unbreakable 6 jeans.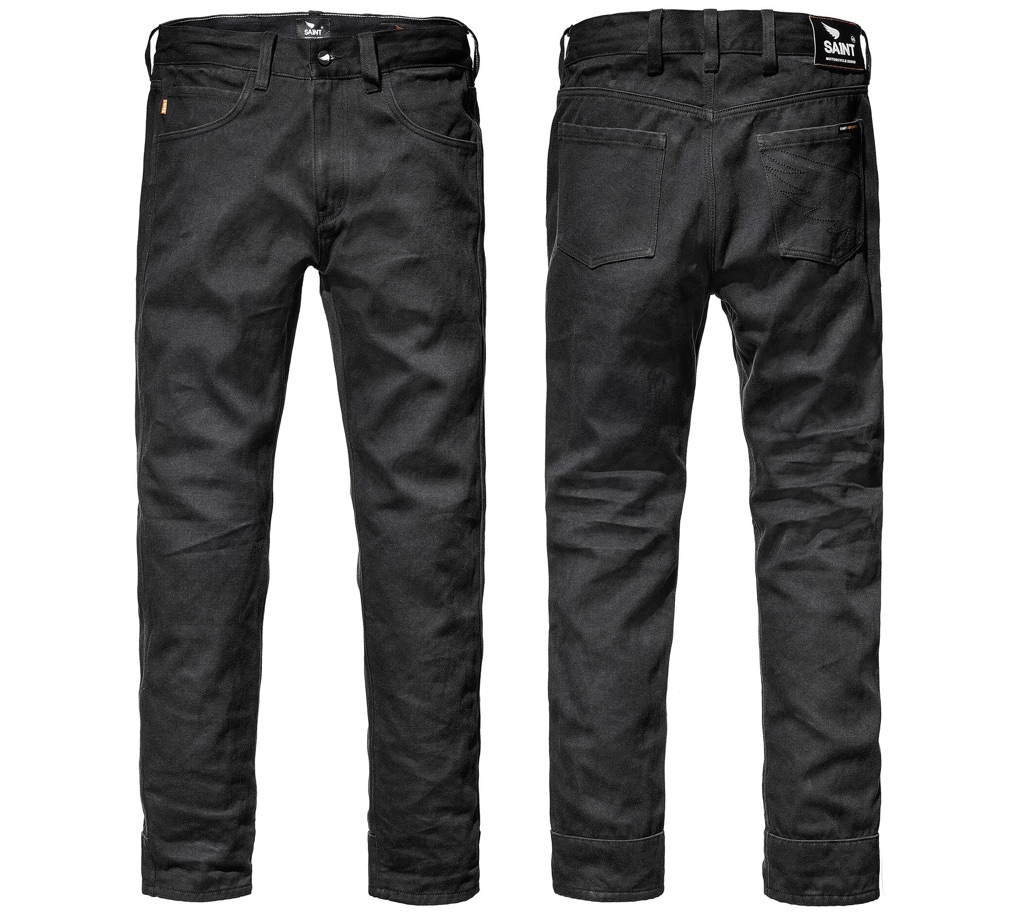 Lighter than most
The first thing I noticed was how light they felt.
Many pairs of the riding jeans I have in my cupboard feature up to three layers – denim, a protective layer (usually kevlar) and then a microfibre lining to protect your legs from the scratchiness of the protective layer.
These jeans are just one layer, so of course they are lighter.
Besides, UHMWP may be stronger than steel, but it also floats.
The saint black jeans arrived on one of the hottest, most humid and uncomfortable days of a Brisbane summer, so I was somewhat reluctant to put them on and go for a ride.
However, we Queenslanders are a bit stupid from all this heat, so put them on and headed out for a ride.
As soon as I slid my legs into the tapered jeans, I was surprised at how cool they felt. Not cool in a style way (although hipsters would argue that they are), but cool to the touch.
The material looks like regular denim on the outside. But thanks to the special counsel warp-beam weave (whatever that is), they look like white plastic inside.
Cool-feeling jeans
The interior also feels cool like plastic does even on a hot day.
I didn't expect that feeling would last once I got out in the summer sun and started riding around in traffic, but I was amazed at how cool they stayed.
Sitting in the hot sun at the traffic lights, the black attracts the heat which makes your thighs warm.
The plasticky interior means the material doesn't breathe, so you get sweaty and clammy.
However, they never get prickly in the heat like the Kevlar in most other riding jeans.
The hipster shape of thin lower legs, baggy thighs and saggy bottom might suit some people's style, but not me.
However, it works on a motorcycle. The tight lower leg means they don't flap around in the breeze and the baggy thigh and bum sections mean they don't uncomfortably bulk up at your knee or hip joints.
That's also thanks to the thin single layer material.
These really are riding jeans you can ride in all day without feeling uncomfortable and that is exactly what Saint sought.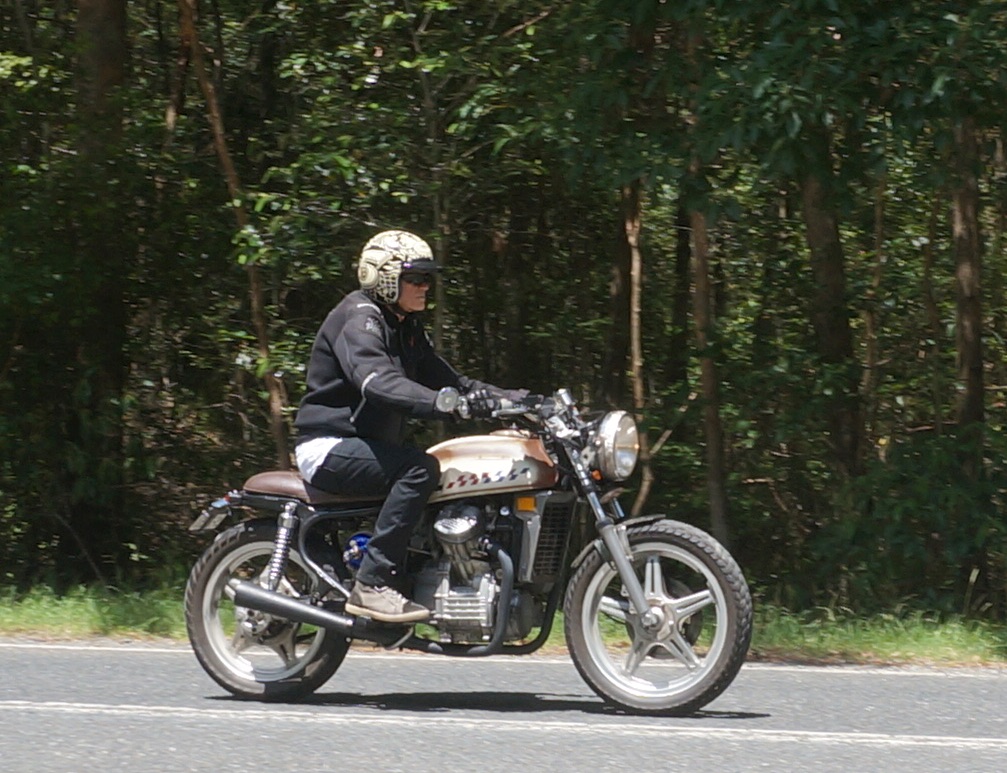 Crash claims
As for their crash resistance, we cannot make any assessment without crashing in them and we have no intention of doing that.
However, they feel substantial and strong with double sticking throughout and triple-stretched "felled" seams.
Some critics claim the material has a low melting point and although it may not burst open on impact, it could melt on to your skin in a slide.
However, the melting point of UHMWP is quoted as around 130°C, which seems pretty high to us. 
I've also pressed the inside material directly on to the hottest part of an exhaust pipe for several seconds and couldn't see any signs of melting.
There is no provision inside for hip or knee CE protectors. That would ruin the fit and style of the jeans, I suppose, so you would have to weigh up your level of safety.
However, riders should feel confident about abrasion protection considering it is right throughout the jeans, not just in the most crash-prone areas as in some other brands.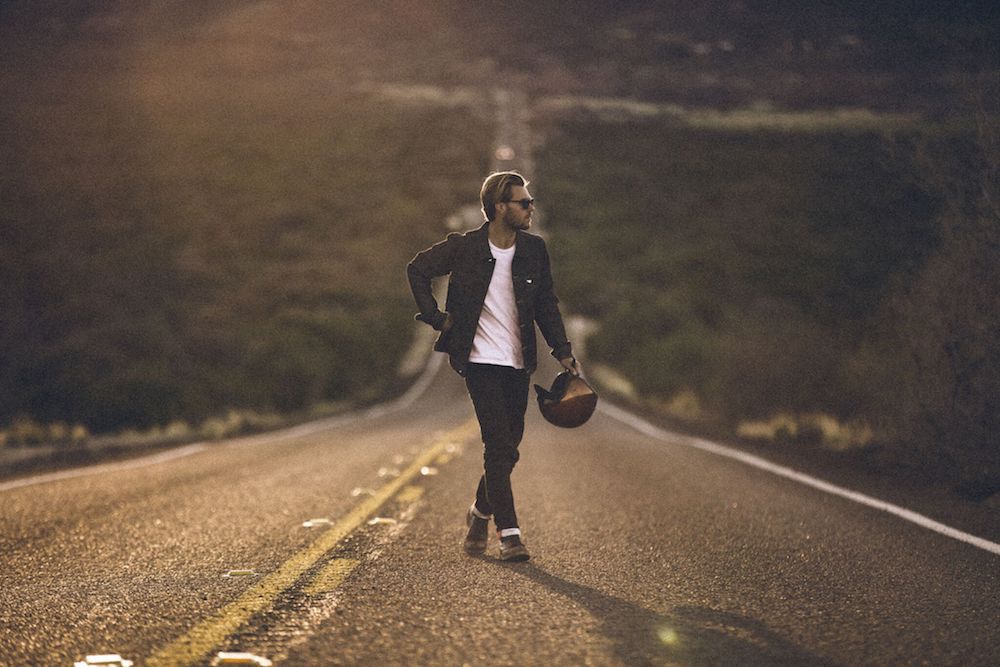 Stylin' up
These slim-fit Saint Unbreakable jeans are designed to be worn with the cuffs rolled up – '50s rocker or millennial hipster style – which reveals a bright orange reflective material at the back of the ankles which is a safety feature to alert following traffic.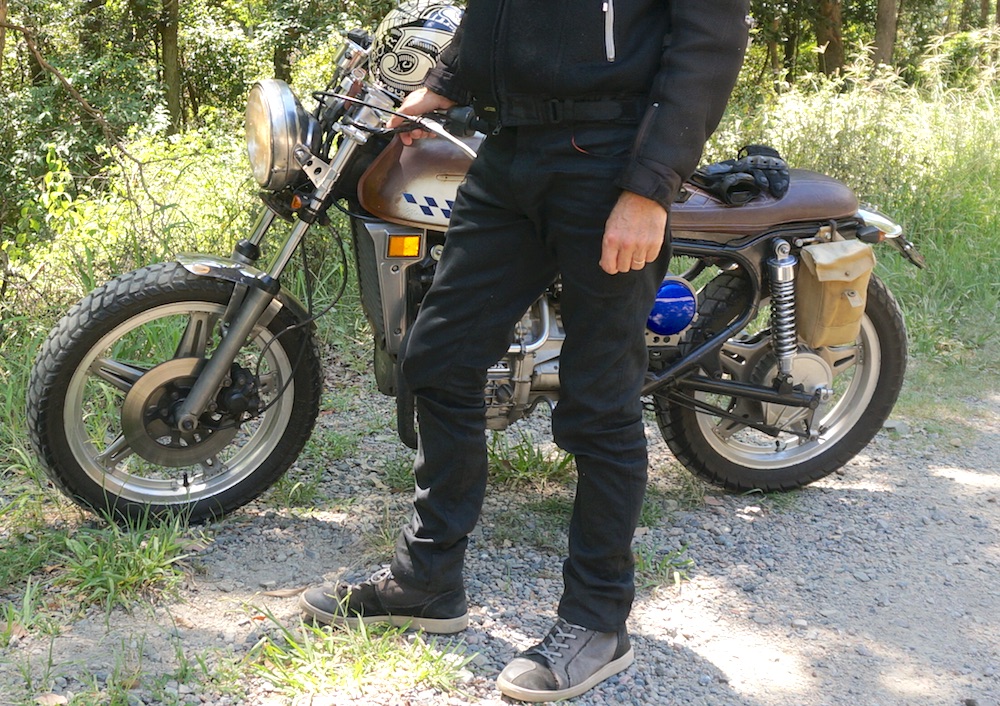 However, I kept mine rolled all the way down so there was plenty of length to cover my ankle-length motorcycle shoes.
The jeans come with five pockets like most jeans, including a coin pocket which is big enough to even get gloved fingers into.