Single-layer motorcycle clothing that passes safety tests is getting closer with DSM Dyneema gaining European approval after the latest tests.
Their single-layer denim with elastic material and a large amount of Dyneema has passed the four-second abrasion test.
It now gains an EN13595-1 approval for level 1 which means abrasion resistance of four seconds or more. Level 2 approval is for more than seven seconds.
The first generation of Dyneema Denim for motorcycle clothing was made of more than 50% Dyneema fibre.
It was launched in 2015 after years of research, but it did not have level 1 approval.
In fact, it is believed it had less than two seconds of abrasion resistance.
The material has been used by Australian motorcycle clothing company Saint in their expensive "Unbreakable Denim" range which include $700 pants and $600 jackets.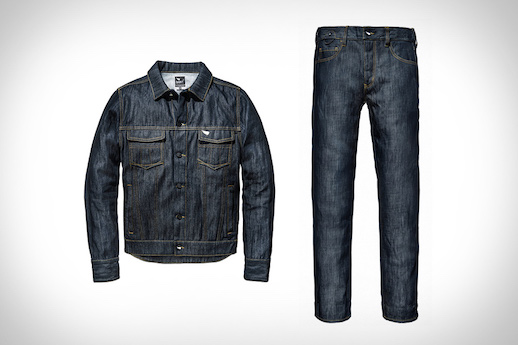 Although DSM Dyneema have not disclosed how they have achieved the new approval, we believe it may have been achieved by adding more Dyneema.
Dynamo is 15 times stronger than steel but floats on water. It has long been used to moor oilrigs, sail ships, stop bullets and repair human ligaments.
The problem is that Dyneema has a low melting point which means friction can melt it in a slide down the road.
The advantages if a single-layer are that without the need for an extra layer they should be cooler, lighter and more comfortable.
16 seconds of protection
Meanwhile, Australian motorcycle clothing company Draggin Jeans has also been developing a one-layer protective denim that does not use as much Dyneema.
Company CEO and founder Grant Mackintosh says they took their in-development single-layer denim to the recent INTERMOT show in Cologne.
He says it was tested on an official abrasion machine and recorded up to 16 seconds of abrasion resistance.
Draggin has promised a range of new clothing coming soon and we believe it may feature this single-layer denim.