Turban-wearing Sikhs should be exempt from wearing a helmet while riding motorcycles on streets posted up to 60km/h, say a group of NSW Sikhs.
The Central Coast of NSW Sikhs are campaigning to Coffs Coast Council for the right to not wear helmets.
They are not fighting the ruling on humanitarian or religious grounds, but the inconvenience of having to remove their turban to put a motorcycle helmet on and then re-wrap the turban after riding.
The group approached Coffs Harbour councillor John Arkan, the state's first Sikh representative, but he is not in support.
Sikhs support plea
The Sikh Motorcycle Club of Australia say it is a discriminatory law and agree that Sikhs should be exempted from wearing helmet at low speeds.
However, clubs members have found a way around the rules.
Founding member Daljeet Singh told us last year that while initiated male and female Sikhs must cover their hair with a turban, Sikh Motorcycle Club members wear a bandana-style scarf underneath their helmets.
"We were actually fined riding out of a temple celebration with turbans on instead of our helmets," he told us.
"But that's not the reason why we started wearing helmets. It's how we feel. We respect wearing the turban, but because the law doesn't allow it we wear a little scarf underneath the helmet."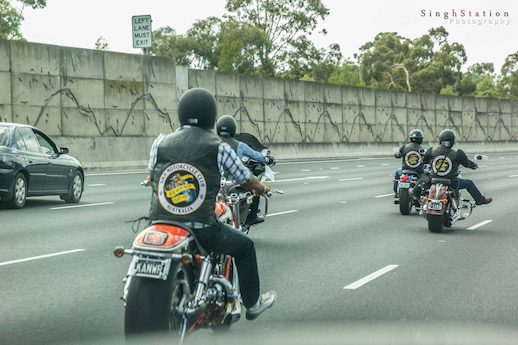 He points out that Sikhs are exempt from wearing a turban while riding a motorcycle in India, the UK and parts of Canada for religious human rights reasons.
Exemptions knocked back
However, the plea for a helmet exemption is likely to be knocked back.
Firstly, the local council can't do anything about it. The matter would have to be decided by Centre for Road Safety .
A Transport NSW spokesperson says the Centre for Road Safety has not received any submissions seeking an exemption from the requirement to wear a helmet when riding a motorcycle.
They point out motorcycle riders are some of the most vulnerable road users and that there have been 43 motorcycle fatalities so far this year.
"Protection is important. By choosing safer helmets and riding gear, motorcyclists can ensure they have the best protection," the spokesperson says.
"A helmet could be the difference between life and death in a crash."
Australian Motorcycle Council chairman Shaun Lennard is also on record as saying he would not support such an exemption on safety grounds.
Previous efforts by individual Sikhs to gain an exemption have met mixed results.
In 2013, a Queensland court ruled that a turban-wearing Sikh didn't need to wear a helmet while riding a bicycle, but that ruling has not yet been tested for the use of riding motorcycles.
When Hobart rider Harpreed Singh was rejected for an exemption in 2013, Tasmanian anti-discrimination commissioner Robin Banks said it would be better to exempt the entire Sikh religion rather than individual Sikhs having to apply for an exemption and then prove they have one if they are stopped by the police.
Do you think Sikhs should be exempt from wearing a helmet at low speeds? Leave your comments below.