How many motorcycle dealerships have you been to that have signs saying Please do not sit on motorcycle?
The signs could be one of the reasons motorcycle sales are down.
They indicate a level of unapproachability in motorcycle dealerships.
It's bad enough that many dealers don't allow demo rides, but not even sitting on a motorcycle is a bit much!
Whenever you see a nice motorcycle, the first thing you want to do is sit on it to see how it feels.
We can understand that you should never sit on another rider's bike for many reasons. Click here to find out why.
Here's another good reason, courtesy of Sons of Anarchy!
But a motorcycle for sale in a dealership is not another rider's bike until it is sold.
Then, by all means, put a "Sold" sticker on it and most riders would know not to touch it.
Please sit on our bikes
If dealers want to make customers feel welcome, they should put out signs saying Please come in and sit on our motorcycles!
If you go into a clothing store, they don't stop you trying on clothes and car showrooms don't stop customers sitting in their cars and playing with the controls.
We can understand if it's an expensive, historic or racing model (as is the case with the main photo in this article) that is for display only.
However, all motorcycles and scooters for sale should be available to be sat on.
Motorcycle industry veteran Dale Schmidtchen says he has seen Do not sit on motorcycle signs around the world in various languages.
"I've even seen signs saying Don't sit on this bike unless you are going to buy," he says.
"You just don't see that in other industries, particularly the car industry. And you wonder why they have record sales while motorcycle sales are down!
"Many dealers won't let you demo ride them or they ask you to book in to go for a test ride at some future date. So they may as well let customers at least sit on them.
"In fact, they should have signs saying Sit on this bike and tell us what you think!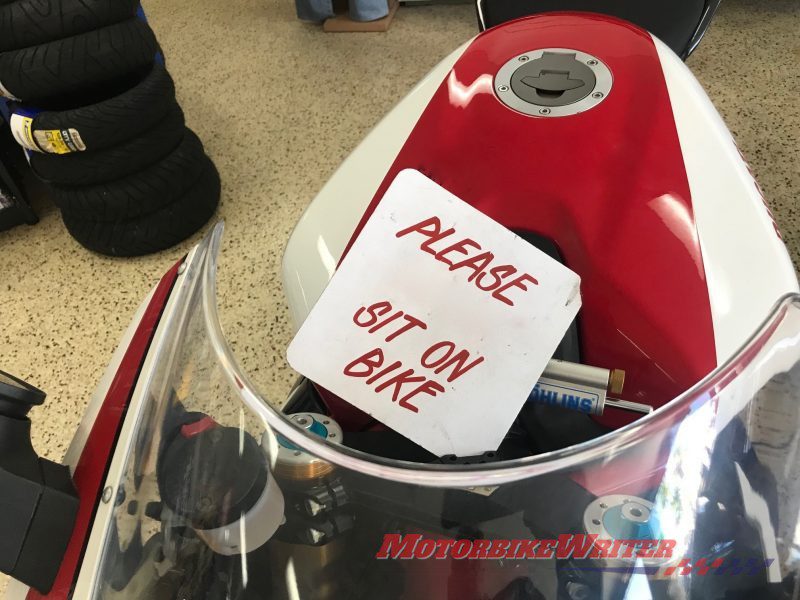 "I can understand some trepidation about school kids sitting on motorcycles, but they are the next generation of riders.
"If you can't let people sit on your motorcycles what are you doing in the industry?
"Motorcycling should be the most non-discriminatory industry.
"I've seen some people come into a dealership and they look like they have no money at all and then they pull out a roll of cash."
Check out this scruffy guy who bought a Harley with cash!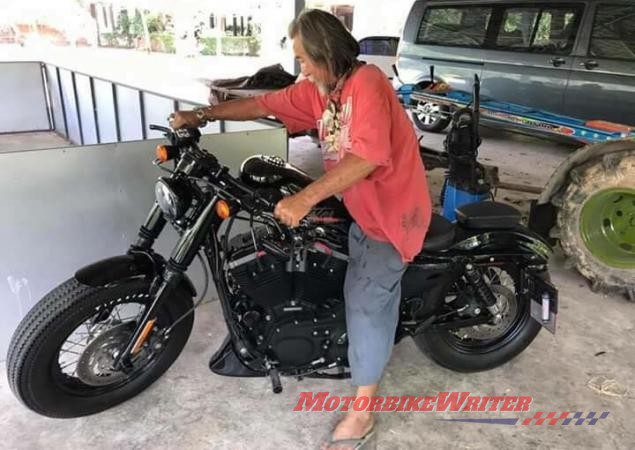 Be careful when sitting on bikes
If you do sit on a motorcycle in a showroom, be careful of your belt buckle scratching the tank.
Also, be careful of slippery shiny floors that could be spell disaster if you take the bike off its side stand.
Be aware that some Harley-Davidson motorcycles have alarms that will activate if you sit on the bike without the key fob.
However, the dealer can activate a "shop mode" that allows customers can sit on them without setting off the alarm.
Otherwise, they can tape the key fob under the tank or put it in the panniers.