Sidi On Road Gore-Tex Boots Review Summary
Sidi On Road Gore-Tex Boots Image Gallery
The Sidi On Road Gore-Tex boots are the number one boot for this rider.
They are an impressive example of what sound design, technological innovation and craftsmanship can produce.
Absolutely waterproof, breathable, warm, comfortable, and easy to care for day in, day out.
With clean, simple lines and their obvious quality and durability, it will be a long time before these boots lose their appeal or wear out!
Two of a kind is better…
This (long) overdue review was prompted by two factors. The first was my arrival back home after another fall jaunt on the BMW F 800 ST, followed by a late afternoon sunning session which led me to further contemplation of the subject of motorcycle footwear.
Secondly, having now gone from owning one well-used pair of all-weather boots to having three pair taking up space in the front closet, these newest items deserved some attention.
Until my recent acquisition of the Sidi On Road boots, only one pair managed to live up to billing as the premier all-weather, all-season motorcycle footwear; an early version of Triumph's Expedition boots.
The Triumph boots have seen a lot of traveling, through all seasons and many riding adventures, all without much care on my part (guilty as charged).
Well broken in, with probably close to 80,000 kms under them, their inner laced booties keep them warm and comfortable, but they are less resistant to — shall we say — severe weather conditions, which is possibly an age thing.
As a result of this "age thing", my first pair of Sidi On Road boots was procured early last spring, after some research, of course. This pair provided newer and better protective covering for my feet, which is a criteria that is crucial for all-season riding.
So positive has been my experience with these boots that when the opportunity presented itself to get a second set — for half price no less — it was a done deal.
While the first pair utilized a lining made from Sympatex, the second set features (for 2007) a GoreTex liner along with a couple of subtle other changes.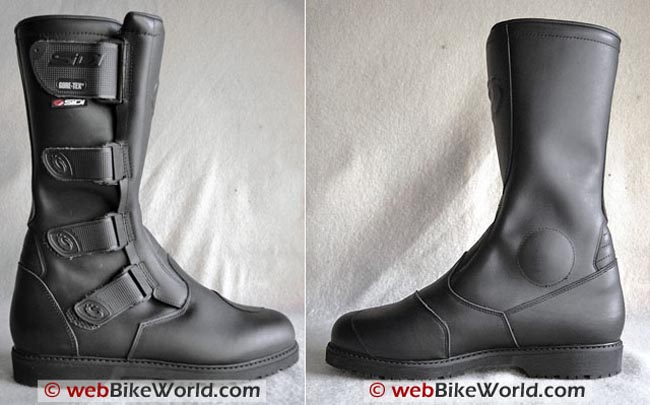 Sidi Background
Sidi is renowned for production and marketing of cycling shoes and motorcycle boots.
The history of SIDI is another story unto itself, and greatly edited here. Its founder, Dino Signori (the name SIDI is derived from his initials), a cyclist from age 15, formed the company in 1960.
In the beginning, the company was a craftsman's workshop, focused on the manufacture of mountain sports footwear.
In the '70's, Sidi began specializing in cycling footwear and boots for off-road motorcycling. One of the catalysts for evolution occurred in 1969, when Dino jumped into moto in a big way by aligning himself and Sidi with Italy's motorcycle hero, the great Giacomo Agostini, who subsequently helped Sidi advance road race footwear to new heights.
The whole family remains actively involved in the company, especially its founder.
Priorities that include comfort and careful design, along with high consumer expectations and the fast evolution of the world of sport keeps SIDI technical staff constantly committed to researching cutting edge designs and use of groundbreaking material, all'avanguardia.
To say that Sidi remains deeply involved in both the cycling and motorcycling disciplines is an understatement. The listing of Italian and internationally based sponsored or featured riders on its international website is impressive.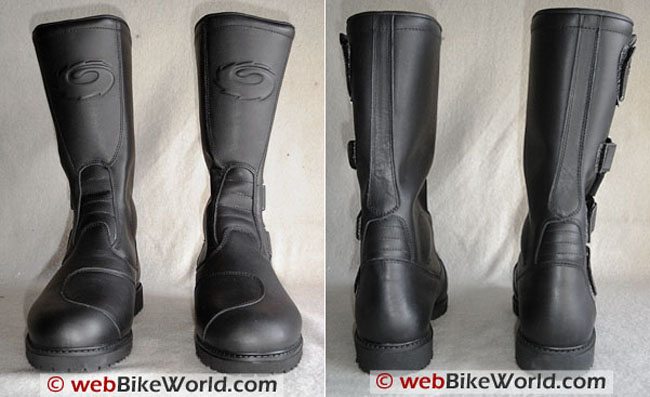 Form, Fit  and Function
All-weather boot requirements are pretty similar between users.
They include weatherproof (warm and highly water resistant or waterproof); comfortable on and off the motorcycle (including walking/hiking); wide upper for ease of entry and exit, and allowing use of heavy socks or underpants to be tucked in.
Also important are padded sides and uppers; reinforced areas on the sides and toes, especially for shifters; and, a durable and hopefully, non-slip sole.
Styling, while always appreciated, is not necessarily a critical requirement, particularly for this type of boot as form over function generally rules in this two rider household.
However, the Sidi On Road boots are still impressive in appearance with simple, classic lines that project a positive visual impression of their potential, right from first sighting.
At 35.56 cm (14 inches) tall, they are a full height boot that provides superior foot and lower leg protection. The uppers are made of full grain leather, with the next layer being the GoreTex membrane.
Other features include: padded shin plates, ankle cup, leather toe shift-brake pad, internal toe protection, rigid nylon insole with a removable arch support, bonded non-slip lug type sole, internal heel and ankle protection, multi-Velcro closure system, full length inner gaiter and double stitching in all high stress areas.
The upper portion of the boot is cut wide and when the fasteners are released, getting in and out of the boots is simplicity itself.
For entry, insert foot, wrap the over-flap portion around the front part of the lower leg for a weather seal, wrap the front flap around to the outside edge, and secure using closure system.
The closure system consists of four leather straps sewn on the outer side of the upper, with four matching double-D rings stitched to the side of the front flap.
The straps are simply pulled through or threaded through the matching ring, the Velcro fasteners are pushed together and voila — snug and secure.
If the straps are just pulled straight through the D-rings (expediency), the Velcro fasteners become the primary means of providing tension: alternatively the hook-and-loop acts as a secondary layer of fastening when the straps are actually threaded through each D-ring, similar to a D-ring helmet strap.
Although the fasteners have remained absolutely solid on the original pair, the newer boots use a heavier Velcro fastener and it takes a good tug to pull them apart — a good thing.
Having a fairly narrow foot, spread out over a perfect Euro size 46 (US 11.5, UK 11, Japanese 28.5), it has always been a problem, at least over the last ten years or so, to find a boot that is narrow and does not require an insert of some sort to take up the "slack".
Real life experience has revealed that many Italian-made or designed boots are narrower, or available in varying widths. This explains why a Sidi boot fits so well right off the shelf.
Upon entry, the back of the foot is grabbed nicely by the heel portion and the ankles nestle comfortably in the ankle cup inserts. The boots provides a feeling of comfort, snugness and security to the feet and lower ankles.
The provided insole, although quite thin, works well.
Reflecting a subtle change from the 2006 version, the insoles are now removable, allowing cleaning or replacement with another type if so needed, to allow fine tuning of the boot to the user.
The insoles in the 2006 version did start to break down somewhat, albeit after seven months of (continuous) use, so a set of thin, orthopedic style insoles were installed.
This action has made a very comfortable pair of boots even more so. Whether the 2007 insoles will hold up better or not remains to be seen — only time will tell.
The front of the boot features a flex-pad for the instep which facilitates a more acute foot/ankle position, as encountered on sports/track motorcycles. Most of the front portion of the lower shoe is reinforced and shift/brake pads are stitched in as well.
Between the heavy duty leather, the reinforced padded sides, a full length gaiter and double stitching in all stress areas, the boot is very solid, but still allows good flexibility on and off the motorcycle.
The boots function admirably as hiking footwear during stops and layovers.
Adding to the comfort zone provided by these boots is their light weight. Sidi claims their boots are typically 10 to 20 percent lighter than comparable models.
Based on the weight of other boots, including the now retired Triumph items, we would agree. These are boots you can live in, day in, day out.
The GoreTex waterproof-breathable bootie membrane, sandwiched between the outer leather and the inner liner provides an absolutely waterproof and warm environment.
But my feet remain comfortable, as the membrane also breathes, allowing generated moisture to escape.
Both pairs of boots, in addition to real-life exposure to the elements, have also been given the "lab" submersion test.
The older Sympatex-lined pair got a bit moist inside as felt on the sock, but without actually soaking the sock. The GoreTex pair remained totally dry inside, period.
While the original pair have lost some of their original luster and proud stance after eight months of constant use, the uppers, lower and sole are showing virtually no wear whatsoever, which bodes well for the longevity of these boots.
Both pair get cleaned (now and then) by the simple method detailed in the provided Sidi cleaning instructions — use a damp cloth.
A soft brush is sometimes used as well during the cleaning to get into the welts and other areas. No other cleaning or treatment has been necessary yet, testament to the quality material and finish of the boots.
w
BW
 Review: Sidi On Road Gore-Tex Boots
List Price (2007): $429.00 CAD or $325.00 USD
Made In: Italy
Colours: Black
Sizes: 38-50 Euro
Review Date: November 2007
Note:
 For informational use only. All material and photographs are Copyright © webWorld International, LLC since 2000. All rights reserved. See the webBikeWorld® 
Site Info page
. Product specifications, features and details may change or differ from our descriptions. Always check before purchasing. Read the
Terms and Conditions
!
Owner Comments and Feedback
---
From "J.M." (March 2012):  "As you may recall, I make waterproof seat covers for motorcycle riders. Keeping hands and feet dry during product testing and validation has always been an issue for me.
For most every purchase motorcycle related I go to WebBikeWorld to gain useful information that assists in the buying process. The SIDI On-Road boots have been great. Dry, comfortable, and needing all of five minutes to break-in. Worth what I spent, I'd say.