Sidi All-Road Gore-Tex Boots Review Summary
Sidi All-Road Gore-Tex Boots Image Gallery
The Sidi All Road Gore-Tex boots were designed to replace the venerable and popular Sidi On Road boots (review).
This means that lots of comparisons are being made, which is only natural.
What isn't natural — leather — is the new all synthetic construction of the All Road Gore-Tex boots.
But outside of revealing less wear-and-tear than is usually shown by leather-based boots, it seems that Sidi's newest variant on the "Road/Adventure" style of boot is primed to hold its own.
The principle composite materials used for the exterior of the All Road Gore-Tex boos are TechnoMicro synthetic leather and Cordura.
The Gore-Tex lining provides the "Guaranteed to Keep You Dry" promise and it's a both a comfortable feature and a valued inclusion that is used on many other Sidi boot products — thankfully.
I have replaced the standard thin Sidi insoles with a somewhat thicker gel-based pair (I do that in almost all my boots), but otherwise nothing has arisen to cause concern regarding the construction, materials, comfort or durability of the All Road Gore-Tex boots.
Compared to my experience with (many) other Sidi boots, the Sidi All Road Gore-Tex boots live up to their billing as another premium all purpose, all-conditions pair of boots for those of us who just can't decide where to ride.
These boots are performing as expected, typical for Sidi boots.
What, another SIDI motorcycle boot review?
Yep, and for a few good reasons — one of the first being the new Sidi All Road Gore-Tex Boots that have replaced (or are in the process of replacing) the venerable but trusted Sidi On Road boots (review) that were in production for many years.
Ever since the Editor posted the New Sidi Boots for 2015 Preview way back in October of 2014, I had been hoping to get a chance to try a pair of the new All Road boots.
On- and off-road, Sidi and I go back a long (long) way and for all the right reasons.
And with part of that long term relationship involving several pairs of the Sidi On Road boots — both the Gore-Tex and earlier Sympatex versions — the opportunity to break in a pair of the new All Road Gore-Tex Boots was not to be passed up.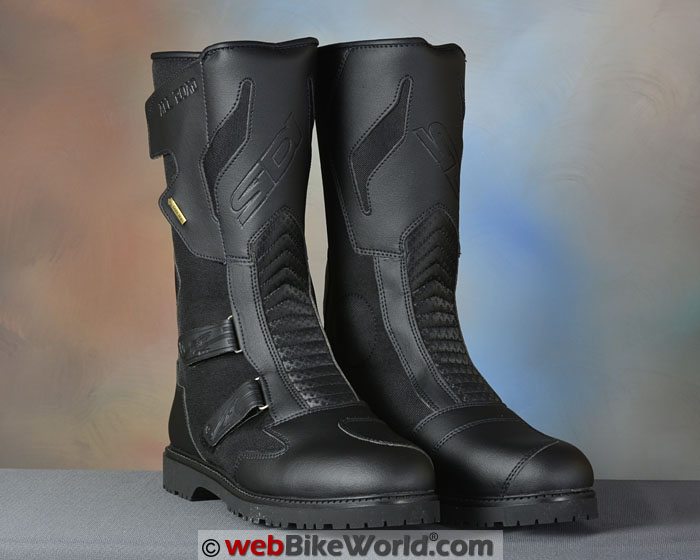 Style and Construction
My initial observations after first handling the new All Road boots included their weight — or lack thereof, to be exact.
This is something the Editor also commented on when he first had them in hand at the Motonation booth during the 2014 AIMExpo (Report). Also noted are the better posture or strength along the sides and the absence of real leather.
Yes, the new All Road boots are exclusively formed of synthetic or man-made material, something that is sure to elicit more than a few comments, especially from long time users of the popular and now-discontinued leather-based Sidi On Road boots.
Extensive use of the Sidi "Technomicro" (synthetic leather) and Cordura, both well-known and well-proven materials, does indeed result in a very sturdy looking and very light weight boot compared to the On Road model.
And admittedly it is also likely that the sum of the parts may just prove to be as or more durable than the previous leather-based versions.
Between the synthetic leather, the relatively stiff and protective Cordura for the sides and panels for the front and back flex points, the All Road boots look and feel very solid — more so than their leather-based predecessors.
A valued carryover (thankfully) is the dual compound Sidi sole. It's a Vibram style non-slip rubber lug piece that feels soft but is extremely durable and supportive for both riding and walking.
The Gore-Tex Lining
Of course, one synthetic that most of us never complain about is the Gore-Tex waterproof breathable membrane liner.
It gives the All Road Boots their "guaranteed" impermeability to the wet stuff over prolonged periods of time while still providing needed circulation and internal moisture wicking.
My original Gore-Tex On Road boots withstood multiple days of repeated wet-weather riding with only some slight dampness felt inside, whereas the On Road with the older Sympatex liner were only good for part of a day at best.
But even when damp or completely soaked, neither variant ever became uncomfortable, even in colder temperatures (with the right socks on of course).
More Updated Features
Other changes in the All Road boots — some readily visible, some not — include new hook-and-loop straps with small plastic "grippers" (also found on SIDI's bicycle racing shoes).
They provide added latch or "bite" when closed and an improved wrap closure that works in conjunction with the full-length gaiter.
The internal heel, ankle and toe protection inserts seem to be stronger than those used in the On Road boots and the shin plate and lower calf flex sections are lightly padded for overall comfort.
Along with the full-boot Gore-Tex membrane, an inner layer of Cambrelle provides a comfortable and functional home for the feet.
The two materials work together effectively to provide a comfortable ventilated environment while moisture is wicked away from the foot and transported outwards.
Back on the outside, the shift and brake pads are stitched on the toes of their respective boot, while small triangles of reflective points on the lower-to-upper calf transition sections provide some retro-reflectivity (depending on whether pants are worn in or out of the boots).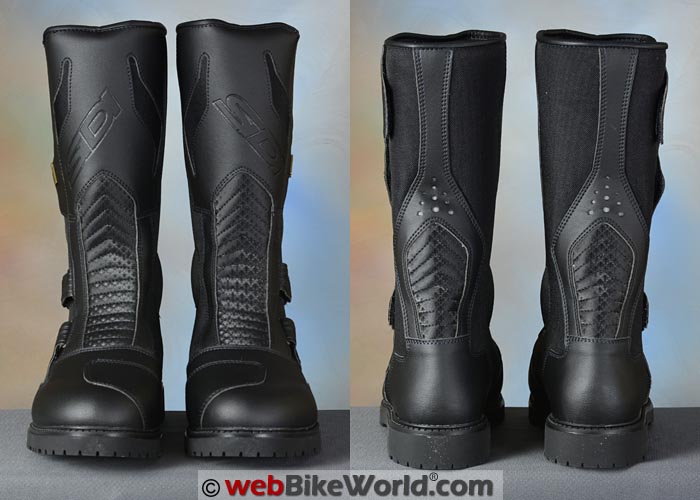 Sidi All Road Gore-Tex Boots: Fit and Sizing
True to form, the new Sidi All Road Gore-Tex boots in Euro size 46 (UK 11, US 11.5 and JP 28.5) accommodate my feet without issue and without any of what is generally termed "break-in" (a bit of a concern, given the synthetic material construction).
But, like all good Sidi products (is there any other kind?) day-long comfort was present from the start, less one change I made. That change regards the new style of arch support insole used by Sidi.
It is well formed and supports in all the right places and the front portion has ventilation holes but…they are thin and hard and not nearly as comfortable as those found in the On Road boots.
So after two days of riding and walking, I replaced the too-thin insoles with a slightly thicker pair, providing equal arch support but far better cushioning.
I also did not lose the ability to wear various weight socks, from light to heavyweight like the BMW Functional Socks (review) for multi-season comfort on or off the motorcycles.
Initially it seemed that along with the weight loss, some slimming of the boot had been done. But in reality it is more of an optical illusion.
The thinner, lighter weight and stiffer materials very much improve the posture and shape of the boots, which is especially evident after a few weeks of use.
But on the flip side, the new All Road boots just don't seem to have as much "character" as the On Road boots had.
Also, the uppers of the All Road boots are not as accommodating as the BMW Santiago boots (review), but they do a good job in comfortably housing anything up to a medium-weight pair of MSR off-road pants.
But heavier pants like the Firstgear HT Overpants (review) or my older KLIM off-road pairs were a bit much, although they're always worn on the outside anyway.
The only issue I have encountered so far is the new-form straps that are stiff and far less flexible than the leather versions they replaced and the heavier duty fastener pads stitched on to them.
If the straps need to be pulled through the thin metal wire loops to put the boots on or take them off, it can be an effort of sorts — not the five-second exercise it once was.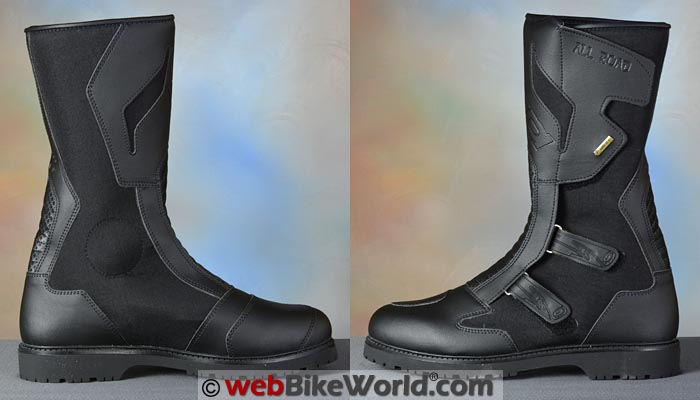 All Road Gore-Tex Boots Function and Performance
In using multiple pairs of Sidi On-Road boots over the years with only one failure (stitching), the new All Road boots were viewed as the unknown.
Would they be as well made or as comfortable, would they keep my lower legs dry and would they last? In short, they have to prove themselves.
Here are my impressions:
Construction: The synthetic material doesn't have the same soft look and feel of the discontinued leather On Road boots and they'll probably never have the same kind of well-used appearance or character that leather boots seem to get.
But the All Road boots are extremely well formed and well made, feeling even stronger and sturdier than the boots they have replaced.
Comfort: A Sidi boot characteristic that hasn't changed with the new All Road Gore-Tex boots is their ability to be worn day in, day out, on and off the motorcycle, although for me, this pair, and my feet, needed a bit of help.
But with a slightly thicker gel-based insole installed, the boots are now earning the reputation established by their predecessors.
The Elements: The Gore-Tex lining is key to both comfort and protection from the elements, especially prolonged exposure to the wet stuff as we had a pretty wet spring.
The boots survived back-to-back riding days in the wet stuff, keeping my feet comfortable and dry.
And while keeping wet stuff out, the Gore-Tex layer allows air to flow through with effective moisture wicking from inside the boot for a better balanced and comfortable interior environment — all good.
Protection: The "crash-test-dummy" scenario hasn't been played out with the new boots (yet), but the so far they are doing what they are supposed to do: enclose, comfort and protect my lower legs and feet.
Earlier in the spring, the roads were heavy with winter residue (salt and gravel), with lots of it thrown up at the boots and the lower front and toe sections were subjected to the brunt of it all.
Some of the air-borne material was large enough and hit hard enough to be felt.
And when the mood overtakes, off-road forays haven't caused any issues either. So far the score is Rocks = 0 and Boots = 1.  The reinforced toe, boot and sole components do their job well.
Durability: As noted, it is early days regarding the All Road Gore-Tex boots, but even in transitioning from late winter through spring and now into summer, these boots aren't showing any signs of fatigue or even wear and tear; thanks in large part to the materials used.
Maintenance: Cleaning the synthetic materials of minor rub marks and dirt accumulation is easy.
Use a damp cloth and for the built up mud, a good hosing and a soft fibre brush. Also, a cleaning solution can also be used on the synthetics with far less worry than with leather.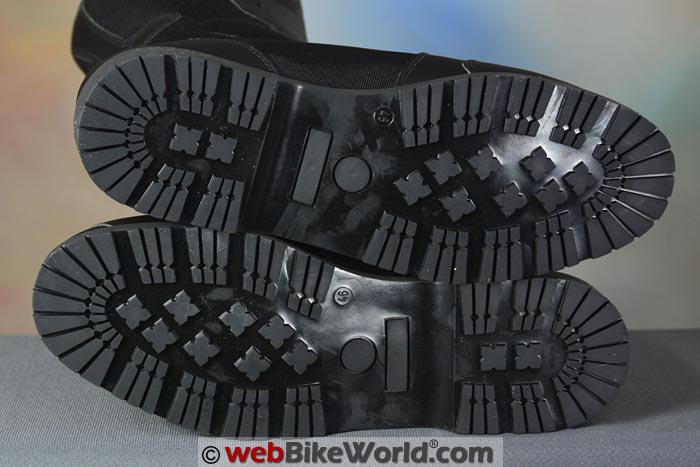 Conclusion
With multiple pairs of boots to use for work or play, most of which are made by Sidi, the ability to pick or tailor the boot to be worn for the riding conditions is there.
This is a far cry from the old days, when owning one real pair of motorcycle boots at a time was the norm.
For about 75 percent of riding activities, three pairs of boots that I own — the BMW Santiago adventure boots (review) (also discontinued); the Sidi Armada boots (review) and now, the Sidi All Road boots meet all of my requirements.
The remaining percentage is addressed with dedicated gear like the Sidi Crossfire boots (review)or the Gaerne SG11 boots (review).
I usually choose my well broken-in BMW Santiago boots if the road ahead hasn't been determined or could take multiple paths (roads or not).
But for everything else — from commuting to city trips to multi-day road trips — the Sidi All Road Gore-Tex boots are fast becoming my favourite go-to pair.
And in reality, my minor gripe really is minor: the new straps grip well but are just harder to use. The whole effort just isn't as easy as it once was.
But there is no denying that the Sidi All Road Gore-Tex boots offer great styling and superb build quality with attention to detail (that hand-crafted thing) and (almost) out of the box comfort.
These boots, like all Sidi boots I have worn, sit high up on the motorcycle footwear pedestal.
w

BW

 Review: Sidi All Road Gore-Tex Boots
List Price (2015): $325.00
Made In: Italy
Colors: Black
Sizes: 38-50 Euro (5.5-15 US)
Review Date: June 2015
Note:
 For informational use only. All material and photographs are Copyright © webWorld International, LLC since 2000. All rights reserved. See the webBikeWorld® 
Site Info page
. Product specifications, features and details may change or differ from our descriptions. Always check before purchasing. Read the
Terms and Conditions
!
Owner Comments and Feedback