Hangout Street Shoes for Motorcyclists
The Sidi Gossip street shoes are comfortable for all-around messing about off the bike.
They allow you to fly your motorcyclist colors rather than pay homage to Nike, Adidas, etc.
The Gossip shoes aren't really designed for running, hiking or trekking. They're for relaxing.
And in that regard, they score.
These shoes or sneakers are different in both looks and construction, and that counts for a lot in street wear.
The most notable difference in the Gossip shoes is the uppers, which are made from a single piece of knit fabric.
Think about it for a second: the entire uppers are made from a single knitted piece of textile with the pattern knitted as part of the fabric.
This is not plastic or vinyl or rubber or any of the other junk found on sneakers; it's a true knitted textile that breathes.
The pattern is part of the actual knit and it changes design as it blends from a digital black-and-white pattern along the bottom through a horizon of black/white checks to the knit all-black toe top.
I know for a fact that manufacturing that type of one-piece knit design and getting the pattern to exactly line up is very difficult (and expensive), thus the rather lofty list price of $99.00.
But you're probably not going to see another pair of these on the street, so that counts for a lot in some circles.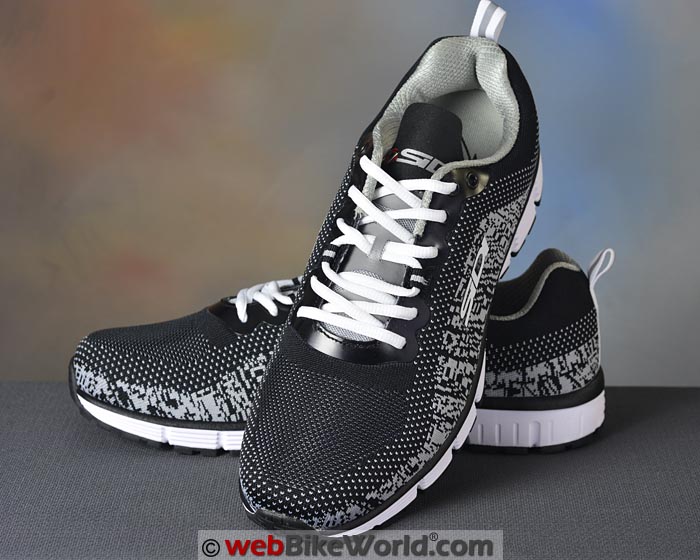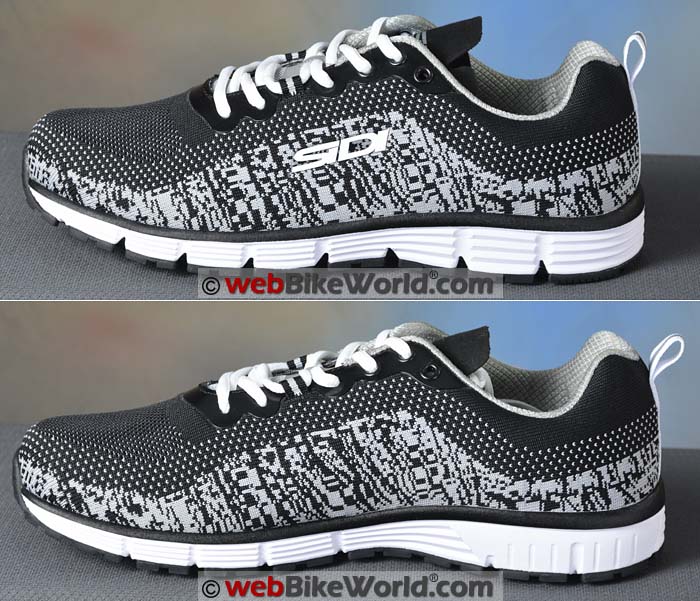 ---
Where to Buy Sidi Gossip Shoes
Check Reviews & Prices on Amazon
Check Reviews & Prices On RevZilla
Also: Leather Motorcycle Boots, Touring Motorcycle Boots, Women's Motorcycle Boots
---
Street Wear?
Dig deep into the Sidi street boot collection — which includes hard-core motorcycle racing types like the Sidi Mag-1 (review) and Sidi Vortice (review) and you'll find the Sidi Gossip shoes.
These are from the Sidi Design Series (S.D.S.), "designed by Sidi's engineering/design team and produced by outside suppliers", according to the company.
The Gossip shoes are not designed for motorcycle riding; they're for casual use only. But hey — a motorcyclist has to look good off the bike too, right?
We've covered a few non-motorcycle products before, like the Joe Rocket Crew jacket (review) for winter, one of my favorite off-the-bike pieces of kit and which still looks and performs good as new.
So there's a sliver of precedent here and just for something a little off the beaten path in terms of webBikeWorld reviews, I ordered a pair of Gossip shoes and we took a few pics.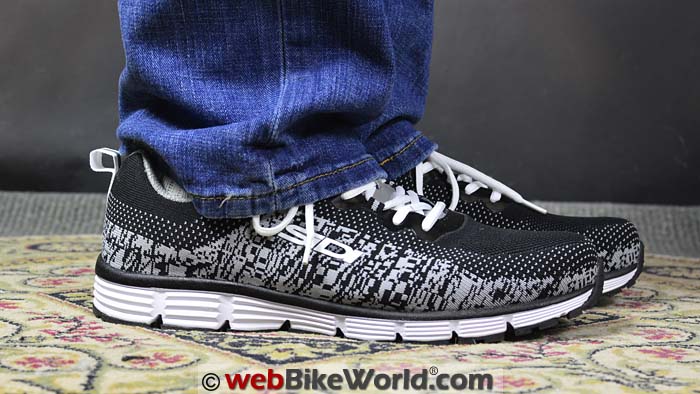 About That Knit
Observant webBikeWorld readers (are there any other kind?) will remember the Spark underwear review, which first introduced this type of computer-controlled knitting that creats different patterns in the single piece.
But this type of knit is unique for a sneaker, as far as I know, and the fact that the entire upper is knit from one piece with the CNC pattern means there are no seams to get dirty or burst.
It also gives the Gossip shoes a smooth feel and adds to the comfort factor.
The overall quality of these shoes is outstanding, unlike just about every other sneaker-type shoe I've owned, which usually have glue drips, stitching problems, etc.
In fact, because of the one-piece knit uppers, the only stitches on the entire show are two rows holding the reflective loop in the rear and a single small row across the front of the vinyl lace reinforcement, at the front of the laces.
This gives the shoes a very clean and "streamlined" appearance.
The Black Band!
No, not a long-lost Sherlock Holmes episode but another cool feature of the Gossip shoes is the black band that separates the knit uppers from the sole.
It gives the shoes a very clean and quality look and avoids any of those messy glue over-runs that can be found even on expensive Nikes.
The Gossip soles also have very good grip and overall the shoes are really nice and comfy for hanging out, casual walking and shooting the breeze with your moto buddies.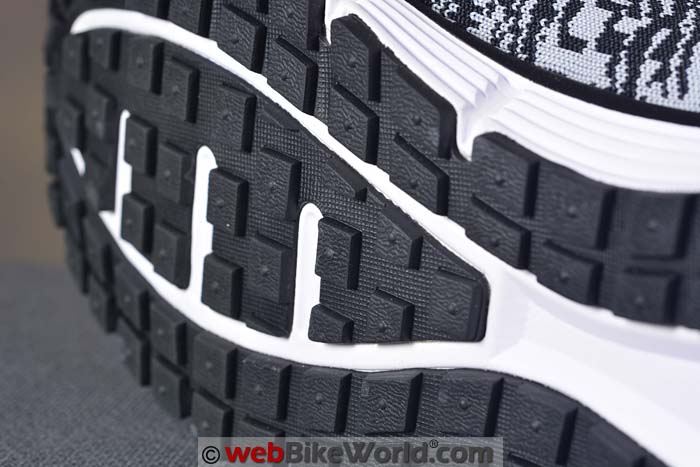 Fit and Sizing
There's not much else to say about the Gossip shoes, other than they're nice and comfortable for just about any casual hangout.
I actually tried two pair, a size 44 and the size 45 shown here and both fit exactly to size, with the 44's clocking in at a US 10.5 and the 45's at US size 11.0.
I wear sneakers pretty much all the time and I like them to fit slightly large.
I think that's needed because the flexibility of this type of shoe requires some extra toe room, especially when the weather turns warm. I don't like it when my toes touch the inside of the shoes — I need some breathing room!
My feet measure a US 10.5 for work boots (I haven't owned a pair of "normal" shoes in probably 10 years), but I usually buy sneakers or casual shoes about 1/2 size big.
The size 44 Gossip shoes fit exactly as I'd expect for a US 10.5, but that meant that my toes were touching the fronts when I walk. So I kept the size 45, which gives me a little more room up front.
So the bottom line here is that at least for the size 44 and 45 Gossip shoes, you can expect they fit to size. And based on that, I'd guess that the rest of the size range (from a tiny 37 up to a not-so-large 46) fit to size also.
---
Where to Buy Sidi Gossip Shoes
Check Reviews & Prices on Amazon
Check Reviews & Prices On RevZilla
Also: Leather Motorcycle Boots, Touring Motorcycle Boots, Women's Motorcycle Boots
---
Other Features
The Gossip toes are "neutral"; in other words, they're not too pointed and not oblique.
I actually like oblique toes, like the Clark Natureveldts I used to wear when I had to wear shoes, or the Altra wide-toe "neutral" running shoes .
But the Gossip shape is fine for casual use. In fact, the entire shoe is what I'd call neutral, without any particular narrowness or other weird foot shape characteristic that you don't need anyway.
I prefer lacing that fits through loops rather than holes, because that makes it easier to loosen and tighten the lace to get the shoes on or off.
But these aren't bad; the lace fits through a plastic backing for support on the woven mesh uppers.
The only feature that I'm not completely fond of is the extension on the tongue.
It is very thin (approx. 1.5 mm) and the thinness, length and width sort of gets in the way when I shove my foot into the shoe. I have to pull on the extension on both sides and fuss with it a bit to get it to seat properly over the top of my foot.
But it does serve as a cushion to keep the laces away from my feet, so I'll live with it.
The Sidi Gossip shoes are kind of expensive, but you're getting top-drawer quality construction and the Sidi name.
The most interesting and different feature is the one-piece knit uppers, which has the pattern built into the knit via a computer-controlled knitting machine.
The single piece uppers add to the comfort factor and by the way, the knitted textile adds some breathability.
If you're looking for something out of the ordinary in street wear with a motorcycle twist, check these out.
w

BW

 Review: Sidi Gossip Shoes
List Price (2017): $99.00
Made In: China
Colors: Black/White
Sizes: 37-46 Euro (4.0-11.5 US)
Review Date: February 2017
Note:
 For informational use only. All material and photographs are Copyright © webWorld International, LLC since 2000. All rights reserved. See the webBikeWorld® 
Site Info page
. Product specifications, features and details may change or differ from our descriptions. Always check before purchasing. Read the
Terms and Conditions
!
---
Where to Buy Sidi Gossip Shoes
Check Reviews & Prices on Amazon
Check Reviews & Prices On RevZilla
Also: Leather Motorcycle Boots, Touring Motorcycle Boots, Women's Motorcycle Boots
---
Owner Comments and Feedback
---
From "R.T." (March 2017): "I ordered a pair of these, great  shoes…but the tongue is so weird and makes them hard to put on (for me), that I sent them back."
Rick's Reply: I hear you on the weirdness. I wore mine yesterday, it does take some fussing, I found that by loosening the first few laces, it's easier to get the tongue in place.
Once the tongue is situated correctly, it actually feels pretty comfortable. But I agree, it is kind of strange.
Also, I learned that it's best to snug the middle laces up to the top, it makes the shoe fit better. Once I have them on and everything is battened down correctly, they feel good.
Other WebBikeWorld Boot Posts