Shorai BMS01 Battery Charger Review
The intent of this review is to take a look at the Shorai LFX charger, which is intended as a custom solution offered by the manufacturer.
Whether or not Shorai designs and manufactures the charger or whether it is produced by a subcontractor to a provided design specification (probable) may be relative, but not a critical factor to many consumers.
However, the fact that the BMS01 provides a relatively low-cost solution that is recommended by the manufacturer (acknowledging a marketing benefit here) is and should be relevant for Shorai owners.
It's closer to Spring than Fall up here in the Canadian north, so I realized that a draft Quick Look on the Shorai BMS01 Battery Management System (charger) was long overdue.
I wanted to submit it as a follow-up to the Shorai battery review, actually the Shorai vs. Ballistic Motorcycle Battery article done by Rick and Chris in April 2011. That article generated a lot of interest and feedback.
Even before the article came out, getting one of the Shorai technology-based cells was on my short list. But by the time it bubbled up to the top, Spring was in full bloom and stock from most vendors in short supply or non-existent…
But before getting into the nitty-gritty about the Shorai BMS01 battery management system, some background information regarding issues with batteries and the Shorai battery that is currently installed in the F800GS test mule is due.
After needing a third battery in the course of just over two years for the 2009 F800GS, this issue remained quite high on my "things to pursue" list.
I had also discovered in the interim that despite a three-year warranty on the motorcycle, the OEM battery was covered for only two years.
So while thankful that both replacement batteries had been covered by BMW, I wasn't impressed by (a). What I felt was a high failure rate or (b.) the "limited" warranty policy. But now I know.
The third battery provided by BMW was actually manufactured by Odyssey and its performance has been flawless in every way.
But my desire to try one of the Shorai cells to satisfy my own curiosity, provide some weight savings, and free up some valuable real estate in the battery box area kept me on my quest for the right Shorai LFX battery.
Finally, late last summer I found a vendor who had one in stock and a week later a small light cardboard box containing the package arrived. Despite having seen one or two Shorai batteries already installed, I still wasn't prepared for its small size and light weight (1.0 kg or 2.2 lbs.).
It was one of the early units and thus has the thin and weak terminals. And no — I haven't been offered a replacement despite my queries to Shorai Customer Service — but that is another story…
Other than the crappy terminal lugs, I am very happy with the battery…although it took some extra time and effort to come up with a custom "nest" so that it sits securely inside the (now) much larger battery box.
After just over six months of use I've come to appreciate this small and lightweight battery that just keeps cranking with virtually no maintenance needed, even in below freezing temperatures.
The Shorai exhibits the well-known and well-documented trait of coming up to speed slowly, although in reality it only takes one or two seconds before energetically spinning the engine to life — which it never fails to do.
A set of Odyssey "L" terminal adapter lugs from the Odyssey battery kit let me connect the battery without trying to force the heavy BMW cables into shape submission. Everything is now quite secure and easy to access.
With the battery providing faithful service and winter coming on, my thoughts turned to maintenance.
In considering the cautions and recommendations provided by Shorai and other users I figured getting one of the model specific chargers would be a good investment.
---
Where to Buy Shorai BMS01 Charger
Check Reviews & Prices on Amazon
See More: Motorcycle Accessories, Motorcycle Tire, Motorcycle Helmets
---
Editor's Note
Our Shorai battery review was published nearly one year ago.
This revolutionary new "LFP" (LiFePO4) battery type has continued to gain followers and I'm happy to report zero problems with mine since it was installed.
In fact, its performance has been rather amazing compared to the standard lead-acid batteries on the other motorcycles in the stable.
What's even more amazing is the weight savings of more than 2 kg compared to the BikeMaster lead-acid battery that the Shorai replaced
Other than connecting the Battery Tender charger to the Shorai on one occasion just to see what would happen (it worked fine), the Shorai battery has been keeping the Suzuki DR650 (blog)percolating right along.
And a DR650 isn't the easiest bike to start; that is, it can be hard on a battery because it takes a hefty squirt of electrons to crank over that big 650 cc single and get the fires burning.
But the bike literally jumps when the starter button is pushed and the Clearwater Voltage Sentry (review) always flashes green, letting me know that everything is roses.
During the winter, the bike has sat in the garage for a couple of weeks at a time.
On occasion and once and a while I'll throw the digital voltmeter on the SAE connector just to see if the electrons are still alive. It usually shows around 13.5 Volts, no matter how bad we've been abusing it in starting tests, lighting installations and the rest.
The bottom line is that based on this experience, I'm completely sold on the LFP battery type.
The only complaint we had with the Shorai was the flimsy terminals, but Shorai now claims to use a thicker metal for the terminals (photos below).
And I have to admit, there have been zero problems with the original terminals on the Shorai battery in the DR650, even with the many accessories we have connected and experimented with since the battery was installed.
By the way, I stopped by the Shorai booth at the 2012 Dealer Expo and discovered that Shorai has now released several new battery case types over the last year. They even have a size to fit the old BMW Airheads!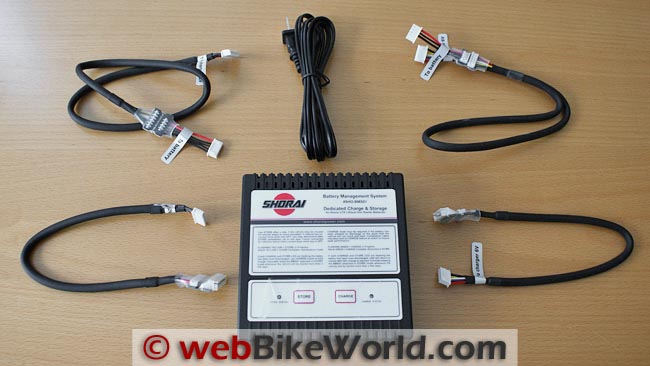 Summary: The Shorai BMS01 Battery Charger
Simple, lightweight and very portable the Shorai BMS01 Battery Management System is the perfect solution to keep LFX batteries in peak condition for years.
Where there is doubt about the "what" and the "how" regarding maintenance for your Shorai LFX battery, look no further than this companion product.
Shorai BMS01 Form and Fit
For what it is worth, the proper name for the Shorai BMS01 charger is the Shorai Charge/Store Dedicated Battery Management System for Shorai LFX.
The BMS01 measures 11.4 cm x 11.4 cm x 3.8 cm (4.5 in. x 4.5 in. x 1.5 in.) and weighs 725 grams (1.60 lbs.).
It is still larger than I expected although the external plastic housing is purposefully large for circulation, provided by top and bottom vents on the front and strip vents on the back.
When sold in North America, the BMS01 kit comes with an AC power cable that connects to a standard 110-120V AC 50/60Hz socket and terminates in a standard dual-pin connector on the left side of the BMS01.
Two sets of connection leads are provided, one for 6V and one for 12V DC battery use. The connection cables use flat multi-pin connectors with most of each cable sheathed in black shrink-like material for protection and handling purposes.
Two cables are provided: a battery charge cable measuring 61 cm (24 in.) and a shorter charge extension cable measuring 30.5 cm (12in.).
The longer battery charge cable connects directly to the 5-pin BMS port on the battery and then run to an accessible point on the motorcycle.
The shorter charge extension cable is brought into play as needed in completing the connection to the 7-pin (12V marked) port on the right side of the BMS01.
A large plastic retractable hook fits flush into the back of the unit and when flipped upwards provides an excellent means to hang the BMS01 from a convenient point — handlebar, frame tube or shelf hook.
With the BMS01 received after the Shorai battery had been installed, I waited until the next work session to remove the dummy panel and access the battery box.
There is a fair bit of open space above the small Shorai cell so connecting the battery charge cable to the BMS port located on the recessed front edge of the battery didn't take long.
I ran the cable over the top of the battery and between the support bracket and continued across the air filter housing to the left side where the forward edge of the seat overlaps the side panel.
A square rubber cap on a tether, source unknown, fits over this end providing basic protection although it is well tucked out of the way but readily accessible.
The short extension cable is the bridge between the longer battery cable and the BMS01. Once that connection is made it is just a matter of hanging the charger off a convenient point on the motorcycle and connecting the AC.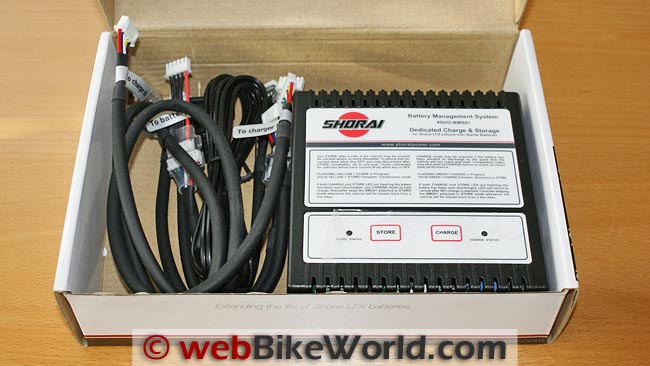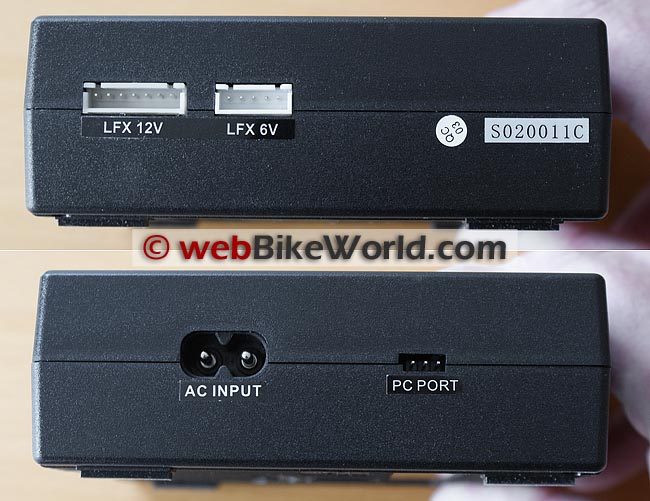 BMS01 Functions
Like most modern battery management systems or chargers, the BMS01 is very simple to use with only two control or setting buttons and a status LED for each control.
When connected to power, it beeps once and both the yellow "Store" and green "Charge" LEDs light up and stay on.
---
Where to Buy Shorai BMS01 Charger
Check Reviews & Prices on Amazon
See More: Motorcycle Accessories, Motorcycle Tire, Motorcycle Helmets
---
Store Mode
This mode accommodates the periods of motorcycling dormancy that so many of us have to cope with and it provides maximum battery life over extended periods of time.
With Store mode activated, the system will charge or discharge the LFX battery to ~80% and then monitor the battery.  When the battery drops to ~60% it will recharge to ~80% and this process can continue indefinitely.
This discharge-charge range is ideal for lithium-iron cells in storage. From a use perspective, even with the battery at or near the 60% state, it can be disconnected and used immediately.
The two Store cycles — Active and Maintain — are indicated by a flashing or constant on Yellow LED respectively.
Charge Mode
Charge mode, on the other hand, is more dynamic. In this mode the system charges at the 2A peak rate while balancing the cells and carrying out pre-programmed diagnostics.
During a Charge session, which can take from 30 minutes to four hours depending on battery state, the Green LED will flash. When the session is complete the Green LED will remain on.
This mode is ideal for refreshing the battery after a long period in Store Mode, particularly an hour or so before that first ride of the season or if a few days have passed since the motorcycle was last used.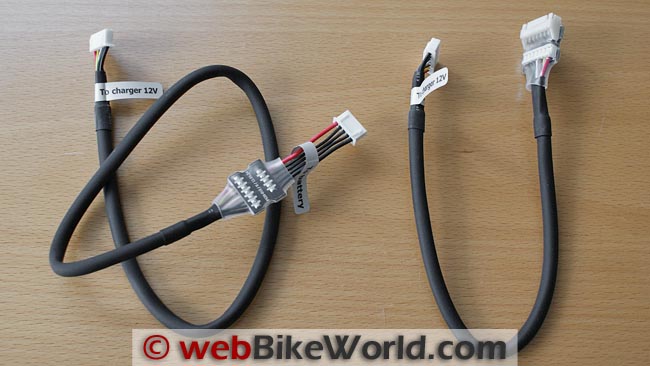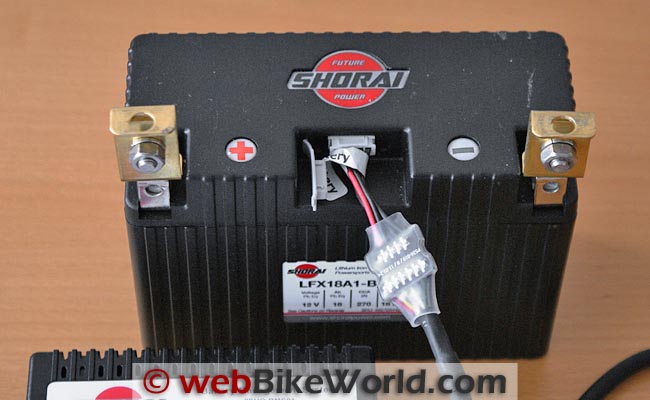 Error Checking
If there are connectivity (input/output) errors a series of flash/pause sequences (1 through 4) will be seen from both LEDs together, along with some audible alarms as well. The single double-side User's Guide provides information on these codes and other use information as well.
Observations
I am now in the habit of initiating Charge Mode after a multi-day trip or a day of low-speed trolling with auxiliary lights on, just to see what state the battery is in.
In this situation, activating Charge typically results in the Green LED going steady with accompanying beeps in less than 30 minutes — a good sign.
Purposefully leaving the battery disconnected and not on the BMS01 for over a month didn't make much of a dent in the battery either; a BMS01 Charge session took less than 20 minutes.
Moving the motorcycle outside in -10 C temperatures for the day after which a cold-start was initiated resulted in a two second crank bringing the motorcycle to life.
For storage and travel purposes, I bought a small plastic Platt foam-filled case for about 5.00 CAD and with the thicker middle layer of pre-cut or pick-foam removed the BMS01 and cables fit perfectly inside along with one of my small digital RS testers.
The essential instructions, especially for those who don't read guides, are laminated to the front of the BMS01 just above the control strip.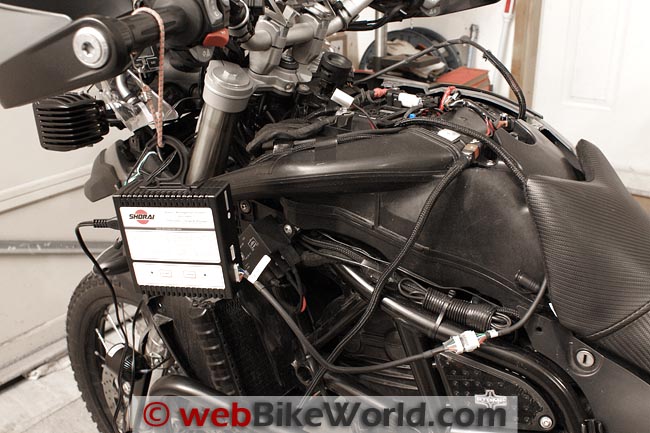 ---
Where to Buy Shorai BMS01 Charger
Check Reviews & Prices on Amazon
See More: Motorcycle Accessories, Motorcycle Tire, Motorcycle Helmets
---
ADDENDUM: Redesigned Shorai Battery Terminals
Here are some photos of the new Shorai battery types and redesigned terminals, taken at the 2012 Dealer Expo in Indianapolis, Indiana.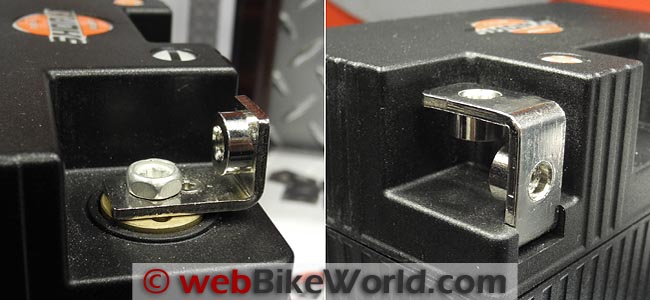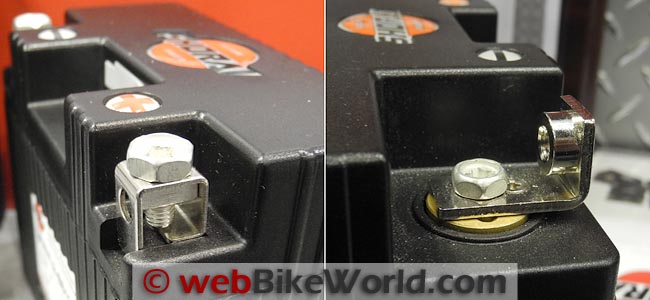 Charging Care and Cautions
As clearly identified in the original webBikeWorld Shorai battery review that discussed the Shorai battery technology, there are very clear advantages in using this approach.
So far, both the Editor and I are extremely impressed with the sustained performance and minimal maintenance aspects of our Shorai LFX series batteries.
But by the same rule that governs virtually any other technology change, maintenance requirements need to be understood and followed.
There are literally hundreds of battery maintenance systems or more simply put, chargers, on the market, many specifically designed or adapted for motorcycle use.
And many of us have one or more chargers, typically of different brands and types, often purchased to satisfy specific charging requirements of various batteries and/or to safely interact with motorcycle systems.
Shorai batteries take very little maintenance, but when charging is needed or desired, it is important that the cautions and recommendations provided by the manufacturer be followed.
Also, general safety rules applicable when working with batteries should be considered; it is just common sense.
To provide a safe charging environment for the Shorai LFX series, it is pretty simple: don't use any charger or management system that has a desulfation mode, unless the desulfation mode can be turned off (many cannot as it is part of an automated process).
This is one reason why Shorai has confirmed that the Deltran Battery Tender products, that do not have a desulfation mode, are safe to use with Shorai batteries.
Conclusion
Other chargers or charger/tender systems can be used with the Shorai LFX batteries as long as they do not have an automatic desulfation Mode.
For example, the Battery Tender brand of chargers are identified as safe for use with the LFX products.
But in wanting to provide a Shorai environment with the battery and charger, I still went with the BMS01 and I am very glad to have done so.
The combination is virtually foolproof for maintenance purposes and like other small chargers the BMS01 is very portable and easily tucked into the corner of a saddlebag, top-case or elsewhere on a two-wheeler.
Also: wBW Shorai Battery Review
wBW Review: Shorai BMS01 Battery ChargerManufacturer: Shorai
List Price (2012): $79.95 USD
Made In: "Assembled in" U.S.A.
Colors: Black
Sizes: Shorai batteries.
Review Date: February 2012
Note:
 For informational use only. All material and photographs are Copyright © webWorld International, LLC since 2000. All rights reserved. See the webBikeWorld® 
Site Info page
. Product specifications, features and details may change or differ from our descriptions. Always check before purchasing. Read the
Terms and Conditions
!
---
Where to Buy Shorai BMS01 Charger
Check Reviews & Prices on Amazon
See More: Motorcycle Accessories, Motorcycle Tire, Motorcycle Helmets
---
Owner Comments and Feedback
---
More Shorai BMS01 Q&A
by H.B.C.
Q. Can the cables on the charger be used to plug into an SAE outlet if one is already attached to the Shorai battery on a bike? Or do you have to use the special Shorai cables and plug into the special port on the LFX battery?
A. The cables supplied with the BMS01 are part of the overall battery management system provided when the BMS01 is used with the LFX series batteries.
The leads provide power and data connectivity between the battery and the charger, providing a total "smart" maintenance system to "monitor, diagnose and balance individual cells during charge".
Given the functionality provided by the system configuration, I don't know why someone would want to use an SAE lead from the battery terminals to the BMS lead and use that harness with a BMS01 charger.
The five-pin port on the LFX batteries is for use specific use with the BMS01 product and it is why the BMS01 kit comes complete with these specific leads.
If a BMS01 is not desired or not going to be used, then a standard SAE terminal lead pair can be installed on the battery terminals and used as the charging connection with a compatible charge.
In this instance the information exchange that takes place between the BMS01 and the LFX battery won't be available.
Q. I never noticed a special port on my battery, I have an SAE connector attached to the terminals and threaded out the back of the DR650. Also, if someone put a Shorai on a BMW, could they use the standard accessory port to plug in a Shorai charger, just like you plug in a Battery Tender with the cigarette lighter male adapter?
A. The LFX series units have the small recessed port on the front edge of the front recess. It is covered by a flush plastic tab – I can see it in the photos in the Shorai battery review in the original article.
In general, and from going through other posted information, there should be no issues with charging the Shorai battery indirectly via the BMW accessory port or another installed SAE/BMW accessory port, like the 15A Powerlet ports that so many of us have installed.
That is, as long as that port is not "switched" by some means. (Note: See the response above, however).
The only concern, or immediate question that comes to mind is this:
What is the difference in applying charging voltage through the OEM BMW accessory port that is tied into the CANBus management system vis-a-vis through an accessory outlet that is connected directly to the battery?
This may be a non-issue in reality, particularly if a fully compatible charger, e.g., one without a desulfation mode, is used.
There are pro and con points that can be found on various forums, but desiring to get the ground truth, I have posed the question to Shorai and if any response is provided I will pass it along…
Q. What is "balancing" the LFP batteries? Looks like the Shorai charger "balances" the cells and that's supposed to be done once and a while?
A. In general, battery packs are made up of multiple cells connected in series and/or in parallel for optimum voltage and power output. But optimum output is also dependent on the individual cells being closely matched or "balanced" (Wikipedia description).
Over time (relevant to the cell technology), an imbalance becomes cumulative.
Therefore, techniques used for cell balancing increase capacity and overall operating time and 'smart' chargers, like the BMS01 in communicating with the LFX battery, provide this cell balancing activity.
---
From "A.H." (February 2012):  "From the photo of the charger, it looks like the balancing ports are standard JST-XH, which are the most common connectors used for Lithium-based batteries in radio-control applications.
Therefore, someone who wants to use a third-party balancing charger (as reader Y.R. recommends) would most likely have the cables required to charge the Shorai battery — no custom cable building required.
Also, as your article clearly states, standard chargers for Lead Acid batteries — as long as they don't have a desulfation mode — are safe to use.
But even if you do use a standard charger, it would be a good idea to periodically balance the cells in the Shorai (as Y.R. also recommends).
There are plenty of balancers for lithium-based batteries that you can buy for $30, with the JST-XH cable included."
---
From "Y.R." (February 2012):  "This is just a regular charger with a balancing port with an expensive "Shorai" logo on top of it.
You can easily buy any 4S and up (4 series) charger with a balancing port used by RC hobbyists to charge batteries in their airplane/car/helicopter etc., much cheaper I must say.
It just has to be compatible with LiFePO4 batteries (almost all of them are) I doubt they are even the ones that manufacture this.
This is different from the battery itself, as they are not the ones that manufacture the cell, but customizing a case is a must for using it in a motorcycle, unlike the charger that you could by any other brand with a lower much price and start using it with absolutely no modification necessary.
Yes, any regular lead-acid charger can charge it, but this one they are selling just does what any li-ion charger with a balancing port can do.
This is to charge the battery while balancing the cells, which I'd say is really recommended for a setup like that, any rechargeable lithium pack with multiple cells in series tend to get unbalanced over time.
All it must have is balancing ports, work with 4S and up (6S for example is also compatible, this is just the cell with the most batteries in series it's capable of charging) and be also compatible with LiFePo4 (I think a few, very few, only work with Li-ion and LiPo).
Most are actually rated far more than necessary. I think the Shorai battery is rated 4.6Ah.
7A is probably around the fastest charge the battery can receive without damage, but I don't see why one would want to charge it so fast. I think there are no 4S chargers that charge with a amperage lower than 1A, which is pretty reasonable to a pack this size.
Considering it will slow the charging close to the end, I think it would take around 6 hours to charge with an 1A charger. To be more specific, I have a iCharger 106B+ that is for sure compatible."
Editor's Reply: Just for the record, the review was not meant to compare all of the LFP chargers, just the Shorai BMS01, which we think is also reasonably-priced.
It is also "ruggedized" for garage use (e.g., cold/damp conditions) and has the special connection cables for the Shorai LFX batteries.
We did note that the Battery Tender and other chargers will work on Shorai and LFP-type batteries.
Whether or not the Shorai BMS01 is made by a subcontractor to Shorai specifications I don't think matters much to the performance of the product.
However, it isn't simply a relabeled off-the-shelf charger; it has specific features and connectivity designed for use with Shorai batteries.
We think most owners would rather buy the "plug-and-play" Shorai branded charger than try to rig up a substitute.
But you're correct, there are others available and owners may be able to save some money with a substitute, but note that the very "clean" cable connection would have to be custom made.
Other WebBikeWorld Battery Charger Posts