Shoei RF-1100 Review Summary
Shoei RF-1100 Image Gallery
Take the RF-1000, one of the most popular motorcycle helmets ever, and make it even better, with higher quality.
Top it off with a Snell 2010 approval and there you have it, the new Shoei RF-1100!
My RF-1100 First Look impression hasn't changed: the RF-1100 has a superb build quality with details and graphics to match.
The X-12 has nothing on the RF-1100 in that regard.
And you can read the Shoei X-12 review to determine whether that helmet is worth an extra $300.00 or so over the RF-1100!
I also noted in the RF-1100 First Look that motorcycle helmet quality has greatly improved in the last couple of years.
It's becoming increasingly difficult to justify spending three or four hundred bucks (or more) on a helmet when there are some very inexpensive helmets with very impressive quality for half that.
So Shoei pumped it up for the RF-1100, but is it enough?
Well, that's something yet to be determined by potential owners, as always. The RF-1100 shown here in the beautiful "Monolith" graphics lists for $499.99.
That's a lot of money, although it can be had for a nip of a discount and the solid colors come in at $100.00 less.
But for Shoei fans and anyone who demands outstanding quality from a company with a long track record to back it up, the Shoei RF-1100 may just be the answer to that rhetorical question "If you could only own one helmet, which would it be?"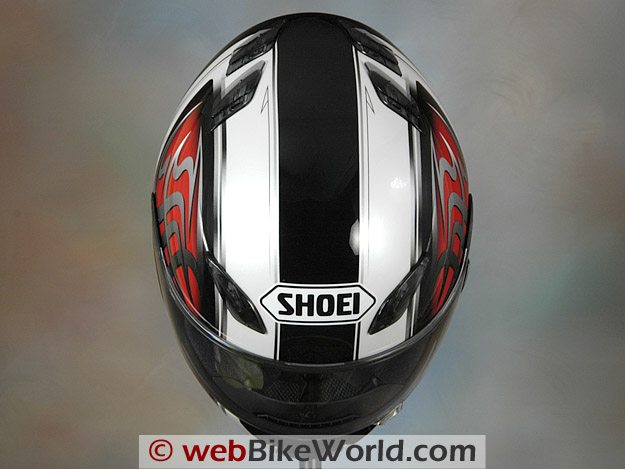 Shoei X-12 Paint, Graphics and Overall Quality
I'm repeating some of the First Look impressions, so I'll keep it short. We're very impressed by the apparent quality of both the RF-1100 and the new Shoei X-12 (review) we've been wearing over the last several weeks.
The RF-1100 comes in a score of colors and graphic patterns, making a choice difficult indeed.
And if you want to save 100 bucks, the RF-1100 also comes in a variety of solid colors, including the famous Shoei "Safety Orange" (actually called Pure Orange); Axis Yellow or Monza Red.
The colors and the depth on this Monolith graphic in red (also available in blue and black/silver variations) is about as good as it gets without being custom.
It also has a nice, evenly applied and glossy clearcoat.
But, it isn't that "hard" feeling clearcoat that we've seen on some of the European brands recently, like the Suomy D20 (review) and Nolan N43 Air (review), with its "Hi-Brite Protective Hard Coating".
We don't really know if there's an objective difference, but it just seems like the hard protective finishes will do a better job at protecting the helmet over the long term.
The clearcoat on both the RF-1100 and the X-12 feels a bit "soft", and both helmets already have "spider web" scratches on the surface that have appeared as a result of cleaning with a microfiber cloth, which is both puzzling and disappointing.
Otherwise, all of the moving parts operate with a precise snap, including the chin vent, top vents and the face shield and its removal mechanism.
This both increases the owner's confidence in the helmet and enhances the feeling that this helmet is built to protect.
Score: I'll give the Shoei RF-1100 an "Outstanding" rating for overall quality, paint, graphics and and overall fit and finish. See the ratings descriptions in the summary table at the end of this page.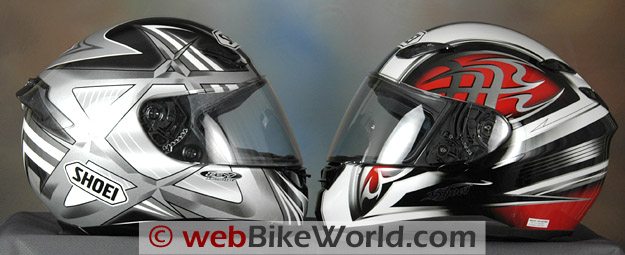 Shoei X-12 Helmet Fit, Comfort and Internal Shape
There was some concern registered by webBikeWorld visitors about whether or not Shoei would change the internal shape of the RF-1000 in the new RF-1100.
Fortunately, we still have the gray/silver RF-1000 in the inventory, so it's easy to compare. And the verdict is that the internal shape of the RF-1100 really hasn't changed at all.
It's still the neutral fit that fits me on the sides but is just a touch too narrow up top for my round head. My simple test is to push my finger up through the eye port between my forehead and the liner.
This helps determine the shape and fit of the upper part of the helmet, and the RF-1100 has the same half-a-finger space up there as the RF-1000.
I popped both helmets on and off several times whilst sitting here at my desk, which gives an instant comparison and I notice absolutely no difference up top.
The RF-1100 helmet shell does feel different though; it is definitely larger than the RF-1000, which now feels slightly toyish in comparison.
Shoei told us that the RF-1100 comes in an amazing 5 different shell sizes, which has to be a record and is probably one of the reasons for the cost of this helmet.
So the size XL RF-1100 shown here has its very own XL shell, which does feel larger than the size XL RF-1000. This is definitely a full-sized XL, unlike some other helmets that are borderline size large.
More shell sizes mean that owners will have a better chance of finding the precise fit — good news indeed. We probably would have been better off ordering a size large and custom-fitting the cheek pads if necessary.
Shoei X-12 and RF-1100 Shell Size Chart

This Head Size…
…Uses This Shell Size
XS
XS
S, M
M
L
L
XL, XXL
XL
The XL shell of the RF-1100 does seem big towards the bottom and the helmet sits lower around my cheeks and jaw than the RF-1000.
The chin bar on the RF-1100 measures 105 mm tall versus 93 mm for the RF-1000 — a significant difference.
This "low rider" feel is a bit distracting when I'm turning my head to look for traffic and the RF-1100 gives me a bit of that dreaded "fish bowl" helmet feeling.
So my error is your gain; you now know the benefits of the increased choices in RF-1100 shell sizes and you can plan accordingly.
The cheek pads do feel a little more snug on the RF-1100 compared to the RF-1000, but our RF-1000 is several years old, so the padding is probably less snug than it was when new.
There's plenty of room in the chin area of the RF-1100 and the helmet also comes with a removable chin curtain which must be installed when the helmet comes out of the box.
The RF-1100 has large ear pockets that extend all the way out to a piece of plastic covering the EPS liner.
The plastic is even molded in the shape of a speaker, so I wouldn't be surprised to learn that Shoei may offer some type of communications system for this helmet in the near future?

Because I'm borderline L/XL with a round 60.5 cm head, the size XL RF-1100 is actually a size too big and the larger shell sits lower on my head.
That means that my eyeglasses do not fit correctly inside the helmet, a problem I rarely have with my thin wire-framed specs.
The shape of the ear pocket in this shell size pushes on the temples of the eyeglasses and makes them sit higher on my face than I'd like — another reason to ensure the correct size helmet.
Shoei says the size XL RF-1100 fits a 61-62 cm head and we agree. So if you're borderline like me with a 60.5 cm head, I think dropping down to the size L would be a better choice, with a modification of the cheek pads if necessary.
The liner and cheek pads of the RF-1100 is removable and the cheek pads are available in six different thicknesses to custom-tailor the fit.
For more information on choosing and fitting a motorcycle helmet, please see the wBW Motorcycle Helmet FAQ page, which also includes a discussion on head shapes.
Score: I'll give the Shoei RF-1100 an "Outstanding" rating for fit and liner comfort.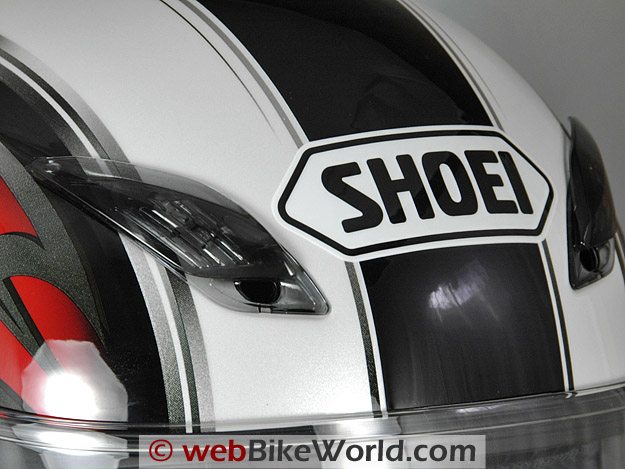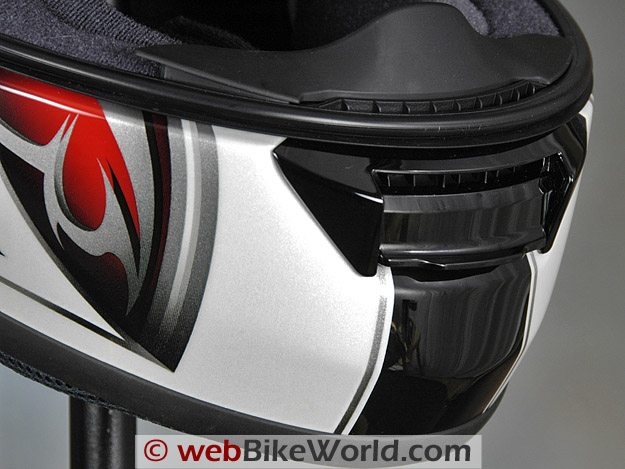 Shoei RF-1100 Ventilation
The chin vent and top vents on the RF-1100 snap open and closed with a high-quality feel. The chin vent looks like it could have been lifted from the RF-1000 with a minor styling update — it's that similar.
Surprisingly, the RF-1100 still does not have direct venting through the chin bar; instead, the air travels up in back of the face shield for ventilation.
Nevertheless, the system does work rather well, especially with the large chin curtain underneath, which blocks most of the air that normally flows in from underneath and allows the chin vent to do its job.
It also creates a still air pocket behind the chin bar and I can tell that there is a definite difference in air flow when the chin vent is opened or closed.
Air flow up top is also good; better than average actually, and I can definitely feel a difference when the vents are opened or closed. But wait — that's the way they're supposed to work, right?
Unfortunately, it isn't always the case and there are too many helmets with vents that seem to make no apparent difference in air flow whether they're opened or closed.
A direct an unencumbered air path can be seen inside the RF-1100 directly from the top vents through the EPS, although the air flow is blocked somewhat by the lining.
The top portion of EPS also has vent holes and passages to help distribute the air.

Even though the 125+ helmets we've reviewed gives a fantastic database of knowledge for comparisons, it's always difficult to remember the characteristics of any one particular helmet's features.
Just by coincidence, however, we're in the process of evaluating a new Nexx full-face helmet along with the RF-1100 and the Shoei X-12.
Riding back-to-back with each helmet in a group and trading helmets during a ride was enlightening, as the differences were readily apparent.
The chin venting and the top venting on the RF-1100 is better than average. You'll have to wait for our Nexx XR1R and X-12 reviews to learn how they compare!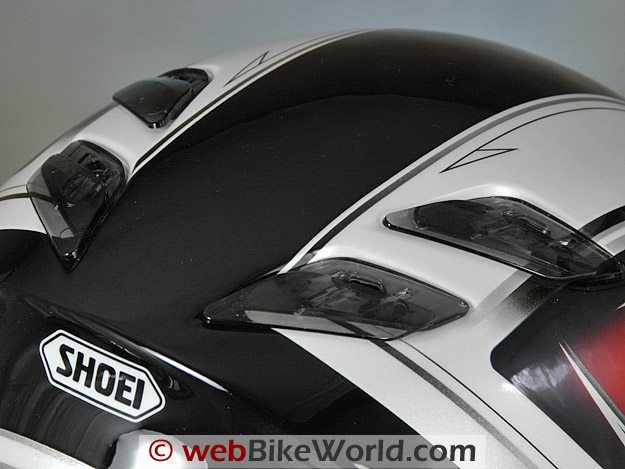 Another difference between the RF-1100 and its predecessor is the newly designed rear exhaust venting system.
The RF-1000 had a rear spoiler which incorporated the exhaust vents, while the RF-1100 has a smoother design with four independently opening exhaust vents that unfortunately use the same "Slippery Slider" covers used on the front vents.
I prefer rear exhaust vents that are always "on", but hidden under a cover to prevent water ingress.
Unless I'm riding in very cold weather, I almost always want to have some ventilation for air movement through the helmet, so an overly complicated exhaust system seems more like a liability than an asset.
The four exhausts on the RF-1100 are more trouble than they're worth, in my opinion. There's really no way to tell the difference whether two or all four are open, so why bother?
Plus, the absence of any ridge or serration or sticky surface other than a slight raise in the center of the cover, combined with the strange angle of the covers, mean that it's next to impossible to operate the rear exhaust vents while riding anyway.
I can barely move the covers even with my bare hands while holding the helmet in my lap, and I'm surprised that Shoei did not address this issue, which was also noted years ago when the RF-1000 was first released.
Score:  The RF-1100 gets an "Excellent" rating from me for better than average ventilation but a "Poor" for the design of the rear exhaust vents.
I covered this in the First Look and after more experience in wearing the helmet, I can say that my opinion hasn't changed — the operation of the face shield on the RF-1100 is first-rate.
It fits very tightly to the eye port gasket, which even has a sort of built-in rain ridge to help prevent leakage that actually works!
The RF-1100 proved leak-free while riding in some huge rainstorms we experienced here recently when a couple of us were out evaluating jackets.
The face shield has just about everything necessary for a proper fit and function with strong detents, a firm feel and an excellent removal mechanism.
The special Shoei lock on the left-hand side of the face shield can be flipped up to lock it shut tight when riding or flipped down to push the visor out very slightly for defogging.
I noted also in the First Look that Shoei is offering a Pinlock anti-fog visor insert option for the RF-1100 (and X-12). Several helmet manufacturers, including Suomy and Caberg, have apparently given up on coating their original equipment face shields with an anti-fog treatment and are instead going with the Pinlock anti-fog insert system (review).
Our feeling is that the Pinlock inserts work, but they have several disadvantages, including cost, installation issues and the care that must be taken to clean the face shield with the Pinlock installed.
This seems to be a step backward, although the Pinlock does work. However, not all is lost; we have word that a revolutionary new motorcycle helmet face shield anti-fog treatment is being developed and we'll keep you posted on that.
Shoei claims that the Pinlock for the CW-1 face shield is sized to provide "fog-free viewing to the top of the helmet's larger eye port" (a Pinlock insert is specific to each helmet face shield design, unfortunately).
The eye port on the RF-1100 actually doesn't seem as large as the RF-1000, mostly due to the wider (taller) chin bar on the former.
Outward vision is by no means poor; in fact, it's probably slightly better than average, but not as good as others.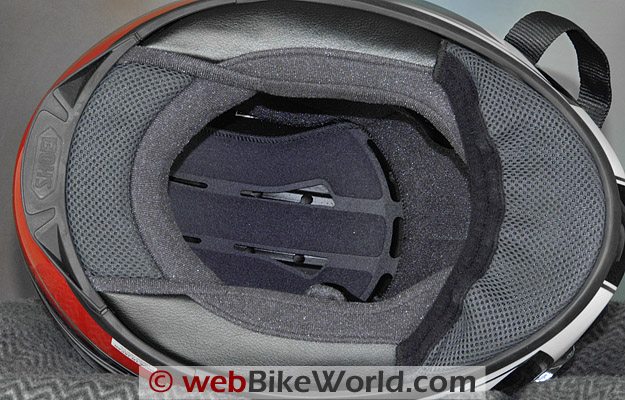 RF-1100 Helmet Weight
We were surprised and also disappointed to discover that the RF-1100 has gained 136 grams over the size XL Shoei RF-1000 we reviewed previously. This RF-1100 weighs 1746 grams (3 lbs., 13-5/8 oz.).
The Shoei X-12 also put on the lard; the X-12 in size XL weighs 1766 grams compared to the Shoei X-11 at 1635 grams.
The RF-1100 is one of the first helmets to meet the new Snell 2010 safety standard (more here), but it is not clear whether this or the addition of new features, the new liner, the shield removal system or other parts is responsible for the weight gain.
The only thing I can add after wearing the helmet for a few weeks is that it has excellent balance and aerodynamics.
Here's the data comparing the RF-1000 and RF-1100 along with the X-11 and X-12 helmet weights, taken from the wBW Motorcycle Helmet Weights page, which lists the weights of all of the motorcycle helmets reviewed to date:
Shoei RF-1000 (review) (XL) 1610 grams; Shoei X-Eleven (review) (XL) 1635 grams; Shoei X-12 (review) (XL) 1766 grams.
Score:  The RF-1100 gets a "Very Good" rating for acceptable weight and good balance.

RF-1100 Noise Levels
Push back those big vent covers in the front to uncover the large vent holes and you'll get good ventilation — but also some noise.
It's a relatively annoying whistling or "screaming" noise that is generated by the air flowing over the holes and the sound is apparent in many different riding positions, but especially when the head is turned sideways.
It's curious to note that we discovered the whistling noise seems to decrease when riding behind a short windscreen on some bikes, while it becomes louder on unfaired bikes — just the opposite of normal experience.
The only time the top vents become relatively quiet is when sitting upright with the head out in the airstream.
Otherwise, the rest of the RF-1100 is quieter than average, with good sealing along the bottom part of the helmet — as long as it fits correctly.
So this makes for a tough choice on overall noise level estimation, so I'll give the RF-1100 and "Average" rating.
Note that our helmet evaluations are a combined effort of several riders over time on different types of motorcycles with and without windscreens.
Evaluators wear correctly fitted, high quality ear plugs (even when evaluating motorcycle intercom systems).
Always protect your hearing when riding a motorcycle. See the wBW Earplug Reviews for more information on choosing and wearing earplugs.
Note also that perceived noise levels will vary, depending on the individual.
Noise can be caused by many factors, including helmet fit, the type of motorcycle and windscreen, wind speed and direction and even the rider's clothing.
For more information on helmet noise, visit the wBW Motorcycle Helmet Noise page.
Score:  The RF-1100 gets a a "Good" rating for noise control.
w

BW

Video: Shoei RF-1100 Helmet
Miscellaneous
The AIM+ shell used on the RF-1100 shell a combination of "fiberglass with organic fibers that are so strong they can only be cut with a laser", according to Shoei.
The chin strap uses a D-ring system and the padding is comfortable.
The helmet has an excellent five-year warranty and meets DOT safety standards and is Snell certified. The XR-1100 version sold in Europe meets ECE safety standards.
web

BikeWorld

Overall Opinionator – Shoei RF-1100
Picks…
…and Pans

Feels solid, excellent quality.
Excellent face shield operation.
Comfortable liner with "RF-1000" fit.
Styling.
Surface Finish and clear coat.

Noise from top vents .
Vents difficult to operate.
Pinlock insert is optional.
Conclusion
The new Shoei RF-1100 is an excellent design loaded with high-quality features. It's not revolutionary, but a nice evolution of the very popular RF-1000.
While let down somewhat by the front vent noise levels and the difficult-to-operate vent covers — something that definitely should have been addressed as an update to the RF-1000 — overall the RF-1100 hits all the right buttons.
Will it be enough to convince buyers to spend an extra couple of hundred dollars?
That's difficult to say and it's not clear that there's enough of a difference here to convince recent RF-1000 owners to upgrade. Time will tell…
w

BW

Review: Shoei RF-1100 Motorcycle Helmet
Manufacturer: Shoei Co. Ltd.
List Price (2009): $399.99 to $499.99
Sizes: XS to XXL Shell Sizes: 5
Made In: Japan
Review Date: October 2009
Colors: Solids and graphics

Rating Scale is subjective: Unacceptable, Poor, Neutral, Very Good, Excellent, Outstanding.
Note:
For informational use only. All material and photographs are Copyright © webWorld International, LLC since 2000. All rights reserved. See the webBikeWorld®
Site Info page
. Product specifications, features and details may change or differ from our descriptions. Always check before purchasing. Read the
Terms and Conditions
!
Owner Comments and Feedback
From "R.J." (February 2012):  "I had an RF-1000 which I had been using about 6 months but found a great deal on an RF-1100.
While the helmets look very similar, besides the obvious difference in the rear vents there are a couple of things which I like much better on the RF-1100.
First and foremost is the quietness. Oh my gosh. I have a 2002 VFR800 with a windshield lip but still got some wind noise with the RF-1000 as the wind hits the top half of my helmet.
I do wear good rubber ear plugs (like swimmers use since I can't get the foam ones to fit into my narrow ear canals and the wax ones won't stay in place). With the RF1100 with the vents closed, it is almost like riding in a car. I couldn't believe how much quieter it was.
The top front vents look very much like the ones on the RF-1000 but they are a little lower profile and have sort of an inverted V shape where the RF-1000 vents are flat on top.
It is hard to tell on the RF-1000 where the wind noise is coming from but as an experiment I put tape across the top of the visor and the helmet shell just above that to stop any air coming in and smooth out that ridge at the top of the visor.
That made no noticeable difference so I have to think it is the vents. That is with the vents closed.
They are much louder on the RF-1000 when open than when open on the RF-1100 as well. Also, on the RF-1100 the top of the visor has a little curve backwards and extends slightly higher above the gasket.
That along with the mechanism to pull the visor against the gasket gives a much better seal than on the RF-1000. I had to really fiddle with those screws on the RF-1000 to get the visor to seal properly top and bottom.
I weighed both helmets on an office scale. I wear a size medium. The RF-1100 was only about 60 grams heavier than the RF-1000. Don't notice the difference at all.
One odd thing I noticed is that the RF-1100 must be slightly wider than the RF-1000. The RF-1000 fits in the factory sidecase on the VFR but not the RF-1100.
The fit is pretty much identical with one exception. The padding around the bottom on the RF-1100 seals better around the cheeks and neck which would make a significant difference to someone with a stock (or no) windscreen.
I put a Windjammer on my RF-1000 which greatly reduced the noise from around the bottom but it is totally unnecessary with the RF-1100. Hopes this helps anyone trying to decide between the two."
---
From "B.F." (January 2012):  "I find that the face shield can be a bit fussy to install correctly…and it was something I had to learn to do carefully. It is possible to reattach the shield, but to have it not seal properly which generates a ton of noise.
The shield will still raise and lower and appear to be closed, while not sealed right.
Solution? Remove the shield and install it again, more carefully. The shield will reattach making a very close, tight seal against the bottom tracks. When the wind shield is installed correctly, the helmet is pretty quiet."
---
From "M.B." (November 2011):  "Nice everything except the noise; the face shield does not seal properly even after making the hinge adjustment per the owners manual.
I can get the squealing to stop if I press on the face shield. More noise is found at the shield connections too. If I put my hands over the hinge area while riding that squealing goes away too.
Conclusion: I bought one, rode with it, (600 miles per week) made all possible adjustments, hated the noise so much I sold it."
---
From "G.J." (July 2011):  "I've had an X-Eleven for about 5 years now, was time to change. Didn't like the new X-Twelve because of it's price, weight and ugliness. So I decided to give the RF-1100 a try.
First impressions: the fit is perfect, just as the X-11 was, same for quality and finish. The shields were easier to change on the X-11 but it's still pretty efficient.
I'd say the biggest disappointment was concerning wind noise.
With my X-Eleven even with all vents opened, I'd hear the exhaust, with the RF-1100 even with all vents closed, wind is what I hear most, and barely hear the exhaust now.
I did hear some whistling at first, although it seems to have faded out unless I turn my head then it reappears at times.
Overall it's a very high quality helmet, it does offer good ventilation (slightly below X-Eleven) it's one of the best looking helmets out there and personally haven't had any issues wearing glasses with the helmet.
Without graphics the price is amazing for such a high quality helmet. I just keep dreaming of a helmet that will reduce wind noise further and just let you hear your engine.
Ear plugs are required for touring, if you just ride in the city (below 90 km/h) then helmet is very quiet. I'd give it an 8/10 rating, if it was more quiet it would get a 9.5."
---
From "R.F." (09/10):  "Just thought I would drop you a quick couple of notes following your excellent review of the RF 1100.
1)  Can you change the title to read "RF 1100 (XR 1100)". I spent a long time looking for XR1100 reviews and only realised they are almost the same when a salesman explained it to me (RF has Snell 2010 rating vs. XR being Euro 22-05 rated).
I was pleasantly surprised at the much lighter helmet when I got it (marked as 1400 g for the medium). Those looking at an XR may think it is the same weight as the RF and be put off if comparing to other Euro 22-05 lids.
Editor's Note:  Helmet manufacturers are notorious at printing the weights of the lightest versions of the helmets; i.e., the XXS or XS. We have never found the weights printed on the label to be anywhere close to correct, so I wouldn't go by that.
It's like when the motorcycle manufacturers publish an unrealistic "dry weight" of a motorcycle.
We weigh all of our helmets on a very accurate Polder laboratory scale. The weight differences between the ECE and DOT versions are insignificant.
2)  I was surprised to read some comments about people finding the ventilation poor and it difficult to wear eyeglasses.
With the Pinlock in and chin vent open, I have found it possible to not only wear glasses quite comfortably on cold mornings but even have balaclava over my mouth and nose that would normally fog the lenses instantly provided you stay over about 50 km.
If dropping below, cracking the visor open does the rest.
3)  The extent of the chin curtain was also a surprise for me.
With a new touring jacket with high neck (Dainese gator evo — please do some more reviews on their gear, I'm in love with it…) I have been able to completely ditch my balaclava for my 45 km commutes on the highway in 8-10 degree weather. Brilliant!
4)  The extended vision of the new Pinlock system really is a selling point worthy of the fancy video Shoei have released on it. I have also found it much easier to take in and out than my old X901 Pinlock due to the CW-1 visor being so flexible.
It is now quick enough to do, that I can swap the insert between a dark tint and clear visor without needing to spend 10 minutes trying to fight it.
Overall I am very happy with it and feel like I have got good value for my money. A nd I think I'll get used to working the silly rear vents after a while!
One final thought – have you considered putting in a standard link to the Sharp site in your helmet reviews?
I found it most useful to get something better on the safety performance of the different helmets I was looking at to see if I was actually getting more protection by spending more. I see you have a review on it but a standard link under each review would help those that aren't aware.
Thanks again for your good and thorough reviews – probably the best on the web. Well done."
Editor's Note:  "probably"?  😉  Also, we have an entire page devoted to the Sharp helmet rating system.
---
From "J.D." (1/10):  "I thought I'd drop you a line and let you know that I picked up a Shoei RF-1100 Warlord design, I found a sweet deal on this helmet online back in November for $389 shipped so I jumped on it.
Living in San Diego, California I've had a couple months to use it so I figured I'd give you an update on my impressions.
Fit and finish is excellent, this is one of the most comfortable helmets I've ever worn and I like the Warlord design the most out of their models with graphics.
As for comfort, It seems like Shoei spent a lot of time working on the cheek pads and how they contour around your head.
Compared to the RF-1000 it drops down a bit farther in the chin area and the padding seems to envelop the lower part of the head tightly which helps cut down on wind noise.
Shoei advertises a larger viewing area with the new visor but I didn't really notice any increase in that area personally. One thing I will say is that the new shield fits tightly and doesn't whistle at all, which is more than I could say for my RF-1000 (at least with the Spectra shield installed-and I tried 3 different shields, they all whistled).
Ventilation is another area that is much improved. With the chin vent open and the 6 top vents I get a nice blast of cool air on my face and you can really feel the air moving over the top of my head.
The only complaint I have with the ventilation is that with it comes increased wind noise but since I usually wear ear plugs this isn't a huge issue for me.
I was concerned that all those vents would be difficult to open or close with gloves on while riding but it hasn't been a problem. They are easy to find and snick smartly into place without much effort.
I also could never seem to remember which way to slide the rear vent on my RF-1000 to open it or close it. These are much more intuitive.
My only complaint, and this is a big one, is that they still don't have the Spectra shields available for purchase yet.
Getting sunglasses in and around those tight cheek pads can be a pain and they never seem to sit on my face correctly so the Spectra shield will be a very welcome addition.
Anyway, keep up the good work, I enjoy checking out your site."
---
From "C.B." (12/09):  "I bought this exact helmet last month to replace an old Arai Quantum 2. The Shoei had a noticeable whistle at speeds over 45 mph but I've managed to track it down to the visor not seating properly on the gasket.
When I do notice it, all it takes is a slight hand pressure on the visor to get it to quite down. I've only had a few hours of riding time with this helmet, but I notice the whistle less every time.
I'm pretty confident that once the visor and gasket break in a bit more, the whistle will disappear, or at least drop below the level of notice.
I also felt a bit of concern on the fit, particularly across the forehead. On my initial ride with the helmet, I could definitely feel that it was tighter across the front than my Arai.
I was afraid that once the padding on the forehead started to break down, it would feel like I strapped a board to head (which was an issue with my first Shoei about 15 years ago). I'm glad to say that I've gotten used to the fit and I don't feel any undue pressure anywhere on my head.
I think I'm going to really like this helmet once I spend more time with it. The air flow is great, the fit feels snug but comfortable, and it looks terrific.
I'm sure it will offer me better protection than my 10+ year old Quantum 2, which fit me like an old pair of jeans, and probably offered me the same level of protection given how old it is.
Thanks for the review and the great website. You guys give a pretty thorough overview of a lot of products that I never knew existed (like Bohn armor and Diamond Gusset jeans). I bought the helmet so hopefully that will help keep the reviews coming."
---
From "M.G." (11/09):  "I recently tried on the RF-1100 at my local shop and noticed a big difference in fit from the RF-1000. I've had my RF-1000 for the past 20,000 miles and it fits me pretty well.
But five minutes with the RF-1100 on and I was feeling pressure on my forehead. The rest of the helmet felt the same, but it felt like the helmet was being pushed backwards.
Also, I first thought the new rear vent design was pretty inefficient. I could barely get the vents open, and why would I want 4?  Then an associate showed me that if you use your palm and simply slide it back, they open easily in one motion.
I had been trying to use my finger tips and that was slow and difficult. However, I didn't try it with a glove on, so you might have a different experience while wearing gear. Keep up the good work."
Editor's Reply:  It could be that the reason the RF-1100 feels different than the RF-1000 is that the RF-1100 now uses 5 different shell sizes, so I would guess your old helmet is now equivalent to a different shell size in the RF-1100.
Because of the differences, RF-1000 owners moving to an RF-1100 should try one size smaller and one size larger just to make sure.
Also, it's possible that after 20k miles, the old RF-1000 has become a bit loose and has conformed to fit your head shape more comfortably than a new helmet.
---
From "T" (11/09):  "Just out of the box today and hit the streets with it. I purchased it because of all of the fairly rave reviews about fit, quiet, and ventilation. Well, two our of three is my finding.
1) It fits snug, like it should, a bit too much in the cheeks but it is comfortable and gives me a more secure feeling that any other helmet I've had. No problem with sunglasses fitting.
2) It is reasonably quiet … but you will still need ear plugs on an open bike.
3) It falls WAY short of the expectation for ventilation for a full-face unit.
With the "breath" guard in place, with ALL of the vents open and the windscreen down, it fogs on the slightest breath and takes 15 seconds or so to clear (holding my breath). It was a balmy 40 degrees F with low humidity (Utah).
I had to crack open the windscreen to clear it with my normal respiration and then the helmet becomes as loud as any other $80 helmet, not the $350-400 kind.
Save your bucks and buy a heavily discounted Shoei 1000, they are really cheap now."'
Editor's Note:  Mentioned above in the Face Shield section, Shoei and other manufacturers are now offering a Pinlock anti-fog insert, apparently in place of anti-fog coatings on the face shield.
A Pinlock specific to the RF-1100 is available for Shoei, although at an additional expense.
---
From "D.P." (10/09):  "I tried an RF-1100 on a few weeks ago and also could not fit my thin framed glasses properly in the helmet. I do not believe your issue was related to the helmet being too big as mine was properly sized.
This is a major disappointment for a helmet line that has always been glasses-friendly. Shoei even mentions this in its literature.
For me it does not matter, as like the RF-1000 it does not fit my head shape anyway. I wore Shoei helmets for many years including the RF-R, X-9, and RF-800 but gave up after the RF-1000 did not fit me properly.
No matter, as this allowed me to move onto other helmets such as Shark.
Once you wear a lightweight helmet you can never go back to a heavier one. This is another area where the new Shoei did not impress me. As your review implies, the new Shoei is more evolutionary rather than revolutionary.
I say, "eh". I personally think Shoei and Arai are Dinosaurs among men. Only time will tell, Arai has a new helmet coming out- the RXQ."
---
From "J.D." (10/09):  "I read your initial impressions of the Shoei RF-1100 on your website and since I tried one on in store yesterday I thought I'd drop a quick note to let you know my impressions.
I have an RF-1000 that I've put about 8,000 miles on in the last year and a half and I've been very happy with it overall. That said, I tried on a medium RF-1100 in store yesterday and it felt just about perfect in every area.
There were no tight spots, yet it was snug enough that I could not twist it on my head or pull it off over my head.
The padding is very comfortable and the outward view is generous. I'd like to try one on the road though to see if it is worth upgrading from my RF-1000.
This new helmet looks larger than the RF-1000 but I didn't notice it being much heavier, if any (I noticed that you state it is a few ounces heavier, I'll take your word for it).
I like the fact that all of the liner material is removable in the new helmet. I've replaced the cheek pads in my helmet once already, it would be nice to be able to clean or replace all the interior padding periodically though.
I look forward to a more in depth review in your pages in weeks to come."
---
From "C.C." (10/09):  "I finally got to try on a RF-1100 at the local shop last week, and I wanted to give you a quick impression about it.
The RF-1100 does not fit me as well as the RF-1000. I think Shoei made it a bit rounder than the RF-1000.
My head circumference is about 59.75, and that by the book usually falls into a Large, but that doesn't usually work.
I appear to have a round head, so I tried many round helmets in L and XL.
The L's are usually too tight because my parietal bones (towards the back of the head on the sides) protrude much more than avg heads so that there is significant amount of pressure and pain in that area with a L.
The XLs runs a bit loose usually, most noticeably a bit of room in the forehead area, although the XLs doesn't slide side to side or anything. However when I try the XL in a less round shape helmet like the RF-1000 it fits really well.
The RF-1000 forehead is and everywhere else is snug on my head. I would really like to have a RF-1100 for the new features and Snell 2010, but I might have to go with a RF-1000 and wait for other Snell 2010s."
---
From "I.B." (10/09):  "Hi, just thought I'd give you a quick disjointed first appraisal of the XR-1100.
Purchased my XR-1100 a couple of weeks ago as a replacement for an XR-1000 that had served well for the previous 2 years.
First impressions are that the fit is excellent for my "Shoei Head" (this is my 4th in a row, Raid, Raid2, XR-1000) and the padding and materials are of a better quality. Feels very plush against your skin.
Very stable and balanced even when in truck turbulence.
The new CW visor is also an improvement, giving an extended peripheral viewing area and the Pinlock covers a greater area of the shield, both top to bottom and side to side.
The downside of owning Shoei helmets has been the lack of adequate space to fit earpieces for Autocom's etc. This looks to have been attended to, as there are now much larger areas at ear level to allow easier fitting.
The novel way the shield pulls itself against the helmet seal is an excellent feature and the noise level is lower than my XR-1000 which I had fitted with a neck curtain from a Shoei Multitec flip-up.
Another improvement is the airflow through the front of the helmet.  500% better than the XR-1000. UK price is £299.00
Look forward to your full review. Keep up the good work."