SHIFT Torrent "Storm Series" Waterproof Gloves Review
A very inexpensive waterproof glove that also works well in cool weather.
Comfortable but without hard armor.
The Shift Torrent SS gloves have a slightly fussy cuff, but they're probably the least expensive fully waterproof motorcycle gloves around.
Keep a pair stuffed in the tank bag or under the seat for those unexpected downpours…
Shift is known for making good-looking motorcycle clothing and accessories and selling them at very reasonable prices. Not ever rider can afford to buy the "best" — if there is such a thing.
After all, what's "best" for one rider may not be for another. And besides, the word "best" quite often translates to "cheapest" (aka "least expensive") for many motorcyclists.
We received these Shift Torrent SS (Storm Series) waterproof gloves back in the winter, along with the Shift Streetfighter jacket (review) and the very nice Shift Fuel street shoes (review).
I was tasked to evaluate the Torrent gloves, and I've been wearing them off and on ever since.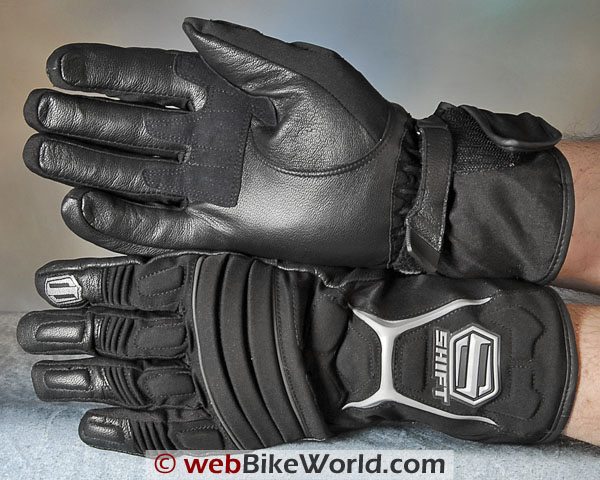 ---
Where to Buy Shift Torrent Waterproof Motorcycle Gloves
Check Reviews & Prices on Amazon
Check Reviews & Prices On RevZilla
Also: Motorcycle Jackets, Motorcycle Gloves, Motorcycle Boots, Motorcycle Pants
---
Shift Racing Torrent Gloves
The Torrent gloves are first of all very comfortable — they feel a lot more like street gloves than motorcycle gloves, which is a good thing.
They're lined with a comfortable sort of fleece, and although they don't have any hard armor at all, the lack of same definitely helps to make them comfortable and flexible.
The size large shown here fits me perfectly, with enough room for my fingertips and thumb when I'm gripping the throttle.
I guess not everyone likes hard bits on their motorcycle gloves, and I've seen more than a couple of pair of waterproof gloves made without armor, so it's possible that adding or sewing armor to the gloves would ruin their ability to keep out water.
Not that there isn't some protection on these gloves — they have extra padding on the back of the main knuckles and the smaller knuckles and the backs of the fingertips, which are also covered in leather.
The palms are made from a lightweight but very soft leather, with an extra wear piece under the grip between the thumb and forefinger.
In fact, Shift says the palms are goatskin leather, which is known for its softness and durability. The extra reinforcement in the grip area is something called "Charmude", an artificial leather that has a suede-like feel.
The stitching all around is nicely done, with some double stitching on the palms.
The backs of the gloves are made from windproof nylon, so they sort of look and feel like winter ski gloves. Many winter motorcycle gloves use this type of fabric though.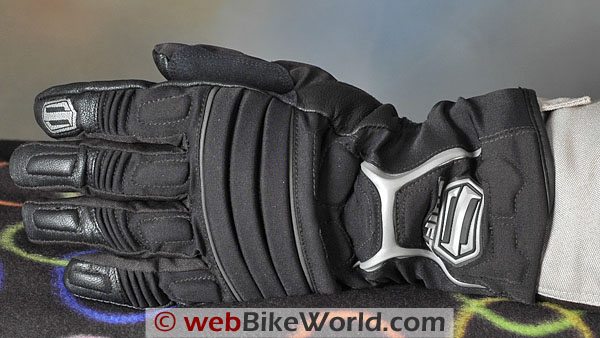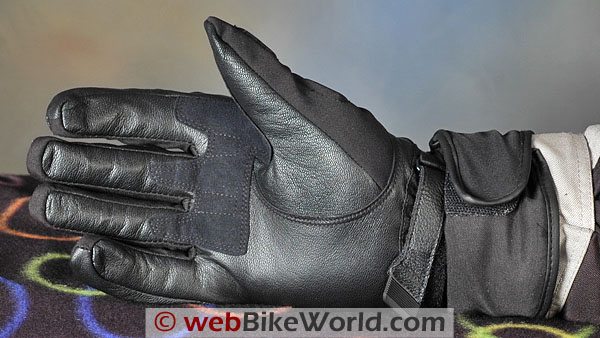 ---
Where to Buy Shift Torrent Waterproof Motorcycle Gloves
Check Reviews & Prices on Amazon
Check Reviews & Prices On RevZilla
Also: Motorcycle Jackets, Motorcycle Gloves, Motorcycle Boots, Motorcycle Pants
---
Water Resistance
My experience has been that the Torrent motorcycle gloves are definitely waterproof — I wore them through the rainy spring weather we had, and they kept my hands dry and warm in some pretty heavy rain.
The Hipora waterproof (and claimed breathable) liner is what does the trick.
Just for kicks, I put them through the "webBikeWorld Bucket Test" — that is, I put the gloves on and stuck my hands in a bucket of cold water for 10 minutes and not a drop leaked through.
Of course, the outside material and leather got pretty soaked and felt wet and heavy, but the insides remained as "dry as a bone", as they say.
What's interesting is that the gloves are pretty easy to wring out and they seem to dry very quickly after they get this wet.
The one thing I'm not too keen on is the cuffs — Shift gave the Torrent gloves a double cuff; that is, there's a short cuff sewn to the inside wrist of the glove and it has an elastic end, then there's the "normal" gauntlet on the outside of the glove.
I think this was done to help keep the water from dripping down into the glove, but the double gauntlet system makes it kind of difficult to fit the gloves over a jacket.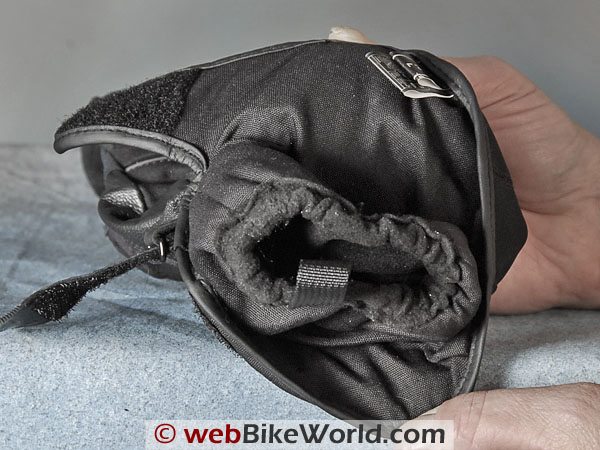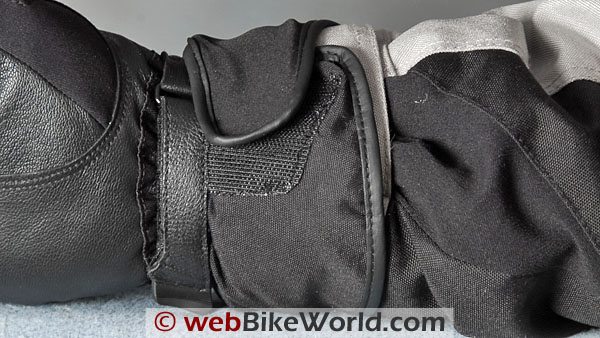 If the outer gauntlet was wider in diameter and longer, it would probably work better, because the inside soft cuff could then fit under the jacket sleeve, while the outer gauntlet would fit over the sleeve.
But the outer gauntlet is too short to fit over some heavier 3/4-length motorcycle jackets, so it can sometimes get bunched up. You can see this in the photos.
This only seems to happen when I'm wearing the Torrent gloves with a heavy-ish jacket that has thick insulation.
The gloves work better if either the gauntlet is worn under the sleeve, where the water runs down the arm of the jacket and over the glove anyway, or when wearing the gloves with a shorter jacket with thinner sleeves, like a spring or summer weight.
By the way, although these aren't summer motorcycle gloves, they do work well in pretty much all temperatures, and it's usually cooler when it's raining anyway, so it's nice to have the soft micro-fleece inside when the weather turns foul, even in the summer.
But the big news is that the Torrent waterproof motorcycle gloves really are waterproof, and for a list price of $49.95, "you can't beat it with a stick", as they say. Do "they" really say that??
---
Where to Buy Shift Torrent Waterproof Motorcycle Gloves
Check Reviews & Prices on Amazon
Check Reviews & Prices On RevZilla
Also: Motorcycle Jackets, Motorcycle Gloves, Motorcycle Boots, Motorcycle Pants
---
Conclusion
The Shift Torrent SS waterproof motorcycle gloves are probably about the cheapest — I mean least expensive — waterproof motorcycle gloves you can buy. I keep this pair in my saddlebags just in case, for those unexpected downpours.
The gloves may not have all the bells and whistles, but at this price and with their ability to keep out water, who cares?
w

BW

 Review: Shift Torrent SS Waterproof Motorcycle Gloves
Manufacturer: Shift Racing (No longer produces street gear).
List Price (2008): $49.95
Made In: China
Colors: Black
Sizes: S-XL (8-11).
Review Date: January 2009
Note:
 For informational use only. All material and photographs are Copyright © webWorld International, LLC since 2000. All rights reserved. See the webBikeWorld® 
Site Info page
. Product specifications, features and details may change or differ from our descriptions. Always check before purchasing. Read the
Terms and Conditions
!
---
Where to Buy Shift Torrent Waterproof Motorcycle Gloves
Check Reviews & Prices on Amazon
Check Reviews & Prices On RevZilla
Also: Motorcycle Jackets, Motorcycle Gloves, Motorcycle Boots, Motorcycle Pants
---
Owner Comments and Feedback
Other WebBikeWorld Gloves Posts