Shark RSX Helmet Image Gallery
We published an Owner Report on the Shark RSX in December of 2007.
It was submitted by "Mr. Monk", who really liked his RSX in the "Eagle" graphics designed for the U.S. market.
The helmet looked and sounded pretty impressive.
And since I'm a big fan of Shark helmets and I've been looking for a new helmet anyway, I decided to take a closer look at the Shark lineup during my visit to the 2008 Powersports Dealer Expo back in February.
I always make it a point when I'm at the show to stop by for a chat with Shark's Export Director Christophe Miravalls to see what's new.
And this time I planned on using the opportunity to try on a few different Shark helmets for myself.
But first I had to decide on a size. I'm at the upper end of a size large, with a head circumference that I measure at 60.5 cm with the tape held snug.
This sometimes causes a problem, because that measurement often falls between a large and an extra-large in most of the helmet size charts.
I usually choose an XL, especially if the helmet has a neutral fit, because I need the extra room on the sides.
The widest part of my head is over my ears, and a too-narrow helmet can really squeeze my cheeks.
Some helmets make me feel like my head is in a C-clamp, which, as you can imagine, gets pretty painful after an hour or so!
But the problem with many of the XL helmets I've tried is they can tend to be a little loose in the rear or on top.
This is also a concern, because a perfect fit would feel snug all around, and it's important to have a secure fitting helmet to allow the padding to remain as close as possible to my head to get as much reduction in force as possible during a crash.
Christophe took a couple of measurements and he declared me a size large, so I rolled up my sleeves and dove right in, determined to find my next "perfect" helmet.
Now visiting the Shark booth at the Dealer Expo is like being a kid (or adult) let loose in a chocolate shop — everything looks fantastic and I don't know which one to grab first and I want one of each!
But I remembered that the Shark RSI we reviewed is a long oval shape, which unfortunately just doesn't fit my "earth" shaped skull, so I passed on that one and tried on a couple of differentShark RSR2 (review) helmets in various colors, and they felt pretty good.
Then I picked up this RSX in the "Intense" graphic pattern shown here, and when I tried it on and discovered it felt great, I was sold.
So the RSX was placed into full-time service back in March, and I've been wearing it ever since. I just went back and re-read Mr. Monk's Owner Report on his RSX Eagle, and I have to say that his review is spot-on.
I really can't add much more, but can only reiterate his findings in this, my long-term update report, which I've abbreviated from a normal full webBikeWorld review.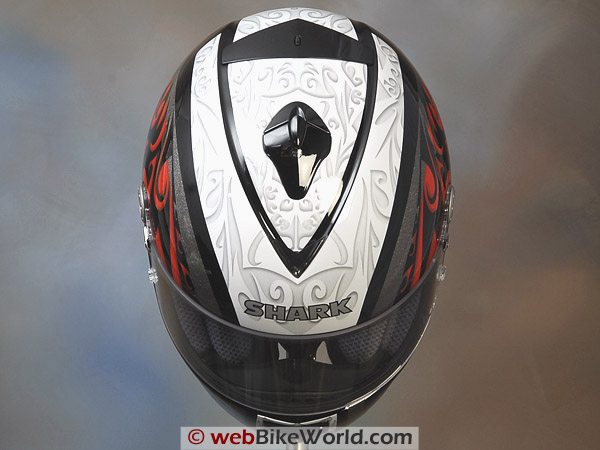 Paint, Graphics and Overall Quality
The paint and graphics on the RSX in the "Intense" graphics shown here are outstanding. I think it's probably the highest quality finish I've ever seen on a helmet.
The photos don't do it justice — the black "tribal" graphics really do look like they're sticking out from the helmet with a 3-D effect.
The overall build quality is also perfect — Shark is one of the most popular motorcycle helmets in Europe, and, in fact, was the top-selling new brand distributed by Tucker Rocky in the U.S. in 2007, and for good reason.
Their reputation for quality and for breakthrough technologies in safety are second to none.
This RSX feels like it's carved from piece of billet. Everything works just as it should and it feels like it will last a long time.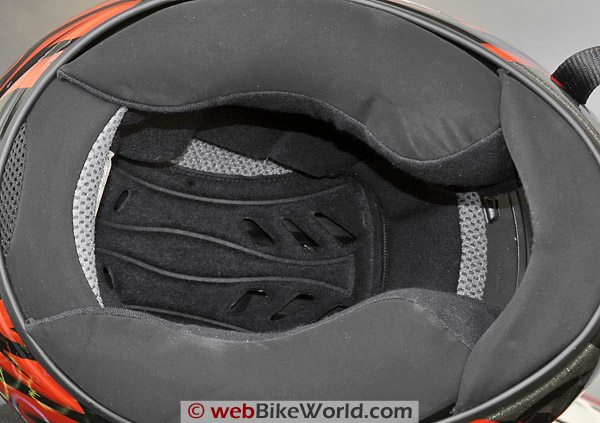 Helmet Liner
The liner is very comfortable and has thick padding. Both the cheek pads and the liner are removable and washable, and different sized cheek pads are available for a custom-tailored fit.
Since I'm between sizes, I ordered a set of XL cheek pads, which are thinner than the size L cheek pads that come with the size L helmet.
Remember that ordering extra cheek pads is counterintuitive; you have to think about what size you want to make the inside of the helmet. In this case, I wanted to go from a size L to XL in the cheek pads.
The XL cheek pads are thinner, not thicker, as you might think.
The RSX feels great when I slip it on. The original cheek pads were just a touch too snug, but the replacements are perfect.
The helmet has large ear pockets that are also lined, and although I haven't yet installed a set of intercom speakers, I'm sure there will be adequate room. Even though the helmet fits snugly, I can still loop my metal framed eyeglasses over my ears.
w

BW

 Video: Shark RSX Helmet
Fit and Internal Shape
The RSX is just a touch on the neutral or "long oval" side of round. It's certainly not as round as the Arai Quantum II and also not as round as the Shoei RF-1000 (review). It's closer to the type of fit I've experienced in the Scorpion helmets I've tried, like the EXO-700 (review).
(NOTE: This fit information has been updated from the original posting, which said the RSX fit like a Shoei RF-1000, which was incorrect).
The RSX feels great, and I've worn it for a few hours at a stretch with no problems.
What's important is that it feels snug, yet I don't feel any pressure points.
This gives me more confidence that the helmet truly is a perfect fit and that it can do its job of protecting my head in case of a crash, without excess space causing too much acceleration before my head meets the padding.
Shark is very committed to safety and technology — their display booth always has videos and dissected helmets showing the various technologies they use to improve protection. The RSX meets both DOT and ECE 22.05 safety standards.
Be sure to visit the wBW Motorcycle Helmet FAQ page for more information on choosing and fitting a motorcycle helmet and for a description of the various head shapes.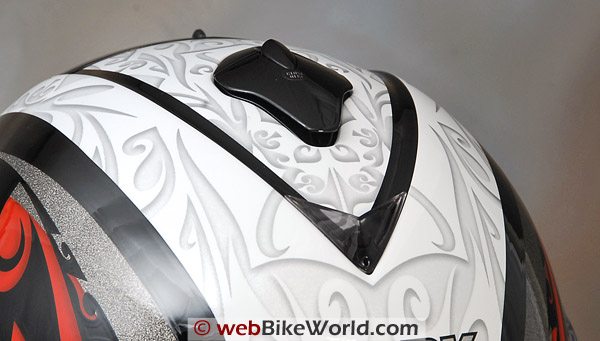 Venting and Air Flow
I was a little concerned about how much air might flow through the vents on the RSX, because the chin vent and top vent seem on the small side.
But now that the temperatures are averaging in the high 80's, I'm very pleased to report that the vents actually work very well, and they do so with a minimum amount of noise.
The top vent works via a spring-loaded click mechanism; press down on the little bar that sticks up towards the back of the vent to open, and press down in the center of the vent to close it.
It feels very solid and secure and the mechanism is a tight fit with no unwanted play.
The chin vent also works with a spring-loaded click; press once to open and again to close. The chin bar has two air passageways in back, through the thick padding, which allow air to pass through to the rider's face, above the small chin curtain.
We weren't able to publish a video of the RSX when Mr. Monk submitted his report, but we have one now (below) that illustrates the operation of the vents.
Overall, I'm pleased with the venting — and I agree with Mr. Monk — the helmet passes more air than I thought it would and I'd say it actually flows more air than the majority of helmets I've worn.

Face Shield
Mr. Monk described it perfectly — the face shield on the RSX is great. It uses a friction system which provides an infinite adjustability for raising or lowering the face shield.
It's very easy to remove; turn the little metal lever that looks like a "comma" so that it's in line with the slot cut into the face shield, lift the face shield slightly (no need to raise it all the way) and push the button while you pull the face shield out.
To replace it, simply pop it back on the button and turn the "comma" lever 90 degrees. The little "comma" lever can be tightened if necessary to adjust the friction, but mine was set perfectly from the factory and I haven't touched it since I opened the box.
The face shield also has a snap at the bottom, which can be seen in the photo above, to hold it secure during high-speed runs or over-the-shoulder head checks.
Shark is the only helmet manufacturer I know of that uses a 3 mm thick face shield.
This is a full 33% thicker than most face shields; Shark claims to use Formula 1 technology in their face shield, and I'll bet this one can withstand a lot more impact than lesser face shields. We measured this one at an actual 3.2 mm, which is very stout.
But the face shield has perfect optical qualities, so you'll never notice the difference. There are no imperfections or waviness anywhere; just a solid, thick piece of polycarbonate to protect your eyes.
Helmet Noise
The RSX is surprisingly quiet, especially considering the amount of air it flows.
Noise from the vents is very minimal, although there can be some turbulence-induced noise around the bottom of the helmet under some conditions, like when riding behind a short windscreen. This is variable and depends on the rider, the bike and even the type of clothing the rider is wearing.
But overall, I'd say the RSX is slightly less noisy than average.
See the wBW Earplugs and Hearing Protection page for more information and a list of earplug reviews that we've posted on the site.
Helmet Weight
The RSX shown here in size large weighs 1553 grams (3 lbs., 6-3/4 oz.). This is relatively light and the helmet feels perfectly balanced. Like Mr. Monk, I feel no undue turbulence when riding or during head checks.
For more information on motorcycle helmet weights, visit the wBW Motorcycle Helmet Weightspage to compare the weights of all helmets reviewed on webBikeWorld.
Eye Port and Visibility
This is the one feature of the Shark RSX that may be bothersome to some riders.
The eye port on the RSX is about average in the top-to-bottom dimension, but the sides of the eye port are cut forward slightly, which reduces side-to-side (peripheral) vision more than some of its competitors.
This bothered me slightly at first, but I've become used to it, and installing the thinner cheek pads has helped. The thicker cheek pads squeezed my cheeks more, which would cause my eyes to involuntarily squint when I turned my head to check for traffic.
This may only be an issue for me with my round shaped head, but it's something to note. I can only guess that the eye port is slightly narrower due to something that has to do with the safety features of the overall design.
Conclusion
Again, I agree with Mr. Monk's findings and conclusion right down the line.
The Shark RSX is a relatively expensive helmet, but this is top-of-the-line quality, made by one of the most respected names in motorcycle helmets.
It's no wonder why Shark is becoming one of the best selling high-end helmets in the U.S.A.
w

BW

 Review: Shark RSX Motorcycle Helmet
Manufacturer: Shark Helmets
List Price (2007): $479.99
Colors: Solids and graphics.
Made In: EU
Sizes: XS-2X Shell Sizes: 2
Review Date: December 2007

Rating Scale is subjective: Unacceptable, Poor, Neutral, Very Good, Excellent, Outstanding.
Note:
 For informational use only. All material and photographs are Copyright © webWorld International, LLC since 2000. All rights reserved. See the webBikeWorld® 
Site Info page
. Product specifications, features and details may change or differ from our descriptions. Always check before purchasing. Read the
Terms and Conditions
!
Owner Comments and Feedback
---
From "W.H." (10/10):  "First, I'd like to thank all of the folks that take the time to review gear for webBikeWorld.
When shopping for a helmet about 1-1/2 years ago, I read the reviews about the Shark RSX helmets. My criteria for helmet selection seemed fairly close to those in the each article.
In addition, the price had come down a bit since the RSR-2 was out. So I found a dealer with a closeout in basic Black, and bought it. The Shark RSX is the best helmet I've ever owned. It is light, comfortable, and quiet.
I don't care for earplugs on the street, and the RSX is certainly quiet enough to do without.
There is an additional reason I rate the Shark as the best. I had the misfortune of crash testing my Shark RSX last weekend, when a car abruptly turned left in front of me. Travelling 45 mph, I managed to avoid the car, but not the pavement, low-siding to the right.
I landed on my head, shoulder, hip, and about everything else.
Definitely not recommended, but much better than smashing into the car. I'm sure many of you have been there. The helmet hit the ground at the jaw line, eye socket, and ear.
The 3mm face shield had significant scratches, and the pivot hardware was ground down. I wear glasses, and they were intact underneath. After being checked at the scene, and later at the hospital: No concussion, No internal head injury, Not even a headache!
I'm convinced. If I can't find another RSX, I'll get an RSR-2. Only Shark helmets for me."
---
From "S.S." (6/09): "I just received a Shark RSX that I bought online, based upon the comparison in fit to a Shoei RF1000 which was mentioned in the review.
The Shoei is a helmet which I am able to try on locally, and an XL fits my head like I was the model they used when designing it.
Your comments about the RF1000 fogging up has kept me hesitant from purchasing it, as I wear eyeglasses.
Thus, the Shark sounded like a perfect solution. Unfortunately, the fit on my head is completely different than the RF1000, and thus I am returning it in exchange for the Shoei.
I will do the Pinlock face shield or whatever is necessary to keep the fogging issue resolved, as I guess a perfect fit is really the most important factor.
The build quality on the Shark is beautiful, and it is with a heavy heart that I send it back. Oh, I almost forgot – it was impossible to get my eyeglasses on with the Shark, even with it too loose on my head.
Depending on your frame style, eyeglass wearers should definitely try one of these on before mail ordering if possible.
In closing, let me say that it is very frustrating to live in an area with limited access to products, so I value your reviews and have found them to be very helpful.
I can't really take your reviewer to task for finding the two helmet fits nearly the same on his head, as everyone has a different head shape, and certainly fit is a very personal thing. Keep up the good work!"
Editor's Note:  The comparison to the RF-1000 in the review has since been edited to reflect the difference.
---
From "B.G.":  "I've just spent my first week in my new Shark RSX, finally retiring my trusty, but old, Shoei RF900.
My initial impressions largely mirror yours and Mr. Monk's, in all except noise, oddly enough.
I always wear earplugs (currently use some custom made a couple of years ago in NZ, at a race meeting) so comparisons are reasonable between my Shoei, a KBC VR-1 I also use, and the Shark.
I think my old Shoei is quieter, for some reason. The Shark is quieter than the KBC though. I ride a 2004 Speed Triple, so absolutely no protection from the wind blast (except the riding position now, clip-ons have replaced the standard bars).
And it doesn't matter whether I'm flat on the tank or crouched in the normal riding position, the noise is the same.
Not excessive, by any means, but not as quiet as I had expected given your description(s). I guess it does go to prove that there's no hard and fast rule for helmet noise, or the lack of it.
I love the fact that I can turn my head with no appreciable movement of the helmet on my head, which may just be a function of the improved fit and snugness over the old (and probably a bit sacked out) Shoei, but the KBC does move around a bit too.
I just think the fit of the Shark is better. Perhaps the weight is a factor too.
Air flow definitely feels good, although here in South Florida in the middle of summer, nothing helps when it's 90 degrees on the highway every afternoon!
I certainly arrive home with a less sweaty scalp though, so I guess it does have a drying effect, if not a cooling one. A pity my perforated leather jacket doesn't do the same.
Thanks for the great writing and detailed reviews – your site is unique."
---
From "D.M." (7/08):  "Thanks for the Shark RSX helmet follow-up review. I purchased the RSX Holoyang on the strength of all the positive Shark helmet reviews and the Mr. Monk piece on your site.
I bought the helmet at Motoneko (best price I could find) in Maryland through the web without trying it on. I know, I know. You should try it on first.
Well…I took a chance, measured my head multiple times and went for it.
Now I have about 750 miles on this helmet and am surprised how little I think about the helmet on my head.
That's how much I like it. It fits my XL oval head true to size with the standard pads, a little snug on the cheeks, but that's the way it should be.
The Holoyang graphics are cooler than what I had seen online. I also purchased the chrome mirror shield later, which is excellent in full sun and in lower light. The thick shield inspires confidence.
The venting is sufficient, but I find myself partially opening the shield at slower speeds in high heat. I honestly feel as though my money was well spent. Thanks again for the research and information on your site."