.The Sena SMH5 is a near-perfect example of how to grow the market without diluting an established product line.
The SMH5 is the newest and smallest sibling in the Sena intercom product line and it more than holds its own against growing competition.
In reality this Part 2 follow-on could consist of the following points: Downsizing and simplicity can be good.
Bluetooth 3.0 is good. An intercom for the masses is a reality and…
…The Sena SMH5 truly deserves its "Five Star" webBikeWorld.com rating.
Rick and "Burn" covered the ground nicely in Part 1 of the Sena SMH5 review, so you might be wondering why there is a Part 2.
There are many reasons to continue the "visit" with a certain product, but the bottom line objective is to enhance your knowledge of the product and provide a more factual point of reference.
And this is where I come in. With multiple motorcycles, helmets, electronic toys/tools and loads of motorcycle equipment in this two-rider family — along with a part-time job that sees me on several different two or three-wheeled vehicles every week riding significant distances — the evaluation environment is, shall we say, not lacking.
While my opportunity with the Sena SMH5 intercom system was short, at least by my standards, everything I wanted to put them through (less an extended road trip) got done and at no time did these newest and smallest members of the Sena SMH family let me down.
And while I initially perceived the little guys as less than a "full meal deal", in reality the SMH5 systems are quite satisfying as either a primary intercom system or for augmentation purposes where intercom range is not key, but compatibility with other Sena Bluetooth intercoms or systems is.
Result: less outlay of local currency and an outstanding return on the investment.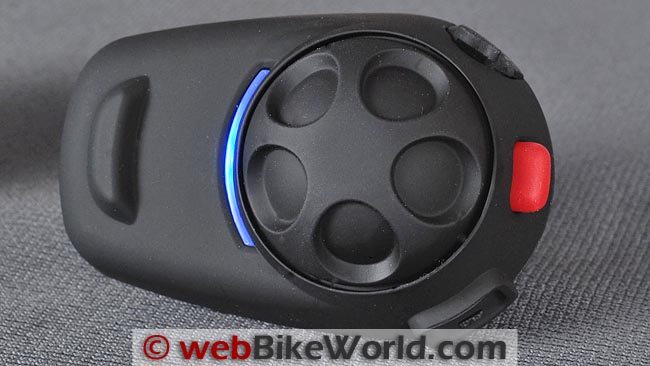 Sena SMH5 Connectivity Chronicles
Pairing fidelity is almost perfect with the SMH5 intercoms, thanks in large part to Bluetooth 3.0 features…and improvements provided by the Sena v1.1 firmware update.
Once a Bluetooth device is paired with either of the units, subsequent connections are made within five to 20 seconds (depending on the peripheral), with the Sena spoken status announcements "voice" always confirming the configuration.
A specific comment needs to be made regarding the SMH5 with firmware v1.1 and the iPhone 4S or 3G iPod. These combinations are near-perfect examples of how it all should work — acknowledging that many Bluetooth systems are tweaked to provide optimal performance from Apple products.
Multipoint Connectivity
"Multipoint" or "point-to-point" connectivity is a feature found on newer intercom systems…although not everyone will need to take advantage of the capability.
Simply put, multipoint allows two headset or "hands-free profile" (HFP) enabled devices to be connected to and supported by the headset concurrently.
This is particularly handy when two mobile phones need to be connected, even if for monitoring (on-call) purposes. Pairing the single function (phone) device first and then pairing the multi-function device or smart phone usually works the best, although some experimentation is often needed to obtain best results.
Selective Pairing
This is another valuable option offered by the Sena firmware to support the pairing of multiple devices via custom configuration of the needed profiles so that both devices can be used almost seamlessly. This was described in the webBikeWorld article entitled Sena SMH10 v4.0 Firmware Update.
Sena SMH5 and GPS
this activity might best be described as a minor glitch with a workaround. Initial pairing efforts with the resident Garmin zumo 660 and 665 GPS devices resulted in only the "Headset" profile being used. This resulted in monophonic (not stereo) music streaming along with the usual voice navigation audio. Something was amiss…
After resetting everything and checking for updates from Garmin — particularly related to Bluetooth — the tests were conducted again; same result. Darn — the first major issue, or so it seemed.
But mitigation was at hand in the form of a workaround; that being Selective Pairing. Using the A2DP stereo music only process of this feature resulted in the Sena SMH5 v1.1 being recognized by the zumo, even though it would connect, then disconnect almost immediately.
But just after the "Headset Disconnected" announcement, a faint voice in the background would state "Media Connected" and it was — stereo music streaming and voice navigation in mono.
This might not be the intended procedure for getting the zumo devices paired with both headset and A2DP support (it isn't documented in the current User Guide v1.0.1) but it works and in true verification procedures, it can be repeated.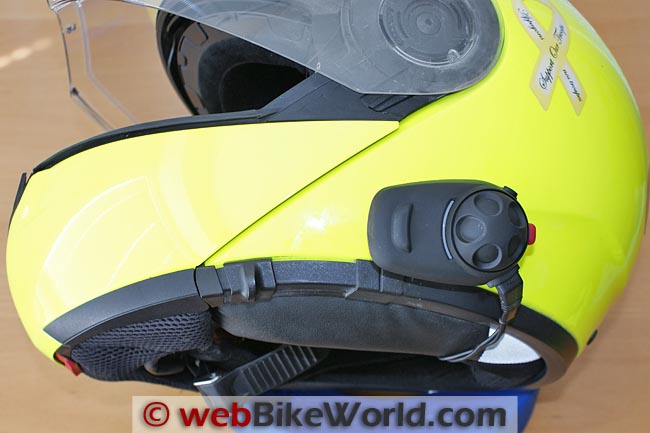 Bluetooth Adapters
Both the Sena SR10 (review) and UClear WT300 (preview) Bluetooth "hub" adapters pair with the Sena SMH5 in short order.
While the capabilities of the Sena SR10  have been detailed, the full UClear WT300 Spider evaluation is in its final stages, although we provided a timely and tantalizing look in the preview.
When used with the Sena SMH5, both devices provided the same basic results documented in theInterphone F5 Part 2 review posting. Either of the adapters provides the ability to add peripherals and use two-way radios for group and longer distance communications; expanding the horizons of the SMH5, as it were.
Ride Report with Observations
The SMH5 intercoms were used on three different helmets; one full-face and two flip-ups. At least ten different motorcycles were employed for the evaluation, ranging from full-up touring to as bare-bones as one can get on two wheels.
The observations made below are based on installation and riding use and admittedly there is some nit-picking at work here, but then as someone who evaluates a lot of Bluetooth systems, it should be expected…
Mounting: The SMH5 helmet mount is a simple sliding rail pressure fit, adequate to deal with the reduced size and light weight of the Bluetooth module. The plastic adhesive mount doesn't provide the same solid "click" as the metal clamp mount when the module is seated and there is a difference, as less pressure is required to unseat the module, something that happened twice.
Microphone Boom: The integrated assembly with the mini-connector for the SMH5 microphone is simple and appears rugged. I found the boom to be about 10 mm to 15 mm short of ideal. In large-shell helmets, where the attachable (adhesive) holder cannot be optimally located on the inside or outside of the shell, the microphone may end up positioned to the left side of the mouth.
As the SMH5 microphone is not as sensitive as other units, including the SMH10, less-than-optimal placement will impact performance. And while on the microphone issue, cost and simplicity concerns aside, the SMH5-A0304 Wired Microphone optional accessory should be included in the basic kit.
Communication Range: Typical ranges of 350 to 400 meters were the norm; slightly more in wide-open flat terrain without any man-made electrical clutter. As the link approaches its limit, noise levels go up until the distance is reached and the link drops. This is in contrast to other systems that are virtually noise-free during intercom use within their range.
Noise: Less the aforementioned intercom noise issue, SMH5 operation is extremely quiet until such time as road speeds are high (don't ask) and the helmet environment very noisy, at which point some cockpit environment noise is picked up during intercom sessions. But then the SMH10B units still exhibit this symptom as well, contrasting with other brands that use other technologies to achieve better results in almost any cockpit environment.
Audio Quality: The audio quality of the Sena SMH5 is good, but not on par with the SMH10 speakers or those used by other manufacturers for their headsets. The differences become clear when playing my standard test set of songs from the same playback device used for other intercom reviews.
I found significant differences in the listening environment between helmets however, with one real surprise. The SCHUBERTH C3 (review) and SMH5 headset combination provides an excellent environment, with virtually no differences discerned between the SMH5 and the SMH10 speakers, outside of overall volume.
The supplied SMH5 headset speakers don't lack clarity and for intercom use and general music streaming they are well-scaled. But for many, the optional SMH5-A0305 Large Speakers will be the preferred solution.
Volume Levels: As noted above, overall volume output is less than the Sena SMH10B system and less than most other Bluetooth systems; a conscious trade-off acknowledged by Sena although I don't see it as a critical limitation for intended applications.
Pairing and Switching: Bluetooth 3.0 brings near-real-time pairing and switching; delays are in the order of milliseconds vice seconds for a more continuous audio environment. Previously paired connections restore in seconds without prompting, accompanied by a beep or two and the appropriate voice announcement.
SMH5 Battery Life and Power Management: SMH5 battery life is nothing short of amazing. Two, three and sometimes most of a fourth day of use is possible from one charge, based on a good mix of intercom and music streaming. As with other Sena systems, the SMH5 units can be charged while in use, an extremely useful feature while travelling.
Firmware: After updating (see below) and reconfiguring both SMH5 units and putting them back into use, it soon became clear that the "fixes" were all good; pairing and operability with the iPhone 4S and another mobile phone was noticeably smoother and faster.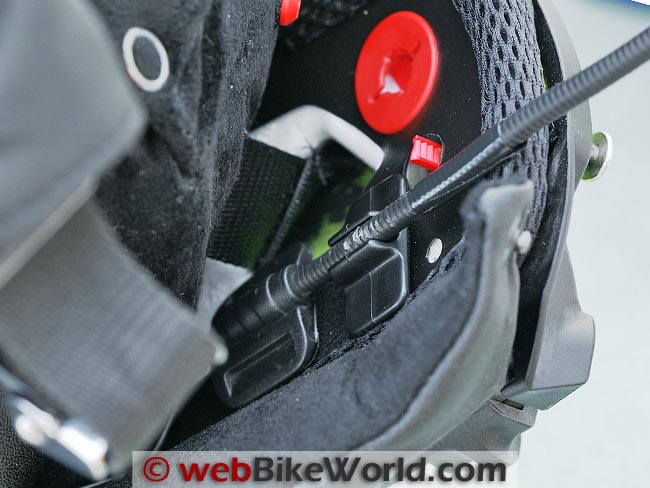 The First Sena SMH5 Firmware Update
As expected, the firmware update process for the Sena SMH5 parallels that of the SMH10 and other Sena Bluetooth systems, with separate and clearly identified sections for each upgradeable product on the post-sign-in product product download page.
Sena released the initial SMH5 firmware (version 1.0) on 9 March 2012, with the first update released 26 April 2012 as version 1.1.
The following changes were identified:
Mobile phone Bluetooth interoperability enhancements.
Power management enhancements.
Intercom function enhancements.
Stand-by time noise suppression improvements.
Minor audio management bug fixes and more…
It didn't take long to get the SMH5 Manager (v1.0) Setup file (Windows 7, 64-bit version), the Manager Manual, the v1.1 Release Notes and the v1.1 firmware files downloaded.
With the SMH5 (Software) Manager installed and a quick read of the Manual completed, launching the SMH5 Manager application and following the prompt screens saw the first module connected without incident, indicated by a confirmatory text message.
Clicking on the F/W UPDATE tile will get the latest firmware downloaded and stored in the default IMG location under the main SMH5 Program Folder. Subsequent screen instructions walk you through the process and when done, the opportunity to update another SMH5 is provided.
I always treat a firmware updated device as "new", even though some firmware update processes don't always completely clear the device's history. In any case it is always prudent to check or re-do the previous pairings, if for no other reason than to clean house.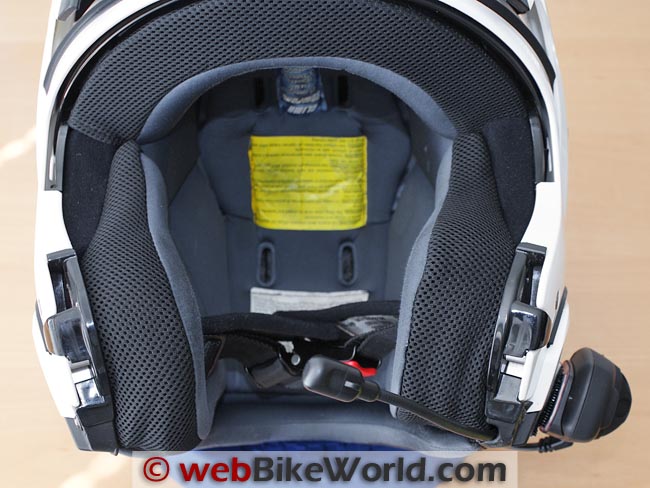 Conclusion
The Sena SMH5 is a near-perfect example of how to grow the market without diluting an established product line, with the newest and smallest sibling in the SMH product line more than holding its own against growing competition.
For me, the SMH5 nestles nicely on the plus side of "basic" and there is comfort in knowing it is such a competent addition to the Sena family of Bluetooth communication products and such an outstanding bargain to boot.
With competition at the SMH5 price point heating up, the nightmare factor may be diminishing somewhat but Sena is still causing some real heartburn with its hot-hot-hot SMH5 offering.
My concluding point takes us back to the beginning: I cannot do more than concur with our original Five Star rating!
Also: Part 1: Sena SMH5 Review
Also: Sena SMH5-FM Review
Note:
 For informational use only. All material and photographs are Copyright © webWorld International, LLC since 2000. All rights reserved. See the webBikeWorld® 
Site Info page
. Product specifications, features and details may change or differ from our descriptions. Always check before purchasing. Read the
Terms and Conditions
!
Owner Comments and Feedback
---
See the Sena SMH5 Review Part 1 for Owner Comments.