Pairing helmet intercoms used to be a fiddly process, but now QR codes are making it easier.
You may have recently used a QR code when checking in at a restaurant during this pandemic, so you will know how easy it is to use.
Just turn on your phone's camera and hold it over the code, and it brings up a window which you click to then enter details.
Some helmet intercom products are now using a similar QR code system and the latest is popular Bluetooth company Sena with their Smart Intercom Pairing (SIP) system.
It will work with nearly all Sena devices and many Sena-powered devices with Bluetooth 4.1 that are branded by companies such as Harley-Davidson, Schuberth, Shoei, HJC, Polaris, Klim, Nexx, ICON, AGV, and more.
How it works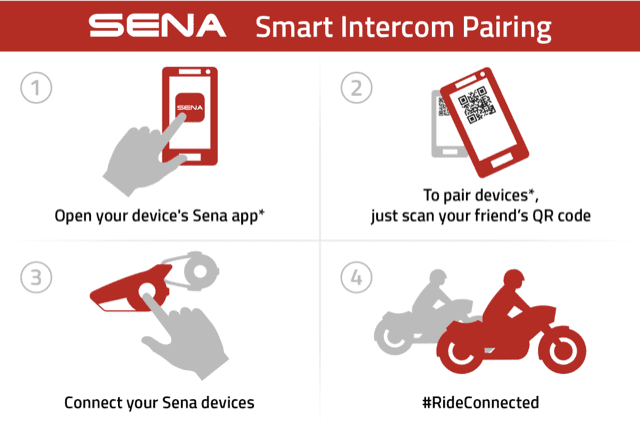 Instead of using your phone's camera to scan the QR code, the Sena SIP system works via their Sena app which does much the same.
Just scan your friend's QR code and you're paired.
Watch this quick how-to video:
Sena speakers
Meanwhile, Sena is bring the speaker quality fight up to JBL-powered Cardo intercoms with Premium HD speakers from their new 50R and 50S soon available for their 10C Pro, 10C EVO, 20S, 20S EVO, and 30K devices.
We sampled the speakers when we tested the new 50R unit.
Not only to do the speakers have more bass and 7% more volume, but are also slimmer and therefore more comfortable against your ears.
Sena will roll out upgrades for each device's firmware to ensure HD speaker audio quality is maximised.
The Sena Utility app and 30K Utility app will also be updated with the audio equaliser function that is included in the 50 Utility app. It allows the user to customise frequency and volume.