Sena has been a pioneer when it comes to manufacturing top class helmets with genuine innovations. They have produced helmets of different categories which are greatly popular among motorcycle riders. Today we are going to give you the Sena Cavalry Helmet Review, in which you will find its best features and you can decide if you want to purchase it.
Benefits
The open-faced helmet is lightweight and great for comfort wear. The most striking benefit is the Bluetooth integration that comes with the helmet. The premium fiberglass of the helmet is integrated with the Bluetooth wireless features. This nullifies the need for installing complicated routing wires.
Though it is a half shell, still it is ventilated. That means no stuffy feeling wearing the helmet! You also get strong safety features that come with the helmet. You end up paying around $350 for this helmet, so it must be backed up with proper safety, comfort, and features. We are going to reveal them below.
Features
The Sena Cavalry Helmet is an open-faced helmet with a low profile and weighs only 3.7 pounds. It is a unique helmet that comes with the revolutionary built-in Bluetooth device. It has pre-wired Bluetooth speakers, microphone, and controls which are seamlessly integrated into the helmet.
It is a perfect fit for most heads and costs around $350. It can be considered a lightweight helmet which you can wear all day long.
Shell Design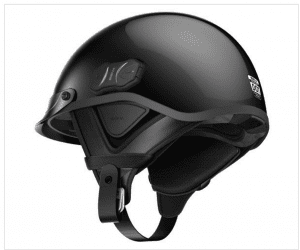 Sena Cavalry Helmet gives you the comfort and protection of fiberglass composite material. It has an aerodynamic design that lets you cut through the wind at high speeds. The helmet is stable enough and does not move or wobble at high speeds.
Composite fiberglass is known for its durability and offers ultimate protection for your head. When you are paying such a price for a helmet, there should be no concerns about its durability. The Sena Bluetooth Helmet has a robust shell design which is even aerodynamic.
The Bluetooth controls are integrated smoothly inside and in the build of the helmet, and appear as integral parts of the helmet.
Interior
The interior is not very plush, but it is very comfortable. It keeps you dry even in hot conditions, and you will obviously not feel stuffy as it is a half-shell helmet. The interior cushioning gives the helmet a snug fit and keeps it in place. Your head also doesn't feel any pressure points due to the comfort cushioning.
Visor
Sena Cavalry Helmet comes with a low profile visor that you can remove easily. It can keep you safe from the wind or dust going into your eyes.
Safety
As discussed earlier, the shell of the helmet offers enough protection to your head. It is also equipped with a D-ring retention system made of nylon to keep the helmet safely in place. The helmet also is certified by DOT so that you can ride without any tensions.
Bluetooth Connectivity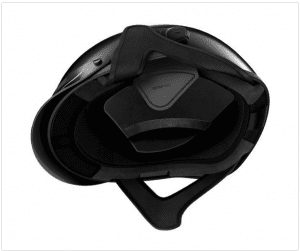 The most striking feature of the Sena Cavalry Helmet is its Bluetooth integration. The Bluetooth of the helmet is 4.1. This is the latest version of Bluetooth. This up to date version helps the wearer to continue with the chat without interruption. Using this Bluetooth version, you can share any file with other riders too.
While discussing the specification, it is important to mention the speaker quality. A crystal clear sound is what this helmet delivers. The speakers are also quite loud which make them ideal for use even in areas with wind or road noise.
The headset profile of the helmet keeps your hands free. You would not have to use your hands to adjust the helmet while making a call any longer. Audio distribution feature helps you with quick sharing. The same goes for video as well.
The Bluetooth is strong enough to support at least four riders in the range. It works till 900 meters range of distance. The noise control feature of the helmet makes it easy to reduce noise. As it is mentioned earlier, with the advanced technology, you can deduct the noise of the wind and other zooming cars.
One of the best features of the helmet is the built-in FM. When you are going down the street alone, it can very well give you company.
Noise Reduction
The Sena helmets are geared with an Intelligence Noise Control system. It has noise canceling headphones, and you can stay aware of the sounds on the road like sirens, car horns, and your engine sound. The system can analyze the sounds received through the microphone and cancel out the unwanted or damaging noises.
You can listen to music, FM, or talk with your buddies easily with just a touch of a button. The wind noise is also significantly reduced so that you can keep a lower volume range and operate well within it.
Other Factors for Consideration
The riders who have worn the Sena Cavalry Helmet said that if you are wearing a pair of gloves, controlling the buttons might become difficult. However, as you keep using the helmet and the buttons, you will slowly get used to them. With time, your hand will adjust to the buttons, and you will find them easy to use.
The helmet can be enhanced with different Sena products as well. You may purchase additional accessories and use them with your helmet to make things more convenient.
Ear pads are available, which you can get with the Cavalry helmet. You can also opt for head liners which Sena has created especially for the Bluetooth helmet.
Conclusion
Once you have used this helmet, you would not need any other helmet as this one offers you everything you have been looking for. You will look stylish and poised while securing your rugged biker look with the Cavalry helmet. It also comes in different eye-catching colors. Riders have only satisfaction to express when they have reviewed or rated the Sena Cavalry Helmet. It is one product with which you cannot go wrong.
So go ahead and make a confident purchase!