Scott Goggles Image Gallery
Thick padding on the Scott 87 OTG goggles provides a comfortable fit over eyeglasses without nose pinching.
Soft foam in sides allows outstanding ventilation with some protection from dust and dirt.
Wide strap is adjustable and has silicon grippers, but the grippers could be larger.
The 87 OTG shape is wider than normal so the peripheral vision is slightly constricted but overall, these are an excellent choice for adventure touring.
Back in 2005, in the Smith Airflow OTG goggles review, I wrote "I haven't owned a dirt bike in a long, long time, so I'm definitely a neophyte when it comes to modern off-road riding equipment."
Here we are, 6 years later and that statement is just as valid — although I do own the Suzuki DR650 (blog) now, which must count for something.
Other than a quick couple of photos of the Halcyon retro goggles in the Davida "Jet" helmet review, I haven't owned or worn an off-road helmet or a pair of goggles but now see what I was missing.
In fact, since I now like the new Vemar VRX7 off-road helmet (review) so much, I'm sure I'll be riding with it a lot more. And the Scott 87 OTG goggles are definitely part of the reason it's been so successful.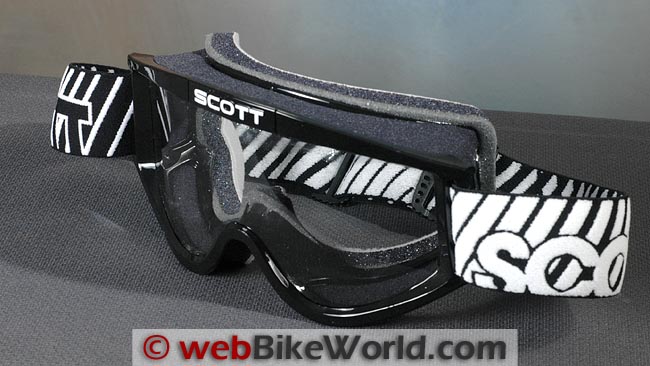 Scott 87 OTG Goggles
I'm an off-road helmet rookie, no doubt about it. I really don't have any other helmets in my mental database to use for comparison and I absolutely have no experience with goggles, so for all I know, goggle grail may be out there, somewhere.
So all I can do is tell it the way I see it, and I do remember enough to confirm that the Scott OTG goggles fit over my glasses better than the Smith goggles did. The Scott 87 OTG goggles do not crowd my nose, one of the things I do remember about the Smith product. And the Scott goggles have outstanding optical qualities and air flow — both important features.
The comfortable fit and the air flow have probably helped make the 87 OTG some the best-selling off-road goggles available. They don't have a lot of bells 'n' whistles — although I don't really know what types of bells or whistles a set of goggles should have.
They are ready for the Scott "Works" system tear-off lens, I know that. It's an extra-cost option and I took a pass on the feature. The lens that comes with the goggles has excellent optical qualities and it's also claimed to provide 100% UV light protection in addition to having an anti-fog coating.
The 87 OTG also comes in a dust-resistant version called the Scott 87 OTG Sand/Dust. The foam material that surrounds the regular 87 OTG works just fine, however, for any dust or pollen that I encountered. So I'd guess they're good for 80/20 street/off-road use and they will keep out your basic everyday garden-variety road dust and grime.
One of the best things about the Scott 87 OTG goggles is the outstanding air flow provided by the foam sides that also act as the dust filter. I haven't tried the Sand/Dust version of the 87 OTG so I'm not sure if they have the same amount of ventilation?
In fact, the first time I wore the 87 OTG goggles with the Vemar VXR7, I thought something was wrong. Surely that much air coming in meant that either the lens was broken or the goggles weren't sitting correctly on my face. Nope.
Get over 20 MPH or so and the air pours in, providing much, much better ventilation than you'll ever get in any open-face or dual-sport helmet possibly could. Yet the volume of air pouring in doesn't seem to bother my eyes. It's not like I'm wearing an open-face helmet without a face shield, which is pretty much out of the question for me.
The 40 mm wide strap has a 10 mm wide silicone strip down the center on the inside to provide enough stiction to keep the strap on the helmet. It hasn't come off but I'd feel safer if it had a wider strip or more silicone. The strap is also easily adjustable, although the stretch material is almost too stretchy.
It's a fine line — enough stretch to make it easy to pull the goggles on over the helmet and not too tight that you tear your nose off doing it. But I do think the stretchy stuff could be tightened up just a touch.
We're helping Drift with some pre-production evaluations of the new Drift HD 1080p video camera and that camera and the clip provided with the camera fits on the 87 OTG strap, but just barely. That's not the fault of the goggles though; the clip provided by Drift needs a bit of work.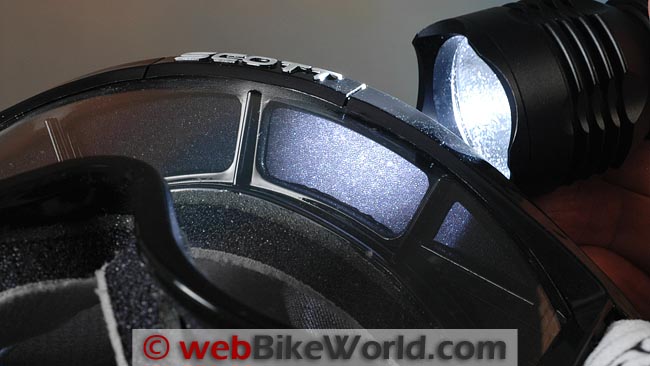 Conclusion
I really like the Scott 87 OTG goggles. Again, I don't have much to compare them to, but they work for me. They're very comfortable, with a lot of soft foam where they press against my face. They fit over my eyeglasses. They don't crowd my nose and they fit inside the eye port of the Vemar VXR7 off-road helmet.
The optical quality is outstanding, as is the air flow. I don't know — is there anything more I could ask for?
w

BW

 Review: Scott 87 OTG Goggles
Manufacturer: Scott Sports
List Price: $49.95
Colors: Carbon, Black, White, Red or Blue.
Made In: U.S.A.
Model Number: 217792
Review Date: September 2011
Note:
 For informational use only. All material and photographs are Copyright © webWorld International, LLC since 2000. All rights reserved. See the webBikeWorld® 
Site Info page
. Product specifications, features and details may change or differ from our descriptions. Always check before purchasing. Read the
Terms and Conditions
!
Owner Comments and Feedback
---
From "D.T." (September 2011):  "Yes, Scott does seem to design OTG goggles that fit more face shapes and glasses than other companies. I recall trying on pretty much every pair of OTG ski goggles made by every company and only Scott's Storm OTG worked for me. It's because (I think) they don't worry about style or fashion too much and just size them generously.
As for air-flow, my Scott Storm OTG are sometimes too cold on the slopes!"