Scorpion Elektra Jacket Review Summary
Scorpion Elektra Jacket Image Gallery
The Scorpion Women's Elektra Jacket is a beautiful armored leather jacket with a large degree of adjustability to suit many figures.
Vents and a full-sleeve insulated liner provide the rider with versatility for warm or cool days.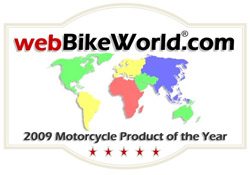 Background
There was some debate on another website about whether I put safety or fashion first. I want to be perfectly clear – safety ALWAYS comes first. Period.
It's better to be well protected than to look good. If you have to choose one over the other, choose gear that will protect you rather than something that just looks great.
A side note for those men who think they look cool wearing just a t-shirt on their ride: I think a guy in a helmet and leathers is much sexier than a guy riding in a T-shirt and shorts, just asking for skin grafts.
Men and women: please wear your gear all the time, no matter where you're going or what you ride. Just this summer, two friends had minor accidents resulting in injuries that could have been prevented.
One friend was riding in her driveway in shorts and got a serious burn on her leg when she dropped her bike.
My other friend was kick-starting his dirt bike in sneakers and shorts, his foot slipped and the kick start literally tore his calf apart – I'm talking 40 stitches and a $3,000 hospital bill.
Those were both minor accidents that happened at slow speed or a standstill – imagine what a high-speed accident could do. Both those injuries could have been prevented if they were wearing the proper gear. In a more serious accident, protective clothing could even save a life; wear it and wear it all the time.
Okay, getting off my soapbox now…the point I wanted to make is that safety always comes first!
My mission is helping women find protective, armored gear that fits right and looks good. In today's world, there is no reason why we can't have it all – protection, fit, and fashion.
Scorpion hit the nail on the head with the Women's Elektra Jacket. Not only does the Elektra have CE-approved armor and quality leather, but it is a beautiful jacket as well. I liked the jacket when I came across it online, but when I pulled it out of the box, I was ecstatic!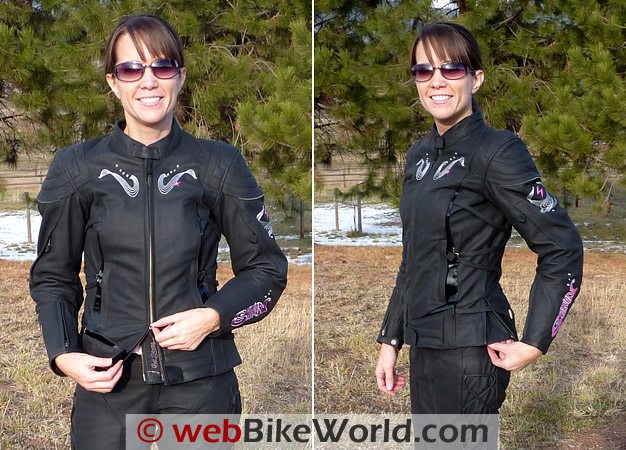 Scorpion Elektra Jacket Sizing
For tips on how a motorcycle jacket should fit, see my Joe Rocket Jet Set Jacket Review.
In my opinion, the Scorpion Women's Elektra Jacket runs one size small. I normally wear a small, but in the spring I tried on Scorpion's Nip/Tuck, a textile and mesh jacket.
The sleeves on the size small Nip/Tuck were a little short for me and when I hopped on a showroom motorcycle and reached for the handlebars, the shoulders were too snug. Motorcycle jackets should fit closely but should not restrict movement.
When ordering the Elektra, I took the sizing of the Nip/Tuck into consideration and got a medium, knowing that if the body was too roomy I could cinch in the sides with the adjustable straps. The medium fits well, similar to my size small Joe Rocket Jet Set Jacket.
My belief is a small in the Elektra would have been too binding for me. Also, the Scorpion sizing charts suggested a medium based on my measurements. I'm able to fit a sweatshirt underneath the size medium, but then the jacket is little tight under the arms where the sweatshirt bunches up. Obviously, with the insulated liner removed, the jacket is roomier.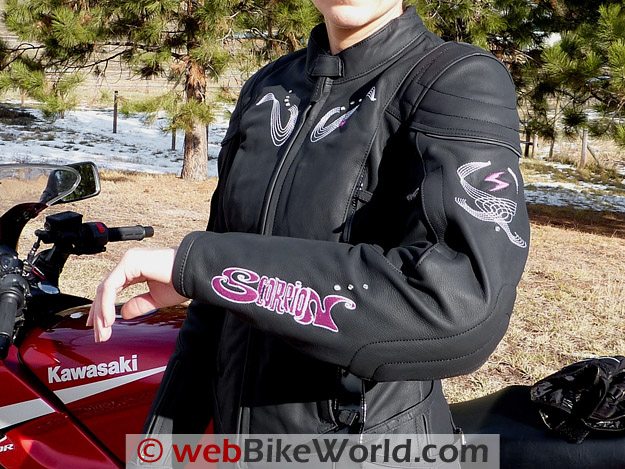 Safety, Construction and Functionality
Scorpion's Elektra Jacket is full of features and they didn't scrimp on either protection or style. I chose the jacket in the "Ink" color – black with colored graphics.
Let's start with the most important features – safety. The Elektra is made from leather and it has CE-approved armor, providing some of the best protection in motorcycle gear that money can buy.
Besides the CE-approved shoulder and elbow armor, the Elektra has a 3/8 inch (1.5 mm) thick back pad. The armor and back pad are perforated for breathability on warmer days. The armor also stays in place when the insulated liner is removed.
The 1.1 mm thick cowhide is drum-dyed, meaning the color goes all the way through the leather. If it gets scratched, the color will be the same underneath. Patent leather accents on the front and back of the jacket make a nice contrast.
I love leather for riding, not only for the protection it offers, but it is also resistant to dirt and water and can look good for many years. Leather is usually easy to clean, and most of the time can be wiped down with a damp cloth.
The Scorpion Elektra Jacket is flexible and non-binding and should become even more comfortable as the leather breaks in. The sleeves are also pre-curved so the rider is not working against the leather when holding the handlebars.
Scorpion's "Exo-Stitching" provides added strength to seams through a process of stitching the seam, folding it over, and stitching it a second time.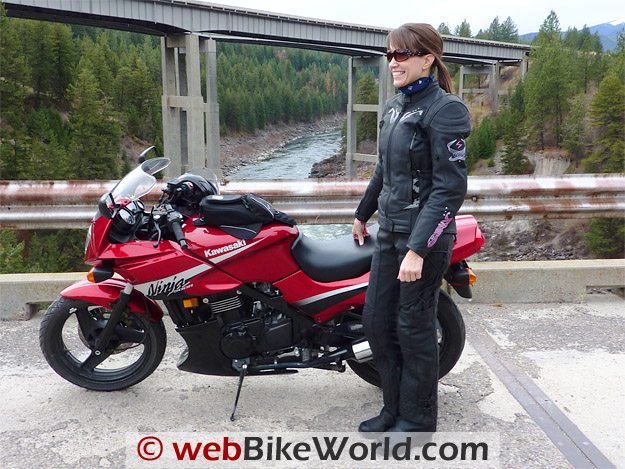 Visibility and Reflectivity
For night-time visibility, each shoulder has two strips of "NightViz" reflective piping, which look black in daylight. One strip is on the back of the shoulder, the other strip is on the side of the arm just below the shoulder.
I'm happy the Scorpion Elektra Jacket has reflective piping, and would have loved the strip on the back of the shoulder to continue down the back of the jacket for even more visibility. However, Scorpion's customer service informed me the patent leather sections also have reflective qualities.
I was skeptical, but after taking pictures of the back with a flash, I noticed the patent leather sections reflected the flash. Imagine what they'd look like with headlights shining on them. More nighttime visibility is always a good thing!
I do need to voice my one concern with black jackets, and that is lower visibility versus something with brighter colors. If black leather is a must, visibility can be increased with a brightly colored lid or even a high-visibility vest worn over the jacket.
Ventilation
For warmer days, this jacket can adapt. A 5 inch (12.7 cm) zippered vent is located on each bicep, and two 7 inch (17.8 cm) zippered vents are located on the upper back over the shoulder blade area. There is also a 4 inch (10.2 cm) by 6.5 inch (16.5 cm) perforated leather piece at the back of each arm that goes partly under the arm pit to let heat and moisture escape.
A brilliant design is the "Koolvent" full-length mesh panel at the front of the jacket. Twin zippers let you choose to expose the 1.5 inch (3.8 cm) wide mesh strip or not. It is a great way to give this full leather jacket immediate ventilation.
Zippers
The front zipper runs to the top of the 1.5 inch (3.8 cm) wide banded collar. I'd prefer for the zipper to stop at the bottom of the collar, because I think the zipper makes the collar stiff in the front and when it is fully zipped it has a tendency to push into my neck whether I'm on or off the bike.
When I secure the collar's hook and loop closure, it seems to pull the collar away from my neck a little bit. My hope is that as the jacket breaks in, this area will become more flexible and won't poke my neck anymore.
A tank scratch-elimination flap protects your ride's beautiful paint job and opens and closes easily with hook and loop tape. While we're discussing zippers, which are all YKK, the Scorpion Elektra Jacket can also unzip from the bottom up. This can be handy on or off the bike, especially since this is a full-length jacket.
I own a Ninja 500 and in the riding position, the front of this full-length jacket bunches up. The front zipper along with two 4.5 inch (11.4 cm) long side zippers which enclose gussets can be unzipped from the bottom to help prevent bunching when riding. I personally prefer my jackets to be a little shorter in the front, but the zippers provide adjustability making this jacket more versatile for all motorcyclists.
The sleeves taper at the cuff and close with a 5.5 inch (14 cm) zipper and a Scorpion logo snap. The cuff is fairly narrow and should fit under most gauntlet gloves. The inside of the cuff on my medium jacket measures 8 inches (20.3 cm) in circumference.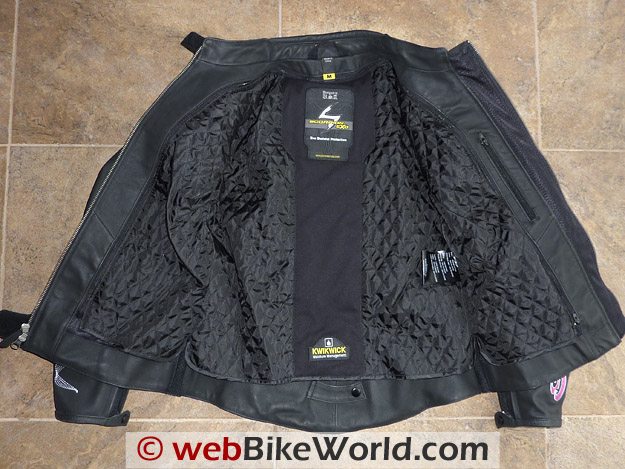 Insulation
The Scorpion Elektra Jacket has good ventilation, but what about cooler days?  Good news: the jacket includes a removable full-sleeve "Everheat" thermal liner that attaches with snaps and a zipper.
The full-sleeve liner is a great component to have and provides more warmth than just an insulated vest. The liner has ribbed cuffs (like on most sweat shirts) which also lock out cold air. A 4.5 inch (11.4 cm) wide Kwikwick liner strip inserted in the back of the liner wicks moisture away from the back quickly.
An interesting feature on the removable liner is it is constructed with openings in the underarm. At first, I thought it had a hole in it – well, technically it does – but it is intentional and nicely finished. Even in cold weather, one can sweat under the arms, and this opening allows heat and moisture to escape, preventing the dreaded under-arm sweat rings on your clothes.
I went for a few rides in temperatures ranging from 43-55 degrees (6-12 Celsius) and wore two thin long-sleeved shirts with the insulated liner in place. In 43 degrees (6 Celsius), I got cold. At 55 degrees (12 Celsius), I was a little cool, maybe even chilled, but not cold.
I should mention that I am often cold when others aren't, but this is definitely not a cold-weather jacket. Unfortunately, I haven't had the chance to wear it in warm weather, but when I do we'll add an update. (Note to self: move to a warmer climate!)
Liner and Pockets
The Scorpion Elektra Jacket also has a permanent fine-mesh lining for comfort when the insulated liner is removed. Both the permanent lining and the removable liner are 100% polyester.
Have you ever owned a jacket where the lining ripped under the arms? The permanent lining also has a leather piece sewn into the underarm for reinforcement.
The inside of the jacket has a belt loop attachment at the back which easily connects to Scorpion's textile Savannah Pants. This will keep your jacket down when riding and will hopefully keep it down in the event of a slide.
There are two 6 inch (15.2 cm) zipped hand-warming pockets that are a little shallow at only 3.5 inches (8.9 cm) deep. If I ball up my fists, they don't fit all the way inside the pockets. The only way to get my hands entirely in the pockets is to angle my fingers downward.
One 6 inch (15.2 cm) zippered interior pocket is a generous 7 inches (17.8 cm) deep – plenty of room to hold a cell phone and other miscellaneous items. Zipper pulls on the vents, exterior pockets, and the main zipper make them easier to operate while wearing gloves.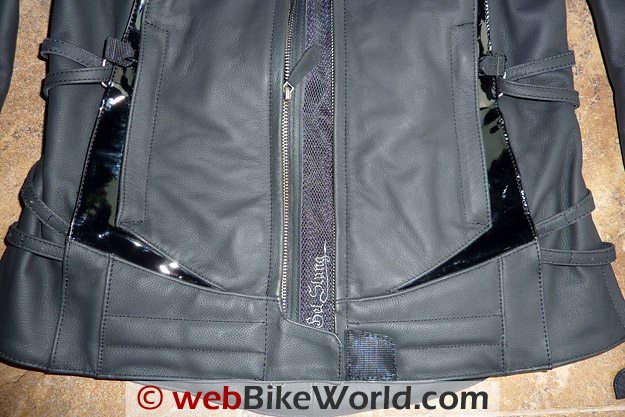 Adjustments and Sizing
One of the best things about the Scorpion Elektra Jacket is the adjustable side straps. Clearly, all women don't have the same figure, and these straps provide a custom fit for most shapes. The cinching straps run from the chest to below the waist, letting the rider choose where she needs more or less wiggle room.
Whether you have a small or large chest and a straight or curvy waist, cinch or let out the straps to fit how you like. Need a little more room?  Unzip the side gussets at the hip.
Scorpion also has long cinching straps on their Nip/Tuck Jacket and Savannah Pants and Haley Pants. (Watch for an upcoming review on the Haley Pants.) Kudos to Scorpion for offering gear that can adjust to a wide range of figures.
The Scorpion Elektra Jacket is even offered in women's sizes up to 3W. Customer Service also told me the Dahlia Jacket in black and the Nip/Tuck Jacket in black or white/gold are available up to a 3W. Their new Empress Jacket and Savannah Pants are available in sizes up to XXL.
By the way, Scorpion's Customer Service was excellent. They didn't know I was doing a review, and were very patient with my questions and receptive to my comments on ideas for future gear.
Back to the jacket, if you've got to have "the look," Scorpion doesn't scrimp on details. The solid black and off-white versions of the Scorpion Elektra Jacket both have black embroidery on the sleeves and the lower back; even the Koolvent panel is embroidered with Scorpion's "Get Stung" slogan.
But if you want some attitude, the Ink version (pictured) is a must. Leather appliqués, custom embroidery, and rhinestones add a lot of sass; this jacket definitely makes a statement.
For those who like to coordinate, Scorpion offers complete outfits; mix and match jackets, pants, gloves, and helmets to get the look you want.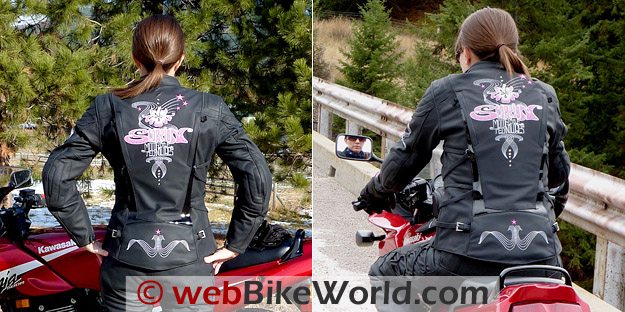 w

BW

 Video: Scorpion Elektra Jacket
Conclusion
The Scorpion Elektra Jacket is loaded with features and details. Excellent construction, CE-approved armor, and durable leather combine for more protection for the rider.
Available in a wide range of sizes, side straps also permit custom adjustments for most figures.
The jacket is also on closeout and this link to RevZilla will get you a jacket at 24% off the list price. All colors are available in almost every size. Grab one while you still can. Scorpion says, "Get Stung."  In this case…don't mind if I do!
w

BW

 Review: Scorpion Elektra Women's Motorcycle Jacket
Manufacturer: Scorpion Sports
List Price (2009): $329.95 to $399.95
Colors: Black or Off-White.
Made In: China
Sizes: XS to XL; 1W to 3W.
Review Date: December 2009
Note:
 For informational use only. All material and photographs are Copyright © webWorld International, LLC since 2000. All rights reserved. See the webBikeWorld® 
Site Info page
. Product specifications, features and details may change or differ from our descriptions. Always check before purchasing. Read the
Terms and Conditions
!
Owner Comments and Feedback