Fixing the Broken Pin on a Schuberth Neck Roll
The unique neck roll on the Schuberth C3, C3 Pro, S2 and others snaps into the bottom of the helmet.
It's designed as an added layer to help reduce noise levels and to make the vents more efficient.
In fact, Schuberth claims that this design works so well that they have a special air vent to allow air to flow into the helmet even if the vents are closed.
This is supposed to prevent too much carbon dioxide building up inside the helmet!
But, there's a problem that we first reported on in our Schuberth SRC intercom system (review).
When you remove the neck roll, it's too easy to break one or both of the pins that help secure it to the front of the helmet.
Many webBikeWorld Schuberth C3 Pro (review) owners and others have written to us about the broken pin problem, wondering how to fix it.
The neck roll is designed to be removable, to either install the replacement SRC neck roll or simply to remove it for wearing the helmet in hot weather.
Two plastic pins hold the neck roll in front and a plastic tube that surrounds the entire neck roll gets tucked into a recess at the bottom of the helmet.
The pins hold the neck roll in place at the front.
When we installed the Schuberth SRC intercom system in a Schuberth S2, one pin immediately broke when the stock neck roll was removed. I broke another one in a Schuberth C3 Pro neck roll (I think the same neck roll fits both the C3 Pro and S2).
---
Where to Buy Schuberth Neck Roll Broken Pin Fix Helmet
Check Reviews & Prices on Amazon
Check Reviews & Prices On RevZilla
See More Motorcycle Helmets at RevZilla and Amazon
---
Hopefully enough Schuberth owners have complained about this problem, so it's likely that the company will change the design in the future Schuberth C4.
Now a brand-new neck roll for the C3 or C3 Pro can be purchased but they cost $39.00 and $49.00 and, according to the retailers I've talked to, they're pretty hot sellers.
But rather than buy a new one, there's an easy fix. I'm sure I'm not the first person to figure this out, but just in case, here's the info and photos.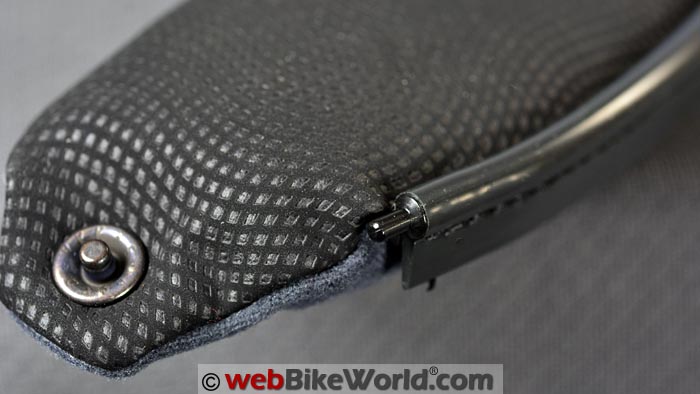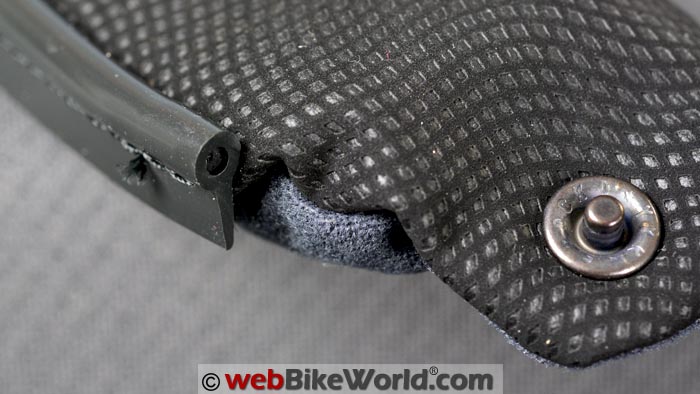 ---
Where to Buy Schuberth Neck Roll Broken Pin Fix Helmet
Check Reviews & Prices on Amazon
Check Reviews & Prices On RevZilla
See More Motorcycle Helmets at RevZilla and Amazon
---
The Solution
The pin on your Schuberth neck roll probably broke, looking something like the photo above.
The stock plastic pin measures 2.5 mm in diameter. Actually, I measured it at 2.49 mm with a metric Starrett micrometer.
That 2.50 mm is 0.0984″, which is a mere 0.004″ (four-thousandths of an inch) bigger than the American 3/32″, which is 0.0938″. (Calculate: 0.0984 – 0.0938 = 0.0046).
That means you can use something 3/32″ or 2.5 mm in diameter to replace it.
Searching around in a local hardware store, I bought a 3/32″ (0.0938″) diameter brass rod (hobby shops sell these also). It measured 2.39 mm with the micrometer.
As for length, the stock plastic pin sticks out 5 mm on the Schuberth neck roll and there's about another 5 mm inside the tube, so you'll need a piece of 2.5 mm rod around 10 mm long.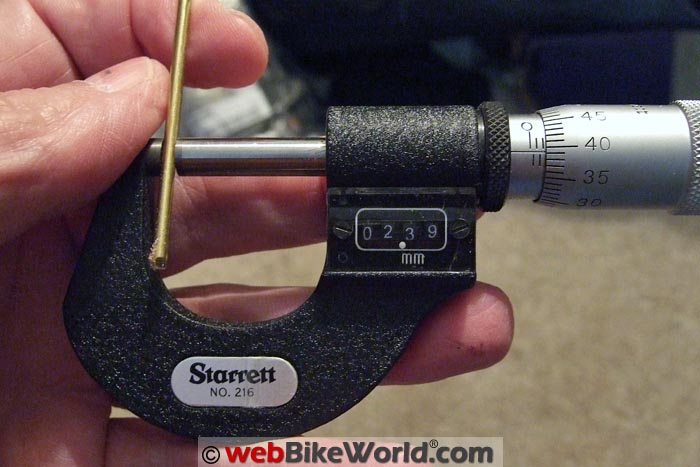 ---
Where to Buy Schuberth Neck Roll Broken Pin Fix Helmet
Check Reviews & Prices on Amazon
Check Reviews & Prices On RevZilla
See More Motorcycle Helmets at RevZilla and Amazon
---
Here's How I Fixed It
I lightly clamped the neck roll in a vise, with the broken pin part sticking out enough to access with a drill. I don't have a 2.5 mm drill bit, so I used a 3/32″ drill bit and drilled out the broken stub inside the plastic tube on the neck roll. Be careful! Drill in about 5-6 mm (about 1/4″).
I then used a sewing needle to measure how deep I drilled: the hole was about 6 mm, or about 1/4″.
I cut off a 10 mm long piece of the brass rod using a pair of heavy-duty snips. I then chamfered the ends of the brass with a file (important).
Using a pair of pliers with the neck roll still in the vise, I pushed the home-made brass replacement pin into the plastic neck roll tube. It's a tight fit, so you probably won't need any glue.
I pushed until I had about 5 mm sticking out. Voilà — done! Here's what it looks like: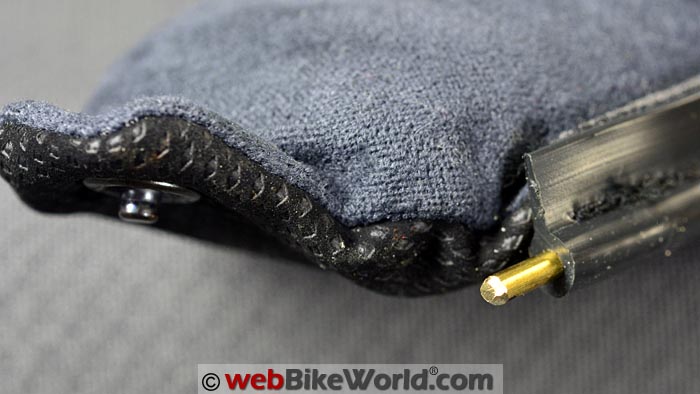 Conclusion
The neck roll with the brass replacement pin fits perfectly into the C3 Pro…although if you've ever removed one of these neck rolls, you know they can be a pain to install.
Carefully align the pins in the front into their holes in the helmet, than push the plastic tube into the recess all the way around the bottom of the helmet gasket.
It takes some (careful) doing, but it goes in. Have patience, grasshopper!
My "new" neck roll now fits over the new Sena 10U (Preview), a helmet-specific intercom system that uses a handlebar or wrist remote. This 10U is designed specifically for the Schuberth C3/C3 Pro. We'll have a review soon.
Publication Date: October 2015
Note:
For informational use only. All material and photographs are Copyright © webWorld International, LLC since 2000. All rights reserved. See the webBikeWorld®
Site Info page
. Product specifications, features and details may change or differ from our descriptions. Always check before purchasing. Read the
Terms and Conditions
!
---
Where to Buy Schuberth Neck Roll Broken Pin Fix Helmet
Check Reviews & Prices on Amazon
Check Reviews & Prices On RevZilla
See More Motorcycle Helmets at RevZilla and Amazon
---
Owner Comments and Feedback
---
From "P.S." (April 2016): "Really enjoyed the article on the problem of damaged pins. Mine broke last week on a £500 helmet. Not happy but I have a warranty.
I looked at your article and thought what a pain to go to the hobby shop getting the metal the right size etc. I will claim on the warranty.
Then I needed my helmet for a planned ride I could have used it without the neck roll but I looked round the house and found that a simple wire coat hanger is almost exactly the right size.
I didn't bother drilling out old one just pushed it into the hole pushing the remains of the old one down the pipe. Marked the end to leave 5 mm, snipped of with pliers, sanded the end with some sandpaper till the edges were rounded.
Dot of Super Glue gel on the end. Pushed it back in. Repaired and much stronger than the original.
After a couple of weeks I did the other side and the roll has been perfect ever since.
I have the SRC system which is exactly the same. As soon as it snaps, that's getting done as well. Perhaps German engineering isn't as good as we thought."
---
From "T.R." (October 2015): "I wanted to comment on the neck roll fix just to offer an easier alternative. Schuberth is well aware of the issue, and although I'm not sure if they're working on a new design, I do know that they will gladly send you a replacement pin if asked.
We as a Schuberth dealer have a bag of the pins in the back, and it takes roughly 5 minutes to replace them. I'm sure any other Schuberth dealer has the pins (or quick access to them) as well.
Granted, your solution may be a stronger fix, but getting a new pin from Schuberth is free and quick. Just my 2 cents. Otherwise keep up the great reviews!
Tony R., Certified Parts Advisor, Bob's BMW"
Rick's Reply: Thanks for the info, that's interesting actually, because when I talked to Schuberth HQ about this, they didn't know about the problem, much less a fix! Although in fairness, that was back when the problem first started appearing.
So apparently they have decided it's real. But, for owners like me who live quite a distance from a Schuberth dealer, at least there's the webBikeWorld fix!
---
From "B.W." (October 2015): "You are a genius!!! Finding a way to fix it!"
Other WebBikeWorld Helmet Posts