SCHUBERTH C3 Review Summary
SCHUBERTH C3 Image Gallery
The SCHUBERTH C3 combines light weight and a comfortable fit.
It also has the most effective noise control system we have experienced in any flip-up (or full-face, for that matter) helmet.
We published a SCHUBERTH C3 "First Look" just three months ago in August of 2008.
At that time, SCHUBERTH claimed that the C3 would be "The world's quietest flip-front helmet" at 84 dB at 60 MPH.
Just for good measure, they also claimed that the C3 would be "The world's lightest flip-front helmet" at 1,550 grams (but without specifying a size).
Well, we don't know how they do their noise level testing and as frequent webBikeWorld visitors know, motorcycle helmet noise is highly variable.
This means things can change dramatically, with something as minor as a jacket collar making a big difference.
So is SCHUBERTH really on to something here, or are they blowing hot marketing air?
This is the place to find out, because webBikeWorld helmet reviews are where the manufacturers' fanciful marketing claims are put to the test.
And I can tell you this: this SCHUBERTH C3 is indeed the quietest flip-up motorcycle helmet we've ever worn.
I'll also go as far as saying that it is quieter than any full-face helmet I've ever worn, with the possible exception of its cousin, the SCHUBERTH R1.
That in and of itself is reason to celebrate because it demonstrates that it can be done, and quite easily actually, as I'll explain.
As for weight…let's just say that we haven't found a motorcycle helmet yet that meets the manufacturer's claims.
Each helmet we review is weighed on the same Polder digital scale (140+ helmets on the wBWMotorcycle Helmet Weights Page), which serves as a statistical double-check on any manufacturer's marketing department.
The SCHUBERTH C3 — at least the helmet shown here in size XL — does not weigh 1,550 grams, which would make it lighter even than a size large ROOF Boxer, a minimalist flip-up if ever there was one.
But this C3 in size XL is still very light at 1709 grams. This is only 100 grams (3.5 oz.) or so heavier than the size XL Caberg Trip we reviewed in September of 2007, which still holds the torch as the lightest "normal" flip-up helmet we've reviewed to date.
More reason to celebrate!
Some readers have taken us to task for obsessing about helmet weight, but reviewing over 100 helmets and wearing many more helps to put a sharp focus on what's important and what isn't. And light weight is important.
OK, so we have an extremely quiet helmet that's also pretty light — is that enough? Read on!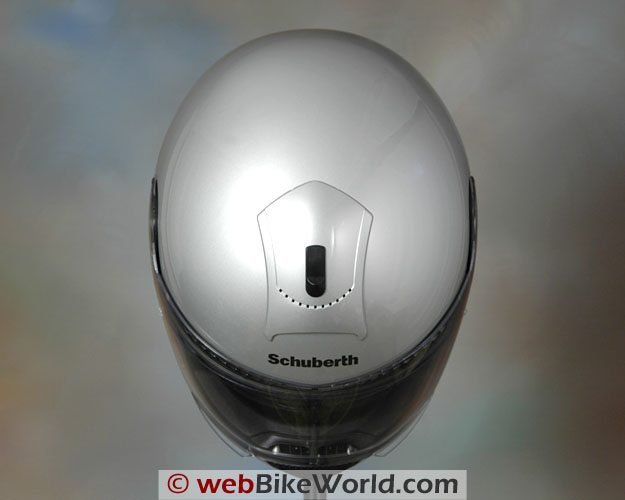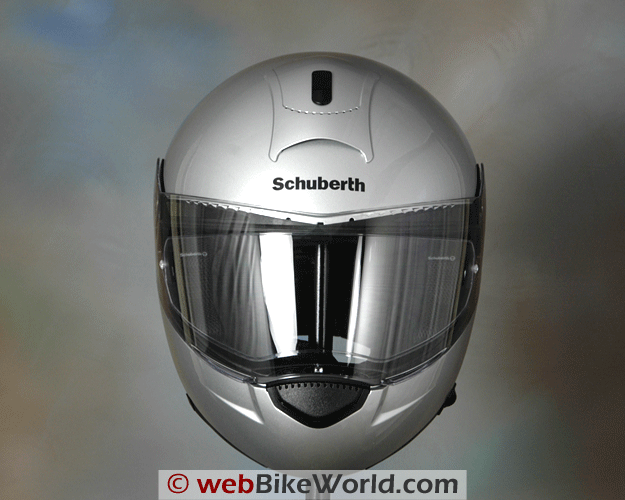 Paint, Graphics and Overall Quality
It's always hard to draw any conclusions from a solid color helmet, but everything on the C3 looks, feels and works as expected for a Schuberth.
The helmet reminds me a lot of the SCHUBERTH J1 that I wear when the weather is at its hottest. The silver paint looks identical and the fittings are the same quality.
One item of note is that the light weight didn't just magically appear; the C3 does not feel as solid as other SCHUBERTH flip-ups I've worn, and the shell does feel a bit flexy and it gives a hollow sound when the visor is snapped shut or the switches are worked back and forth.
But this simply brings the helmet back into the realm of the average flip-up.
And since it does meet the same ECE 22.05 standards that all other helmets sold in Europe must attain, this shouldn't be a problem. Earlier SCHUBERTH helmets were not known for light weight, so there is a tradeoff here.
SCHUBERTH says the shell of the C3 is made from "S.T.R.O.N.G." fiber, "a special glass fiber reinforced Duroplast matrix", so there. Don't ask me what the acronym means because I don't know.
The helmet is available in two shell sizes, running from XS to L and from XL to XXXL. Since this helmet is an XL, it has the large shell size, probably accounting for at least some of the difference in weight between Schuberth's claims and the reality of the Polder scale.
The overall quality is excellent. The chin vent and top vent work smartly and the liner is very comfortable (more about the fit in a minute). The owner's manual states that the liner is available in several sizes, as are the cheek pads.
The C3 is currently available in a variety of typically subdued flip-up "colors", including Graphic Black, Metallic Silver, Metallic Anthracite, Plain White, Plain Deep Black and Plain Matte Black.
I'm so glad that there are 3 different blacks to choose from…right?!
Everything fits nicely, everything operates smoothly (including the rotating visor) and the helmet seems well made, with the exception of the gasket surrounding the bottom of the helmet and the robust chin curtain that fits into the bottom of the chin bar.
There are a few gaps here and the chin curtain has popped out once or twice so far, but I'm going to chalk that up to first-run issues because this C3 is from the initial production batch.
I recommend not holding the C3 by the chin bar though, because of the special chin curtain (again, more on this in a minute).
So unfortunately none of the very cool graphics that grace the SCHUBERTH S1 or R1, but overall a better-than-average build quality for a flip-up and perfect, if boring, silver paint.
Score: I'll give the SCHUBERTH C3 an "Excellent" for the paint, overall construction, operation and feel. I'll withhold the "Outstanding" rating only because of the slightly misaligned gasket and chin curtain. See the ratings descriptions in the summary table at the end of this page.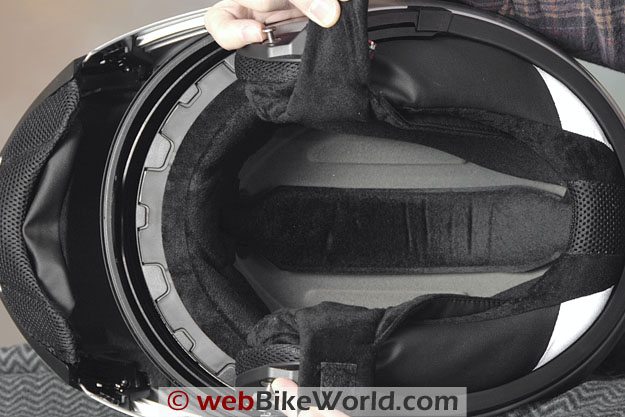 SCHUBERTH C3 helmet liner and flock-covered EPS crush liner.
Helmet Fit, Internal Shape, Liner and Comfort
OK, here's more good news: apparently, SCHUBERTH has dumped their way-out-there internal shape that apparently fit only Fritz, the SCHUBERTH factory test rider.
Fritz must have retired, allowing SCHUBERTH to finally adopt the same neutral/round-headed internal shape that the rest of the helmet world goes by.
You know — the shape that will work for the 95.4% of the rest of us who live at plus or minus 2 Gaussian St.? Let's hope this C3 is indicative of Schuberth's future plans and not just an aberration.
The size XL shown here has an internal label that reads "61" (the label also curiously has a 'U.S.' section describing fabric care, possibly heralding the return of SCHUBERTH to the U.S. market?).
However, the C3 owner's manual and Schuberth's website state that the C3 in size XL is designed to fit a 60 to 61 cm head.
I have a round, somewhat "Earth" shaped head (widest at the temples) and the C3 fits me like it was custom made. I'd say it fits much like a size XL OGK FF-5 (review) or a Shoei RF-1000 (review), if that's any help.
MMy head measures 60.5 cm, which is an unfortunate dimension that almost always puts me in between a size large and extra-large. I usually opt for the XL to relieve some of the pressure on my temporomandibular joint, but this usually has the effect of making the rest of the helmet feel slightly too loose.
Such is the case here, but in typical flip-up fashion, as soon as the rotating visor is snapped shut and the chin strap is secured, everything snuzzles up pretty nicely.
The C3 feels very slightly to the long oval or neutral side of round, like the aforementioned Shoei RF-1000, but this is the best-fitting flip-up I've ever worn. I hope (and I think) that anyone used to the old SCHUBERTH fit will also find the C3 as comfy.
OK, here's the standard mantra: remember that helmet fit is crucial to safety and comfort, so make sure you try the helmet on before buying, and try a variety of sizes.
The smallest size that fits comfortably is usually the safest. For more information on choosing and fitting a motorcycle helmet, please see the wBW Motorcycle Helmet FAQ page, which also includes a discussion on head shapes.
The padding and liner fabric helps also; previous SCHUBERTH liners seemed to have a consistent thin spot up on either side of the head where the EPS foam liner pressed against the rider's skull.
The C3's liner is well-padded and the material feels like a cross between a broken-in flannel shirt and suede, which is very nice.
SCHUBERTH doesn't say much about the liner features, so I can only assume it has the typical moisture wicking capability. The weather has turned unseasonably cold around here, so I'm not worried about sweat, that's for sure.
By the way, the EPS foam liner may not be; that is, it's unlike any other "foam" helmet liner I've seen. It's gray colored and it feels dense, so either the typical EPS is sealed inside of some type of flocking, or it's a completely new type of crushable helmet liner.
The "foam" crush liner can be seen on either side of a central strip of padding at the upper part of the helmet.
There are two large holes molded into the crush liner that are supposed to meet up with corresponding holes in the helmet shell for ventilation.
But only about half of the shell holes can be seen, so the crush liner on this one wasn't quite lined up correctly at the factory, although that doesn't seem to hurt the top ventilation any, as you'll see when I get to that section.
Unique Feature: Chin and Neck Curtain
The SCHUBERTH C3 has a unique feature that could or should be replicated by other manufacturers. The helmet has dual chin curtains, which consist of large, thick padded material extending about 60 mm from the back of the chin bar.
The liner or cheek pads have a special attached section of material that acts as what I'll call a "neck curtain".
The combination of the dual chin curtains and the neck curtain, which were piloted on the SCHUBERTH S1, combine to block much of the air that usually flows up underneath a motorcycle helmet and causes turbulence, which in turn causes noise.
The end result is that the SCHUBERTH C3 is without doubt the quietest flip-up helmet we've ever reviewed, and at least tied for the quietest full-face helmet we have ever reviewed also.
Another benefit of the helmet sealing is that it allows the vents to do their job without back pressure from upward-flowing air.
Score: I'll give the SCHUBERTH C3 an "Outstanding" for a comfortable fit (for me), true XL sizing and a comfortable and nicely made liner.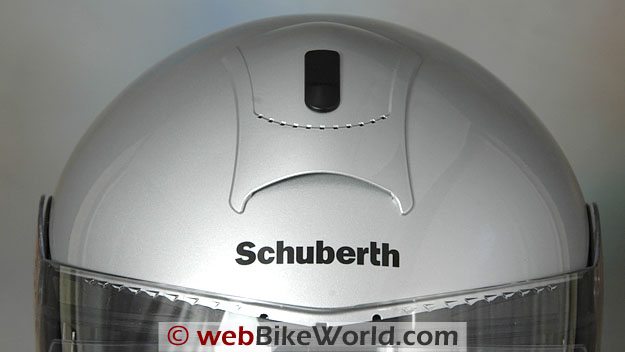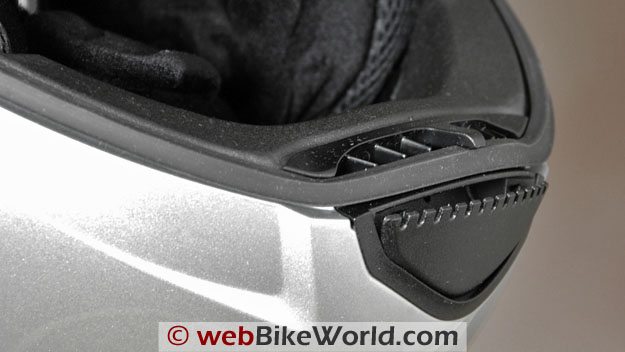 VVenting and Air Flow
The functionality of the C3's venting is closely tied to the unique dual chin curtains and neck curtain described above.
Many motorcyclists probably don't realize that most of the ventilation in a motorcycle helmet comes from air blowing up under the chin bar and the bottom of the helmet.
This is why it's mostly very difficult to tell if the helmet vents are actually working. Our feeling is that this positive internal air pressure from underneath spoils the functionality of most vents.
This can easily be demonstrated by attaching one of the helmet wind blockers (like theWindjammer we reviewed) that fit around the bottom of a full-face helmet, which are designed to block cold air and turbulence.
Most who have tried one of these comment on both the noise reduction and the suddenly increased efficiency of the helmet's venting system.
The chin and neck curtains on the SCHUBERTH C3 serve the same purpose. Seal up the helmet and pop open the what seems like the small chin vent and you'll be amazed at how much air you can feel flowing up through the back of the chin bar and on to your face.
The effect from the three-position top vent isn't as dramatic, but it is noticeable. This is especially interesting considering that the C3 has no rear exhaust vents to help "pull" the air through the helmet and out the back.
As I mentioned above, the efficiency of the top vent on this example may be hampered by the slight misfit of the shell vent holes with the corresponding holes in the helmet crush liner.
I may have to do some experimenting next summer to see if I can get the holes to line up.
SCHUBERTH has one more surprise in store that you would only discover if you read the owner's manual. The liner has two fold-down flaps inside that can be arranged to cover the internal top vent holes in winter to prevent cold air from leaking through.
And by the way: the owner's manual also states that the chin vent will always provide a low level of ventilation to prevent any CO2 buildup inside the helmet.
I'm not sure this would or could ever happen, as the combination of the dual chin curtains and neck curtains don't seal that tightly, but who knows.
SCHUBERTH also says the top vent is specially designed to prevent water intrusion when riding in the rain. Overall, the helmet seems to seal up pretty well, so although no helmet is perfectly waterproof, the C3 should prove to be better than the average flip-up in this regard.
Score: I'll give the SCHUBERTH C3 an "Outstanding" rating for air flow, which is especially good considering most flip-up helmets are very weak in this regard.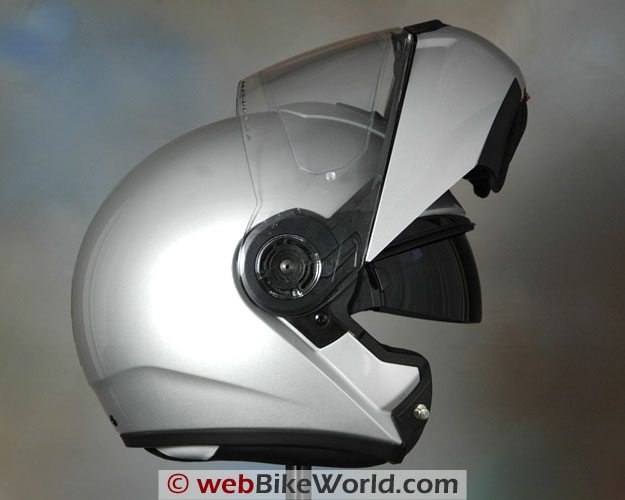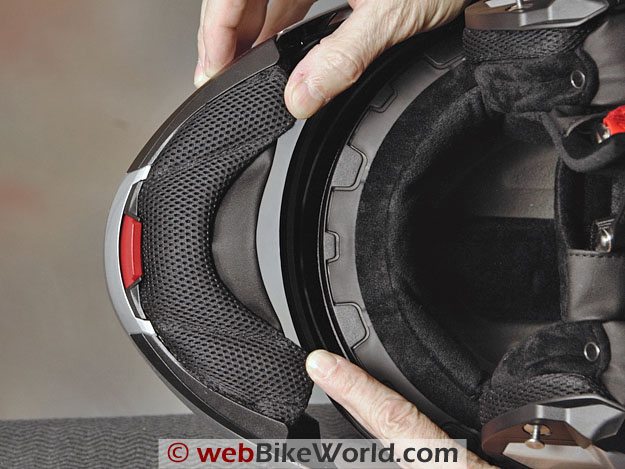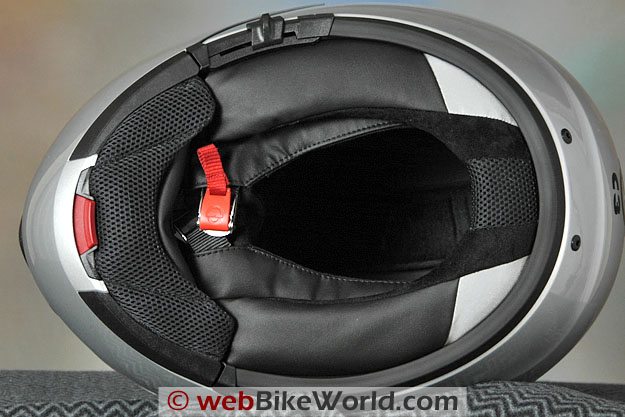 II've already spilled the beans on this one — the C3 is pretty light for a flip-up at 1709 grams for this size XL. This puts it as about number 9 of 28 flip-ups we've reviewed so far, although 6 of those were size L.
Just for comparison purposes, the AGV Miglia in size XL weighs 1666 grams (3 lbs. 10-3/4 oz.), while the Caberg Convertible in size L weighed in at 1717 grams (3 lbs. 12-5/8 oz.).
The Shoei Syncrotec Police Helmet in size XL was 1731 grams (3 lbs. 13 oz.) and the HJC Sy-Max IIin size L weighed 1762 grams (3 lbs. 14-1/8 oz.).
The SCHUBERTH C3 in size XL uses the large shell size, and it's a biggie. Between the chin and neck curtain sealing and the large helmet shell, the C3 may give some owners too much of the "astronaut" or "fish bowl" effect.
It doesn't bother me, but it does feel big, I must say. The weight is nicely balanced though and the smooth shape also helps keep things feeling orderly in various types of wind conditions.
Note also that the helmet shell is large enough and tall enough that the bottom edges and the chin and neck curtains can interfere with certain types of thick winter jackets with higher than average necks.
See the wBW Motorcycle Helmet Weights page for charts comparing the weights of all of the open-face, full-face and flip-up helmets we've reviewed.
Score: The SCHUBERTH C3 gets an "Outstanding" rating from me for its light weight and even balance.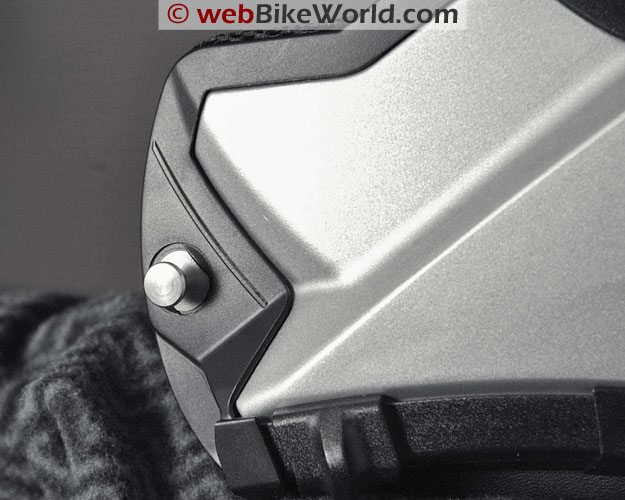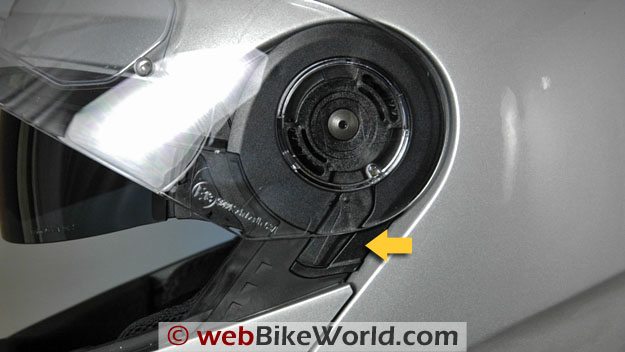 Lever for visor removal.
Rotating Visor and Face Shield
The C3's rotating visor operates smoothly, but the slightly flexible helmet shell does mean that occasionally one of the latches on the visor doesn't quite catch on the first try.
It pays to give the visor a good, strong push to make sure it seals correctly. This usually only happens when I'm closing the rotating visor when not wearing the helmet.
The visor rotates upward 180 degrees, according to Schuberth, compared to 135 degrees for theSCHUBERTH C2 (review). The visor has a detent at the uppermost position that holds it open.
The helmet shell has metal posts on either side to lock the visor in place.
I can't tell what type of material the corresponding visor latches are made from, but the owner's manual states that the system is designed to prevent opening in a crash.
The button to release the rotating visor is located under the center of the chin bar. It's nearly flush and it must be pushed up for the visor to rotate.
The clear visor or face shield has excellent optical qualities. I measured it at a relatively thick 2.22 mm.
It is very easy to remove by pushing the levers forward on both sides of the helmet simultaneously, which then allow the visor to be rotated all the way back, where it pops out of the side holders.
To replace it, simply push both sides back in and rotate forward. This is illustrated in the video below.
The face shield has 7 detents, with the first two or three feeling weak but the remainder feel stiff. The visor has lifting tabs on both the right and left side.
The face shield also has a unique "city" opening. It can be cracked open a couple of millimeters for ventilation, and there's a small tab built in to the chin bar to hold the visor open.
To overcome the friction of this tab, the visor must be smartly closed or it won't snap past the tab to close completely.
The first time I wore the helmet, I rode for about 1/2 hour feeling a lot of air flow, wondering how it could possibly bypass the chin and neck curtains, until I realized the visor was in the city position.
SCHUBERTH also includes a Pinlock anti-fog visor insert (review) with the C3. It works beautifully to prevent fogging in the cold 4 degree Celsius temperatures I've been riding in lately.
Internally Rotating Sun Visor
I almost forgot: the C3 also has an internally rotating sun visor. This time, it rotates via a slider switch on the lower left edge of the helmet, at the bottom of the helmet shell.
The visor rotates very smoothly and almost too easily; it would have been better if SCHUBERTH put a detent at one end to keep the slider in place when the visor is rotated back up into the helmet, because the visor on this helmet does slip down occasionally when I hit certain types of bumps in the road.
It would be nice to think that SCHUBERTH took our criticism of their earlier rotating sun visors to heart.
Because this one not only rotates down farther than average, it has a very small cutout for the rider's nose, and the end result is a sun visor that pretty much remains out of the rider's line of sight.
It's also relatively dark; I believe the ECE standard calls for no less than 50% light transmission, but I thought I read in the owner's manual that this one transmits 20% of visible light.
It also has excellent optical properties with no waviness or imperfections, and the owner's manual claims that it blocks UV light.
The horizontal visibility of the eye port is excellent; I can not see either side of the helmet in my peripheral vision. Vertical visibility is average to above average.
I can see half the instruments on the GT1000 at the lower edge, which is very good, but the thick helmet shell makes the top part of the helmet and padding protrude slightly into my line of sight.
Score: I'll rate the visor rotating mechanism operation and the operation and visibility of the face shield and the internal sun visor on the SCHUBERTH C3 as "Outstanding".
Noise Levels
SCHUBERTH made some dramatic claims for the C3 when it was announced, and they have delivered. The C3 is one of the quietest helmets I've ever worn, flip-up or full-face. If memory serves me correctly, it rivals the SCHUBERTH R1 in this regard.
This proves two things:
First, SCHUBERTH has done an outstanding job in both the aerodynamics and noise control with the dual chin curtains and neck curtain; the fit and construction of the liner; and the smooth, narrow and tight-fitting gaps between the rotating visor and the helmet shell.
Second, it demonstrates to other helmet manufacturers that it doesn't take advanced physics to get it right.
Pay attention to the details and work on that neck roll area, which is the leading cause of helmet noise, and you should be able to get the same results.
Score: The SCHUBERTH C3 gets an "Outstanding" for noise control.
w

BW

 Video: SCHUBERTH C3 ECE Version
Miscellaneous
The C3 uses a European style chin strap buckle. The chin curtains on either side attach via a section of hook-and-loop in the center that also forms the padding underneath the chin strap.
This makes the chin strap thicker than most, which can cause some interference with thick winter jacket neck lines.
The SCHUBERTH C3 is currently built to meet ECE 22.05 helmet safety standards only.
Conclusion
No doubt about it, SCHUBERTH has a winner on their hands with the C3. It's very quiet, it's comfortable, everything works efficiently and it has some unique features that make a big difference.
You'll pay for it though — the SCHUBERTH C3 is expensive.
w

BW

 Review: SCHUBERTH C3
Manufacturer: SCHUBERTH Helme GmbH.
List Price (2008): £429.99-499.99
Colors: Graphic Black; Metallic Silver; Metallic Anthracite; Plain White; Plain Deep Black; Plain Matte Black.
Made In: Germany
Sizes: XS-3XL Shell Sizes: 2
Certifications: ECE 22-05
Review Date: November 2008
Note:
 For informational use only. All material and photographs are Copyright © webWorld International, LLC since 2000. All rights reserved. See the webBikeWorld® 
Site Info page
. Product specifications, features and details may change or differ from our descriptions. Always check before purchasing. Read the
Terms and Conditions
!
Owner Comments and Feedback
---
From "A.I." (September 2011): "Just purchased a SCHUBERTH C3 helmet and absolutely love it! Excellent quality. Very quiet. Comfortable to wear and the airflow is excellent.
My previous helmet was a HJC IS-Max flip up, size large. I ended up with a 2XL (size 62-63) in the SCHUBERTH even though my pumpkin measured only (?) 60.5 cm. According to Schuberth's sizing chart, I should have worn a XL.
I was able to install my Cardo Scala Rider G4 intercom system on the SCHUBERTH. It was a little tricky to separate the inner liner from the shell in order to install the base plate, but with patience and a spoon, I met with eventual success.
You have to mount the base plate pretty far back, because it has to go in behind the sliding lever that operates the tinted internal visor.
Having said that, the boom mike is long enough that it I could still position the microphone in front of my mouth. I have tinnitus in one of my ears, so the quietness of this helmet justified the additional cost for me."
---
From "O.S." (July 2011): "I bought a C3 three weeks ago. I was going from Norway to Italy and wanted a decent helmet.
Comfort and venting was good, but I regret not testing it in rain before I left. Even in light rain, it doesn`t take long before I cant see. Drops form on the inside of the visor, and I literally get drops splashing in my face.
I've had cheap helmets and a Shoei XR-1000, and I've never had this problem before.
One of my friends have the SCHUBERTH R1, and he had no problems. Probably because the sealing gasket is much thicker. On the C3, the "gasket" between helmet and visor barely touches the visor. I first noticed it going through Sweden.
In Germany, I mailed Schuberth, asking for help, as I had just started the trip.
Now I'm back home, and I still haven`t heard anything.. Why? My advice is; If you're going to ride in rain, don't get the C3. I'm returning mine tomorrow…."
---
From "L.JJ.B." (July 2011): "I'm critical about my gear and your helmet reviews were very helpful when making a shortlist trying to find the perfect helmet. In return, I'd like to add a few remarks, after using the SCHUBERTH C3 for one-and-a-half years or so.
1) Especially at night, I saw 'stars' and bright reflections. Very distracting. At first I didn't know the Pinlock anti-fog insert could be removed, but when I did I found this greatly improved my view.
2) The internally rotating sun visor has, according to the manual, an 'anti-fog' coating. However, this has a side effect: After some time, it gets white-ish and matte, on both sides. As if it has fine, white, sticky powder on it.
Again, your view doesn't improve from this. Your sight gets somewhat milky. It can be washed off, but the sun visor is not as easily to remove and put back as the main visor. (I tried to remove the coating with a polishing cleaner but I can't yet say if this worked).
I still think the C3 is the best but it's practical to know about this."
---
From "D.H." (01/11): "I am researching a new helmet and my nearest (not so local) BMW dealer recommended a SCHUBERTH C3. I read your write-up which seemed very thorough and objective.
However, I was surprised by the great amount of issues and complaints in the "Reader Comments and Owner Feedback" section. I found none that mentioned Schuberth's factory customer service, from their web site.
I am curious about the number of issues and complaints, and if you have any idea if any of them ever even reach the manufacturer.
And if so, what kind of response they get. I noticed that you mention "not every comment received will be posted" (can't blame you!), so wondered if there were any you didn't post on the subject or not.
Editor's Reply: First, we publish almost every comment that is received, it is extremely rare when a comment isn't posted, and then only when it's an obvious rant or something that isn't relevant.
The email comment system slows a lot of people down, but I think greatly increases the value and thoughtfulness of the comments as I think you'll see in any of our comment sections.
We don't forward any of the comments to the manufacturers; it's up to the manufacturers to read the webBikeWorld article if they're interested in learning what their customers are saying about the products.
The C3 is an interesting case, because first of all, it's a very expensive helmet.
In my experience, there is a high correlation between cost and expectations and I think owners are more likely to point out problems on a $600.00 helmet than a helmet that costs, say, $150.00.
Also, my feeling is that most SCHUBERTH owners are very experienced riders who know their gear and they know what works and what doesn't.
I'd further guess that the typical SCHUBERTH owner racks up a lot of miles and uses their gear to the fullest, so any issues with a helmet or other product will be discovered more quickly and perhaps become more of a problem if not resolved.
I'd say in general that SCHUBERTH makes outstanding products, but it's impossible for me to also say whether it would be the "perfect" helmet for you. There's no question that the C3 costs more than the average helmet.
Whether it's worth twice as much as some other helmet is difficult to say.
The one thing I can mention is that based on our experience, SCHUBERTH helmets and the C3 have a unique fit.
So, as it is with any helmet, it's important to match your head shape to the internal shape of the helmet and to make sure that the helmet is the correct size and fits comfortably. Be sure to read our Motorcycle Helmet FAQ for more information on helmet fit.
For example, my particular head shape is apparently not compatible with the C3 and I have not been able to find one that fits me as well as some other helmets.
This has been the case with SCHUBERTH helmets I've tried since the Concept, way back in the early 1990's. The shape and the sizing just doesn't work for me unfortunately.
---
From "P.S." (12/10): "Now that I finally have my DOT version of the SCHUBERTH C3, I thought I would offer some impressions based on actually wearing it rather than a simple and quick try on at the MC show…
I finally got the helmet (it took nearly a month) and I had an opportunity to wear it on a 6 hour ride today. Outside temperature ranged from 40 F to 50 F.
Here are the plusses:
In 40 50 degree F. temperatures while riding at 70 mph, the inside of the helmet is "just right." Not too warm, and absolutely not the least bit cold. I always wear a skull cap, but not a balaclava.
Thanks to the Pinlock visor that comes installed on the helmet, in spite of the cold temperatures there were no problems with fogging whatsoever. It's also worth noting that all of the visor components (visor, Pinlock, sun visor) are optically perfect. Even looking through all three of them in tandem is still akin to looking through air. There are no imperfections.
Here are the minuses:
The C3 has a pressure point which leaves a bright red mark squarely in the middle of my forehead for about an hour after I remove the helmet. It doesn't cause any discomfort while I am wearing the helmet, but the mark sure is a bright red rectangular beacon with the helmet off.
I mentioned earlier that based on the MC show demo helmet I tried on, I didn't think the cheek pads would squeeze my face. But they do squeeze my face after all and there are also pressure points toward the back of the helmet on opposing sides of my head above and behind my ears.
Neither the forehead pressure point nor the cheek and head pressure points are intolerable, but I wish the fit was just a bit better than it has turned out to be. The check pad squeeze is not as bad as the Shoei Multitec, but it's still something to grumble about. I have so far been unable to find a source for spare parts (like thinner cheek pads) for SCHUBERTH helmets, either here in the US or in Europe. The local dealer I purchased the helmet from appears to be clueless in that regard.
The chin strap is a significant source of dissatisfaction for me. It is hard as a rock and it really and truly can be uncomfortable.
The chin strap is also too short. I can only engage one click on the hard plastic strap in spite of having adjusted the length of the flexible strap all the way out. I have a large head but I am not obese. I think my neck is pretty normal for what is required to hold up a size XXL head, so this seems to me to be a design flaw.
I had to remove what I would call the "supplemental chin curtain." It pressed against my throat hard enough to cause choking. I really can't wear it. I complained about this to the lady doing the demo at the MC show. She said "Don't worry, it's adjustable," to which I now politely reply, "Uh, no. It isn't." Someone with a "pencil neck" might find this extra curtain useful. The rest of us can safely remove it and put it away in a box somewhere.
The flip up chin bar is very difficult to lock (down). It's definitely a strong "two hands" operation. I'm hoping this will loosen up quite a bit with use.
The flip up chin bar is also almost impossible to release. It's a "two thumbs" operation with extremely strong effort required to release it. I consider it to be highly unlikely that a first responder will ever be able to figure it out. I also have serious concerns that the plastic release button will eventually break. I have no idea how I will get the helmet off when that happens!
The flip down sun visor is not dark enough to suit me. I'm sure it's as dark as SCHUBERTH can legally make it, but its functionality, while "OK," sure could be better. I am thinking I still need to buy a light smoke pinlock visor to wear with it (or maybe even a dark smoke visor, I'm not certain which one yet).
The C3 is quiet, but you'll still want to wear ear plugs. It isn't nearly as quiet as I had hoped (or expected)."
---
From "E.R." (6/10): "I bought a C3 six months ago in High-Visibility Yellow. It has worked well and is definitely quieter than other helmets, and it has recessed pockets for speakers, which are oval-shaped so you can position the speakers exactly where needed.
The helmet is far superior to the S1 it replaces; the latter's foam pressed against my forehead, becoming very painful after just one hour, but the C3 is very comfortable and I can wear it for hours.
The internal sun visor covers almost all of my vision, unlike the S1's. And the flip-up nature means the helmet is very easy to take on or off, unlike the S1 which was a struggle due to the thick lower curtain.
And the fastening mechanism is very good on the C3; it's impossible to insert the buckles incorrectly and the very nature of fastening it also ensures the fit is properly tight, like with a D-ring system.
The S1 on the other hand cannot really be adjusted after putting it on, and it's possible to insert the two prongs of its fastening mechanism incorrectly.
As far as build quality goes, the only issues I have found is that when closing the chin section, sometimes only the right side latches closed, but just nudging the chin back up causes the left side to engage.
But sometimes they both engage the first time.
It is important to be aware of this so you don't accidentally ride off with only one side locked. And the visor was literally impossible to fully close with one hand so I had to sand down the plastic protrusion that locks it closed, which solved the problem.
But those are very minor issues and both have workarounds. Overall the helmet is excellent and it comes in High-Vis Yellow which is still very rare for helmets. Highly recommended."
---
From "J.B." (6/10): "I recently purchased a new SCHUBERTH to replace the previous model C2 that I have worn out. I am primarily a long distance year around rider and frequently spend 8-12 hrs. on the bike with my helmet on remaining during fuel/rest stops.
On occasion, the helmet has stayed on my head for several days in a row. I go through several shields per year, and get about 2 years use out of the helmets themselves. My comments are based on this experience.
Any criticisms of the SCHUBERTH helmets become moot with extended wear. Mine have all been of a standard so far above the competition that I simply cannot compare them (though I do like a couple of the Shark models, but not as much).
And each new model improves on the last. I have also had excellent customer service when in need of a new shield or breath guard, etc., so I suggest anyone with a real problem simply contact the manufacturer. I find them to be very responsive.
I have 40 years of riding behind me, wearing all manner of helmet brand, model, style. I can say without hesitation, if the SCHUBERTH fits your head, there is simply no better helmet made for extended use. No need for ear plugs or sunglasses with the SCHUBERTH Cx or Sx helmets (which cause a great deal of discomfort over the span of a long day).
They are exceptionally quiet, to the extent that I can listen to music at a very low volume while riding, and yet I can hear sirens and such. Wind noise is the lowest I have found on any brand, whether I am on my touring bike, or my performance naked bike.
Excellent weather protection, and these have historically been great winter riding helmets. Now that they have improved venting and Pinlocks, they are superb year round lids. With these new Schuberths, I can see having only one helmet in my gear set.
As for value, list price is certainly off-putting. However, a little careful shopping will get you a new SCHUBERTH for far less than full retail.
Shields and such are a bit pricey. And yes, it's a small pain to have to shop outside the US, but many Euro retailers are quite happy to ship to the USA.
I just purchased a new S1 Pro graphic with the new Pinlock shield for a total cost of half of retail (includes intl shipping). I'll easily pay that much locally for any decent big name helmet. So, SCHUBERTH seems to offer a very high value.
Unfortunately, C3s are still easily selling for 80-90% of retail, so for some folks, the S1 Pro or R1 may be the best bang for the buck if you can live without the flip feature, and deal with the lack of US dealer support (which is truly a shame).
By the way, the new 2010 helmets fit just the same as the older C2 and S1 lids. Better chin clearance, but otherwise identical. I can not see that the shape is very much different."
---
From "S.B." (5/10): "I have a SCHUBERTH C3 helmet which I have been using for the last 10 months and to be quite honest I am very disappointed with it.
So far the Velcro has worn away and no longer holds together, the sun visor keeps falling out causing me to stop and refit it. The plastic housing which holds the chin curtain has cracked which might account for the chin curtain constantly falling out.
I have never had a helmet cause me so much trouble. For me the problems far out weigh the benefits, obviously buying an expensive helmet doesn't buy quality and had I known this I would never have bought this one. Sorry to be so critical…"
---
From "P.C." (2/10): "I have had one for over a year now. Noise, fit, comfort, ventilation and visor are all very good. However build quality is noticeably poorer than my wife's C2. After about 6 months I lost the top vent slider. Then most annoyingly of all, one of the components of the left side visor release mechanism sheered.
The chin wind barrier doesn't fit very well and frequently comes apart. The internal fitting don't seem secure and routing the wires of a headset was a struggle. Even the closing mechanism seems hit and miss at times.
In summary, it has some nice features and the low noise it a definite plus point, but it is a rather delicate piece of kit and needs to be handled carefully."
Editor's Note: We have a pair of brand-new C3's in the evaluation process and will be reporting on them soon, along with the new SCHUBERTH Bluetooth system that fits as a "collar" around the bottom of the helmet.
The build quality of these later models appears to be improved from the original production run.
---
From "A.J." (12/09): "I've had the C3 now for 4 months and overall I would rate this helmet very highly. Finding a helmet to fit my 'earth' shape head seems to cause lots of problems for me; certainly the C2 was not suitable.
The C3 and the Multitec were the best of the flip up lids that I tried, with the integral sun visor being the winning factor for me.
I am in between a large and extra large helmet in terms of required size and went for a large in the end. It's comfortable around the ears whereas most helmets press my ears against my spectacle arms causing pain over a period of time.
The large is a bit too 'snug' for me, and I find the seams of the head band make quite an impression on my forehead after a couple of hours.
I do find the helmet quite restrictive around the jaw line.
The next size up is much more roomy around the jaw line, unfortunately it is just too big wish they had not just stuck to two shell sizes. Even so, the large is the most comfortable helmet I have worn to date
I am starting to get a little frustrated with the chin guard which is starting to pop out on one side when the front is flipped down
Incidentally it would seem Fritz has gone back to his old ways I recently tried on a new BMW System 6 helmet, thinking it would be exactly the same as the SCHUBERTH branded C3. I couldn't get a large size on.
The Extra Large, and XXL both felt like I had my head in a vice seems BMW had the System 6 designed for a narrower head shape much more like the older C2."
---
From "R.K.H." (12/09): "I got a (size) large shipped to me from Germany. The fit was as expected except for the dimension from the top of the helmet to the neck and chin curtains and the strap.
For me this distance was too short and the curtains press against my neck below my jaw and the underside of my chin. This got very uncomfortable after a few hours riding and so I've re-sold it. Had it not been for this fit issue though I'd still have it and love it."
---
From "J" (11/09): "Great reviews. Really wished I had found your site before purchasing this.
Having owned a C3 for 10 months and covered 14k miles, I can only surmise that it's a very mixed bag. Whilst I wouldn't doubt its shell quality, its durability and accessories are of a poor quality for such an expensive piece of equipment.
The Helmet hasn't been abused or dropped in any way.
Pros:
It's very light and comfortable to wear.
Excellent aerodynamics. Lifesavers at 70-80 mph in heavy crosswinds or directly into wind with no lift or twisting.
Visor removal quick and easy.
Visor indents work well and don't unclick.
Pinlock works well
Cons:
It's not a quite as it's made out to be.
Quality not great. Visor removal lever fell off right hand side.
Wind deflector unclips and is difficult to reattach.
Sun visor repeatedly fell out whilst riding and had to be Superglued.
Plastic underneath (sun visor lever) beginning to crack.
Venting not good.
Not worth the money.
---
From "M" (11/09): "I've got a C3 and an RF-1000. The C3 is a fantastic helmet. The review is spot on for me except the venting on mine seems to work sweet.
The sun is always shinning here in sunny (New Zealand) and I just love the sun visor. Its by far the quietest helmet I've worn and now I can actually hear my iPod clearly up to 160km/h which I haven't been able to do with any other helmet.
It's an expensive helmet here in NZ too but what's your head worth?
So thanks for your great reviews as it certainly helped me."
---
From "D.B." (11/09): "I bought a C3 around a year ago, great service and no complaints on that front. But I've had a problem from new with the visor dropping down at fairly low speeds or bumps in the road. It's annoying and dangerous.
I've read elsewhere about a few other owners having the same problem.
My helmet has gone back to the distributor via the retailer on two occasions. On the last return a new visor was fitted which has improved it a little, but it feels like it's loosening up again.
This short-coming is worth mentioning I feel, particularly if other's are developing the same problem.
I would add that I've had droplets of water getting into the visor during bad rain. There's also a slight flow of air leaking in, this results in my eye watering / itchy nose! Can't be sure if this is the flip or the visor."
Editor's Note: Helmets aren't very watertight, due to the lack of integrity created by vents, visors, face shields, etc. Some leakage can't be avoided, especially when riding in heavy rain.
---
From "S.S.A." (10/09): "I would like to report about a problem with my SCHUBERTH C3 helmet, which I bought about a month ago and already drove more than 1000 km with it. I am quite pleased in general with the helmet: it is comfortable, light and not noisy.
However it has a serious problem which affects its safety: at high motorway speeds the natural air flow tends to close the sun visor.
The problem is worsened by the presence of unevenness on the road, which cause vibrations to the helmet, and, I believe, is due to the fact that the command slide runs in the direction of the air flow and does not have a smooth aerodynamic shape.
The problem was not present with the SCHUBERTH C2 helmet, which I also owned, since the visor cursor is in a different position, runs in a different direction, and has a more aerodynamic shape.
This problem is partially reported also in the C3 review on your web site, where the reviewer mentions the fact that the visor runs too smoothly and closes if there are bumps on the road.
I believe that the problem can seriously affect the driving safety, particularly at night, since it can seriously worsen the driver's view.
I have informed (Schuberth) about this problem; after a while they advised me to contact the Italian dealer, which I did. They said that I should return the helmet to them.
I replayed that I believe that this is not a problem with just my C3, but it is a general problem of all C3 helmets, as they can verify on any C3 helmet they have, and explained that I would not like to give back my new C3 (i.e. not being able to drive my bikes) without a temporary replacement.
No answer yet on this.
I am surprised that a serious company, like SCHUBERTH is so hesitant to take the problem seriously."
---
From "J.S." (9/09): "Thank you for your reviews on webBikeWorld. I was searching for a helmet for a long time, and the reviews here help me with the decision. (The Schuberth) C3 Helmet is outstanding, very good quality inside and out, very light weight.
Out of the box I noticed right away, not so quiet as I expected, maybe bike and or riding position.
I notice if I tilt my head up a few degrees (changing the angle of attack) noise levels are cut by more than half.
Thank everybody with the reviews it helps a lot especially in a helmet purchase. Designer Helmet were quick in answer questions and to ship the product . Order on Monday and receive the helmet on Saturday to Georgia, USA."
---
From "R.C." (4/09): "I wanted to share my comments with you and your readers on the SCHUBERTH C3 helmet. I have owned the original Concept, Concept 2 and S1 SCHUBERTH helmets.
After reading your review, I purchased a Concept 3 from Designer Helmets in the UK. Service was excellent and the helmet and spare visor arrived in four days.
Of special interest was the recommendation by the Designer Helmet's salesperson to try a smaller size helmet. My head measure 57.5 cm circumference and usually go with the 58/59 cm size (large).
In this instance, I went with the 56/57 cm size (medium). It is a snugger fit but quite comfortable. Interesting how you get used to a looser fitting helmet when you need room for ear plugs and glasses.
The optics in this helmet are phenomenal. I am an optometrist and take a keen interest in having clear vision for riding. This helmet really delivers.
The combination of the clear visor, rotating sunlight visor and Pinlock insert deliver an outstanding view for riding. Distortion has been significantly reduced compared to the C and C2 SCHUBERTH helmets.
The rotating sun visor shape has been improved over previous designs. The Pinlock visor insert does away with fog and the veiling glare that is created when viewing headlights at night through a fogged visor.
Weight is reduced along with noise compared to previous versions of this helmet. Its the optics and clear field of view that really caught my attention. Good vision is essential for safe motorcycling.
It allows you to recognize obstacles and dangers in your path from farther away giving you more time to react. This is the first helmet for me that has combined a very low distortion clear visor, a rotating sun visor and a Pinlock insert. Well done."
---
From "J.S." (4/09): "As one who's had a SCHUBERTH and even sold them for some years, this is my long, tiresome but experienced and maybe sobering viewpoint on how one could go wrong with an otherwise good product:
As one who's had a SCHUBERTH (Concept) since its introduction into the U.S. some 10 years ago, I can understand the initial fascination of new owners with their C3's. I too was enthralled with my Concept.
But in view of the high initial price here in The Colonies I think there are some points to be considered:
1. SCHUBERTH has come and gone at least twice in the U.S. market. Currently, as I sadly found out when I wanted replacement linkage parts for my sun visor a year ago, they are not to be had. Not even from Schuberth/DE.
2. The chin guard/screen appears to be made of the same cushioned spongy material as the old Concept. If this is so then when wet, say from a driving rain, it takes literally days to dry out. It's like putting on a wet bathing suit that never gets warmer…
3. The lack of a detent on the sun visor or at least a friction mechanism that allows positioning somewhere in the range of travel besides fully retracted and down.
There are times when you want full view but would want the visor positioned somewhere just above the line of sight. Making this possible is a no-brainer and is what a helmet at this high price point should have.
4. The weak lower detents for the outer visor can be problematic when doing a defog (a working snap-in anti-fog shield notwithstanding, most people never use them when the weather starts out dry and warm but changes, or is cool to begin with).
The old SCHUBERTH had a nice "snap forward" mechanism where one could do a quick defog by moving the visor forward rather than up. It may have been the best feature of the helmet.
If the only choice now is to raise the visor and the detents are weak (usually because of weak ratchet mechanism molded into the visor at the pivot) then that could be annoying.
5. Even if the C3 has the (in my mind fully adequate) ECE 22.05 approval, buying a helmet without a DOT marking in the U.S. can cost you everything from a traffic ticket to your license. One can drink a lot of beer discussing DOT/ECE/Snell, but the DOT thing is a tie-breaker.
If you ride in a state where helmets are required with your un-DOT helmet and have an accident involving your own injury, your insurer may stonewall you for any claim.
The old Schuberths had a DOT sticker, but the newer ones may not…particularly if sold to you from outside the U.S.
I had to replace my Concept for the same defect twice: the shell liner just above the visor opening was held with what appears to be masking tape (!). After a year or two of use this tape would curl, sticking to the sun visor.
This would not allow the visor to drop and making it difficult to retract.
It would also deposit "stickum" on the sun visor which required solvent to remove…not a wise substance to use on that softer visor material. Occasionally, when moving from sunlight to darkness (tunnel, heavily wooded road, etc.) the tape would bind on the sun visor and it was impossible for me to retract the visor while riding.
I had to push up on the visor itself, which I'm sure led to eventual failure of the linkage to the actuator button.
Even after five years of selling the Concept, that masking tape was still in use. Owners should look for that same questionable material in newer helmets and if it's there, keep an eye on it to ensure it doesn't loosen and stick to the sun visor. I have no solution for the problem except to return it to (if they're still in your market) the SCHUBERTH distributor.
AAnd of course, there's the fit issue. Like many, I was so intrigued with the Concept at the time that I bought what turned out to be a too large size. Initially, the fit was fine but as the liner material compressed over time I began to rattle around in it like a B-B in a boxcar.
I knew little about flip-up helmets at that time and should have bought a size smaller than my usual XXL (anyone who knows the old SCHUBERTH sizing knows the sizing disparities with the 'rest of the world').
Eventually the helmet lining compressed so much that the hard foam liner pressed on my forehead, causing excruciating headaches.
Ironically I wound up selling helmets and other apparel, including Schuberths, for a few years. Motivated by my own dissatisfaction I learned a lot, going out of my way to ensure that others didn't make the same mistake I did. I became somewhat anal about ensuring proper fit for customers…particularly considering the price of SCHUBERTH helmets.
I wasn't the most successful salesperson because management wanted me to 'move more product' but I took a lot of time ensuring customers were properly fit.
So even with the new interior profile there is no substitute for on-sight proper fitting. Irrespective of the quality, the caveat still applies: buying by mail or online–particularly from overseas with the attendant shipping/reshipping and possibly even inflated restocking charges–is unwise at best.
Until SCHUBERTH chooses to re-distribute in the U.S. I would be cautious about spending that much money on a wing and a prayer. And if they do come back, then I personally would only buy from a local knowledgeable retailer.
If you try on a helmet and the salesperson says, "How's it fit?" or "Is it comfortable?" (it shouldn't be, right out of the box) or the like but offers little more, move on.
I no longer sell them and have no skin in the game, but a proper fit with all the time that it should involve is crucial both for comfort and safety. I've learned that no matter how nice the bells and whistles, it's just like bikes: some people shouldn't buy some helmets."
Editor's Reply: All good comments, but just to be fair, note that:
The internal sun visor on the C3 is much improved over previous SCHUBERTH helmets. Note also that the C3 has a very different internal shape than earlier SCHUBERTH helmets, so I don't think the comments about fit apply to the C3.

Regarding the issue about insurance companies balking at a payout for accidents by non-DOT helmet wearers, I'm not sure if this is urban legend or not. Can anyone confirm?

What about the riders wearing the paper-thin beanies that are not DOT FMVSS 218? What about states without helmet laws, if the rider is wearing a non-DOT FMVSS 218 helmet, does it make a difference?

Or, what about when a driver gets in a car accident while not wearing a seat belt? It's my understanding that the insurance company still has to cover the expenses. Can anyone from the insurance industry confirm this?

"HSSwan" Replies: "Yes, an insurance company can deny coverage to their client if the policy states specifically that a DOT certified helmet is required. Check your policy or call your insurer. Mine, USAA, has no such clause. My C3 is on the way."

Again, in fairness, note also that the SCHUBERTH C3 is two generations away from and quite a different helmet than the Concept and C2. Thus, my feeling is that many of these issues have been addressed with the C3.
---
From "L.P." (3/09): "After wearing my new C3 helmet for a couple of months I can honestly say I'm happy as can be with it. To begin with I had to get past the enormous price point, for some of us not always easy to do.
My poor old Shoei Syncrotec was long overdue for replacement though and it was time to make a decision.
One of my riding buds uses Shoei's new Multitec and really likes it but says there's not a huge difference from the Syncrotec. Having read and re-read your review plus any others I could find I decided to go with the C3.
The cost at Designer Helmets came in at $665 delivered to the US west coast and it arrived in less than a week. That's better service than I get out of many CONUS retailers.
Was it worth it? For me it was, all of the features that you don't get with less expensive helmets make the difference.
One of the things I was most concerned about was fit, and even though I've always worn a large in Shoei and Arai it was recommended that I order a medium. I was apprehensive to say the least but figured the guys who sell them know more about it than I so I did as they suggested.
It was a good call, the helmet fits better than any others I've owned.
One thing that amazes me is even though the helmet feels snug – not tight – on the sides I can easily put on glasses without pinching my ears, something I could never do with the Shoei(s) I've worn.
Everyone seems to agree about the low noise levels but of course it's still a helmet and you can hear the wind, just not as loud. So far the longest ride I've been on was right at 200 miles in very bad weather with lots of high cross winds. I'm highly pleased with the moderate noise levels in spite of the outside conditions.
It was during that same ride that I noticed occasional mist would penetrate the top air vents even when closed. Sometimes the mist would actually be full sized rain drops but not often.
Given the ferocity of the storm I was in I wouldn't complain and subsequent rides in "normal" rain have not produced repetitions.
The Pinlock system works beyond my expectations, absolutely no fogging whatsoever. I actually tried to make it fail and was unable to do so, it's the best set up I've ever used and it comes standard on the C3.
I've read a couple of somewhat negative comments on the built-in sun visor but for me it's been a great feature. In fact since wearing this helmet I've not once worn sunglasses on a ride.
I've only one other helmet with a built-in visor and it's nowhere as crisp optically speaking. To date the visor has never slipped or failed to maintain position.
One of the things I like most is to lower it slightly so that it blocks the sun but I am not looking directly through it, much like lowering the visor in a car.
My final comments would be directed to Designer Helmets and their service. As mentioned they made a correct recommendation for my size and I'm grateful for their knowledge.
They also shipped on schedule as per their quote and during the pre-sale emails were always prompt and informative with their answers.
There are only a couple of companies I've dealt with that have satisfied me as much, one is New Enough and the other is Aerostich, both benchmarks in the art of providing customer service. I would recommend any of them.
Thanks again to you and your staff for keeping us all informed on such a wide variety of products, you're the greatest!"
---
From "A.T." (Vento Negro Bikeriders) (3/09): "Today I did my first 300 km ride with my new C3. Amazing helmet! It's the quietest helmet I have ever worn.
After two SCHUBERTH Concepts, Shoei Syncrotec and Nolan X-lite it is the best. The wide visor, the anti-fog insert and sun visor are great. As you say in your analysis, could have a detent in the sun visor.
But I rode over some bumps and it stay in place… The Concept had this detent point.
After all these years riding is the first helmet I can feel the air flow over my head. The day was sunny and windy, 80 F , with ear plugs it is a very very silent helmet. Very good deal."
---
From "L.B.", Netherlands (3/09): "First of all: Thanks for your online helmet reviews, I've read a lot of them while trying to pre-select the ideal flip-up. (I've always had full face helmets from Nolan, HJC and Shoei the last 20 years.)
I wanted it to have sun visor, no DD chin strap buckle and since I don't drive as much as I used to, I wanted to take a less expensive one this time. Noise and weight are important too, I totally agree with you.
The Nolan N103 looked cool, but I hate the cheap, crackling sounds it makes, as if it's parts don't fit right.
I could turn the Justissimo GT to far backwards because it didn't fit my head well enough and the C2 was very hard to put on, molesting my ears. Also, the sun visor didn't come down far enough.
Not satisfied, I tried the C3, although I didn't want to spend the money. It felt so much more reliable and comfortable. Putting it on is easier on the ears and still it fits better then the C2. Plus: the sun visor goes down further.
Finally, I ordered a matt black C3. I didn't ride with it yet, but it fits and feels so much better then the others that, to the demanding biker, it's worth the extra buck, IMHO."
---
From "A.F." (2/09): "Have owned the C3 for a month now. It's the quietest helmet I have ever worn and overall I am very pleased. Anti-fog insert works well, and visor is clear with good side visibility.
I sure would like to add a Stereo Bluetooth system to this helmet. It appears that the new BMW System 6 helmet coming out this spring is identical (and OEM by Schuberth) to the C3 and the System 6 will have the NEW BMW communications system designed for it.
I would like to have this system for the C3. In contacting SCHUBERTH tech support to find out if the helmets were identical, I got a flat NO and that the C3 was could not be fitted with Bluetooth. I do see that their are recesses in the polystyrene for speakers though.
If anyone knows if the new BMW communications system (currently shipping for the System 5) can be installed successfully in a C3 I would appreciate the details!
Editor's Reply: I don't know if SCHUBERTH will develop a system for the C3 or other helmets, but my feeling is that I probably would not buy a helmet with a built-in system, because Bluetooth intercoms for motorcycle use are still very crude and they're also evolving very quickly.
So I wouldn't want to be stuck with either a system that didn't work very well or one that couldn't be upgraded. Also, a portable system can be moved from helmet to helmet.
There's no reason at all why you couldn't purchase one of the current Bluetooth or wired intercom systems and fit it to your C3; see our reviews on various motorcycle intercom systems.
---
From "T.B." (2/09): "I took the plunge. Have always worn XL but had to return for XXL. Designer Helmets was very accommodating. Freight is a pretty big deal but got what I needed. Not like anything I've worn in over forty years of riding.
If you're ready to spend the money this is the real deal. Wouldn't have done it without the webBikeWorld review."