Technology has outpaced road rules on driver distraction, leaving the current rules inadequate, difficult to police and confusing as they vary between state boundaries.
So, in the wake of a recent national summit on driver distraction, the National Transport Commission is calling for public input to tighten the rules.
Rather than seeking a technological solution, such as some method of switching off mobile phones and other devices when vehicles are in motion, they are investigating non-technological solutions.
The NTC has released a consultation regulation impact statement (RIS) seeking feedback on technology-neutral options to regulate driver distraction. Submissions close on 4 September 2019. Suggested solutions will be presented to state transport ministers in May 2020.
Driver distraction problems
The current national rules date back to 1999, when texting and calling were the most common features of a mobile phone.
Now drivers are updating their social media and even taking selfies while driving!
The current rules only preclude or limit the use of specific technology devices – mobile phones, visual display units and television receivers – while permitting their use as driver and rider aids.
However, distraction is not isolated to mobile phones and other portable devices, but also the growth of built-in car screens that include internet connection to apps that can distract drivers.
Another problem with current rules is that they are difficult to police.
One police officer told me they can have difficulty proving that a driver was holding a phone and not using voice commands.
Other problems include the differences between states in rules which allow or prohibit motorists to touch, cradle or hold devices. Motorists are left confused about the legalities of using their devices.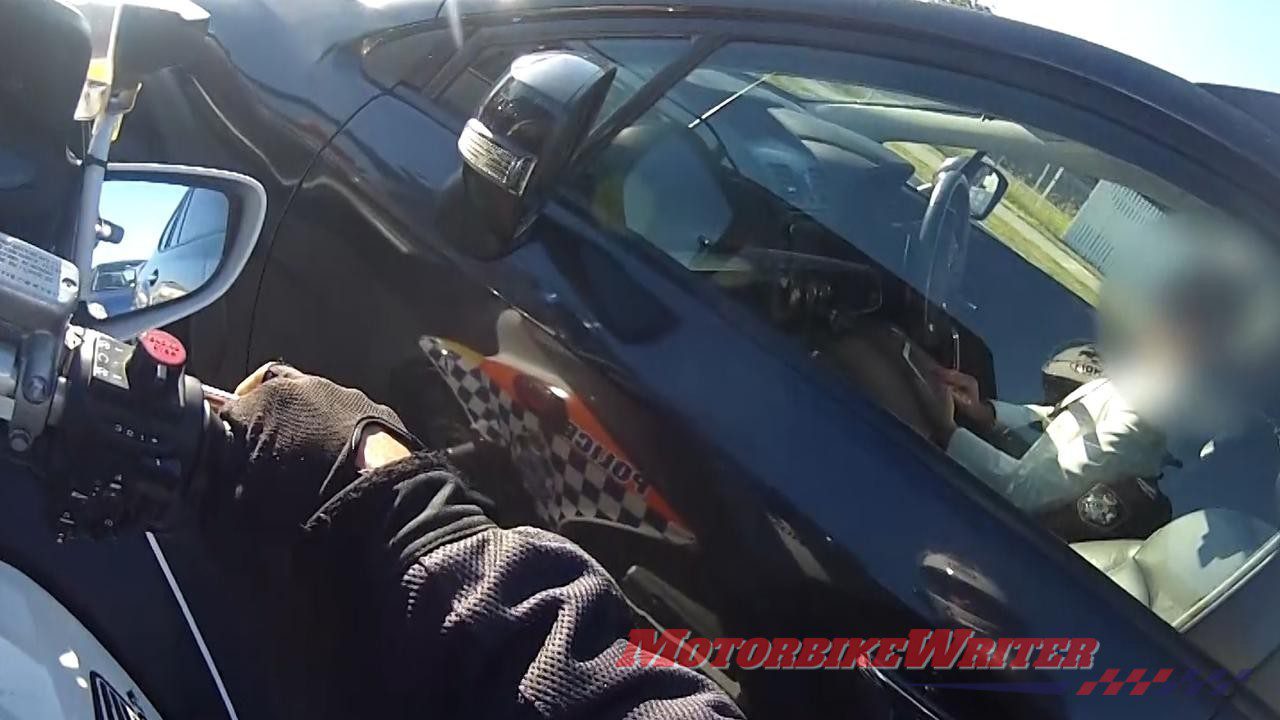 RACQ road safety officer Steve Spalding says driver distraction is "proving to be one of the most challenging issues of road safety in recent years".
"With the ever-expanding use of smart phones, the problem is becoming even harder to deal with," he says.
"We all know the rules and the risks should be self evident, and particularly the risk of causing serious injuries to vulnerable road users such as motorcyclists.
"The solution could be simple if all drivers complied with the law, eyes on the road, hands on the steering wheel and mind on the driving task."
Distraction risks
Riders are all too aware of the problems with distracted drivers not looking for motorcycles.
The NTC says distraction is seen as "a significant road safety risk that is not as well understood as other risk factors such as drink-driving and speeding".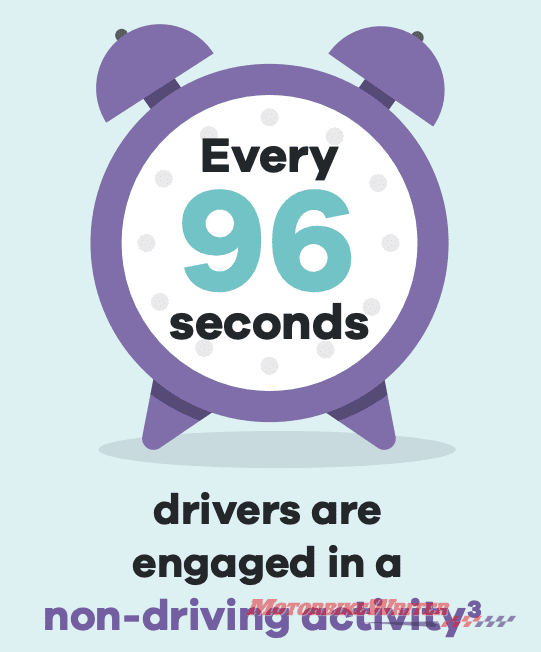 And while 79% of people agree that talking on a mobile phone while driving is dangerous, 21% still illegally use mobile phones for browsing the internet, taking photos, texting and accessing apps.
Studies have found that a task which takes a driver's 'eyes off the road' for as little as two seconds can be particularly hazardous.
The NTC also cites studies that suggest the young and less experienced drivers as well as older drivers are the biggest problems.
They say young drivers lack driving skills to allow them to execute a secondary non-driving task, while older people find it difficult to share attention between two simultaneous tasks.
In Australia, distraction is a factor in 16% of injury crashes and a 2017 WA preliminary summary found that 28 fatalities (17%) were from inattention-related crashes, up more than 100% on the previous five-year average.