Australian motorcycle clothing company Saint has created the world's strongest single-layer denim which has now achieved European certification for greater than four-second abrasion resistance.
Saint's "Unbreakable Denim" is made by weaving 66% Ultra-High Molecular Weight Polyethylene (UHMWPE) in the warp and weft while having a 34% cotton denim "face".
The result is a single-layer denim with 360º torsional strength, motorcycle-tested impact, burst and abrasion resilience similar to leather.
But it's not cheap. Prices for the Saint Unbreakable Denim gear are almost double what you would pay for Kevlar-lined gear at $700 for the pants (men's sizes 28-38) $600 for the jackets (men's S-XXL and women's 6-14) and $170 for the gloves.
One of the founders, Mike Lelliott, says they have had "all sorts of customers including a $17,000 order from a Saudi Prince".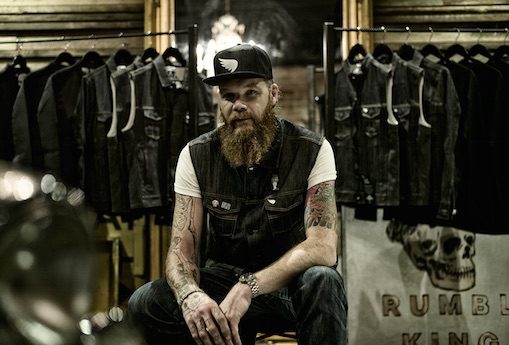 "Our single layer denim range borrows ultra high molecular weight polyethylene and leaps past the four-second CE motorcycle apparel safety rating at an incredible 5.9 seconds or nearly 75 metres without tearing," Mike says.
The company had been producing their products with denim that had 3.65 seconds abrasion resistance, but further development has now almost doubled that.
While it may be the toughest single-layer denim, fellow Australian motorcycle clothing company Draggin Jeans achieves 6.25 seconds for its Roomoto lining, which is a blend of UHMWPE and DuPont Kevlar.
Draggin founder Grant Mackintosh says they don't use more than 60% UHMWPE because of the low melting point which means friction can melt it in a slide down the road.
Single-layer Unbreakable Denim fabric was developed over the past two years by Saint founders Mike Lelliott and Aidan Clarke who also helped launch brands such as Knog, Crumpler and 2XU.
"At Saint we are all about designing unique fabrics that blend ballistic fibres with natural fibres to create all day wearable, fashion forward men's and women's wardrobes. Wardrobes that are built to protect your butt if things go random," Mike says. 
"As a designer I'm all about disrupting the status quo and making a tangible difference. This is everything Saint is about. This new category of apparel wakes us up in the morning, and keeps us smiling at night. It is an exciting uncharted map – and we are the explorers."
Although only trading for 12 months Saint has rapidly expanded into overseas markets with the US quickly becoming its biggest export destination.
An official Saint press release says "speed demons from all disciplines will be wearing Saint denim from the track to salt lakes in the near future".
They will also open a Saint Salon in Melbourne's CBD later this year.