Aprilia Australia has issued a safety recall notice for a brake issue on 2017-2020 RSV4 and Tuono 1100 motorcycles.
The official safety recall notice issued through the Australian Competition and Consumer Commission says the front brake pad friction material "could potentially separate from the back plate, resulting in reduced braking performance".
"Reduced brake performance may result in a dangerous fall or collision, causing serious injury or death to the rider or other road users," the notice says.
Owners should contact their authorised Aprilia dealer to book a brake pad inspection and, if potentially faulty brake pads are found, they will be replaced free of charge.
For more information, owners should contact their nearest authorised Aprilia dealer or email warranty@psimporters.com.au
Vehicle Identification Numbers (VINs) of the 451 affected bikes are listed at the end of this article.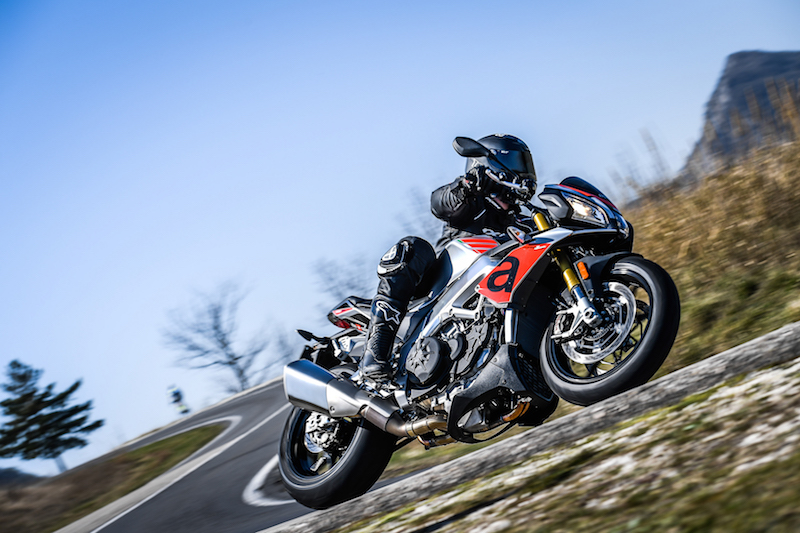 Even though manufacturers and importers contact owners when a safety recall is issued, the bike may have been sold privately to a rider unknown to the company.
Therefore, Motorbike Writer publishes all motorcycle recalls as a service to all riders.
In Australia, recall notices are issued by the manufacturer and the Department of Infrastructure through a voluntary industry code under the Australian Competition and Consumer Commission.
While any recall is not good news for the manufacturer, it shows that they are largely diligent in fixing problems.
If you believe there is an endemic problem with your bike that should be recalled, contact the ACCC on 1300 302 502.
To check whether your motorcycle has been recalled, click on these sites:
• USA
• Canada
VINs of affects bikes
| | | | |
| --- | --- | --- | --- |
| ZD4KG0006KS001279 | ZD4KGB00XKS000566 | ZD4KGA000HS001440 | |
| ZD4KG0006HS000559 | ZD4KGB00XKS000423 | ZD4KGA000JS001542 | |
| ZD4KG0005JS001238 | ZD4KGB009KS001501 | ZD4KGA000JS002609 | |
| ZD4KG0006KS001587 | ZD4KGB009KS001496 | ZD4KGA001JS001534 | |
| ZD4KG0006LS001767 | ZD4KGB009KS000560 | ZD4KGA001JS001954 | |
| ZD4KG0007JS000866 | ZD4KGB009KS000557 | ZD4KGA002HS001438 | |
| ZD4KG0005HS000343 | ZD4KGB008KS000565 | ZD4KGA002HS001441 | |
| ZD4KG0005HS000164 | ZD4KGB007KS000430 | ZD4KGA002JS001543 | |
| ZD4KG0004KS001586 | ZD4KGB007KS000427 | ZD4KGA002JS001963 | |
| ZD4KG0004JS001263 | ZD4KGB006KS000368 | ZD4KGA002JS002935 | |
| ZD4KG0004JS001246 | ZD4KGB005KS000426 | ZD4KGA003JS001549 | |
| ZD4KG0004HS000611 | ZD4KGB003KS001493 | ZD4KE0003HS001402 | |
| ZD4KG0004HS000561 | ZD4KGB003KS000425 | ZD4KGB003KS001588 | |
| ZD4KG0004HS000365 | ZD4KGB002KS001503 | ZD4KGB002LS002166 | |
| ZD4KG0007KS001520 | ZD4KGB002KS001498 | ZD4KGB002LS001664 | |
| ZD4KG0002JS000869 | ZD4KGB001KS001492 | ZD4KGB002KS001596 | |
| ZD4KG0002HS000364 | ZD4KE0000HS001650 | ZD4KGB002KS001078 | |
| ZD4KG0001JS001236 | ZD4KE0000JS001802 | ZD4KGB002KS000559 | |
| ZD4KG0001JS001141 | ZD4KE0001HS001379 | ZD4KGB001LS002174 | |
| ZD4KG0001JS001138 | ZD4KE0001HS001558 | ZD4KGB001LS002160 | |
| ZD4KG0001HS000341 | ZD4KE0001JS001680 | ZD4KGB001KS001590 | |
| ZD4KG0001HS000209 | ZD4KE0001JS001694 | ZD4KGB001KS001489 | |
| ZD4KE000XJS002021 | ZD4KE0001JS001825 | ZD4KGB000LS002165 | |
| ZD4KE000XHS000764 | ZD4KE0001JS002019 | ZD4KGB000LS001663 | |
| ZD4KE000XHS000652 | ZD4KE0001KS003253 | ZD4KGB000KS001600 | |
| ZD4KE0009JS002527 | ZD4KGB001KS000553 | ZD4KGB000KS001595 | |
| ZD4KE0009JS001801 | ZD4KGB001KS000424 | ZD4KGA00XJS002083 | |
| ZD4KE0009HS000772 | ZD4KGB000KS001502 | ZD4KGA00XJS001953 | |
| ZD4KE0009HS000755 | ZD4KGB000KS001497 | ZD4KGA00XJS001693 | |
| ZD4KE0008JS001949 | ZD4KGA006HS000180 | ZD4KGA00XHS001431 | |
| ZD4KE0006HS000941 | ZD4KG000XJS001140 | ZD4KGA00XHS001364 | |
| ZD4KE0006JS001688 | ZD4KG000XHS000371 | ZD4KGA009JS002611 | |
| ZD4KE0007HS000768 | ZD4KG000XHS000211 | ZD4KGA009HS001436 | |
| ZD4KE0007JS002526 | ZD4KG000XHS000208 | ZD4KGA008JS002082 | |
| ZD4KE0007JS002641 | ZD4KG000XHS000161 | ZD4KGA008HS001444 | |
| ZD4KE0008HS000648 | ZD4KG0009JS001243 | ZD4KGA008HS001430 | |
| ZD4KE0008HS001380 | ZD4KG0009JS000867 | ZD4KGA006HS001443 | |
| ZD4KE0008HS001539 | ZD4KG0009HS000149 | ZD4KGA006HS000163 | |
| ZD4KE0008JS001675 | ZD4KG0008KS001560 | ZD4KGA005JS001553 | |
| ZD4KE0008JS001823 | ZD4KG0008HS000370 | ZD4KGA005JS001536 | |
| ZD4KE0008JS002020 | ZD4KG0008HS000367 | ZD4KGA005JS001505 | |
| ZD4KE0008JS002874 | ZD4KG0008HS000210 | ZD4KGA005HS001434 | |
| ZD4KE0009HS000769 | ZD4KG0007JS001242 | ZD4KGA004JS003214 | |
| ZD4KE0009HS001534 | ZD4KG0007HS000201 | ZD4KGA004JS001706 | |
| ZD4KE0009JS002270 | ZD4KG0007HS000165 | ZD4KGB003KS001591 | |
| ZD4KE0009LS003275 | ZD4KG0007HS000151 | ZD4KE0002HS000936 | |
| ZD4KE000XHS000649 | ZD4KG0007HS000148 | ZD4KGB00XLS002173 | |
| ZD4KE000XHS001378 | ZD4KG0005HS000150 | ZD4KGB00XKS001085 | |
| ZD4KE000XJS001824 | ZD4KG0003JS001139 | ZD4KGB009LS002164 | |
| ZD4KE000XJS002150 | ZD4KG0003HS000342 | ZD4KGB008LS002172 | |
| ZD4KE000XJS002875 | ZD4KG0002JS001245 | ZD4KGB008LS002169 | |
| ZD4KG0000HS000198 | ZD4KE0003KS003254 | ZD4KGB008KS001599 | |
| ZD4KG0000HS000203 | ZD4KE0004HS001652 | ZD4KGB008KS001490 | |
| ZD4KG0000JS000868 | ZD4KE0004JS001690 | ZD4KGB008KS000369 | |
| ZD4KG0000KS001536 | ZD4KE0004JS001821 | ZD4KGB007LS002163 | |
| ZD4KG0001KS001285 | ZD4KE0004JS001947 | ZD4KGB007KS001593 | |
| ZD4KG0001KS001562 | ZD4KE0004JS001950 | ZD4KGB007KS001500 | |
| ZD4KG0001KS001612 | ZD4KE0004KS003215 | ZD4KGB007KS001495 | |
| ZD4KG0002HS000560 | ZD4KE0006HS000647 | ZD4KGB007KS001092 | |
| ZD4KG0002KS001280 | ZD4KE0006HS000759 | ZD4KGB006LS002171 | |
| ZD4KE0008HS000763 | ZD4KGA006HS000177 | ZD4KGB006LS002168 | |
| ZD4KGA008JS002616 | ZD4KGA005JS002931 | ZD4KGB006LS001666 | |
| ZD4KGA008HS001363 | ZD4KGA005JS001956 | ZD4KGB006KS001598 | |
| ZD4KGA007JS002610 | ZD4KGA005HS000168 | ZD4KGB005LS002176 | |
| ZD4KGA007JS002607 | ZD4KGA004JS002936 | ZD4KGB005LS002162 | |
| ZD4KGA007HS001435 | ZD4KGA004JS002077 | ZD4KGB005KS001592 | |
| ZD4KGA007HS001368 | ZD4KGA004JS001902 | ZD4KGB005KS001589 | |
| ZD4KGA007HS001354 | ZD4KE0003JS001678 | ZD4KGB005KS001494 | |
| ZD4KGA007HS001290 | ZD4KGA004HS000534 | ZD4KGB004LS002170 | |
| ZD4KGA005JS003223 | ZD4KGA004HS000176 | ZD4KGB004LS002167 | |
| ZD4KGA005JS002606 | ZD4KGA003JS002930 | ZD4KGB004LS001665 | |
| ZD4KGA005HS001370 | ZD4KGA003JS002085 | ZD4KGB004KS001602 | |
| ZD4KGA005HS001353 | ZD4KGA003JS001955 | ZD4KGB004KS001597 | |
| ZD4KGA004JS002614 | ZD4KGA003HS000539 | ZD4KGB004KS001504 | |
| ZD4KGA004HS001442 | ZD4KGA002JS002076 | ZD4KGB004KS001499 | |
| ZD4KGA003JS003219 | ZD4KGA002HS000533 | ZD4KGB003LS002175 | |
| ZD4KGA003JS002605 | ZD4KGA001JS002084 | ZD4KGB003LS002161 | |
| ZD4KGA003HS001433 | ZD4KGA001HS000538 | ZD4KE0002JS002644 | |
| ZD4KGA003HS001366 | ZD4KGA001HS000166 | ZD4KE0003HS000945 | |
| ZD4KGA002HS001360 | ZD4KGA000JS002934 | ZD4KE0003JS002894 | |
| ZD4KGA002HS001357 | ZD4KGA000JS002089 | ZD4KE0004JS001673 | |
| ZD4KGA002HS001293 | ZD4KGA000JS002075 | ZD4KE0004JS001687 | |
| ZD4KGA001JS002604 | ZD4KGA000JS001962 | ZD4KE0005HS000946 | |
| ZD4KGA001HS001446 | ZD4KGA000JS001959 | ZD4KE0005HS001384 | |
| ZD4KGA001HS001432 | ZD4KGA000HS000532 | ZD4KE0006HS001653 | |
| ZD4KGA001HS001429 | ZD4KGA000HS000529 | ZD4KE0006JS001674 | |
| ZD4KGA001HS001348 | ZD4KGA000HS000174 | ZD4KE0007HS001385 | |
| ZD4KGA000JS002612 | ZD4KE0003JS002149 | ZD4KE0007HS001404 | |
| ZD4KGA000HS001437 | ZD4KG000XKS001561 | ZD4KE0007JS001697 | |
| ZD4KGA000HS001356 | ZD4KG000XJS001235 | ZD4KE0008HS001430 | |
| ZD4KGA000HS001289 | ZD4KG000XJS001266 | ZD4KE0008HS001654 | |
| ZD4KE0008HS000651 | ZD4KGA003JS001518 | ZD4KE0009JS001667 | |
| ZD4KE0007JS001800 | ZD4KGA003JS001504 | ZD4KE0009JS001670 | |
| ZD4KE0006JS001951 | ZD4KGA002JS001512 | ZD4KE0009JS001698 | |
| ZD4KE0006JS001948 | ZD4KGA004HS001439 | ZD4KE0009JS002642 | |
| ZD4KE0006JS001822 | ZD4KGA002HS000189 | ZD4KE000XHS001428 | |
| ZD4KE0006HS000762 | ZD4KGA001JS001694 | ZD4KE000XHS001655 | |
| ZD4KE0006HS000650 | ZD4KGA001JS001551 | ZD4KE000XJS001693 | |
| ZD4KE0005KS003255 | ZD4KGA001JS001548 | ZD4KE000XKS002893 | |
| ZD4KE0005HS000770 | ZD4KGA000JS001699 | ZD4KG0000KS001519 | |
| ZD4KE0004HS000758 | ZD4KGA000JS001539 | ZD4KG0002HS000610 | |
| ZD4KE0003JS001826 | ZD4KGA000JS001511 | ZD4KG0002KS001277 | |
| ZD4KE0002HS000760 | ZD4KGA000HS000191 | ZD4KG0008KS001283 | |
| ZD4KG0008HS000563 | ZD4KGA000HS000188 | ZD4KG0004JS000968 | |
| ZD4KE0002HS000757 | ZD4KG0006HS000562 | ZD4KG0008HS000658 | |
| ZD4KE0002HS000645 | ZD4KG0004HS000558 | ZD4KG0004JS000971 | |
| ZD4KE0000HS000756 | ZD4KG0002HS000557 | ZD4KG0004KS001281 | |
| ZD4KGB009KS001594 | ZD4KG0000HS000556 | ZD4KG0006HS000366 | |
| ZD4KGB009KS001093 | ZD4KE000XJS001676 | ZD4KG0006HS000609 | |
| ZD4KGB003KS001087 | ZD4KE000XHS001560 | ZD4KG0006HS000657 | |
| ZD4KGB002KS001601 | ZD4KE000XHS001557 | ZD4KG0006JS001264 | |
| ZD4KGB002KS001081 | ZD4KE0009HS001405 | ZD4KG0006KS001282 | |
| ZD4KGB000KS001094 | ZD4KE0008HS001556 | ZD4KG0008JS000701 | |
| ZD4KGA00XJS003220 | ZD4KE0008HS000939 | ZD4KG0008JS001265 | |
| ZD4KGA00XHS001445 | ZD4KE0007HS001533 | ZD4KG000XJS000697 | |
| ZD4KGA00XHS001347 | ZD4KE0006HS001538 | ZD4KGA006JS001545 | |
| ZD4KGA009JS002608 | ZD4KE0005JS001679 | ZD4KGA006JS001688 | |
| ZD4KGA009HS001369 | ZD4KE0005HS001403 | ZD4KGA006JS001691 | |
| ZD4KGA009HS001355 | ZD4KE0004HS001537 | ZD4KGA007HS000186 | |
| ZD4KGA009HS001291 | ZD4KE0004HS000940 | ZD4KGA007JS001537 | |
| ZD4KGA008JS003216 | ZD4KE0004HS000937 | ZD4KGA007JS001540 | |
| ZD4KE0006HS000938 | ZD4KE0003HS001559 | ZD4KGA007JS001554 | |
| ZD4KGB000KS000561 | ZD4KE0003HS001531 | ZD4KGA007JS001702 | |
| ZD4KGB000KS000429 | ZD4KGA003JS001521 | ZD4KGA008HS001296 | |
| ZD4KGA00XHS000540 | ZD4KGA006JS001531 | ZD4KGA008JS001515 | |
| ZD4KGA00XHS000182 | ZD4KG0008KS001610 | ZD4KGA008JS001529 | |
| ZD4KGA00XHS000165 | ZD4KG0008LS001768 | ZD4KGA008JS001532 | |
| ZD4KGA009JS002933 | ZD4KG0009KS001521 | ZD4KGA008JS001546 | |
| ZD4KGA009JS002088 | ZD4KG000XHS000340 | ZD4KGA008JS001692 | |
| ZD4KGA009JS002074 | ZD4KGA006JS001528 | ZD4KGA009HS000187 | |
| ZD4KGA009JS001961 | ZD4KGA006JS001514 | ZD4KGA009HS000190 | |
| ZD4KGA009JS001958 | ZD4KGA006HS001295 | ZD4KGA009JS001507 | |
| ZD4KGA009HS000531 | ZD4KGA005JS001701 | ZD4KGA009JS001524 | |
| ZD4KGA009HS000173 | ZD4KGA005JS001696 | ZD4KGA009JS001538 | |
| ZD4KGA008JS002079 | ZD4KGA005JS001522 | ZD4KGB005KS000684 | |
| ZD4KGA008HS000536 | ZD4KGA004JS001690 | ZD4KGB007KS000685 | |
| ZD4KGA008HS000181 | ZD4KGA004JS001530 | ZD4KGB009KS000686 | |
| ZD4KGA008HS000178 | ZD4KGA004JS001513 | ZD4KE0000JS001671 | |
| ZD4KGA008HS000164 | ZD4KGA004HS001294 | ZD4KE0000JS002271 | |
| ZD4KGA007JS002932 | ZD4KGA003JS001700 | ZD4KE0000JS002643 | |
| ZD4KGA007JS002090 | ZD4KGA003JS001695 | ZD4KE0001HS001429 | |
| ZD4KE0002JS001803 | ZD4KGA003JS001552 | ZD4KE0001KS002944 | |
| ZD4KE0002KS003214 | ZD4KG000XJS000702 | ZD4KE0002HS001651 | |
| ZD4KE0003HS000766 | ZD4KG000XKS001611 | ZD4KE0002JS002269 | |
| ZD4KGA007JS002087 | ZD4KGA000HS001292 | ZD4KGA009JS001541 | |
| ZD4KGA007JS001960 | | ZD4KGA009JS001555 | |
| ZD4KGA007JS001957 | | ZD4KGA00XJS001533 | |
| ZD4KGA007HS000172 | | ZD4KGA00XJS001547 | |
| ZD4KGA007HS000169 | | ZD4KGA00XJS001550 | |
| ZD4KGA006JS002081 | | ZD4KGB004KS000689 | |
| ZD4KGA006JS002078 | | ZD4KGB002KS001095 | |
| ZD4KGA006HS000535 | | ZD4KGB000KS000687 | |
| ZD4KGB00XKS001491 | | ZD4KGB002KS000688 | |