A safety recall has been issued for the Monsterpro Z50 replica motorcycle because it does not have a kill switch, prompting an industry warning to parents.
The official recall notice was issued through the federal Department of Infrastructure and Regional Development (DIRD), Vehicle Safety Standards division (VSS), and posted by the Australian Consumer and Competition Commission.
It warns that the bike does not have a "functioning, thumb-operated supplemental engine stop" on the handlebar as required under Consumer Protection Notice No. 24 of 2011.
"In an emergency the engine cannot be stopped quickly, increasing the risk of injury to the rider," the notice says.
Owners are advised to "immediately stop using the motorbike" and contact TDRMoto (Monsterpro) in Hoppers Crossing, Victoria, on 03 9731 6391 or click here to send them an email to arrange for a kit with instructions to be posted.
They can also arrange for the kit to be installed by TDRMoto (Monsterpro) at their workshop.
The recall on follows several others on mini, pocket or novelty motorcycles in recent years, prompting a warning from the Federal Chamber of Automotive Industries, especially about imported machines.
They point out that most countries categorise them as novelty toys, so they are not regulated by the same conditions as other vehicles and are "potentially dangerous".
Mini bikes recalled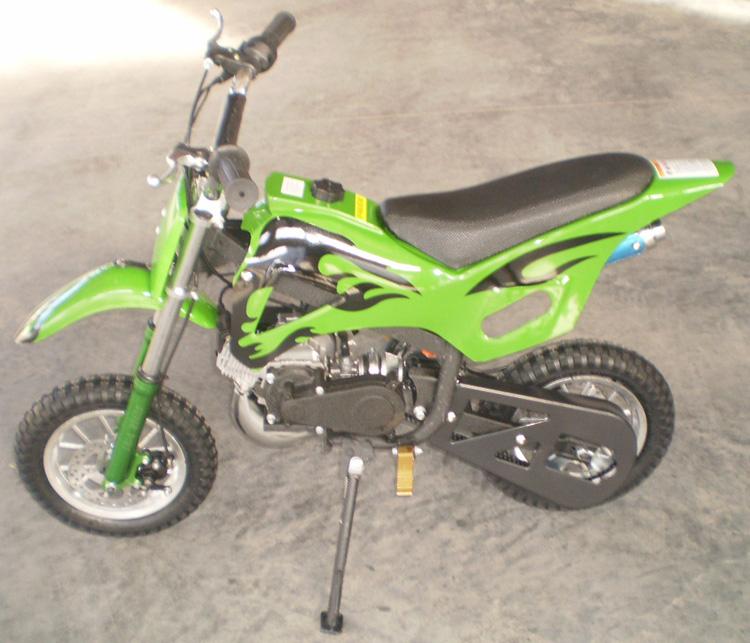 Last year, mini dirt bikes sold by Global Ringwood were recalled over non-compliant brakes and Mirza Miniature road and dirt style motorbikes, sold in Victoria by Domeit Pty Ltd, were deemed "unsafe" and refunds were offered.
In 2014, the Big Aussie Deals 49cc petrol-powered 2013 Petersea PB201 "Pocket Motorbike" was recalled for non-conformity in the brakes, footpegs and steering.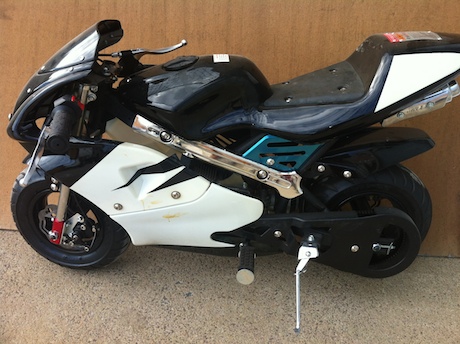 Industry warning
The FCAI warns that many of these motorcycles are bought by parents as a cheap way to introduce their children to motorcycles.
They advise that it is safer to buy an approved mini bike from a respected manufacturer through an authorised dealer.
Pocket motorcycles are banned in some jurisdictions around the world, but those powered by electricity fall into a "grey area" where they can be ridden on the street under bicycle rules.
However, petrol-powered pocket motorcycles are usually restricted to private property.
It should be noted that shopping centre carparks may be private property, but they are also subject to the normal rules of the road, so pocket motorcycles are banned there as well.
Recall notices are issued by the manufacturer through a voluntary industry code under the ACCC.
Despite hundreds of recalls by various automotive manufacturers, none has ever been mandatory.  All have been issued by the manufacturer.
While any recall is not good news for the manufacturer, it shows that they are largely diligent in fixing problems.
If you believe there is an endemic problem with your bike that should be recalled, contact the ACCC on 1300 302 502.
To check whether your motorcycle has been recalled, click on these sites:
• USA
• UK
• Canada