Women wanting to feel and look cool while they ride with safety can now get these skinny denim riding jeans from Sydney company Blackbird Motorcycle Wear.
They are made with 8oz stretch denim so they feel comfortable and fit to the shape of a woman's leg without a saggy bottom.
Because they are such a snug fit, they won't flap around annoyingly when you are riding.
The jeans come in black or blue and cost $195 with free postage.
You can buy them through our MotorbikeWriter online shop. We stock them because we have tried their gear before and have faith in this Sydney company.
Feel and look cool
These jeans should be great for staying cool while you're riding this summer. However, they are so snug, they can also be worn in winter as a warm under layer.
Most importantly, they have a protective liner made from DuPont Kevlar fibres strategically placed in the seat, hips and knees.
Unlike other loose riding jeans, these protective areas shouldn't move out of place if you ever slide along the road.
There are also zip pockets at the knees to fit protectors if required.
They feature a false fly with a cord tie for a closer fit at the waist and come in standard Australian jeans sizes.
Blackbird gear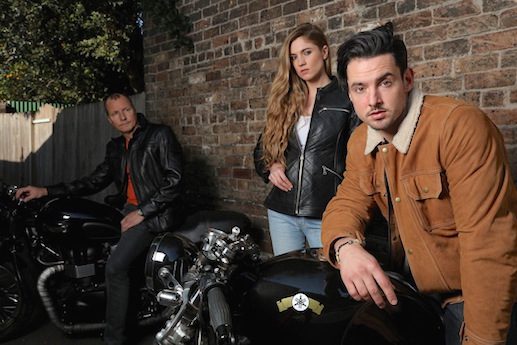 Blackbird Motorcycle Wear is the brainchild of former Sydney interior designer Belinda McPhee with the help of her three adult children and husband Peter who all ride.
Belinda believes women riders want fashion and protection in their riding gear.
"They want to think they look nice," she says.
The company also has a range of jackets and hoodies for both male and female riders, designed to look good on and off the bike, while offering rider protection.