Rukka Sapphire Women's Motorcycle Jacket Review Summary
Rukka Sapphire Women's Motorcycle Jacket Image Gallery
Summary:  Extremely well designed and executed with style for a women's fit.  Very good attention to detail and absolutely waterproof and highly windproof.
Lack of venting is not a shortfall as the outer shell breathes well — the Gore-Tex layer does its job in superb fashion.
Appreciating the shortfalls in the removable liner, which can be easily overcome, the jacket is a classic example of Rukka's high standards applied to its premium line of textile motorcycle clothing.
It is easy to see why this model is such a favourite with many.
Did somebody leave the door open?
Heading into the cooling-off period of our riding season, the tendency is to either plug in the electric clothing, or, for purists like us, admit that a heavier and more weatherproof outer garment is called for.  In this instance, it's the Rukka Women's Sapphire Jacket.
We're not suffering from a shortage of good riding gear, having accumulated many items over the years, but the Sapphire jacket is one of our newer acquisitions.  We had looked at and tried on virtually all the Rukka clothing in the past, but between the premium Rukka price and the absence of a local distributor, the brand had not yet made it into our inventory.
But last winter a local dealer started to carry the line, albeit with a limited selection.  Their inventory was regular sizing only however, so a satisfactory fit — tall for me — was not possible from their men's selections, but the other half of the riding duo tried on a Sapphire and pronounced it good.  So when offered a decent discount on the Sapphire jacket (a 2006 model), the deal was made…as an early birthday present.
Function Never Goes Out of Style
Founded in 1950 (a good year) and based in Finland, Rukka originally manufactured rainwear for motorcycle riders and sailors.  In 1990 Rukka became an independent business unit of L-Fashion Group.
The Rukka name has become synonymous for pioneering highly innovative solutions and for high quality textile motorcycling apparel.  Despite a competitive market, Rukka's "Made in Europe" motorcycling jackets and pants provide the highest levels of quality, comfort, protection, and durability.  Every Rukka motorcycling garment is the result of design experience along with careful development and rigorous testing.
First Things First
The Rukka Sapphire Jacket for women is a match to the Rukka "Steel" men's jacket, part of the Rukka Cordura line.  The jacket's shell or outer layer is constructed of a non-abrasive Cordura 500 outer liner along with a Gore-Tex Z-liner membrane inner layer.
A double over-flap provides a complete seal between the elements and the full length heavy-duty Salmi zipper runs from the collar down to a point just short of the bottom of the jacket.  A layer of soft neoprene on the collar provides a comfortable fit and weatherproof seal.  With the jacket opened, the inner removable 60g insulated liner is revealed.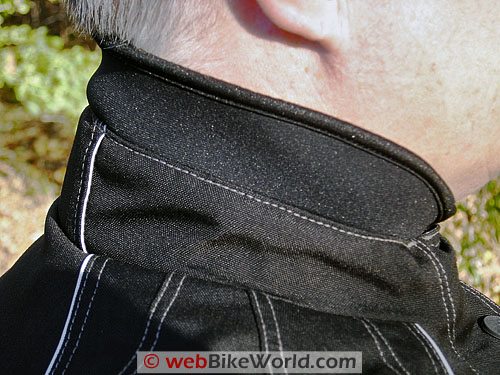 The jacket is cut longer at the back so as to prevent the garment from riding up, especially for sports-seating positions and to prevent draughts, whether or not it is connected to a pair of Rukka pants with the common connective zipper.
Four discrete pockets are featured; the two external pockets are angled slash style, located midway down the jacket on either side, while two inside (waterproof) pockets are available for stowing small items.
A continuously adjustable waist belt, two hip adjuster zippers and side bottom pull tabs, along with a two-stage adjustment strap on each sleeve allows fine tuning of the garment to the individual.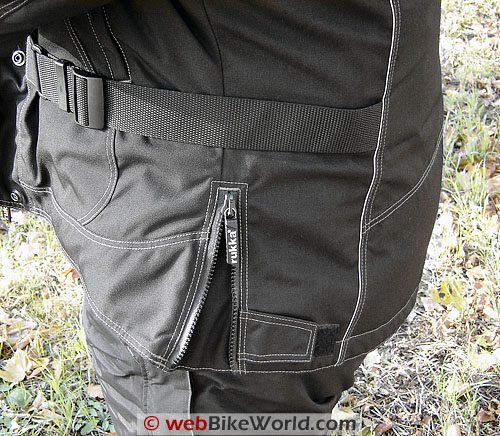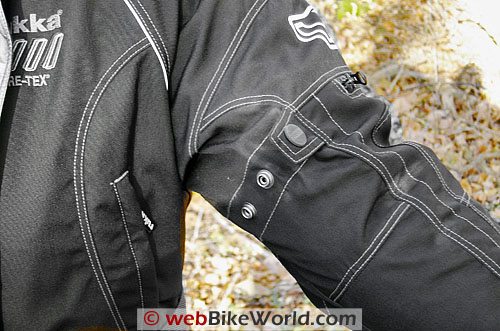 Rukka RVP Air System EN 1621-1 CE certified protectors are used in shoulder, elbow and forearm pockets.  This system is used in all Rukka motorcycle outfits.  A rectangular pocket for a back pad (measuring about 13 x 21 in) is included in the Rukka Sapphire, but no pad was provided in our variant.
Newer models feature reflectively coated Cordura 500 that increases the level of passive safety tremendously when hit by light.  While our 2006 model does not have this feature, it does have the highly effective 3M Scotchlite inserts on the front and back of the jacket, along with the extensive retro-reflective piping that provides further visibility when energized.
Overall weight of the complete jacket is about 2.5kg (5.5 lbs), with the liner and the protectors installed.  Both the jacket and the liner are machine washable – specific instructions are provided on the attached care label.
Fit and Form
Like many consumers, we consulted the Rukka Sizing Chart provided on the Adventure Motorcycle Gear (the U.S. distributor) website. The chart is well laid out in providing both body measurements and comparative sizing information.  The Rukka Sapphire jacket acquired is labeled as Euro size 46, which according to the chart is a US 16 equivalent or Unisex size Large.  Actual fit of the jacket would indicate that this labeling is accurate.
Obviously styled for the feminine form, the jacket is cut shorter in the body and the vertical side zippers aid in the jacket sitting straight through to the hips.  The upper torso and neck area is also scaled down and reshaped from the men's model — this largely eliminates the usual one or two inches of surplus material in the upper shoulder and neck area so prevalent (still) in women's clothing.
In itself, the overall fit and comfort of the jacket does much to explain why Rukka garments are so popular with so many…price notwithstanding.
Form and Usability Should Make a Winner…
To be honest, we had higher expectations for the Rukka jacket, based on reputation and feedback from other owners.  After consistent use this spring and fall, and occasionally during the summer, we have to state that while showing excellent design and craftsmanship, overall it does fall a bit short, largely due to the minimalist liner.
Far better than most of our other all-weather jackets combinations, including the BMW Rallye Pro 2 and Savanna garments (with their individual Gore-Tex liners), it still does not provide the same level of comfort as the last and current versions of the First Gear Kilimanjaro or even the First Gear Jaunt jackets, both of which cost far less than the Rukka.  Even the First Gear HT Air (Mesh) Jacket with its full liner comes close to matching the warmth of the Rukka with its liner.
To further qualify this assessment, a longer Olympia liner has been used with the Rukka and this combination has proven to be far more comfortable in colder weather (down to 0C/32F with wind chill) than the jacket with its supplied 60g liner — the Rukka combination is not as effective as it could be.
Another contributing factor is that the straight cut liner ends about 10cm (4 inches) above the bottom edge of the jacket at the front and there is a almost 22cm (9 inches) of differential at the back, which is very noticeable when both pieces are used together.  A short liner cannot provide the same level of protection as a full length liner or a separate wearable inner piece.
It should be noted that most medium to top-of-the-line all-weather jackets have been updated over the last couple of years to include either a separate wearable secondary garment, such as Olympia provides, or a higher rated removable liner.  If Rukka has or were to update their liner so as to provide a warmer and better companion piece to the outer shell, it would do much to improve this premium jacket.
In warmer temperatures, such as late spring and early fall, when a liner is not needed all the time, the Rukka jacket itself performs extremely well.  The liner is easily removed by unzipping the two light-duty vertical zippers on the front, and two button tabs inside the bottom of each sleeve.  Although a bit apprehensive about its lack of venting, the jacket breathes well and never gets uncomfortable in these temperatures.
We can attest to the fact that the Rukka Sapphire jacket is waterproof.  The neoprene collar is particularly comfortable and really does stop drafts and the wet stuff when needed.  The collar works so well that even on the colder days there has been no need to use a neck-scarf or a heavier neck piece.  This is due in large part to the good cut and fit of the jacket in the upper shoulder and neck area, something not always found in a women's model.
Acknowledging that it is not a three-quarter cut jacket, we still had some concerns that it might be short, but this has not been the case.  The pronounced tapered cut, front to back at the bottom works well.  It keeps the jacket from bunching up in the front and facilitates a good seal between the jacket and pants at the back, in virtually any riding position.
The wrist pull tabs on the lower sleeves work well — the Velcro patches allow the wrist points to be tightened up comfortably minimizing the bulk and allowing a gauntlet style glove to fit over it all.
The two outside angled pockets are located about mid-point and provide easy access when off the motorcycle and can be used as hand-warmers when needed.  The right side inner pocket is inside the main zipper, while the left side inner pocket can be accessed with the main zipper down up, but the over-flap must be undone.  These inner pockets are protected by the Gore-Tex layer.
The shoulder and arm protectors are housed in a single pocket on each arm easily accessed by an outside zipper.  The shoulder armour is secured in the upper half of the pocket, while the elbow/forearm piece slides down into the bottom half.
The RVP air Protector pieces are quite unique.  Their open-cell design makes them strong but flexible and this flexibility makes them very unobtrusive to the wearer.  This design should make them low maintenance as well, except when and if replacement is required.
As no back-pad was provided, a spare Joe Rocket CE-approved pad from another women's jacket was put to use.  A separate back protector, in this case a Dainese item, can also be worn under the Rukka jacket without any discomfort.  Being big (big) proponents of All The Gear – All The Time (ATGATT), we recommend the use of a back-pad, separate back protector or torso protection system at all times, along with all the other stuff of course.
Conclusion
The Sapphire Jacket is typical of the superior quality apparel produced by Rukka.  Outside of the rather light weight and short cut of the liner, there are no other criticisms about this garment.  Well designed, it is obviously assembled with care and attention to detail and it functions extremely well under a wide variety of conditions.
As change is the only real constant, Rukka continues to update their textile motorcycle clothing line to maintain a fashion and function forward line of gear.  However, in this highly competitive market, similar premium price features are part of or have been adopted by other suppliers who market and sell their garment for far less
In shopping around this very competitive market and by paying attention to the critical requirements and comparing features of individual garments, the Rukka Women's Sapphire jacket remains a very viable option.  Attractive, well fitting, and very functional, it will likely last for a long, long time.  Appreciating all things observed, the premium is pretty much still worth it.
wBW Product Review:  Rukka Sapphire Women's Motorcycle Jacket

Available From:  Rukka
Canada: TechnoMotosport (Distributor; no direct sales).  U.S.A.: Adventure Motorcycle Gear (U.S. distributor and retail sales).  NOTE:  See our comments regarding this retailer.
Suggested Retail Price:  $949.95 CAD.  $595.00 USD
Colours:  280 Grey, 370 Petrole, 380 Blue, 640 Red, 690 Ink Blue, 990 Black.  Sizes:  34 – 46 Regular.
Made in:  Portugal
Product Comments:   Five (5) year warranty from Rukka.  Review Date:  December 2007
Note:  For informational use only.  All material and photographs are Copyright © webWorld International, LLC – 2000-2011.  All rights reserved.  See the webBikeWorld® Site Info page.  NOTE:  Product specifications, features and details may change or differ from our descriptions.  Always check before purchasing.  Read the Terms and Conditions!
Owner Comments and Feedback
Comments are ordered from most recent to oldest.
Not all comments will be published (
details
).  Comments may be edited for clarity prior to publication.
---
From "JPL" (A motorcycle clothing importer and distributor, responding to D.M. below):  "I wanted to respond to the reader who wondered why a garment was so much more in Canada.
I know that many Canadians are wondering why motorcycle clothing products are so much less expensive in The States as compared to Canada, and I wanted to take a moment and answer.
The first reason is that in order to import products into Canada, we must either develop enough Canadian volume to allow for a separate Canadian warehouse, where the products can arrive via sea direct from manufacturing.  If the scale is not there, then the products must originate from a U.S. warehouse, where U.S. import tariffs must be paid in addition to Canadian tariffs.  In either case, there are either additional distribution and warehousing costs, or extra tariffs.
The biggest pricing factor is the protectionist Canadian import policy which places tariffs of 18% and higher on many types of motorcycle (and other) clothing.  Not to mention GST and HST taxes, which add considerable to the end price that the consumer pays.
Essentially, it is the Canadian government that is to blame for the pricing.  When a Canadian purchases a product in the U.S. it is technically their responsibility to pay the import tariffs and GST when bringing the item into Canada.
There is nothing I would like more than to produce some of our products in Canada or the U.S. (which would be tariff free due to NAFTA), but unfortunately I doubt end-users would pay the huge price increases due to the increased labor costs.
So the end result is a tariff program that makes products much more expensive to buy, while failing to protect a domestic industry (clothing manufacturing) which is sadly long lost."
From "D.M.":  "I'm actually commenting on the price differential between Canada and the U.S. for this jacket.  We have lost many bike dealers in Ontario in the past two years.  Right now, with dollar parity, we are voting with our gas pedal and crossing the border to shop or doing it on-line from the comfort of the bedroom.
I want to support my dealers and have developed friendships with many in the industry.  I would hate to see them out of a job but why does this $600 jacket cost me $950 because I'm Canadian?"
Editor's Reply:  You bring up a good point, and it's something I've talked about with our correspondents in Canada.  The only answer I can come up with is perhaps the pricing structure is still based on a 30% more expensive dollar, and not the current 1-to-1 ratio?  Anyone have another opinion on this?