Rukka "Lobstah" Gloves
The Rukka Lobster gloves are exceptionally comfortable and very warm. The "Lobster" name comes from the three-finger design, a welcome change from "normal" winter motorcycle gloves. Many webBikeWorld readers have been looking for this style, so the Rukka Lobster gloves should be very popular. The gloves also have a Gore-Tex membrane, which makes them waterproof and breathable.
The ski-glove style nylon outer shell seems unusually thin for motorcycle use, however, and it's a magnet for lint and dog hair. And the gauntlet also seems to have been taken directly from a ski glove, although it has a benefit, because it helps make the Lobster gloves pretty good for "civilian" off-the-bike use.
And while I'm at it, the minimal amount of hard protection is both disappointing and surprising from a company like Rukka. But the Rukka Lobster gloves really are comfortable and — so far — have provided about as much warmth as one could expect without going electric.
---
Where to Buy Rukka Lobster Gloves
Check Reviews & Prices on Amazon
Check Reviews & Prices On RevZilla
Also: Motorcycle Jackets, Motorcycle Gloves, Motorcycle Boots, Motorcycle Pants
---
Background
The three-fingered style of "Lobstah" gloves have finally made it to the U.S. of A. (Note to furriners: that's the Down East pronunciation!) The Rukka Lobster gloves are very similar to another pair of "lobstahs" we reviewed in 2010: the Hein Gericke Pathan gloves (review). The Hein Gericke Pathan Evo gloves are the grandpappy of Lobster-style motorcycle gloves, so the question is, at nearly twice the price, can the Rukka Lobsters beat 'em?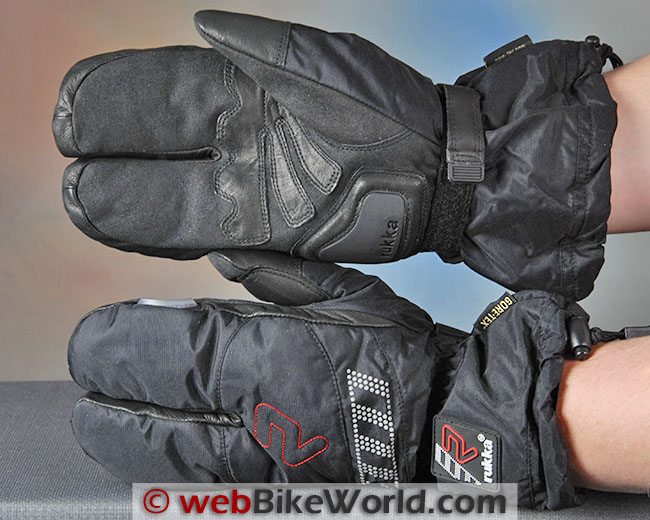 Many webBikeWorlders have been looking for this type of three-fingered glove and wondering why they're so difficult to find in the U.S. The search has ended, because our affiliate RevZilla is now the official U.S. Rukka importer and distributor.
At $139.00 list ( about £87), using your Rukka Lobsters to give the "Live Long and Prosper" salute will cost you about 40 bucks more (roughly 27 quid) than the Hein Gericke Pathan Evo gloves.
You'll get gen-u-wine Gore-Tex for the extra dosh, which is probably responsible for some of the difference in price.
But, I have to say, the Pathan gloves have a few advantages, including their heavier outer shell fabric, dual adjusters and a nicer gauntlet.
Neither glove is perfect, however, and both still need a bit of work to make them a direct equivalent of a good pair of five-finger winter motorcycle gloves.
But for Yankee drei-finger motor-bikers, the Rukka Lobster is the only choice, since Hein Gericke went the way of Hostess in the Colonies and by the time you shipped a pair of Pathan Evo gloves over from the Kingdom, the difference in cost between the two brands is just about naught anyway.
Having some brief experience a while back with a pair of the Hein Gericke Pathan Evo gloves, I'll use them as a comparison for the Rukka Lobster gloves in this review because the two are so similar and the "Lobstah" design is unique.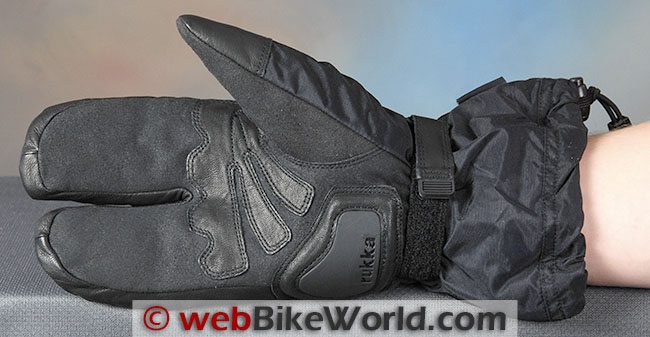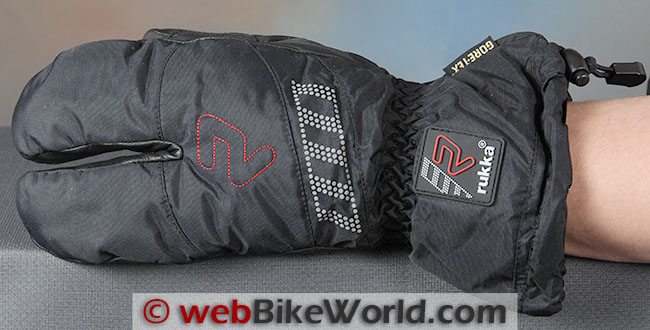 Rukka Lobster Glove Details
While the Rukka Lobster gloves may be more expensive than their Hein Gericke three-fingered counterparts, the price still isn't that stiff considering we're talking Rukka here — a brand known for high-end, high-cost motorcycle gear.
After trying the Editor's Rukka Armas Jacket and pants (review) though, with its "Dang the cost, full speed ahead" content and ultra-tech level of construction, I'm a bit surprised that the Rukka Lobster gloves seem so, well, dainty.
Each Lobster weighs a mere 106 grams, mostly due to the 71% nylon outer shell which, when compared to the Hein Gericke gloves, reminds me of the Floyd Mayweather/Big Show fight (wait a second — "Money" Mayweather won!).
Actually, their gossamer weight is one of the features that makes the Rukka Lobster gloves feel so comfortable ("Float like a butterfly; sting like a bee?").
This probably comes from Rukka's experience in making ski wear, because the Lobster gloves don't actually feel like motorcycle gloves.
In fact, I've worn them on the street (off the bike) and, other than the discreet palm slider, no one would know these are supposed to be motorcycle gloves. Heck — you can even make a decent snowball with them!
The mostly nylon outer shell also dries quickly; indeed, it doesn't really absorb much moisture to begin with. So the nylon definitely helps there, but the label also lists 23% of the content as "Real Leather".
That would be the palm, with suede leather and double-stitched cow hide on the wear points at the grip and over the top of the thumb.
The other 6%, if you've been doing the maths, is TPU, or thermoplastic urethane, used in the (sort of) kidney-shaped slider on the heel of the hand. That's the only hard protection on the Rukka Lobster gloves, and this is kind of surprising, knowing Rukka's reputation.
There is zero knuckle protection and not even an extra abrasion protective section over the back of the hands. I guess they figure if you crash in the winter, you'll only be sliding on ice — but ice can be pretty hard too!
The lining is listed as "100% Polyester", which doesn't tell me much, but the wind-breaking nylon outer shell and the three-finger design keeps my hands pretty toasty actually, although I've only worn them on the bike in temps down to about 4 degrees C (39 F).
By the way, speaking of labels…
We noticed that none of the Rukka gear we have for reviews has a country of origin labels. C'mon Rukka — either you're proud it's manufactured in Finland, or — and I'd guess this is the reason they're hiding the country of manufacture — this high-end gear is made somewhere in Asia.
Nothing wrong with that, as long as you maintain the quality. Let's be up-front about it, please?
---
Where to Buy Rukka Lobster Gloves
Check Reviews & Prices on Amazon
Check Reviews & Prices On RevZilla
Also: Motorcycle Jackets, Motorcycle Gloves, Motorcycle Boots, Motorcycle Pants
---
Gore-Tex Secret Sauce
Some of the difference in price between the two brands can probably be attributed to the use of Gore-Tex in the Rukka Lobster gloves.
It's apparently your basic, every-day garden variety Gore-Tex (Gore-Tex membrane types described here), but Gore-Tex nonetheless, and the gloves do come with a Gore-Tex "Guaranteed to Keep You Dry" hang tag.
And yes — we put them through the webBikeWorld "Bucket Test", which means sticking my hands in a bucket of cold water while wearing the gloves. Not a leak to be found — these babies are water-tight!
Three Finger Salute?
Three-fingered glove aficionados (yes, they actually do exist!) will blanch when I tell them that those three fingers are actually five. Why's that? Because the purists will tell you that the whole idea of having a three-fingered glove is so the neighboring digits keep each other warm 'n' cozy.
Well, that's good in theory, but in reality, the Rukka implementation works. There are actually two lined finger sleeves in each of those two big lobster claw hooks.
Slide your hands into the glove and — although you probably wouldn't know it if I hadn't told you — your individual fingers fit into their own sleeve, two in the outer "hook" and two in the other. Your thumb has to keep itself warm, but that's OK; you need it to hold the grips anyway.
So why will the purists complain? In theory, the lining and insulation (not sure if there is any actually) between the fingers blocks the heat moving from one to another, keeping each other warm.
In the Rukka Lobster gloves, however, the individual finger tunnels are themselves covered with a mitten-like outer layer of insulation, which is then wrapped inside the Gore-Tex membrane, which itself is covered by the outer nylon glove shell.
That's enough to keep out the wind and water and to keep in the heat.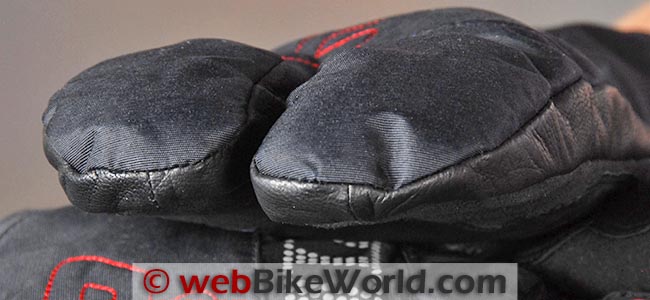 Sizing
Rukka gloves are sold in proper numeric sizes, although that's probably anachronistic in today's S-M-L world. The sizes range from 7 (really small) to 13 (really big) or, in alpha terms, XS to 3XL. Or thereabouts.
The size 10 gloves shown here are equivalent to a men's size large and I'd say that's just about perfect, so I'd have to assume you can expect the Lobsters to fit to size.
The thumb is a bit longer than I'd like, due to its blade-like construction towards the tip. But at least it's long enough to give me enough room to comfortably hold the handgrips on the motorcycle.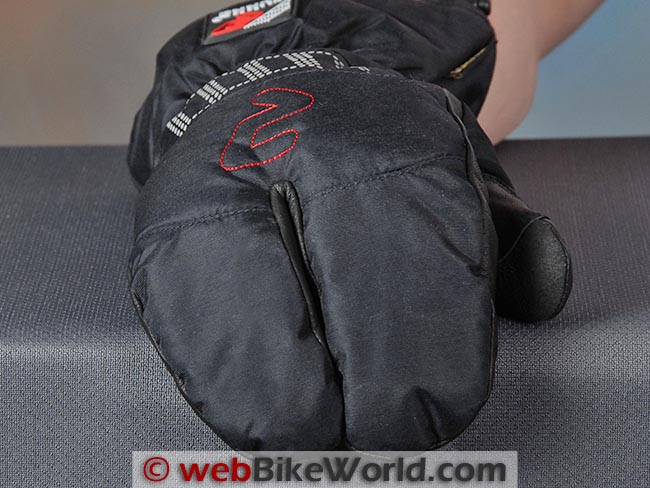 So…Are They Warm?
Although we're now about to enter winter's coldest days here, the temperature hasn't dipped below 3-4 C (high 30's F), so it's hard to say definitively, but the Lobster gloves have surprised me again and again with how much warmth they provide.
I keep thinking they're too lightweight, too thin and, frankly, too comfortable (and too much like street gloves) to keep me warm. Then I go for a ride and I'm continually surprised.
Now of course, they're nothing like the Gerbing Hybrid Heated gloves (review) or our newest webBikeWorld Motorcycle Product of the Year awardee, the elusive VQuattro Squadra heated gloves (review).
But I do think the Lobster gloves provide more warmth than they have any right to, considering their overall construction and design.
And let me get back to that comfort factor. The absence of any hard protection on the knuckles or fingers allows the Lobster gloves to flex like nobody's business.
Combine that with the ultra-soft micro-fleece lining and the light weight, and you have one very comfy glove — more comfortable than "traditional" winter motorcycle gloves.
---
Where to Buy Rukka Lobster Gloves
Check Reviews & Prices on Amazon
Check Reviews & Prices On RevZilla
Also: Motorcycle Jackets, Motorcycle Gloves, Motorcycle Boots, Motorcycle Pants
---
About That Gauntlet…
Now we get to the lower half of the Rukka Lobster gloves, my least favorite part.
The gauntlet seems taken directly from a pair of ski gloves, from the elastic on the back side to the too wide and puffy gauntlet itself to the "What's this?" string tightening arrangement.
OK, so I've seen string tightening adjusters like that before on a few other motorcycle gloves but they always seem a bit strange and usually don't work very well.
This one has a big plastic square thingy that would be handy to grip with your teeth as you hold the spring on the barrel-shaped adjustment slider lock, but the plastic is too hard for my fragile teeth.
I wish they'd have made it out of soft rubber so I wouldn't feel like I was going to break a tooth every time I grabbed it?
This is where the Hein Gericke Pathan gloves have it all over the Lobsters. The Pathan Evo gloves have a more normal motorcycle glove style gauntlet with an extra security strap over the back.
And the wrist strap on the Pathan gloves is correctly sized so that it doesn't hang off the back side of the gloves when it's tightened over a narrow wrist like mine.
The single strap on the underside of the Lobster gloves not only hangs way off the side (photo in slideshow), it has to be tightened beyond the comfort level to actually keep the glove on your hand, a serious fault from a company with Rukka's reputation.
I almost run out of hook-and-loop on the underside of the strap before I get it tight enough to hold the glove securely on my hands.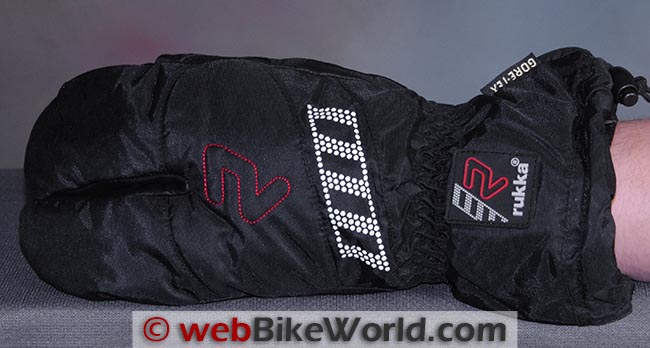 Conclusion
Rukka could and should take some cues from the Jedi knight of the three-digit glove world, the Hein Gericke Pathan Evo.
If they added some hard armor and swapped out the ski-glove gauntlet on the Lobsters, they could just end up with the Numero Uno winter motorcycle glove (non-heated, of course) anywhere to be found.
But, what is, is, and I'm OK with it. The Rukka Lobster gloves are really pretty good — which is a good indication of the viability of the three-fingered design.
The combination of the individual sleeve pockets inside the outer insulated mitten, covered by Gore-Tex and then the nylon shell make for a surprisingly warm and very comfortable glove for motorcycle or street use, especially considering how light weight these things really are.
I'm not at all keen on the fact that there is zippo protection over the knucks either.
But in the end, after summing up the pros and subtracting the cons, I decided that I can live with the gauntlet since these are about the only three-fingered sort-of motorcycle gloves to be found.
And since they're so warm and so very comfortable, at this point I can give them a hearty recommendation, believe it or not.
More wBW: Hein Gericke Pathan Gloves Review  | All wBW Motorcycle Glove Reviews
w

BW

 Review: Rukka Lobster Motorcycle Gloves
Manufacturer:
Rukka
 (L-Fashion Group Oy, Finland)
List Price (2013): $139.00 (£99.95)
Made In: Unknown
Colors: Black
Sizes: 7 to 13 (Approx. XS to 3XL).
Review Date: January 2013
Note:
 For informational use only. All material and photographs are Copyright © webWorld International, LLC since 2000. All rights reserved. See the webBikeWorld® 
Site Info page
. Product specifications, features and details may change or differ from our descriptions. Always check before purchasing. Read the
Terms and Conditions
!
---
Where to Buy Rukka Lobster Gloves
Check Reviews & Prices on Amazon
Check Reviews & Prices On RevZilla
Also: Motorcycle Jackets, Motorcycle Gloves, Motorcycle Boots, Motorcycle Pants
---
Owner Comments and Feedback
---
From "J.W." (December 2013): "Glad to see three-finger gloves gettin' a little love from US distributors.
After going over to check them out at RevZilla, I think there is something missing from the review: that white thing off the left index finger (seemingly featured in the last pic from the slide show) is a visor wiper.
The lack of one on the Pathan 3 finger was the deal breaker for me. Seems like it should get some mention in a review — winter riding is the worst for visor schmutz accumulation.
Finally, as I mentioned in a comment on the Hein Gericke Pathan gloves review, I have a long, successful experience with lobster gloves on bicycles.
I don't know that it makes me a purist, but I don't think the reviewer quite "gets" the issue with 5 finger liners.
It isn't so much that the 5-liner prevents the transfer of heat between fingers, it's that the overall heat retention would be the same and the liner around individual fingers is just adding bulk to the glove.
It may seem a negligible amount, but there is also the factor of limiting the mobility of your fingers within the glove.
Having pushed the limits of temperature in the past my experience was that fingers will eventually go numb at some point and being able to curl them up inside the glove against one's palm, skin on skin, to restore circulation will extend functionality considerably.
I suspect there are two factors at work here. Given the frequent comments about how "weird" the three finger thing is, consumers may find psychological comfort in the familiar feel of a regular glove once they put these on.
That and it probably saves money to produce extra 5 finger liners that fit all your gloves in production rather than to retool the machinery to make 3 finger liners just for one model.
In the end we get something that is a slight improvement over regular winter gloves, but not quite as much of one as it should be. I hope these continue to gain acceptance to the point where they reach their full potential.
In the meantime my Tucano Urbano muffs and heated grips have been enough enough to make fully five finger gloves comfortable at least down to 0°F."
---
From "C.D." (January 2013): "I'm pleased to be able to contribute a bit on cold weather mitts. I bought the Kolpin Geartector Mitts with the nice furry insides, and plastic hard shell front wind and rock deflectors.
The hard areas on the front, along with the plastic rings on the hand openings make it much easier to find and operate the controls by feel. I can remove a hand from the mitt without having it collapse in the wind.
The diameter of the hand opening just fits my winter jacket sleeve for a snug fit.
I also can carry my garage door opener, pocket warmers, meter change, my lighter weight gloves, face screen wiper, and more in the bottom pocket area of the glove. Nice to have a glove box again !
I wouldn't like to ride in winter without these, the controls on my Triumph Triple feel quicker, easier, and safer to use than heavier gloves offered.
The Kolpins might be a bit heavier than some others, so I added snaps and a nylon 1 in. strap (after these photos) between the muffs. That pulls the muffs into a better angle for my bike, and keeps them off the fairing paint a bit more.
Did a bit of research on what designs seem to work, for me these couldn't be improved on, and saves doing heated mitts.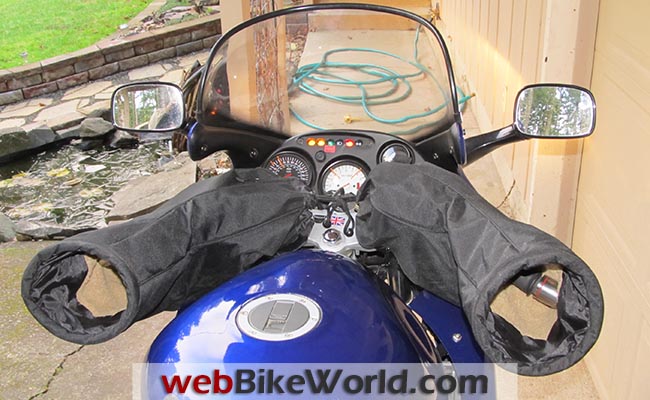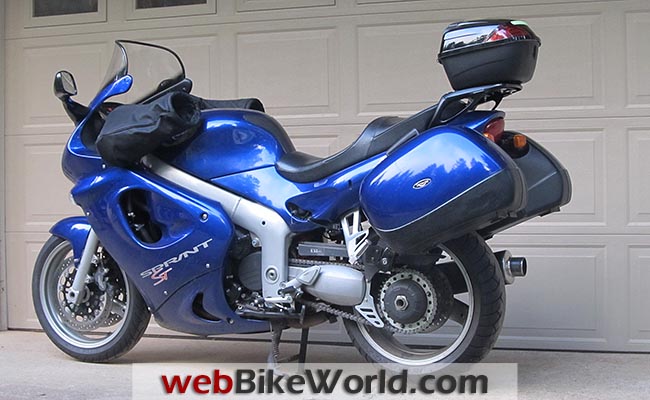 Editor's Note: See the webBikeWorld Hippo Hands review.
---
From "S.S." (January 2013): "If I was going to buy a pair of gloves with as little protection as these, I would get some from Wiggys, where the Lamilite insulation is the best you can get. I have some of his mittens, and they are the warmest thing I have ever put on my hands.
Personally, I agree that riding in cold weather increases the chances of going down, and one should have great protection for their hands.
Your review of those Italian gloves of the year sound great, and with much better protection."
---
From "H.S." (November 2012): "I have lobster claw ski gloves that are really warm but they don't cut it for motorcycle use in cold weather when the chances are greater of running in to slippery conditions. It would seem that for cold weather riding, you need more protection, not less. Thanks again for a very informative website."
Other WebBikeWorld Gloves Posts