Whether you're a beginner rider or have a plethora of decades under your belt, everybody dreams of the moment they can trick a bike out to the nines, no shame, green-filled pockets to the wall. 
But what if there was a way you could still enjoy the process of building a custom bike (or a bit of it) without taking a walk into Debtville?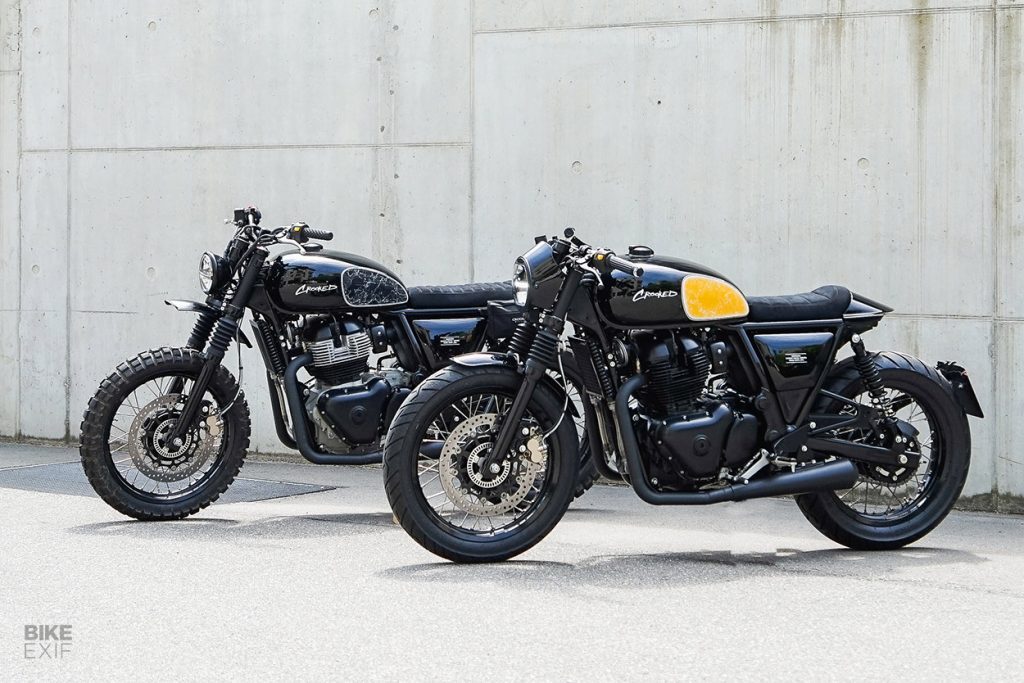 Ladies and gents, we bring you a new set of kits from Crooked Motorcycles, designed to fit Royal Enfield's Interceptor 650 like a glove. 
"High-end custom motorcycles are nice to look at, but they take substantial talent to build and serious money to buy,"admits a report from BikeEXIF.
"That's why for every top dollar custom out there, there are scores of bikes that have been lightly tweaked, just enough to make them stand out from the crowd. It's also why some manufacturers are making bikes that are relatively easy to customize—and why more custom builders are producing kits."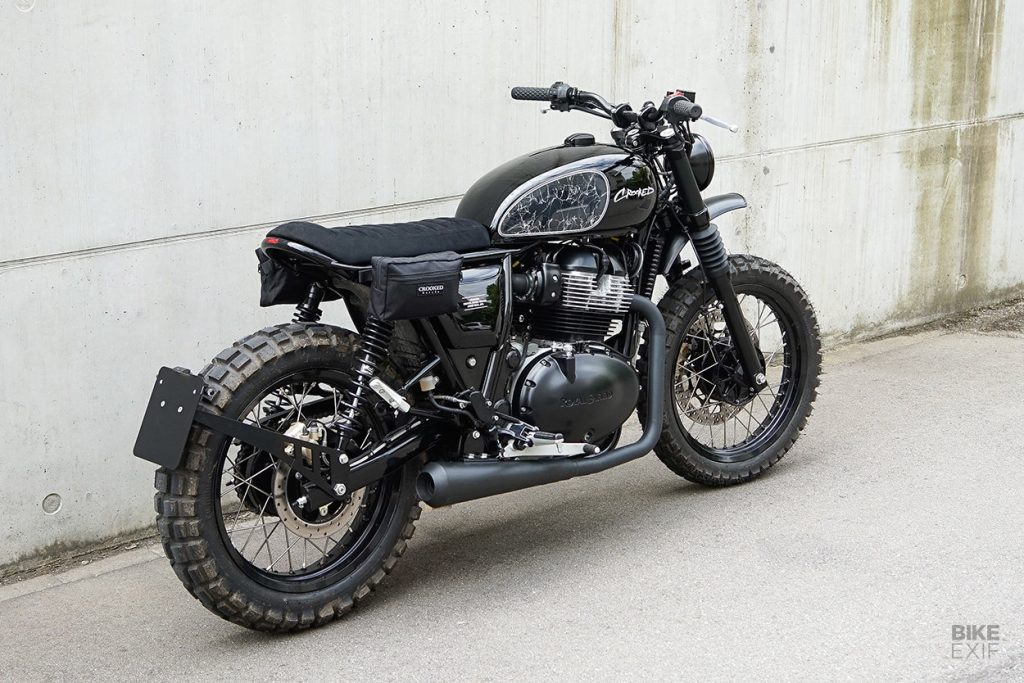 The custom builders connected to these kits – Jakob Müller and Dominikus Braun – both decided to start their journey after owning an Interceptor 650 for 18 months. 
After this whole difficult pandemic phase, we were motivated to build a series that is built on fun," says Dominikus. 
"To leave everyday life behind, grab some friends and just have a good time on bikes!"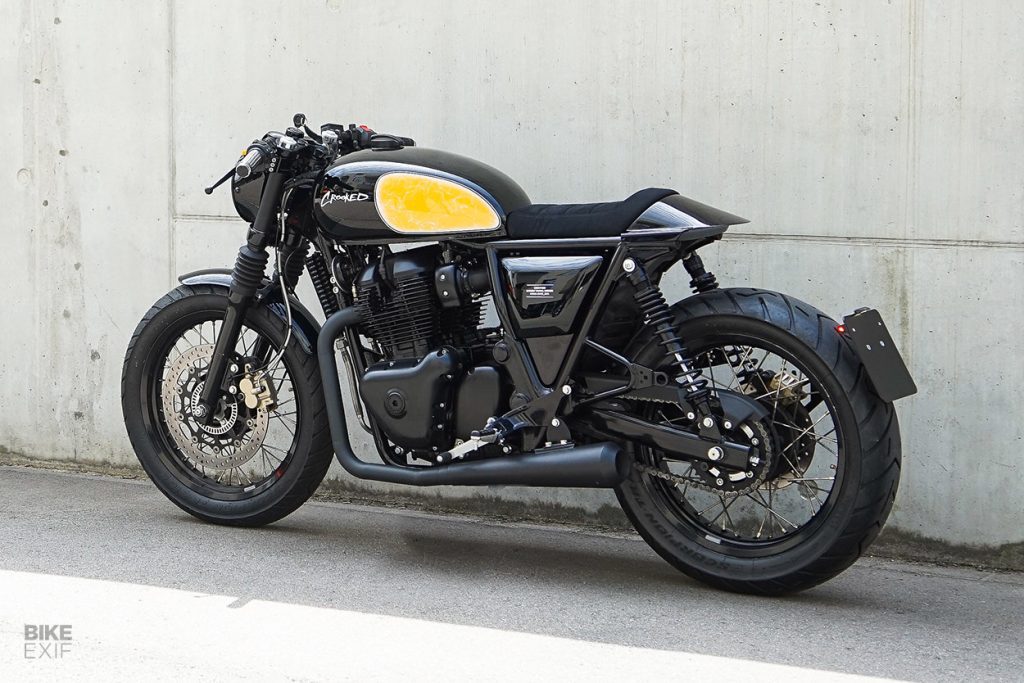 The kits – a part of Crooked's 'RoyalSERIES,' comes in two variants: 'Street,' and 'Gravel.' Both feature new rear loops (which make way for attachment points for a pair of multi-purpose bags), and the loop attaches to the original OEM parts. 
RoyalSERIES 'Street' Cafe Racer Kit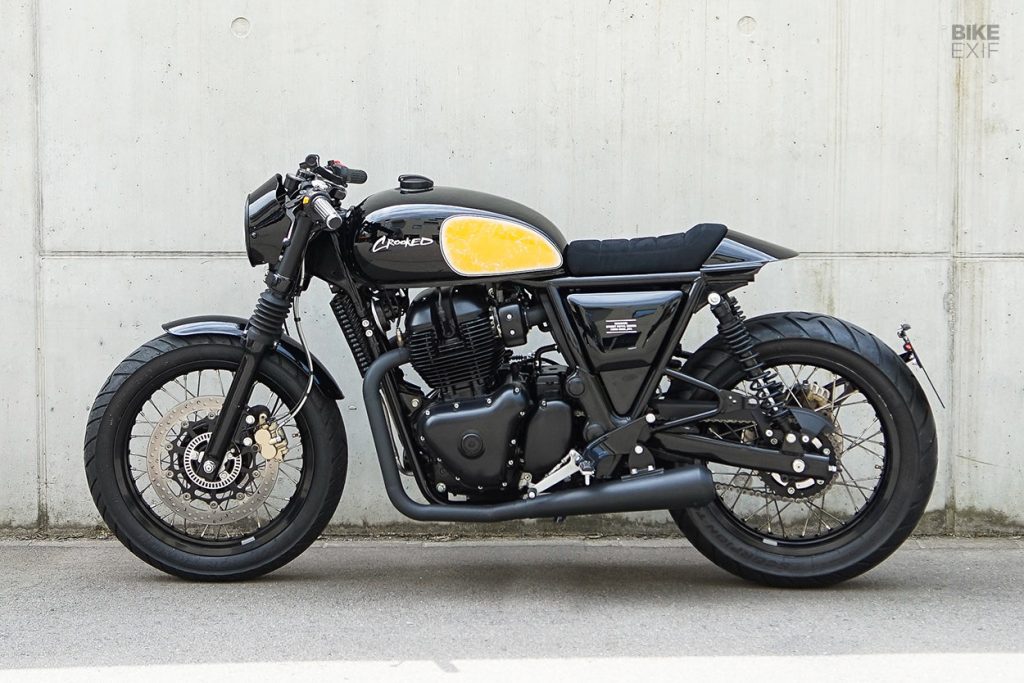 "In the street variant, the focus was on sportiness, both in and outside the city," explains Dominikus.
"Sub-50 hp doesn't sound 'sporty,' but it can be! Winding roads, lively handling, a sporty seating position and a raw voice sounds like fun for sure."
The café racer kit boasts a sharp rear hump, with a 3D-printed rear cowl complete with fiber-reinforced plastic. 
It should be noted that 'the café racer's LED turn signals also act as taillights' – something the scrambler doesn't have.
Other perks include:
Gazzini headlight (surrounded by a handmade aluminum nacelle)

Motogadget grips

Motogadget bar-end turn signals

ABM clip-ons (with plugs to cover the original riser mount holes)

New YSS rear shocks

Exhaust is a 'combination of custom headers and Hattech mufflers'

Pirelli Scorpion Trail II tyres
RoyalSERIES 'Gravel' Scrambler Kit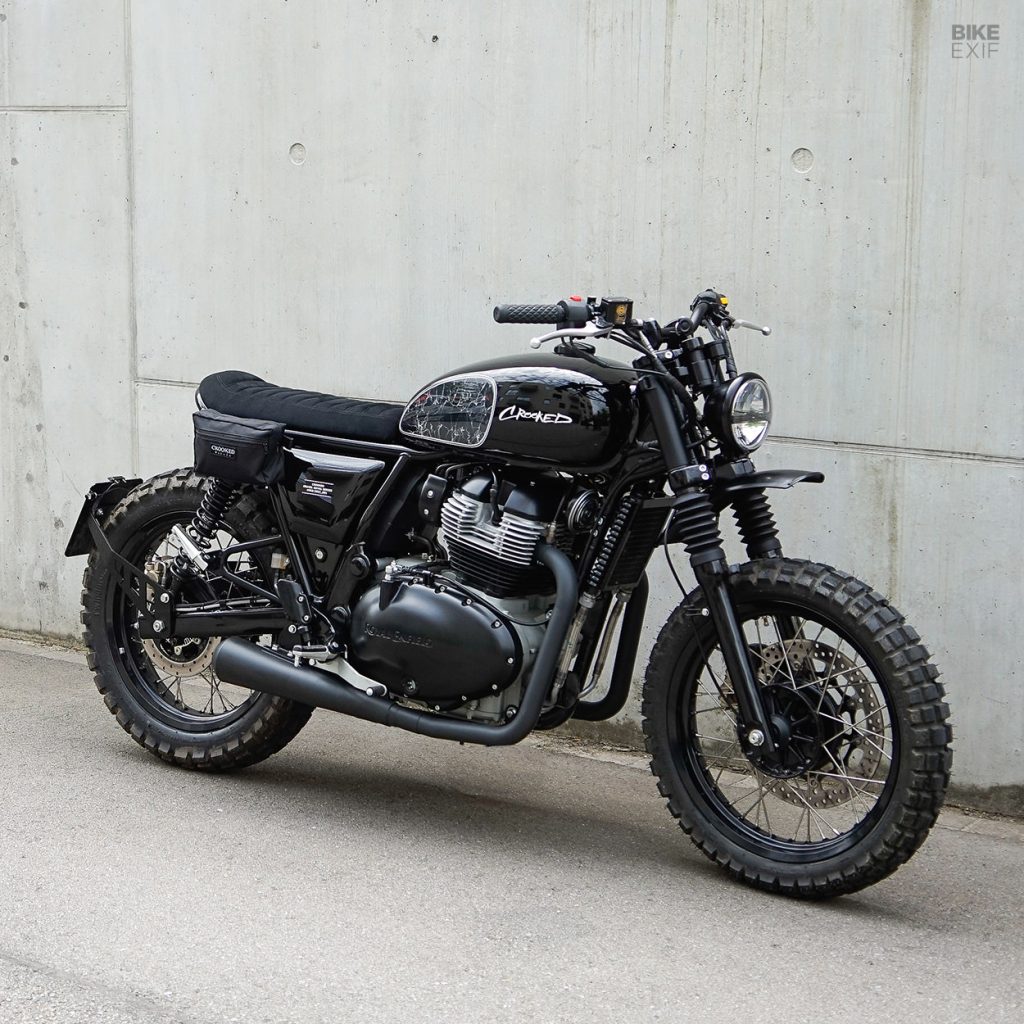 "The performance off-road is amazing, because it handles nicely through tight curves, but also has enough pull to make some dust," continues Dominikus about the Gravel kit. 
A slim bench seat up top sets off an integrated LED taillight out back, with a set of Motogadget LEDs mounted to a custom-made license plate holder as turning signals.
Other perks include:
LED Bates-style headlight

High-mounted front fender

Stock mounting points on the yokes and the small bracket that holds the new Motogadget speedo.

3D-printed fork covers 

Motoism turn signals

Renthal handlebars

Biltwell Inc. grips.

New YSS rear shocks (a couple inches of extra lift on the scrambler)

Continental TKC80 tyres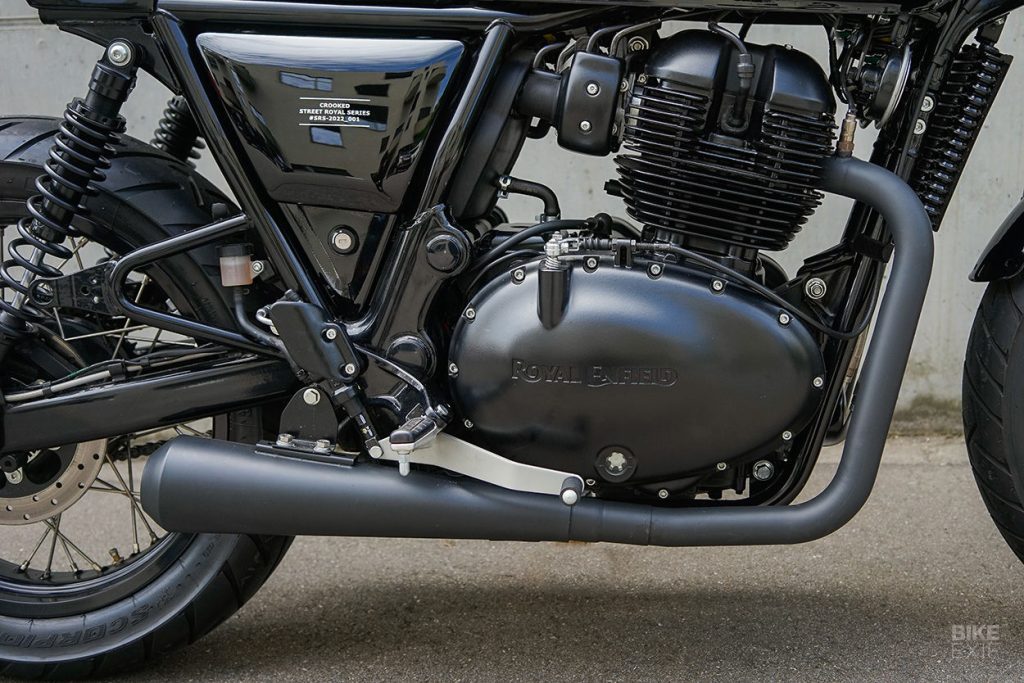 "Crooked's work is more than just skin deep, though," admits BikeEXIF. 
"Modern bikes can be a pain when it comes to electronics, so they developed a special connector to plug the Motogadget speedo straight into the Royal Enfield's wiring harness."
"It's all part of their bid to make these kits truly plug-and-play."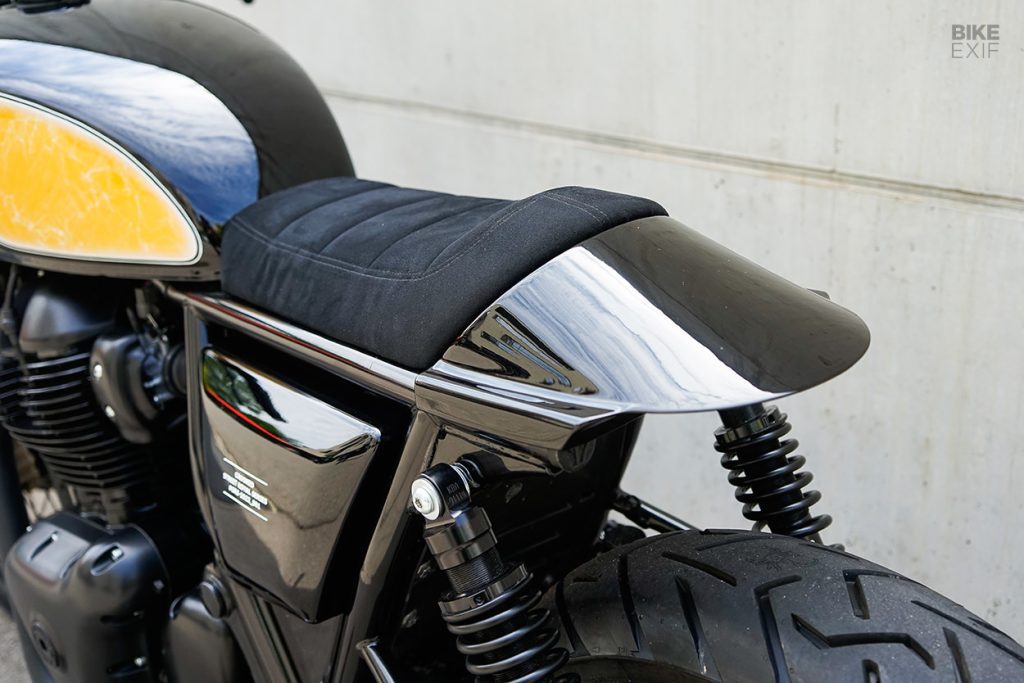 For other custom kits like this, be sure to check back at our webpage, drop a comment below letting us know what you think, and as always – stay safe on the twisties. 
*Media sourced from
BikeEXIF
*