Special off-road two-wheel-drive Rokon motorcycles are being used in the fight against ebola in West Africa.
The Rokon Scout motorcycles are made in Rochester, New York, and feature two-wheel drive, fat knobby tyres, high ground clearance and have substantial cargo capacity, including a special rear cooler to protect blood samples.
It is not the first time motorcycles have been used for medical reasons in Africa. Charley Boorman has featured a couple of medical motorcycle projects in his various TV travelogues.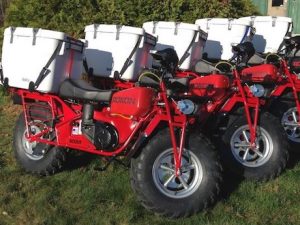 Rokon will send five of their rugged go-anywhere motorcycles to Fondation Mérieux for use by incident management teams at US embassies in Monrovia, Liberia and Freetown, Sierra Leone.
They will be used to transport blood samples from remote areas which usually can only be accessed by foot.
The Rokon features hollow wheels that can carry extra water and fuel. The big wheels and 8x12x25″ tubeless tyres can handle the stickiest mud and the softest sand. When the wheels are empty the Rokon can also float over creek and river crossings.
Rokon has three bikes in their line-up, the Scout, Ranger and Trail-Breaker. The African-bound Scout is powered by a Kohler, 208cc single-cylinder, four stroke engine with 7hp and a three-speed semi-auto transmission.
Fondation Mérieux is an independent family foundation established by Dr Charles Mérieux in 1967 to serve worldwide public health.