One of Brisbane's most popular motorcycle roads up to Mt Glorious will receive major resurfacing plus the installation of motorcycle-specific lower rub rail barriers.
The Department of Transport and Main Roads has today provided details of the proposed updates on the Mount Glorious Road and Samford-Mount Glorious Road Route Safety Project.
Work will be carried out along sections of Samford-Mount Glorious Road (between Dawson Creek Road and Mount Glorious Road) and Mount Glorious Road (between Samford-Mount Glorious Road and Wivenhoe-Somerset Road).
In the supplied images below, orange represents resurfacing, yellow is the installation of a lower rub rail on an existing barrier and red is a new motorcycle-specific barrier.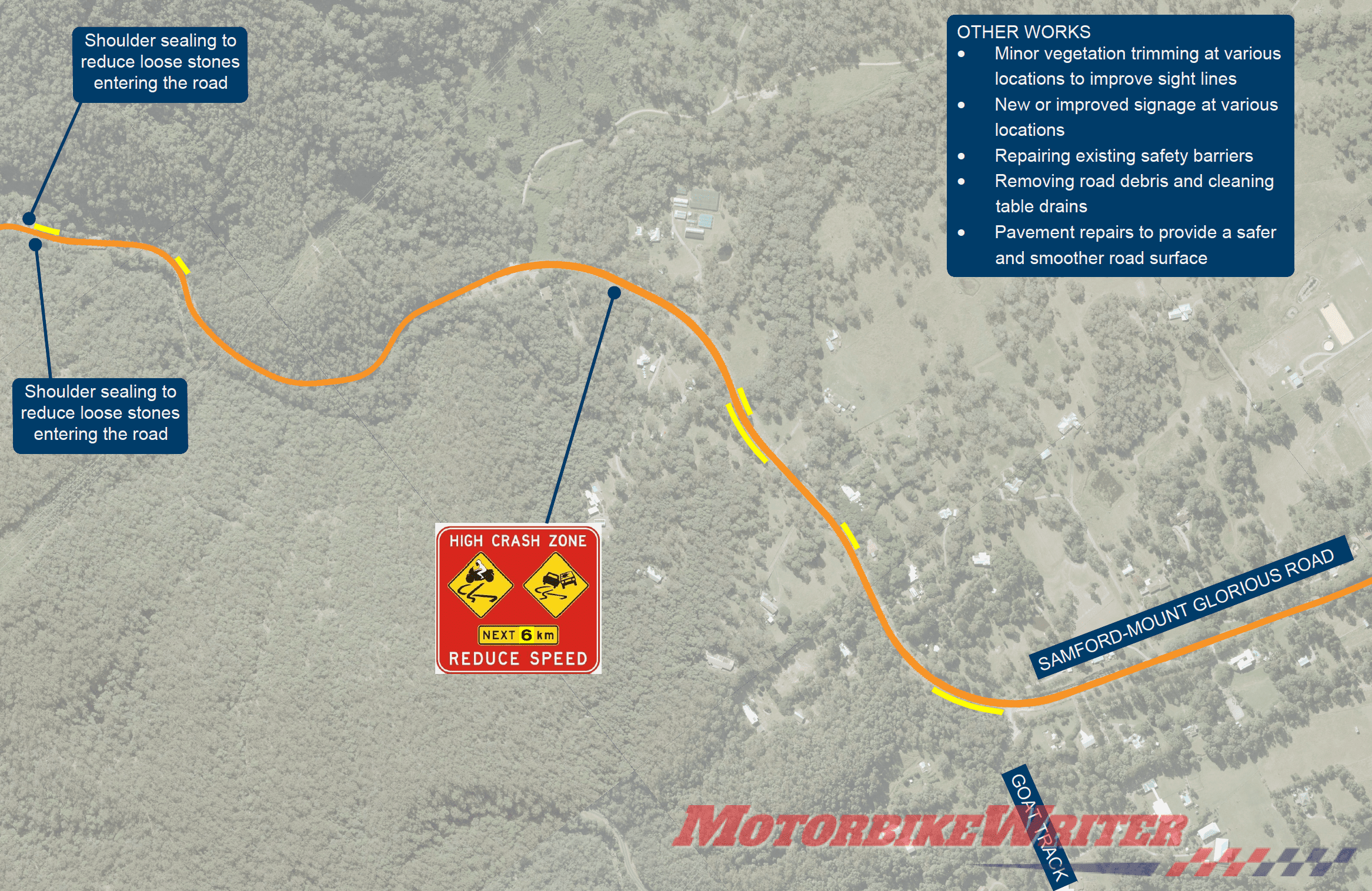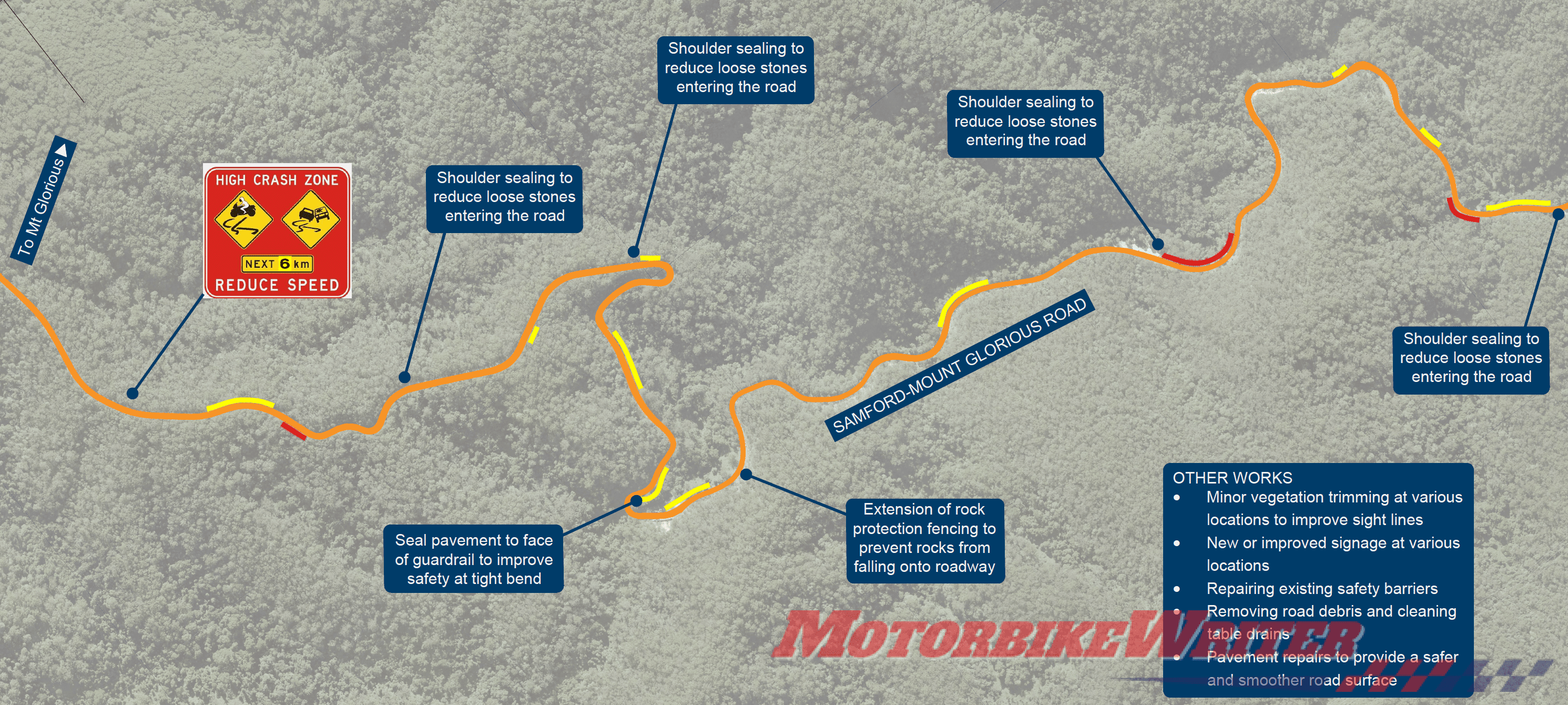 Rider concerns
The roadworks were first mooted in 2018 TMR when contacted members of the Motorcycle Advocacy Group (Qld) to advise they were starting design work on $11.3 million worth of roadworks projects in the Mount Glorious region.
Riders expressed concerns about the possibility of speed reductions and unsafe barriers in impending roadworks on Brisbane's most famous motorcycling road.
There is no mention of further speed reductions in the proposed roadworks and the barriers are not wire rope as feared.
TMR has now completed surveying works, speed surveys and a preliminary assessment of options, taking into consideration crash history.
Proposed treatments for Samford-Mount Glorious Road include:
Road resurfacing;
linemarking improvements;
safety barrier upgrades with motorcycle protection rail;
road signage improvements; and
minor vegetation clearing to improve sight lines.
We expected "linemarking improvements" to mean more double white lines, which could mean no overtaking along the entire length of the road.
However, TMR says they do not expect to increase the length of "double-barrier lines".
"The existing linemarking will be refreshed with new cold applied plastic in accordance with the TMR Road Safety Policy," a spokesperson says.
"Trials have shown this type of treatment delivers increased durability and wet weather visibility benefits compared with the existing water-based linemarking."
Sadly, there is no mention of suggested turnout lanes for slow vehicles to allow for safe overtaking.
TMR says overtaking lanes are not proposed "due to the road's constrained nature, which has substantial cuttings and embankments and, abuts national park with significant environmental value".
"The proposed design includes shoulder sealing at wider parts of Samford-Mount Glorious Road for safety and to provide opportunities for road users to pull over and allow better traffic flow," they say.
They also won't be signposting to encourage slower vehicles to pull over.
"Shoulder sealing will provide the additional benefit of creating informal pull-over areas should they be required," they say.
"It will not be able to provide the requirement road width to create formal pull-off areas and as such signs encouraging motorists to pull over and allow vehicles to pass is not proposed."
Detailed design for Samford-Mount Glorious Road is expected to be complete in July 2020, with construction to start in late 2020, weather and construction scheduling permitting.
Mt Glorious west side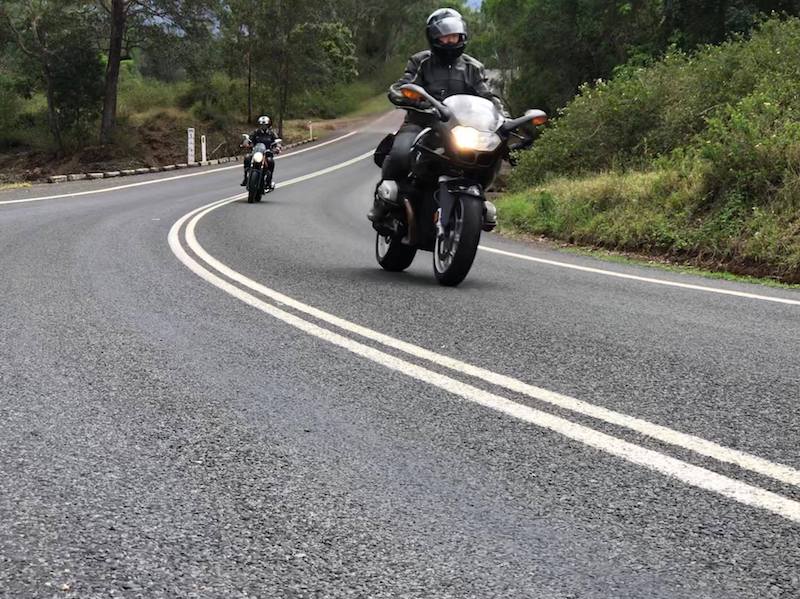 TMR is also considering roadworks options for the western end of Mount Glorious Road between the Samford-Mount Glorious Road intersection and Wivenhoe-Somerset Road intersection.
Detailed design for this section is expected to start in August 2020.