Road construction and road safety experts around the world are acknowledging that roads need to be designed with rider safety in mind, but only one country seems to be following the advice.
Highways England, the company responsible for running over 4000 miles (6400km) of England's motorways and major roads, has joined a landmark collaboration to improve motorcycle rider safety.
The government-owned company will join the National Police Chiefs' Council (NPCC) and the Motorcycle Industry Association (MCIA) to make practical changes to roads.
It's a welcome sign that authorities recognise the vulnerability of riders and are actually doing something about it.
A similar Austroads study in 2016, titled "Infrastructure Improvements to Reduce Motorcycle Casualties", found that roads need to be better designed, funded and maintained to reduce the risk of motorcycle crashes.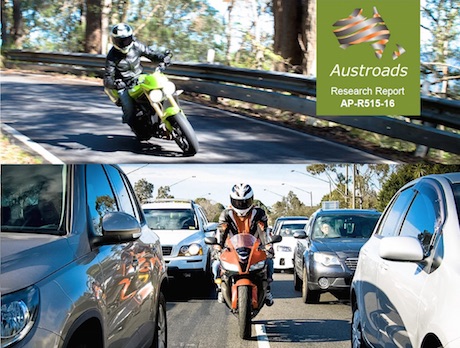 However, there is no guarantee that Australian governments and road contractors will follow the many recommendations of the two-year study.
Meanwhile, in the UK, Highways England, the NPCC and the MCIA have identified seven areas which would make roads safer for riders, along with practical actions on how this can be achieved.
These include: safer infrastructure, expanding road user education, increasing awareness and training and working in partnership with cycle groups.
And it's not just hollow platitudes, but actions.
Practical guidelines for road construction
Guidelines produced by the UK Institute of Highway Engineers identify simple practical steps to reduce risks for riders:
Using rider friendly barriers and road surfaces

Repositioning pillars

Removing unnecessary signage

Using non-slip man hole covers

Prompt clear up of diesel.
The suggestions are remarkably similar to the Austroad recommendations:
install flexible but durable materials or shields underneath barriers;

install attenuators or energy dissipaters on posts and poles;

relocate trees, poles, signs and other roadside objects;

recommended maximums for potholes, ruts and cracks before repair is vital;

rapid road repair including quick removal of oil, diesel and other spills;

fluoro warning signage at known crash zones;

better-designed crash barriers;

improve road surfaces for skid resistance, road camber, badly located drains, rough edges, etc; and

add advance stop lines at intersections with filtering lanes for motorcycles to reach the front of traffic.
We can only hope those recommendations are taken up by Australian governments at all levels in their road construction programs.
Meanwhile, Highways England chief highways engineer Mike Wilson says they are committed to reducing the number of motorcycle incidents and "improving the experience motorcyclists have on those roads".
"This influential partnership with the industry and police supports that commitment," he says.
Not only are they planning to update roads to make riders safer, but also to encourage more people to ride.
The group will advocate "unlocking the benefits of motorcycles and demonstrate how they offer a practical solution to congestion, as well as improving personal mobility for people without access to other forms of transport".
Isn't it time more authorities recognised the benefits of making motorcycling safer?