Tec Motorcycle Gloves Review Summary
Tec Motorcycle Gloves Image Gallery
The Roadgear Adaptive Tec gloves are comfortable, with quality construction.
The Outlast lining works as advertised, making these a good all-around glove for mild climates with a temperature range of approximately 45 to 85 degrees F.
The new Roadgear Multi-Season Adaptive Tec gloves are a sort of "Lite" version of the Roadgear "Boss" gloves (review), which have yet to be dethroned as our favorite winter motorcycle riding gloves.
The Adaptive Tec gloves use a thinner lining than the "Boss" winter gloves.
The liner includes the Outlast "phase change" material, which we've also experienced in theRoadgear Outlast vest (review), the Lee Parks' Deerskin Insulated Gloves (review) and others.
Outlast Phase Change Liner
The way I understand it, Outlast is designed to absorb heat, turning the material into a liquid, then back to solid again as the temperatures drop. This helps to create a more temperate "microclimate" inside the gloves, the vest or other garment, insulating the wearer from the extremes.
Roadgear says that the Adaptive-Tec gloves have a comfort range of 45-85 °F., and we think that's right on the money.
The late summer/early fall weather we've been experiencing lately suits these gloves perfectly, as a recent 50-degree morning ride with 80-degree afternoon temperatures has recently demonstrated.
I took off in the early morning cool and mist, first wearing the old and well-broken-in pair of un-insulated Teknic Violator gloves, but came right back to the garage after scooting around the block because my hands were too cold.
I popped on the Roadgear gloves and I definitely noticed the difference.
I discovered that they kept my hands comfortable the rest of the morning and into the afternoon, when the temperature reached about 82, and I've been wearing them ever since.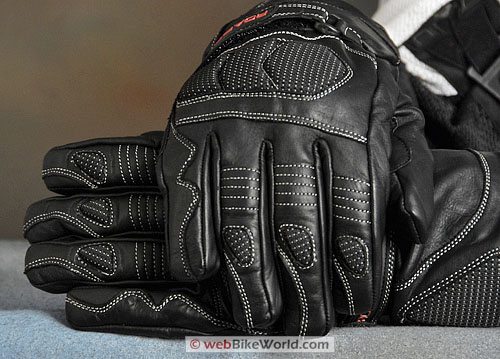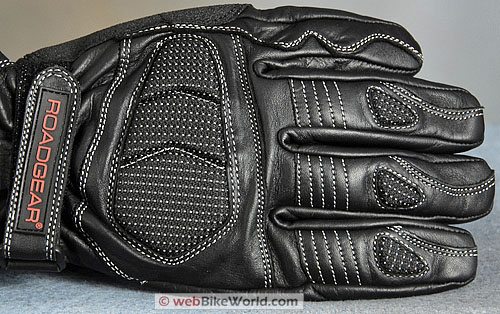 Three Season Use?
We're in the era of very focused, or "niche" products, which are designed for very specific and narrowly defined uses recently, and this includes the Roadgear Adaptive-Tec gloves.
They're pretty much designed for Spring and Fall use, and I wouldn't be surprised to learn that the big California motorcycle market had something to do with the development of these gloves, as they're perfect for that type of climate, with its roughly 45-85 degree range.
The Outlast lining doesn't add much bulk, and the gloves don't feel all that much different than a "normal" pair of lined riding gloves.
As much as I like the Roadgear "Boss" waterproof gloves, I only wear them in the dead of winter, because I like to keep as much feeling for the bike through my hands as possible and they are slightly on the thick side (although not at bulky as many other winter motorcycle gloves I've tried).
The Adaptive-Tec gloves don't have as much feel as a pair of unlined race gloves with kangaroo palms, for example, but they're perfectly useful as an all-around pair of everyday riding gloves — with the added benefit of the Outlast system to add a bit of temperature control.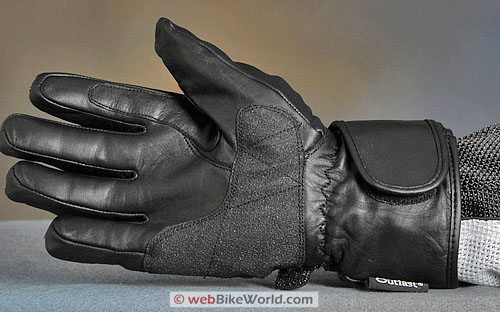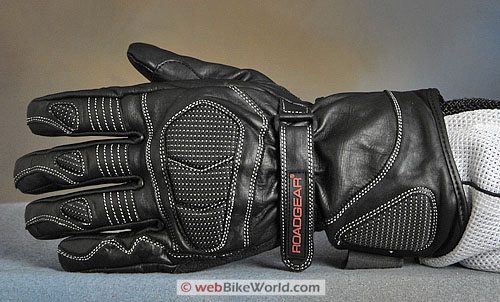 Styling and Construction
The gloves are nicely styled; not too racer-ish yet not too bland. There's a lot of double stitching used throughout, and it's very nicely done, perfectly aligned with no hanging threads and evenly applied along the seams.
The silver-colored double-stitched thread also looks great against the black cowhide!
The fingers are rather a work of art; they're constructed using the "box" style, with internal stitching. Each finger made from four pieces of leather, which is very hard to do, very hard to do correctly, time-consuming and expensive!
The thumb is made from two sections.
Box construction usually makes for a more comfortable glove, especially for riders with thick fingers, but the internal stitching and seams in this type of construction can feel awful on sensitive human fingers if it isn't done right.
But the Roadgear Adaptive-Tec gloves have a very nice silky-feeling liner (see photo below), which I assume is part of the Outlast system.
The liner covers the entire interior of the glove, and it acts as a smooth barrier between the rider's hand and the internal stitching in the fingers, making the gloves feel nice and cozy.
The palms have a covering of an interesting material; Roadgear calls it their "Hi-Tec" patent-pending palm patch (love that alliteration!). It that feels grippy while offering good wear protection.
An extra section of cowhide is sewn over the thumb/forefinger junction to help prevent wear in this area also.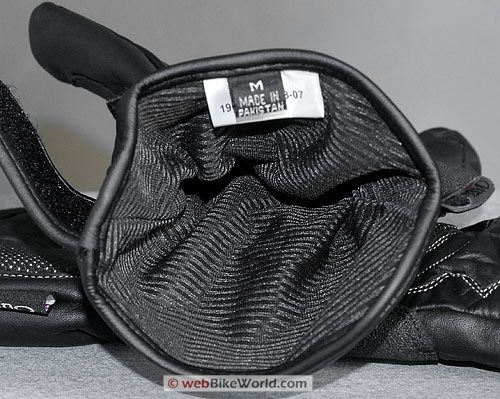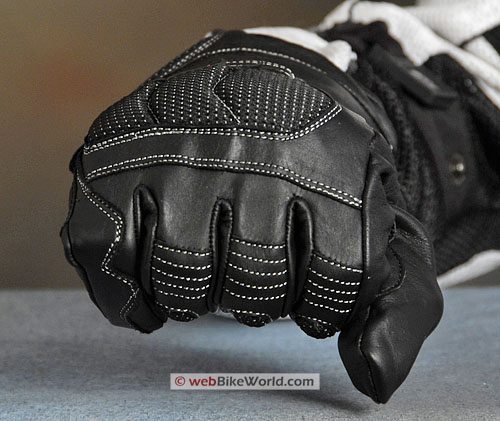 Security
Another nice feature of these gloves is the dual closure system. There's a strap over the back of the wrist that attaches with Velcro.
It doesn't completely prevent the gloves from being pulled off, but if it's secured properly, it does take an exceptional effort to do so.
Unfortunately, the straps are too long for my skinny little wrists, so they hangs off the side of the glove by about an inch or so after I've tightened them up securely.
The gauntlet is adequately sized also (see the wBW article "The Case of the Missing Gauntlet") and I have no problem fitting it over any of the motorcycle jacket sleeves I've tried.
Another feature that helps to make these gloves comfortable is the lack of hard protectors over the knuckles. I suppose — I hope — that modern technology has provided us with fibers that will offer as much protection as hard armor.
I'm not sure if this is so, but surely the padding and leather used on the Adaptive-Tec glove must offer enough protection for street use? And the soft padding does allow the gloves to be more flexible, which means more comfort.
Roadgear also says that the Adaptive-Tec gloves use Dynatec reflective fibers.
It can be seen woven through the padding material on the backs of the gloves, but it doesn't seem to provide the same reflectivity as the bright-as-a-light-bulb Roadgear "Boss" gloves.
It's more of a few speckles of brightness sprinkled through the fabric, and we couldn't get it to show up very well in a flash photo.
The Roadgear Multi-Season Adaptive-Tec motorcycle gloves come with a two-year warranty against defects in materials and workmanship, which seems generous. They're available in sizes ranging from medium to XXXL for men and XS to medium for women.
Roadgear sent us two pair for this review; one is a size medium and the other is a large. I normally take a men's size large, but the mediums fit my thin fingers and there's enough flexibility for comfort.
I have worn the size large also; they do fit me and have a bit more room. Based on this, I'd say that if you're in-between sizes but tend towards the smaller size, you may be able to go one size smaller than you normally take.
Conclusion
The Roadgear Adaptive-Tec gloves are comfortable, well made and, based on our experience, cover the 45- to 85-degree temperature range almost perfectly.
They're not claimed to be waterproof and we didn't have an opportunity to evaluate them in the rain due to our extended drought. The gloves retail for $69.90, which seems a reasonable price for the quality and the Outlast technology.
wBW Review: Roadgear Multi-Season Adaptive Tec Motorcycle Gloves
Manufacturer: Roadgear
List Price (2007): $69.90
Made In: Pakistan
Colors: Black
Sizes: XS to XXXL
Review Date: September 2007
Note:
 For informational use only. All material and photographs are Copyright © webWorld International, LLC since 2000. All rights reserved. See the webBikeWorld® 
Site Info page
. Product specifications, features and details may change or differ from our descriptions. Always check before purchasing. Read the
Terms and Conditions
!
Owner Comments and Feedback
---
From "H.T." (4/09):  "I bought these gloves after I saw this review at a bike show, and do not recommend them. I've been wearing these gloves for almost a year for about 7,000 miles. I agree with everything the reviewer has stated… good job for weather protection in the 40-70deg temp range, good construction with quality materials.
One major complaint… when tightening the Velcro wrist strap thru the loops, the strap is so long that the "hard" Velcro attaches to the "soft" Velcro for only a half an inch and the rest of the strap hangs loosely off the glove, and the strap easily comes loose at high speeds flapping in the wind.
I could loosen the strap so that full portion of the hard Velcro completely attaches to the soft Velcro, but the wrist area would be very loose, which makes the gloves easy to come off in a crash. So, I wouldn't recommend these gloves. I wonder if Roadgear has addressed this since I bought these gloves a year ago."
---
From "G" (3/09):  "I purchased these gloves after reading your reviews. Here are my thoughts, I ride a Victory Vision with heated grips In the past couple of weeks I have had a chance to wear them in temperatures ranging from 20 degrees to 73 degrees F.
I would say they are great from the low 30's up to 73 were fine have not had a warmer day yet so cant speak to that. Low 20's after 30 min my thumb and just my thumb was getting pretty darn cold even with the heated grips.
I would add these are good gloves for heated grips since they are not real thick and you can feel the heat with them on. Velcro closures work well they have gauntlets that fit over my jacket fine and were comfortable and felt broken in as soon as I put them on."