Roadgear H2O Maxx Motorcycle Gloves
Lightweight and waterproof three-season gloves are comfortable and easy to wear. They provide more warmth than expected even in colder temperatures and they passed the webBikeWorld "Bucket Test". Most four-season riders own at least two pair of motorcycle gloves; one pair for summer and one for winter.
Gloves are relatively inexpensive, compared to other gear like helmets, boots and jackets, so an argument can be made for a third pair to add to the collection: the Roadgear H2O Maxx gloves. The H2O Maxx gloves are suited for Spring, Fall and wet summer weather. They are an improved version of the Roadgear H2O Tec gloves (review), reviewed on webBikeWorld in August of 2008.
The H2O Tec gloves were also a three-season glove, but without the hard knuckle armor and the secure wrist straps that are included in the H2O Maxx version. Also, there's another big difference: although the H2O Tec gloves were claimed waterproof, they didn't pass the webBikeWorld "Bucket Test". How did the H2O Maxx version fare?  Read on…
Breathability and Warmth
A pair of Roadgear H2O Maxx gloves weighs only 204 grams, or just a tick over 7 ounces. Roadgear rates the gloves for 50 to 80 degrees Fahrenheit, which equates to 10 to 27 Celsius, which is why I call these "three season" gloves, suited for Spring, Fall or Summer…and light Winter use.
The rated temperature range may actually be a bit on the conservative side, at least at the low end, as I quickly discovered. I didn't know anything about the H2O Maxx gloves when I took on the evaluation assignment and my first impression was that they were a basic lightweight glove designed for warmer weather.
In fact, the H2O Maxx gloves have quite a few surprises under the gauntlet. They may look like a pair of basic lightweight gloves, but look closer and you'll find many interesting features.
They're also surprisingly warm in cooler weather. For example, the first time I wore the gloves was during a ride on a brisk 44 degree F (7 C) temperature day.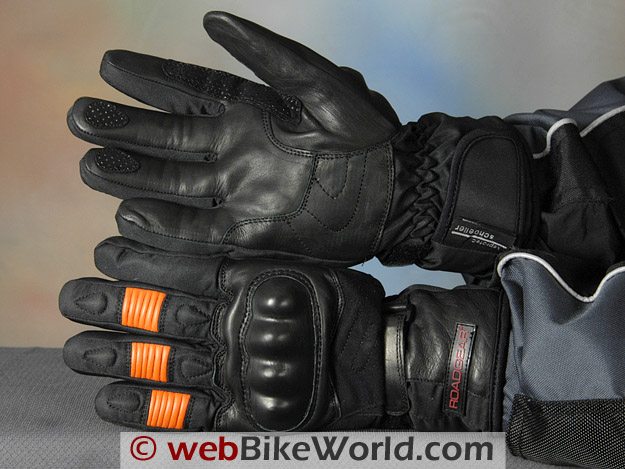 For some reason, I grabbed the H2O Maxx gloves on the way out the door and as I slipped them on I thought "Uh oh, my hands are going to get cold". But about half-way into the ride I realized instead that my hands were perfectly comfortable.
Since these are not what you'd normally think of as heavy winter gloves by any means, I'll have to assume the Hipora liner is responsible.
Hipora is, according to the manufacturer (Kolon Industries, Inc. in Korea) a three-layer membrane fabric designed to be water-resistant yet breathable — similar to another well-known membrane fabric used in motorcycle clothing.
There was a Hipora brochure attached to the gloves and it states that the Hipora liner is placed in between the outer shell of the glove and the inner liner to act as a water barrier.
An illustration on the brochure invites he owner to "Pour hot water into glove insert. You will see steam running out without water leakage."
I think what they mean is that the hot water will remain in the Hipora liner but the tiny (0.1 to 3.0 micron) pores will let the moisture (steam) escape while keeping the larger water molecules blocked.
But neither the brochure nor the Kolon website has any information about the wind-blocking capabilities of Hipora.
However, most of the breathable/water-resistant textiles I've used do help block the wind, so I think this feature also helps to make the H2O Maxx gloves feel warmer than expected.
The gloves do have a thin amount of what I assume is insulation (there's not a lot of info regarding the H2O Maxx gloves on the Roadgear website). It's just enough to keep the hands comfortable and not bulky at all, so again, a good choice for three-season wear.
I wore the H2O Maxx gloves several times before I realized that they must be the replacement for the original Roadgear H2O Tec gloves (or so I assume). Roadgear says the H2O Maxx gloves are "water tight".
Interesting, I thought, because now here's a pair of gloves I thought were purely designed for simple lightweight summer wear. Then I first discover they have an Hipora liner; next I found that the gloves were warmer than I thought they would be in the cold; and now "water tight" too.
As I mentioned above, the original pair of Roadgear H2O Tec gloves were supposed to be water-resistant but the webBikeWorld pair were not — so it was time for the H2O Maxx gloves to undergo the webBikeWorld Bucket Test.
This is a simple but admittedly rather extreme test where the gloves (or boots) are worn while held underwater in a bucket of cold water. If they leak, they fail — one of the only black-and-white, pass-or-fail "tests" performed during a webBikeWorld review.
I'm happy to report that this pair of Roadgear H2O Maxx gloves passed with no problems. I wore the gloves and held them underwater for 4 minutes.
The outer layers of leather and textile quickly absorbed water and I could feel the temperature drop, but my hands remained dry. I was able to wring quite a bit of water from the outer layers and I put the gloves outside to dry in the sunshine and it took a couple of hours for them to feel back to normal.
So the H2O Maxx gloves do appear to be "water tight", although the water that can absorb into the outer layers may make the rider's hands feel cold, depending on conditions.
By the way, for those interested in making any pair of gloves truly waterproof, check out the Rain-Off waterproof over-gloves review.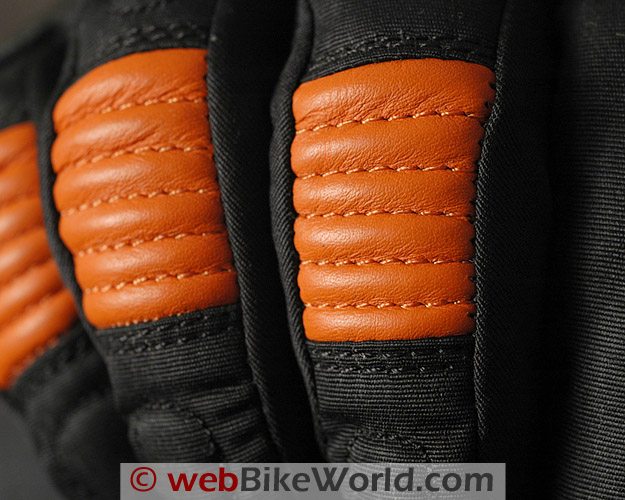 Riding Comfort
The H2O Maxx gloves are comfortable, a factor of their light weight and relative lack of armor or padding and of the lightweight insulation used in the body of the gloves.
Comfort and flexibility in motorcycle gloves can be a tradeoff with protection.
Thicker leather, hard armor and Kevlar or extra leather abrasion pads can make a glove less flexible, although with good design this doesn't necessarily have to be the case.
But the H2O Maxx gloves are designed to provide a lot of flexibility. Roadgear added a hard main knuckle protector, which appears to be covered with a tight-fitting but thin layer of leather.
A main knuckle protector was absent from the H2O Tec version of the gloves but it doesn't get in the way at all on the H2O Maxx version and you'll probably never even feel it when riding.
The lining is also comfortable; it's a sort of thick taffeta that allows the hands to slide smoothly in and out of the gloves, even when damp.
Overall, the H2O Maxx gloves are very comfortable with a smooth interior and near-unlimited flexibility.
The main knuckle protector pretty much disappears — you don't even know it's there and can't feel it. There is just enough padding or insulation in the gloves also to give them a warm 'n' cozy feeling.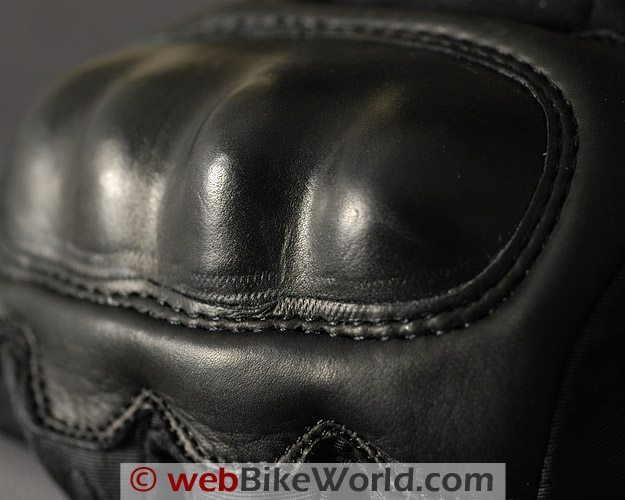 ---
Where to Buy Roadgear H2O Maxx Gloves
Check Reviews & Prices on Amazon
Check Reviews & Prices On RevZilla
Also: Motorcycle Jackets, Motorcycle Gloves, Motorcycle Boots, Motorcycle Pants
---
Safety Features
The main knuckle protector is the main protective feature of the H2O Maxx gloves. The knuckle protector is sewn on to a section of leather over the back of the hand.
Although it may not be apparent in the photos — and it wasn't apparent to me until I studied the gloves closely, leather is used over what I estimate to be about 50% of the surface of the gloves.
An extra section of leather is sewn over the heel of the hand and the thumb and soft leather is used on the inside of the top of the wrist, along with soft "nubuck" style leather used over the back of the wrist in a thin width section.
The gloves have a Schoeller Keprotec (Kevlar) label attached and a Schoeller brochure was attached to the gloves, but I'm not sure where this material is used on the gloves.
The orange-colored leather over the knuckles that can be seen in the photos also probably yields better abrasion protection than the textile used in the body of the gloves.
There's a bit of padding over the middle and first knuckles of the two middle fingers and another pad over the first knuckle of the pinky finger, but that's it.
One other safety feature added to the H2O Maxx gloves that wasn't on the H2O Tec version is a wrist strap on the back of the gloves to keep them more firmly in place on the rider's hands.
This works and is a welcome addition. It has a long section of hook-and-loop underneath that holds the strap securely but doesn't get in the way.
The wrist strap is in addition to the hook-and-loop gauntlet closure, which is minimal in size but works to secure the gloves.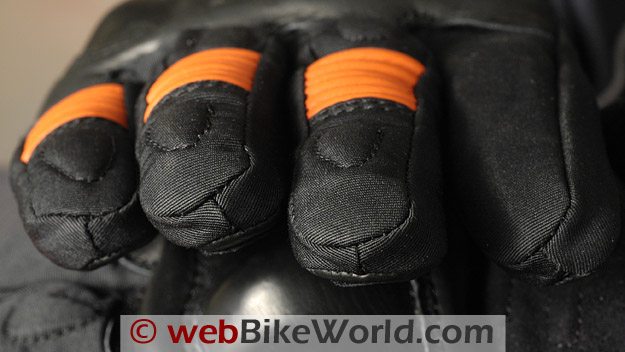 Stitching and Construction
The Roadgear H2O Maxx gloves are biased towards cruising and touring, in my opinion. The choice of fabrics and stitching does not lend itself to track day events or hard-core sport riding, but that is neither a complaint nor an issue.
The gloves are designed for a specific purpose and they're not pretending to be something else.
The H2O Maxx gloves are very nicely made, with lots of blind (internal) stitching to give them a "clean" look. The extra leather on the palms is double-stitched, as is the leather along the main knuckle protector and the leather section underneath it.
Even the wrist strap on the back is double-stitched.
The fingers use what is frequently termed a "box section" construction in webBikeWorld glove reviews. This gives plenty of room for the fingers and adds to the comfort level.
The fingertips of the second and third fingers have an extra pad of "sticky" material sewn on for grip, and the material is also used between the thumb and first finger.
The thumb has more of a "blade" shape construction, which can (and does) leave some extra room at the tip because the "blade" comes to a point there, so the finger must be longer than necessary to allow enough room for the thumb tip.
I'm not too fond of this thumb construction style, but it's sized correctly on the H2O Maxx gloves and doesn't leave too much room like it does in the Halvarssons Safety Grip Gloves (review).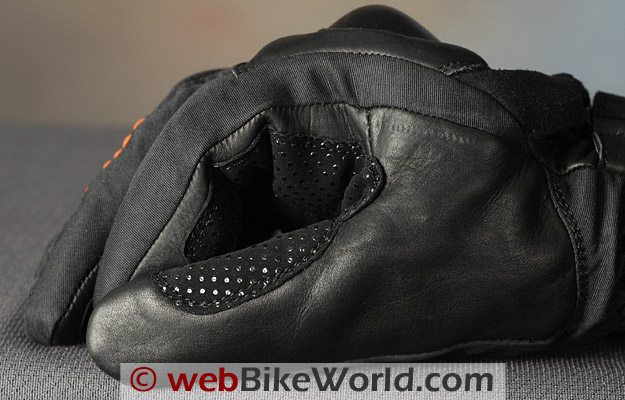 ---
Where to Buy Roadgear H2O Maxx Gloves
Check Reviews & Prices on Amazon
Check Reviews & Prices On RevZilla
Also: Motorcycle Jackets, Motorcycle Gloves, Motorcycle Boots, Motorcycle Pants
---
Sizing the H2O Maxx Gloves
The H2O Maxx gloves are available in men's sizes from M to XXXL and women's from XS to M. The gloves shown here are size XL and the Roadgear size chart lists them as a 9.5 to 10 numerical size.
I normally take a size L but the XL fits, with just enough room to spare all around, so I think they run about true to size.
The box section fingers and the overall flexibility of the cut and the combination textile and soft leather materials makes the gloves comfortable to wear and easy to fit.
Other Features
There are no vents or perforations on the H2O Maxx gloves, which would obviously impair the ability of the gloves to maintain water resistance.
So I'm not sure how they will work in warmer summer weather, but I'm sure they'll come in handy on a rainy summer day.
Also, the H2O Maxx gloves carry a two-year warranty, which is excellent.
Conclusion
The Roadgear H2O Maxx gloves are an excellent improvement over their predecessor, the Roadgear H2O Tec gloves, which did not meet our expectations. The H2O Maxx version is everything the H2O Tec version should have been, to be frank.
Although not designed as race gloves, the H2O Maxx gloves are water resistant.
They have at least some knuckle protection and the wrist strap keeps them firmly in place and best of all, the gloves are very comfortable to wear.
And they're they keep my hands warmer than expected. They cost only $2.00 more than the H2O Tec gloves — a bargain in my book!
w

BW

 Review: Roadgear H2O Maxx Gloves
List Price (2010): $58.90
Made In: Pakistan
Colors: Black
Sizes: Men: M-3XL. Women: XS-M.
Review Date: March 2010
Note:
 For informational use only. All material and photographs are Copyright © webWorld International, LLC since 2000. All rights reserved. See the webBikeWorld® 
Site Info page
. Product specifications, features and details may change or differ from our descriptions. Always check before purchasing. Read the
Terms and Conditions
!
---
Where to Buy Roadgear H2O Maxx Gloves
Check Reviews & Prices on Amazon
Check Reviews & Prices On RevZilla
Also: Motorcycle Jackets, Motorcycle Gloves, Motorcycle Boots, Motorcycle Pants
---
Owner Comments and Feedback
---
From "K.G." (August 2011): "I've been wearing these gloves for the past year — and I'm about ready to throw them in the trash.
They are no longer close to being waterproof. I was out in the rain yesterday and my hands were soaked within minutes. Got home and not only were my hands wet, but the gloves had wicked water underneath my jacket to get the sleeves of my shirt wet."
---
From "P.S." (4/10): "Bought the L ("L" or "9" is my normal size) and while I can wear them, they probably are too small.
Here is my take on the fit…the finger length is spot on if you like the tips of your fingers to reach the very end of the glove fingers.
But the snug circumference of the glove body restricts "bending," as in holding on to the bars while manipulating clutch, throttle and brake.
The effort required is not optimal. It takes more effort than I like to make the gloves bend.
I realize that they will probably loosen up a bit with use, but the fingers aren't going to get any longer and that is always going to restrict movement even if the body becomes a bit more flexible.
I don't like excessive free space at the end of my fingers inside a glove, but I do like some free space and I think the larger XL size should provide that and it should also help with the "bending effort" required with the size L."
UPDATE From "P.S." (above) (April 2010): "I like these gloves. I like them a lot. But… (there's always a catch isn't there?), there's a catch.
I finally had a chance to ride with them for about 900 miles through a variety of weather conditions (hot, humid, cold, rain) and all on the same trip. Did I just mention rain? Probably did, as that was where the gloves performed worst.
If Roadgear advertises these gloves as being waterproof, shame on them. If that's a webBikeWorld.com description, then I understand since they did pass your admittedly simple water immersion test pretty handily.
But in the real world, with wind and rain they don't perform as well as I had hoped. I rode through a steady rain for about 3 hours and long before the rain ended, my hands were soaking wet.
Water was not running down the gauntlet, it was passing through the gloves.
I would agree that the H20 Maxx's are "water resistant" since my hands stayed dry in that rain for at least an hour and a half. But after that, it was game over for dry hands. That's the bad news.
The good news is that after placing them on the outlet vents of the room AC in the hotel room overnight, they were completely dry and ready to go again the next morning. I think you may have mentioned this, but since it is such a great feature, it's worth mentioning again.
Even with wet gloves and wet hands the H20 Maxx gloves are easy to remove and put back on. Most lined gloves want to turn inside out on you once they get wet on the inside and you can pretty much forget about putting them back on with wet hands.
Not so the Roadgear H20 Maxx gloves.
One other issue that is very important to me (I live in Texas) is that once the temperature exceeded 70 degrees, it was time to change gloves.
My hands were really perspiring inside the toasty warm Roadgear gloves. In this climate, I would rate them a 2 season glove (early spring and late fall).
They are definitely ruled out for late spring or summer but could easily remain usable well into late fall and early winter.
Just so you have a comparison, once it became clear that the gloves were going to be too warm to continue wearing, I took the H20 Maxx gloves off and put on a pair of Held Steve gloves (review)and my hands were comfortable with zero perspiration at the same temperatures.
The H2O Maxx gloves are extremely comfortable, they are really well made, and have lots of outstanding features – but there are those pesky limitations I just listed.
I guess nothing is perfect but I would absolutely buy another pair when/if I manage to wear this pair out. I am expecting that to take a really long time though."
Editor's Reply: I'm kind of surprised actually, because the "bucket test" is pretty extreme I think, and we've had several emails from readers suggesting that it is an unreasonable test and more drastic than riding in the rain.
By the way, for really severe conditions, I usually keep a pair of these completely waterproof Rain-Off over-gloves (review) on hand (pun intended!).
Other WebBikeWorld Gloves Posts