Waterproof Gloves Review Summary
Waterproof Gloves Image Gallery
Roomy summer/fall touring glove for riders who are uncomfortable with large swatches of carbon fiber and padding.
Roadgear makes a ton of motorcycle gear, including a large selection of gloves. The Roadgear H2O Maxx leather mesh gloves (review), the Roadgear Multi-Season Adaptive Tec gloves (review) and their "Boss" winter waterproof gloves (review) are big favorites around here — in fact, the Multi-Season Adaptive Tec gloves received a webBikeWorld 2007 Motorcycle Product of the Year award.
The H20-Tech gloves described here are sort of like an "Adaptive-Tec Lite", because they have the same basic styling and looks. They do not have armor or a lot of extra padding though, and they're much thinner, with a minimal amount of insulation and lining.
That's not necessarily a bad thing; some riders just don't want to wear motorcycle gloves covered in carbon fiber, metal or plastic. They're looking for a basic leather glove that's roomy and comfortable. If you fit that description, this glove may be just the ticket.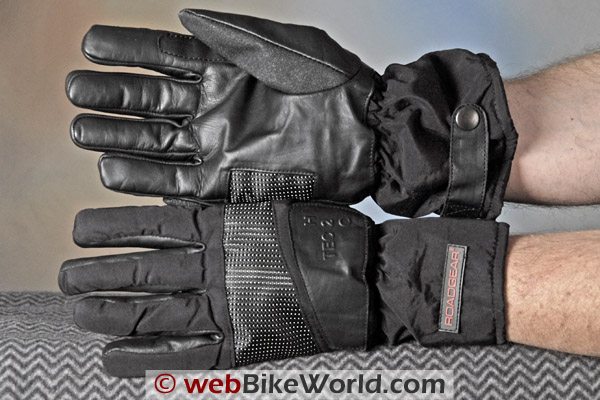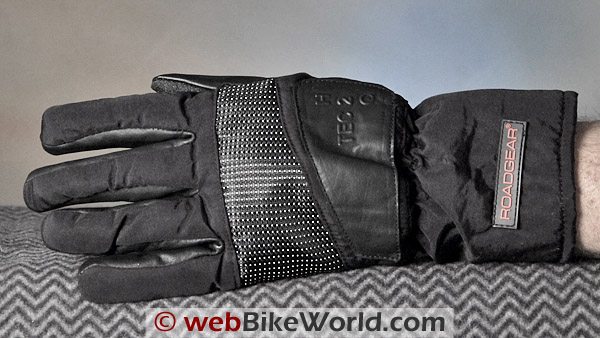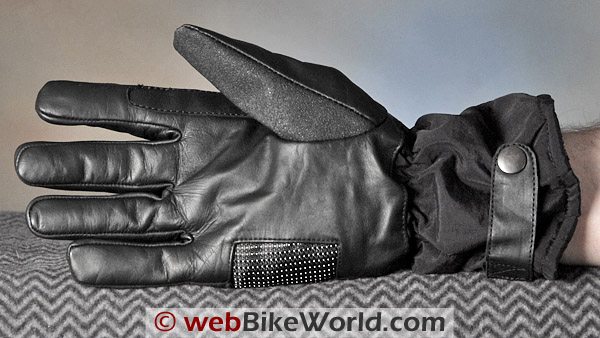 That isn't to say that the H20-Tec gloves are without any type of protection — the grippy part of the thumb is covered in  a rubbery type of material, the palms and underside of the fingers are made from leather and there's narrow extra section of leather sewn into the web of the hand between the thumb and forefinger for extra wear protection.
The back of the knuckles is covered in Dynatec, an abrasion-resistant material developed by Schoeller for use in motorcycle gloves and other gear. Roadgear says it's reflective also, but several photos using the flash in the dark were not able to illustrate any reflectivity.
Stitching Details
Roadgear says the fingers are stitched using the "fourchette" (fork) method; I'm not sure what this means but the fingertips have a single piece of leather that curves around the outside of each finger, with leather sewn on the top and bottom to cap it (see photo below).
All of the stitching on the fingers (and the gloves) is internal, and a thin lining keeps any of the stitches from being felt, making the H20-Tec gloves very comfortable, much like a pair of light winter street gloves.
The fourchette stitching method also yields plenty of room inside.
The size large gloves fit me perfectly, with good proportions and enough room in each fingertip so that they don't interfere when my hands are wrapped around the grips.
The gauntlet, while not huge, is large enough to fit over any of the motorcycle jackets I've been wearing.
The gloves have a simple snap at the cuff that tightens them up just a touch; there are no other straps or cinches on the H20-Tec gloves, which probably will also please riders who only want a basic glove.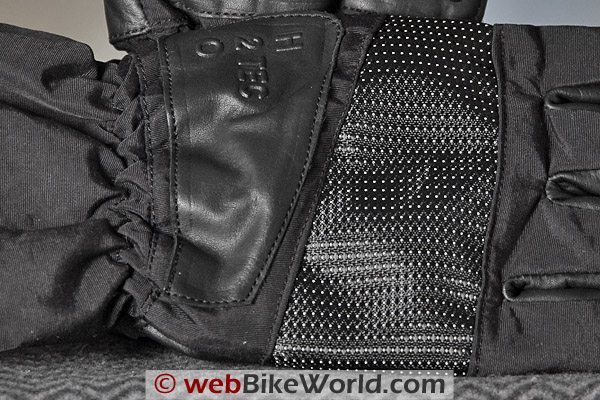 Water Resistance
The H20-Tec gloves are so named because they are claimed to be waterproof. Roadgear says they have a Hipora lining; Hipora is supposed to be one of those wind/waterproof linings that also breathes.
The problem with any of those type of membrane linings is that they can become compromised wherever there's a stitch.
I gave the H20-Tec gloves the standard "dunk 'em in a bucket of water" webBikeWorld trial and, I'm sorry to say, within about 30 seconds the water started to seep in through the seams on every one of the fingers.
The back of the hand seems waterproof, so they should offer some protection when riding in the rain with the hands on the grips, and I don't know if holding them underwater is a fair trial that duplicates what an owner might encounter during a downpour.
So, I'm not sure how the gloves will really fare in a storm.
I do know, however, that the Roadgear "Boss" waterproof gloves are definitely waterproof, so I'm not sure what happened with the stitching on the H20-Tec version, or if this pair is one of the first off the assembly line, but they aren't waterproof as far as I can tell.
But many gloves aren't, so if you're looking for a basic pair of light duty, comfortable gloves that offer a modicum of protection, the Roadgear H20-Tec gloves may be for you. The price is right anyway…
ADDENDUM:  These gloves apparently fit one size small. The size M shown here fits like a L and the L fits like an XL, but check with Roadgear before purchasing.
Conclusion
Basic, lightweight and comfortable gloves that are a step above street gloves. Not much padding or protection, but not everyone is comfortable with full-on race gloves. If they were truly waterproof, it would add to their usefulness.
w

BW

 Review: Roadgear H20 Tec Gloves
List Price (2008): $56.90
Made In: XXXXX
Colors: Black
Sizes: Men: M-3XL. Women: XS-M.
Review Date: August 2008
Note:
 For informational use only. All material and photographs are Copyright © webWorld International, LLC since 2000. All rights reserved. See the webBikeWorld® 
Site Info page
. Product specifications, features and details may change or differ from our descriptions. Always check before purchasing. Read the
Terms and Conditions
!
Owner Comments and Feedback
---
From "M.O.B." (12/08):  "First off, I totally agree on one point… these gloves will fail the bucket test rapidly… And if you ride in pouring rain, even faster…
I wanted a pair of totally waterproof gloves as many times I ride for an 8 hr return from rallies and such, and most assured it will be pouring (ain't it always the case??).
I have bought quite a few products from Roadgear, and found them all great performers…(tank bag, tool kit, various sundries…), so I felt safe asking Santa for a pair for X-mas…hmmm
They showed up under the tree, and were tried on (with DRY hands), and seemed a bit more snug than expected (intentionally asked for 1 size larger to be safe), but went on and off a couple times, so I tossed them in the tank bag till needed.
These were to replace a set of BMW Gore-Tex rain gloves that were about 5 years old, and just stopped providing adequate protection, even after spaying them with many cans of CampDry…
On a normally 8-9 hour return trip from Georgia to Richmond (Virginia), in April 2008, we "Drank from Mr. Firehose" mile after mile, non-stop, and turned a one day trip into 2 because of the discomfort levels
Two 7-hour days, temps hovering in the mid 40's running as fast as was safe in that weather (arriving at home to tornado's revenge).
The first thing to fail were these gloves. 15 minutes tops, soaked thru and FULL of water.
Removing them pouring the water out, and wringing the rest out every half hour became a pain, and after the second repeat, they were impossible to get to get on due to the liner shifting, and the finger liners pulling out of position and twisting, requiring time consuming "pencil poking" to even get a semblance of being able to re-fit.
I wear an XL glove, these were purchased in XXL, and after not being able to get them back on repeatedly asked my wife to wear them… she could not get them on because of the construction flaws inherent to the design, and she wears a small…
I literally threw these gloves on the ground and left them there about 150 miles into my ride; I was so angry. Toughing the remainder of it out switching from my vent Icon summer gloves, and my Olympia light duty leather gauntlets…
Even if they would have retained their intended shape and waterproof claims, the design of the cuff was still the last failing feature.
And when worn over the sleeve (of my Roadcrafter), assisted in them filling with water as there is no provision to seal the wrist, while the cuff was too small to easily get them over the sleeve.
Too tight one spot; too loose the other. The only answer is to wear them with sleeve over gauntlet, which although better, still not an acceptable answer to the problem.
Sorry, these gloves are a failure in every respect. Buy $56 worth of XXXL Playtex Dishwashing Rubber gloves. You will be way ahead satisfaction wise."
---
From "R.H.M." (10/08):  "I wore these gloves in Scotland where it rained lightly for the first 5 days. The gloves held up well.
This morning I rode from the "Dragon" in North Carolina to Valdosta, Georgia. The rain became very heavy. I switched from my leather gloves to the Road Gear H20. They were soaking wet in 40 minutes.
They are not up to heavy rain at highway speeds. You could actually wring the water out of them at a road stop.
The FJR1300 has heated grips so that helped alleviate the discomfort. I am still looking for a truly waterproof glove not a drizzle proof glove. Perhaps the big vinyl gloves over the top of a decent leather glove!?"  (Editor's Note:  Try the Rain-Off over-gloves, they're absolutely waterproof).
---
From "D.E." (9/08):  "I can attest to riding for days wearing these gloves in heavy rain and never having a wet hand. I do have GS handguards on my bikes (which provide some protection from rain from the front), which might help, but these are for sure my favorite wet weather gloves.
They are always in my tankbag ready for use. Unlike every other pair of "waterproof" gloves – these ones deliver on the promises made. And my hands aren't purple wrinkled claws after a day riding in the rain.
In this case – I think the bucket dip isn't a valid test. Try wearing them under actual riding conditions, I think you'll quickly become a fan."
Editor's Reply:  Thanks for the feedback. While the "dunk test" may not be a good replication of riding in the rain, it's fairly common for evaluating waterproof gloves and boots.
It's also the standard method we use to keep the variables limited, which would be hard to do in a rainstorm.
We've used it before with a few other pairs of gloves that have passed successfully, including theOrina 118 (review); the Shift Torrent gloves (review) and the Roadgear Boss gloves (review).
We were surprised at how quickly the water entered the Roadgear H20-Tec gloves, so perhaps this particular pair is defective. Roadgear is usually pretty good about their claims and backing up the products, and I'm waiting to hear back from them to see what's up.