Euro-Tec Pants Review Summary
Euro-Tec Pants Image Gallery
The Roadgear Euro-Tec pants are comfortable, warm and waterproof.
They're also breathable.
The lightweight padding is the compromise for comfort.
You can't beat a nice pair of textile overpants.
Throw 'em on over your street clothes for your ride to work or down to the local hardware store.
Granted, some overpants can be clumsy to get on or off.
But at least you can strip down to street clothes before you mingle with those who just don't understand the strange-looking gear that motorcyclists wear.
I always feel kind of goofy if I'm in my full-on riding gear at the store anyway.
And every step makes the "swish-swish" sound of Cordura, so if I can quickly slip out of the overpants and into "normal" street clothes, I'll do it.
But when it's time for some serious road work, or longer-distance touring, comfort takes priority.
The problem with overpants is that street clothes tend to bunch up underneath.
And the combination of street pants and overpants can reduce the flexibility you'll need to remain comfortable in the the sometimes contorted positions one can assume on a motorcycle.
Wearing a pair of jeans, for example, under a set of overpants can get uncomfortable after a couple of hours in the saddle.
Even the smallest pressure point that results from a bunched-up seam can make the difference between comfort and agony.
What About Leather?
Some motorcyclists choose a set of leather pants to wear on long rides.
But leather has its drawbacks also.
First, it's not always as flexible as it should be, depending upon the quality.
Also, it can get nasty when wet; it doesn't insulate that well; and it can get hot and sticky in warm weather.
The Roadgear Euro-Tec Pants
Roadgear offers a third choice — a set of textile pants that are designed to be worn alone.
The Roadgear Euro-Tec pants were designed for serious riding and to maximize comfort over long distances.
They include the standard high-quality Roadgear touches.
For example, they're made from DuPont's Cordura Plus, just like the Roadgear XCaliber jacket (review) and they have the same soft feel that Roadgear seems to be able to get out of Cordura.
The pants are also lined with the Reissa textile product that Roadgear uses in its clothing.
It keeps out the rain but lets the fabric breathe (and seems to work better than Gore-Tex, in my opinion). All of the seams are heat-taped and the pants are claimed to be 100% waterproof.
Features and Details
But it's the design of the Euro-Tec pants makes that makes them unique and they're also uniquely comfortable, especially for longer-distance rides.
The seams and the cut of the pants have been developed to minimize the possibility of "hot points" from overlapping seams or fabric.
Their unique feature is this: there are no pockets or zippers!
Because there are no pockets, zippers or extraneous fittings on the body of the pants, there's very little material that can bunch up and make for an uncomfortable ride.
This design also pretty much guarantees that they'll be water-tight, as there are no openings in the pants that can leak.
There are only 3 openings in these pants: one for your waist and two for your feet!
I didn't miss the pockets at all — I don't think it's a good idea to store a lot of junk in the pockets of riding clothes anyway.
If you end up sliding down the road, the last thing you want is to have that hard-as-rock cell phone between your gear and your ribs.
Besides, the matching Roadgear jacket has more pockets than I can use.
You would think that overpants would be easier or faster to get on than a pair of "dedicated" riding pants like these.
But I've found that it's faster to slip into a set of dedicated pants than it is to zip up and adjust overpants.
Comfort and Fit
The Euro-Tec pants pop right on and are immediately comfortable.
They sort of disappear from your consciousness when you're riding, which is exactly what a good set of pants ought to do on a long ride.
They have enough room in them to feel nice and flexible, yet they're snug enough to ensure that the included padding will stay in place in case of a crash.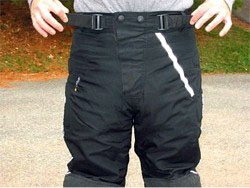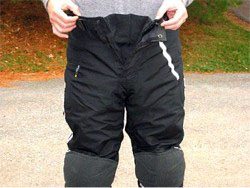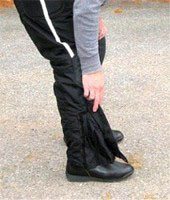 More Details
Let's take a look at a few of the unique features of the Euro-Tec pants.
The waist comes up nice and high, and has a strap on each side that makes them very easy to adjust by pulling on the extra length.
This uniquely designed belting system also helps keep the pants comfortable by eliminating the classic belt across the stomach area.
The two straps and buckles are pretty much out of the way on the front quarters of the pants.
There are no openings in the pants, which helps to both keep out water and prevents bunching of zippers or extraneous material.
Buttons and Zips
The fly is backed by a single piece of material, and it closes via Velcro and dual snaps.
The snap buttons are rubberized to prevent scratching the bike's finish.
The openings at the bottom of the legs are also backed by a single piece of fabric and are also sealed by Velcro. The leg openings can be easily adjusted to fit over riding boots or tucked inside.
Protective Features
The Euro-Tec pants also have Schoeller Keprotec Kevlar reinforced knees.
They have Dynatec reflective striping on the sides of the legs and across the back.
Note that the weather was overcast when we took these photos, but you can see the Dynatec stripes partially reflecting the camera's fill-flash in some of the photos.
The pants also have some padding at the knees and hips. Granted, it's not race-approved padding, but it's a good compromise between comfort and protection.
The pants also have a full-length DuPont Thermolite liner; it's removable via the internal attachments at the waist and ankles.
We're experiencing some pretty cold weather here in the Mid-Atlantic region, and I've been wearing these pants in 35-40 degree (F) conditions and they keep me nice and comfy.
In previous winters, my usual outfit was a pair of overpants over jeans, and when it dropped below 40 degrees (F), I'd add a pair of "Long Johns" to the mix; neither the jeans nor the overpants have any thermal lining.
This adds up to enough clothing to make me look (and feel) like an engorged tick!  Definitely not comfortable.
So it's a real treat to slip on just the pair of Euro-Tec pants and experience both warmth and comfort.
I have a pair of silk undies on my Santa wish list this year, so if I score, I'll wear them under the Euro-Tec pants when it gets REALLY cold.
Warranty
Like most Roadgear products, the Euro-Tec pants have a three-year warranty and these pants have received some very high praise from much of the motorcycling press.
Conclusion
Part of the thrill and excitement of motorcycling is challenging — and conquering — weather extremes.
To fully enjoy the experience, you need some high-quality gear.
A good set of pants like these can help you take your mind off the equipment and the weather and help to make the ride more enjoyable!
Part 1: Roadgear XCaliber Jacket Review
w

BW

 Review: Roadgear Euro-Tec Pants
Manufacturer: Roadgear
List Price (2004?): $239.90
Colors: Black
Made In: Pakistan
Review Date: 2004?
Note: Item provided by a retailer, distributor or manufacturer with these Terms and Conditions.
Note:
 For informational use only. All material and photographs are Copyright © webWorld International, LLC since 2000. All rights reserved. See the webBikeWorld® 
Site Info page
. Product specifications, features and details may change or differ from our descriptions. Always check before purchasing. Read the
Terms and Conditions
!
Owner Comments and Feedback