Nice socks for wearing under motorcycle boots.
But I'm not sure if they perform any better than cotton socks.
Also, the fabric pilled after just one or two wearings.
We've seen many interesting products come and go over the years, but coconut socks have to be about as far out there as it gets.
And no, it's not April 1st yet — these are for real!
Roadgear sent us a couple of pair and I have to admit I was pretty skeptical at first. I mean, who wouldn't be?
The socks aren't exactly made from 100% coconut, of course; they use "Cocona" fibers, which are "derived" from coconut shells and "infused with activated carbon from the water filter industry".
I know, it sounds weird — but stay with me here, because they actually work.
The formula includes 48% Cocona, wich 85% used in the foot. The rest includes 2.5% Spandex, 6% Nylon, 2.5% silver yarn (believe it or not) and 41% regular old cotton.
The silver is apparently one of the key ingredients, because one of the biggest claims for the coconut socks is their ability to control odor (not that I've ever had that problem, of course…).
And I think the silver has something to do with this, along with the activated carbon. And no, they don't smell like coconut, but the way…
Each molecule of activated carbon in the fabric is claimed to have a huge amount of surface area, which helps pull moisture from the skin while it absorbs odors and, as a bonus, also protects against UV radiation.
Now, I have about as many things on my mind as the next person, and UVA an UVB protection in my socks wasn't high on my list, but what the heck, if it's there as a benefit, why not?
Roadgear Coconut Socks
Roadgear says that the socks were in development for two years.
The criteria that are important for motorcycle use included sweat elimination, evaporative control, odor resistance, control of micro-bacterial growth, long distance comfort, UV protection and longevity — and a natural fiber.
They teamed up with Cocona Fabrics in Colorado (also, by the way, the home of Roadgear) to develop the Roadgear Coconut Socks.
The socks are calf height, which isn't my preferred length, but I discovered that they can be easily rolled over to fit them down to whatever length is comfortable.
I have found however that keeping them at calf height — almost to my knees, actually — does make it easier to slide on a pair of leather riding pants (or slide them off), and the socks do feel much better than ankle height socks when worn under a pair of high race boots.
The Spandex in the coconut socks does a good job of keeping them flexible and it offers some support. I'm pretty skeptical of most claims, but I have to admit that my feet definitely felt noticeably drier when wearing these socks; more so than the Tech Sox we reviewed a while ago.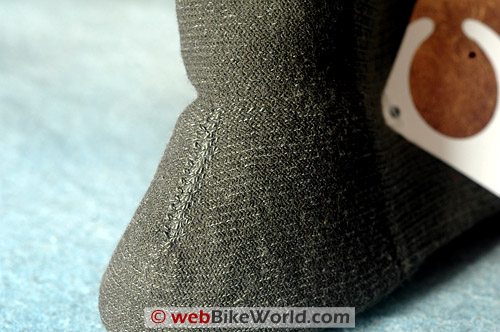 On the Road With the Coconut Socks
The fabric in the Coconut Socks is slightly thinner than I prefer, but that does make them better suited for use in hot weather.
In winter, I usually wear a pair of heavy wool "ragg" socks — wool has the most amazing ability to keep air circulating through while still keeping me warm, and it supposedly keeps its insulating abilities when wet.
But wool ragg socks are way too heavy for anything other than the coldest weather.
Roadgear probably realizes that there may be some skeptics out there, so they're offering a no-questions-asked 30-day refund policy on the coconut socks if you don't like them.
And they're also offering a one-year warranty on the socks because of their belief that the coconut socks are very robust.
Conclusion
The list price for these socks may seem a bit steep for those used to buying 3 pairs of polyester socks at Box-Mart for $4.99. But anyone who is serious about socks — as I am — knows the value of a great pair, and 20 bucks isn't out of line if they do the deed.
I think Roadgear's new Coconut Socks do just that, and a couple of pair would be perfect for that next motorcycle tour.
More webBikeWorld: 
REV'IT! Moto Touring Socks Review
Tech Sox Review
Holofiber Socks Review
w

BW

 Review: Roadgear Coconut Motorcycle Socks
Manufacturer: Roadgear
List Price (2007): $19.95
Colors: Green
Made In: U.S.A.
Review Date: December 2007
Sizes: Men 8-9, 10-11, 12-15; Women 7-10.
Note:
 For informational use only. All material and photographs are Copyright © webWorld International, LLC since 2000. All rights reserved. See the webBikeWorld® 
Site Info page
. Product specifications, features and details may change or differ from our descriptions. Always check before purchasing. Read the
Terms and Conditions
!
Owner Comments and Feedback
---
From "D.C." (November 2013): "In the winter try ironing them before you put them on, your feet will stay warm all day."