Roadgear CarbonMaxx Gloves Review Summary
CarbonMaxx Gloves Image Gallery
A summer vented glove that actually offers some protection.
Unique hybrid gauntlet is long on one side and short on the other to help maximize air flow, but the tradeoff is it can interfere with some jacket cuffs.
Roadgear has done it again — they sure seem to know how to make gloves that work.
I don't think the company has the brand recognition of, say, a Teknic, Held or Olympia (among others), but somehow or another, they're able to come up with the secret formula for making gloves that function better than most of the Big Boys.
The Carbon Maxx gloves have a sort of "bobber" motorcycle style; that is, they're cut down and stripped to the basics but they have a mean-looking attitude.
I didn't think it was possible to make a vented leather glove that offers, oh, about 85% of the protection a full race glove provides, while still allowing lots of air flow to keep my hands from toasting in the summer, but here they are.
While the Carbon Maxx gloves probably won't yield the same outright protection as a full-gauntlet race glove, surely they have more to offer than those flimsy textile summer mesh things that make me wonder whether I'd be better off with a pair from the garden shed.
The Carbon Maxx gloves have a fair amount of double-row stitching along the palms, with an extra section of suede-like leather under the grip at the upper part of the palm and under the forefinger/thumb area.
The "hybrid" gauntlet extends under the wrist on the bottom side and includes four small padded sections, but the top side of the wrist is pretty much your typical short "stunt" glove length.
This is actually a decent compromise, because my feeling is that if I hit the ground, it will probably be spread-eagle with my hands down, and some extra protection under my wrists is important.
The compromise with this design is that like most short-gauntlet gloves, they don't quite work with some types of motorcycle jackets, and the cuffs can get bunched up around the wrist of the glove, which now doesn't have a gauntlet to cover the end of the cuff.
In reality though, this so far has not bothered me, nor does it seem to affect the functionality of the Carbon Maxx gloves — it's just that it can, at times, look rather strange, and in some cases, I suppose the jacket cuff can bunch up enough to interfere with riding.
The gloves have a single closure; it's a Velcro strap that secures the glove up and around the inside of the wrist, which is also a unique solution that I haven't seen before.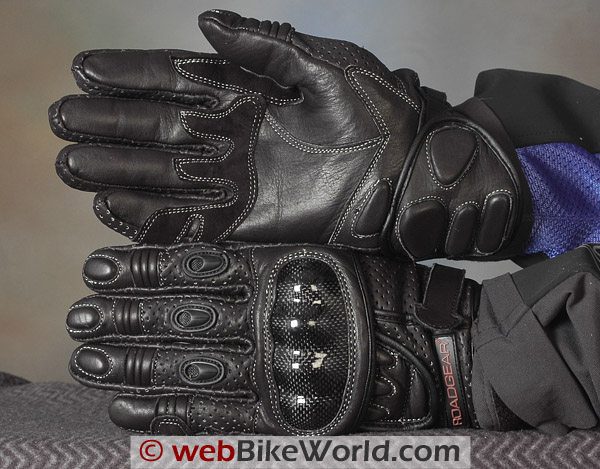 Protectors and Protection
The backs of the Carbon Maxx gloves are made from fully perforated leather, with a separate floating carbon fiber knuckle protector covering another section of padded leather towards the outside of the hand.
The carbon fiber section is padded in back and has enough room to move with my hand, so it doesn't interfere at all or put undue pressure on my hands like some other very expensive gloves I can think of.
The fingers have padded leather sections over the first, second and third finger tips and articulated leather sections over the forefinger knuckle.
The first, second and third fingers also have combination protectors and vents over the second knuckle, but like many gloves lately, these protectors are made from some type of soft rubber, and I'd have a hard time believing they wouldn't grind down to powder pretty quickly during a slide.
But I look at gloves and most protective gear as a one-time deal. If they do the job and save my hide, the investment would have been well worth it, and I'll replace the entire lot — from helmet right down to boots — if necessary.
As far as I'm concerned, protective clothing is considered not permanent but temporary and sacrificial and it has but one life to give, and it had better be for me. I'll honor it by replacing it if I survive.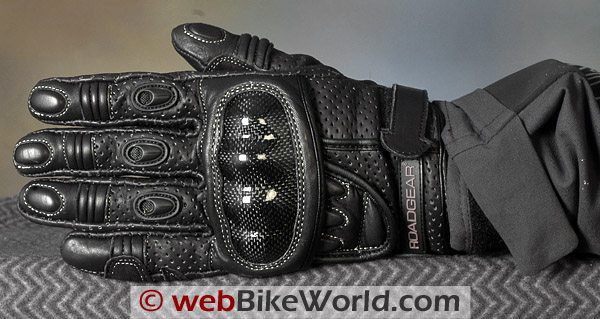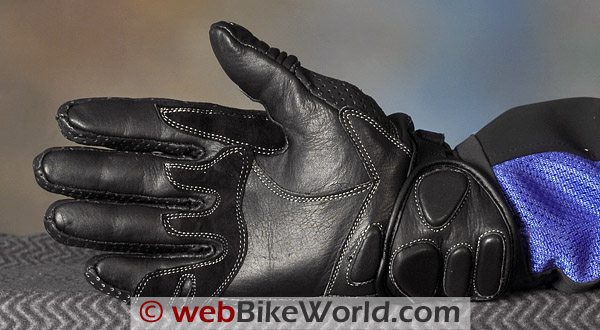 Bottom Line on Protection
So the lack of pure ultimate protection doesn't bother me.
It's all a matter of the risk calculus. If it's hot and I want to ride, I'll choose clothing that provides the most air flow, and sometimes that means compromising a bit on outright protection. I'm making a conscious choice to balance comfort with risk and reward.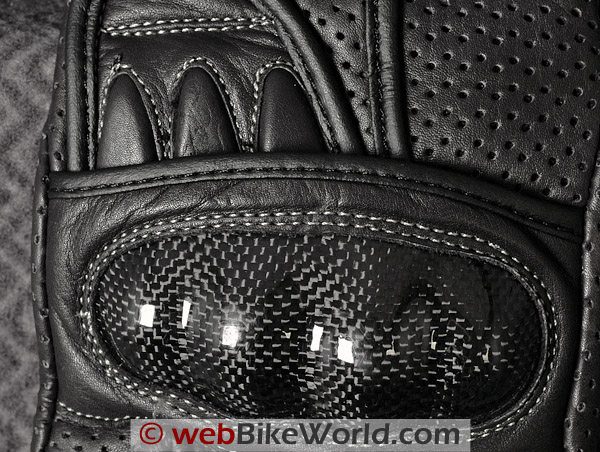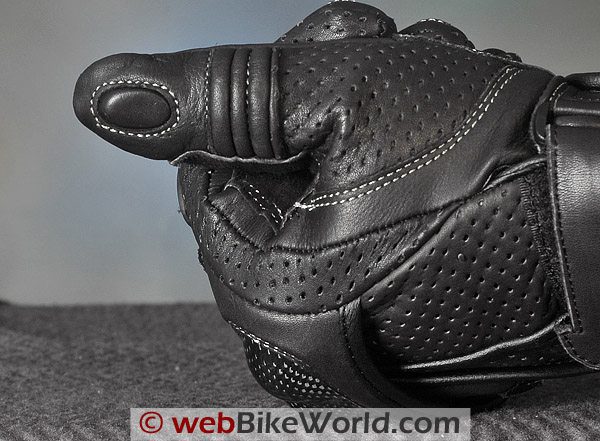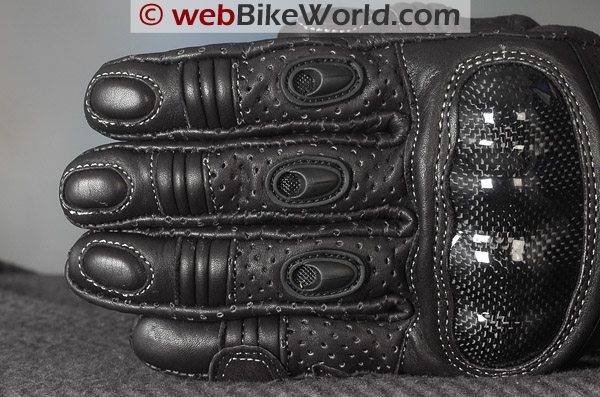 Comfort
But enough philosophy; the Carbon Maxx gloves are also pretty comfy. They're lined with some type of flannel-like material that feels nice and soft.
I can feel a few of the seams inside on my fingers, due to the modified box section construction with internal stitching, but overall, they're a comfortable fit and the size large shown here fits me perfectly, with just enough room in the fingertips so they don't bind.
Also, the lining doesn't extend completely around all of the glove and the fingers — there are a few places inside where the seams and the leather are open.
This is the only gripe I have with the Carbon Maxx gloves — when riding a Sportbike that puts weight on my hands, I can feel the seams in between my thumb and forefinger, and when I take the gloves off, I have a pretty big imprint of the seams in my hand.
It's a minor quibble actually, but prevents me from exclaiming that the Carbon Maxx gloves are 100% perfect. In all other respects though, including the very soft leather, I'd say that they provide a nice combination of good air flow with a decent amount of protection.
I can't think of another pair of summer or hot-weather gloves we've reviewed that can beat the Carbon Maxx equation.
The price is higher than those 30-buck cheapie textile no-name shredders you find on the rack at the corner YamaKawaZuki dealer, but worth it, in my opinion.
Conclusion
The Roadgear Carbon Maxx gloves offer a lot of air flow without compromising too much protection. The leather is soft and for the most part, the gloves are comfortable and immediately feel broken-in. Anyone looking for good protection in a hot-weather riding glove should definitely have these on their wish list.
w

BW

 Review: Roadgear Carbon Maxx Gloves
List Price (2008): $66.90
Made In: Pakistan
Colors: Black
Sizes: XS to XXXL
Review Date: June 2008
Note:
 For informational use only. All material and photographs are Copyright © webWorld International, LLC since 2000. All rights reserved. See the webBikeWorld® 
Site Info page
. Product specifications, features and details may change or differ from our descriptions. Always check before purchasing. Read the
Terms and Conditions
!
Owner Comments and Feedback
---
From "G.G." (9/09):  "So far I have had less than 1,000 miles with these gloves and here's what I think. First off, these gloves flow a lot of air. I like the semi-gauntlet design. It makes me feel as if Roadgear really is trying to protect my hands with these gloves.
The leather is soft as if it's already broken in.
However, I have a few gripes that I feel weren't elaborated in the above articles. These gloves immediately transferred black dye to my hands, more than I am used to from black leather gloves.
They are still transferring black dye to my hands every time I wear them.
The internal stitching is mildly uncomfortable because it is sharp and pointy feeling between the fingers. There is one area behind my thumb where I feel that if I pulled on the material to hard the glove might rip open. I feel there needs to be more double stitching on this glove.
The leather on the palms is peeling off in layers and sticking to my hand grips. I can pick tiny chunks of leather off my grips now. As "C.M." mentioned, there is some rough stitching under the thumb pads on the back of the thumbs of the gloves.
This pokes into your thumb about 8mm above the thumb nail and can be irritating. I took care of this by taping small pieces of duct tape over those seams that are under the thumb pads.
Keep up the good reviews wBW!"
---
From "C.M." (6/08):  "I picked up a set of these at the (Roadgear) booth at the Dallas IMC show last November and finally have had a chance to try them out since summer is officially here in South Louisiana.
The gloves are very cool to wear, great airflow even on my ST-1300. The workmanship and construction are easily as good as my cold weather Roadgear gloves that I got at the IMC show 3 years ago, (see a pattern here?).
I also have a 3/4 length winter jacket from them that I like so I am always interested in Roadgear products.
There is only one "hot" point in this set, the right thumb rubs against the inside stitching when holding firmly to the throttle and is causing a callus on the inside edge of the thumb joint.
My other gloves do the same thing so this is not a big thing.
It was 94F last weekend and they were great, I will be using these all summer and retiring my older perforated leather gloves that are not as cool and in my opinion not as protective as the RG carbon gloves.
They did transfer a lot of black dye to my hands the first couple of uses, but that has stopped.
Great glove at a good price."