Waterproof Motorcycle Gloves Review Summary
Waterproof Motorcycle Gloves Image Gallery
I've found my new favorite winter motorcycle gloves!
The Roadgear Boss gloves are warm, comfortable, waterproof and windproof.
They have a generously-sized gauntlet with a secondary wrist closure for security.
An old pair of Belstaff winter motorcycle gloves had been my favorite for many years.
They were very comfortable and they kept my hands warm, which is just about all I need for winter riding.
But they're getting old and I figured there must be a better replacement with more up-to-date, high-tech features to keep me warm and dry.
The Belstaff gloves also had a fixed width, non-expandable gauntlet. This meant that the gloves could barely fit over the cuffs of my winter riding jacket.
It also doesn't take much of an effort to pull them from my hands by the fingertips, so no doubt they'd also go flying off in a crash, negating what protective value they might have to offer.
I've been on the lookout for a replacement pair for the last couple of seasons, with no luck. Nothing seemed to be as comfortable, and comfort is one of my most important criteria.
Maybe my fingertips are extra-sensitive or something, but I really dislike bumps, wrinkles, stitching or any other type of irregularity inside a glove's fingertip.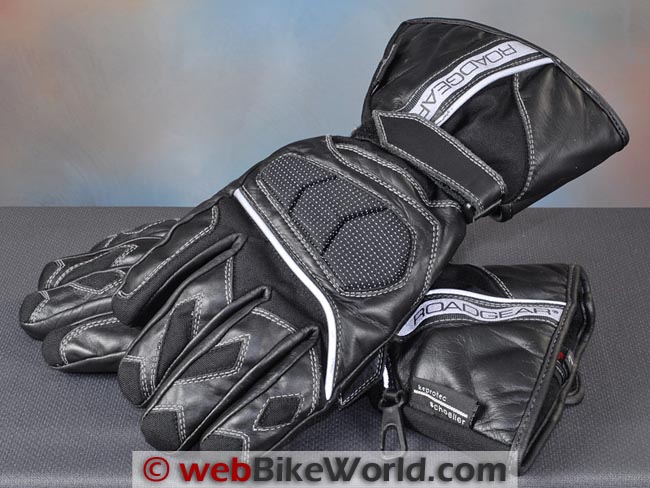 Roadgear "Boss" Waterproof Gloves
Then I came across these Roadgear "Boss" riding gloves. They feel just like my good 'ol Belstaffs inside; nice and comfy. The size large fits me perfectly, which is amazing, because finding a pair of motorcycle gloves that fits is always problematic.
The leather on the Boss gloves is soft and pliable, which is helpful for cold weather riding so that the glove conforms to the hand and keeps it cozy.
The palms and fingers of the Boss are made from leather, with a few sections of DuPont's ubiquitous Cordura fabric (in this case, Cordura Plus) used in the gauntlet and the back of the hand.
There's lots of leather surface area on the gloves, and some nice soft padding on the back of the knuckles, so they should offer good protection.
The leather is doubled up on the palm and up around the thumb-forefinger area and also on the side of the pinky finger, and all of the leather is double stitched.
Whoever designed these gloves knew what they were doing, because there's protection in the right places, but they made sure the gloves were flexible and pliable, which goes a long way towards making them comfortable.
Details and Features
The Roadgear Dynatec reflective logo appears on the back of the gauntlet, and there are two strips of reflective piping along the back of the gloves.
These mitts really light up when energized by a headlight at night, as you can see from the photo.
The black padding on the back of the knuckles is also made of a reflective material, but you'd never know it unless light is shined on it.
I don't know how they do this, but it's pretty cool. You can see from the photo, it almost looks like it's illuminated from within.
The gauntlet opens to about 130 mm (~5″) in diameter, and it has a big, wide piece of "hook and loop" fastener to keep it closed. The back of the wrist also has a separate closure with "hook and loop" which can be snugged up nice and tight. The ability to secure a glove at the wrist is am important safety feature.
Gloves that can't be fastened in this area can usually be pulled off the hand with little effort, meaning that the gloves will probably be the first to go in the unfortunate event of an accident.
Since the best glove in the world won't do any good if it doesn't stay on your hand, make sure you purchase gloves with this feature and also make sure you cinch them up before every ride.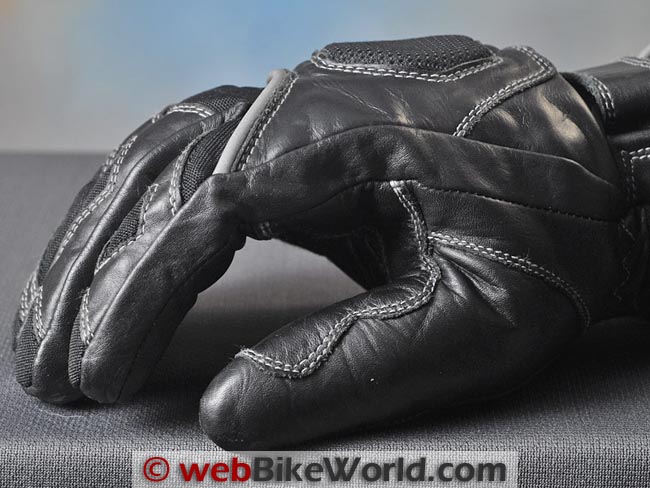 Waterproof Gloves?
All this is great stuff, but the surprise feature of the Boss gloves is their waterproof Hipora liner. Hipora is a waterproof, windproof and breathable membrane.
We've tried other brands of similar fabrics that are claimed to be waterproof, but not all of them are successful. But the Hipora liner used in this glove really seems to do the job.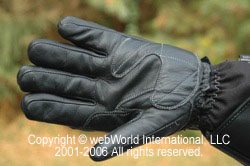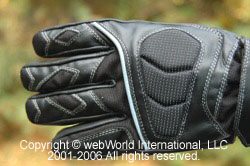 The Boss glove uses a Hipora glove-shaped insert sewn between the liner and the Boss's outer shell. You'd never know it's there, but it does an amazing job of wind-proofing and water-proofing the glove.
I have definitely noticed their ability to block the wind, especially when riding an unfaired bike with my hands out in the slipstream. But the gloves never get sweaty inside, thanks to the Hipora liner.
Although the Hipora liner proved successful as a wind blocker, I didn't believe that it could actually make the glove waterproof.
Many motorcycle clothing manufacturers make wild claims about the waterproof ability of their products, but we've been let down too many times to take them at their word.
So we devised an unscientific test. We filled a bucket with water and B.C. put on the Boss glove and stuck his hand in the cool liquid. We figured it would be about 30 seconds before the cold water would slowly start to creep in.
The 30 seconds passed, then a minute, three minutes, ten minutes…nothing!
Dry as a desert! We left the glove submerged in the bucket and came back about 30 minutes later and the glove was still dry.
The glove weighed 135 grams (4-3/4 oz.) when dry. After soaking for all that time, it weighed 253 grams (8-7/8 oz.). So it just about doubled in weight — all that water must be in there somewhere.
I took the glove out of the water after 30 minutes or so, but as I sit here now, about an hour later, I can stick my hand in the glove and it's still dry. Very impressive!
I'm not sure if the bucket of water test mimics reality, but I'd guess that if the Boss glove can stay dry after being submerged all that time that it should do pretty well in any type of rainstorm I'd ever want to ride in.
That it can stay dry inside without making my hands sweat is a testament to modern science.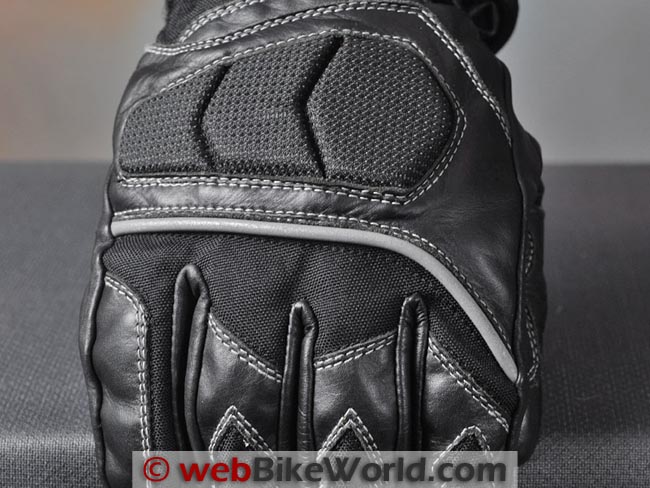 Conclusion
The Roadgear Boss motorcycle riding gloves have proved to be warm, comfortable, windproof and waterproof. The price is reasonable considering the features.
Roadgear has been around for a long time and they stand behind their products, so if you're in the market for a good pair of winter riding gloves, the Boss model is definitely worth checking out.
UPDATE: It's now nearing the end of 2012 and I still own — and frequently wear — the Roadgear Boss gloves!
Actually, I was very surprised to learn that Roadgear is still making these, which is a testament to their popularity and usefulness.
Whenever the weather turns cold and/or wet, these are the gloves I reach for — even after all of the wonderful gloves that we have reviewed on webBikeWorld since then.
So, going on 8+ years, the Roadgear Boss gloves are highly recommended!
w

BW

 Review: Roadgear "Boss" Waterproof Motorcycle Gloves
List Price (2012): $89.90
Made In: Unknown
Colors: Black
Sizes: XS-3XL
Review Date: October 2004
Note:
 For informational use only. All material and photographs are Copyright © webWorld International, LLC since 2000. All rights reserved. See the webBikeWorld® 
Site Info page
. Product specifications, features and details may change or differ from our descriptions. Always check before purchasing. Read the
Terms and Conditions
!
Owner

 Comments and Feedback
---
From "L.M." (6/10): " I purchased these last year at (the) Roadgear booth at Americade 2009 along with some other Roadgear apparel.
First off, these gloves work well in the temperature range they were designed for. They are not overly bulky and offer decent enough protection. They are listed as being waterproof and I know they stood up well to (the) webBikeWorld bucket test but in another recent trip to Americade this year they failed miserably.
In a 1 hour downpour, they became completely saturated taking a good two days to dry out. And this is on a fully faired bike with ample hand protection. The same can be said for my Roadgear XKJ boots which are also claimed waterproof and failed equally so.
I've met the owner and crew from Roadgear and they are very passionate about motorcycling and their product line appears to be well made. Maybe I got stuck with two sets of duds and in all fairness, Roadgear is not the only company to claim a product is one thing and then have it fail or not meet up to the standards claimed.
However, as much as I am interested in another of their XKJ products, because it too is listed as waterproof, I would be very apprehensive about purchasing any additional items based on their claim."
Editor's Note:  The Boss gloves were first produced in 2004, so it's also possible that, depending upon how long your gloves have been on the shelf, age has caused a deterioration of the water-resistant liner?
---
From the "Road Pirate":  "I ordered these to replace another pair of another webBikeWorld reviewed glove, the Orina 118. I got those less than a year ago and when the zippers failed recently, they went to the truck tool box. In general they were a disappointment from the start (air leaks, zipper tabs, loose stitching).
The temperature was 41F here in Northern California when I departed for work. A good test for a winter glove, as at 70 MPH, the wind chill is just about freezing (32F). I also removed my "Hippo Hands" to make sure the evaluation of the gloves was not skewed in any way by the big wind blockers.
I have to agree with the comments by "L.S." and thus give these gloves a (Bare 50F+) rating. This means that riding at speed, without any electrics or coverings (bare), these gloves should be worn above 50F start off temperature.
I wore the Orina's, with the Hippo Hands, down to 40F without any chilly finger tips at least and expect these will do at least as well. I would also think that if you have fairing, hand guards, or over-gloves that you could go lower as well. My ratings keep in mind that many of us start with a bare bike.
I would like to say that I found the workmanship and materials top quality, and that these are excellent fitting winter motorcycle gloves."
---
From "L.S.":  "I recently purchased the Roadgear "Boss" Gloves reviewed by wBW and find they work well w/two exceptions –
1) I have nearly an hour commute to work and if the temp is in the mid 40s as it can get in the early a.m. in Ga. this time of year, the last 15-20 mins. of my commute are done w/chilled finger tips. That's why I'm interested in … battery heated gloves.
2.) The outer material of the glove ( which I assume is the waterproof part) is kinda slick and I find I have to hold the bar grips just a little tighter than I do w/regular gloves, something that may exacerbate the chilled finger issue."