The 320km journey today from Big Bear Lake to Las Vegas displays the vast diversity of American culture, climate and terrain on offer to the motorcycle traveller.
Day 2 of our 3200km journey from LA to the Sturgis Motorcycle Rally starts in the tranquil lake-side settings of Big Bear Lake, a family-oriented resort area that is an alpine village in winter and in summer is a temperate respite for Californians seeking wholesome family activities such as cycling, hiking, water skiing, kayaking and, of course motorcycling.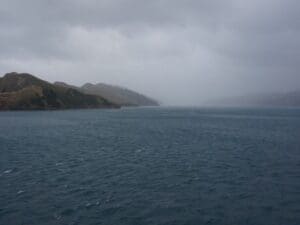 The roads up to and around Big Bear Mountain are a delight of twisting, winding smooth tar. There are also myriad dirt trails for the more adventurous rider.
Our jaunty ride this morning was a symphony of scraping floorboards, rising and falling engine revs and crackling and burping exhaust on the Victory Cross Country Tour (sorry, no photos folks, as it's a 2015 model that is under a press embargo until July 27) as we swooped through the countless bends.
But, as we descended 4000 feet in altitude, it felt like we had entered hell's inferno and the roads went from playfully challenging to straight and boring, with searing heat and shimmering mirages.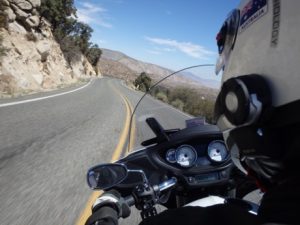 From low 20s this morning, the heat almost doubled and our brains and loins slowly fried in the desert sun. We hit a high of 104F on the Victory's dashboard near the Death Valley exit before dropping to a relatively pleasant 91F as we crested a long rise to 4000ft, heralded by roadside signs of the 10 Commandments, followed by billboards for the Crazy Horse nudie revue.
From alpine village to Mojave desert, the terrain could not have been any more diverse. We could have spiced it up just a little by cutting through the Mojave National Park, but a rider yesterday warned us of sand drifts across the road. And with more than half a tonne of bike, rider, passenger and luggage, we thought it wise to choose the interstate through Barstow, another town mentioned in Nat King Cole's much-covered Route 66 song. Not that there is much left of the famous road, only memorial signs and tourist souvenirs.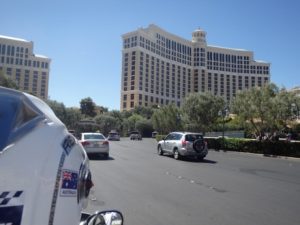 From a family alpine village this morning, we arrive in the decadent, hedonistic strip in the desert that is Las Vegas – Disneyland for adults! It's not as decadent as it used to be and the tourist spruikers declare it now has family values. But from the moment a sidewalk hustler presses a business card into my hand with a picture of a naked woman on it and a phone number for an "escort", we are in no doubt about the Vegas underbelly.
We'll be staying at the Bellagio a couple of days, trying to discover what the city has to offer the motorcycle rider, but so far, we have't seen many people as silly as us out riding in the scorching desert heat.
If you see us around in our MotorbikeWriter t-shirts and caps, please say hello.