The "Raindrops" song from the movie Butch Cassidy and the Sundance Kid is playing in our minds as we head for Butch and Sundance territory today with more wet weather on the radar.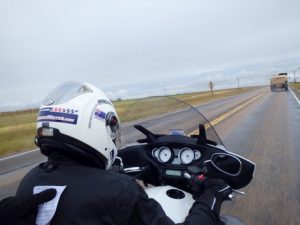 This is day 11 of our ride to the Sturgis Motorcycle Rally in South Dakota aboard a 2015 Victory Cross Country Tour with almost 300 miles of roaming in Wyoming from Laramie to Buffalo.
We decide on this "boring" run to the northwest to escape flooding rains that are sweeping southeast. Besides, Buffalo is the home of outlaws Butch and Sundance, several important Native American nations, plus plentiful moose, deer, bear, mountain lion and, of course, buffalo!
The morning in Laramie starts out cold and wet again after yesterday's massive hail storm. We both have rain jackets and gloves, but no rain pants or boots. It doesn't worry me as the Victory fairing and windshield keep me dry, but Mrs MotorbikeWriter is copping a fair bit of rain on her legs and boots so we head to Walmart for some angler's waders after vainly trying a local motorcycle shop.

No expense spared to keep Mrs MBW dry: $14.95 and doesn't she look great! I also looked for "Rainex" as the windscreen isn't beading off the rain, but they didn't have any. I bought a chamois instead to dry the seats and used it to clean the windscreen. Guess what? The rain now beads off brilliantly. The screen was probably covered in road grime and just needed cleaning.
So now that we are all prepared for the rain we head north and guess what! The rain stops!

The roads on the high plains of Wyoming are straight and dull, but the pristine scenery is surprisingly interesting. This is Sioux, Arapahoe, Black Foot and Crow country. These are the treeless badlands, home to wild broame grass and sagebrush.
It is stark and it is beautiful. Sometimes a long and tedious ride puts things into perspective. The sameness, the pristine landscape and the unspoiled beauty cleanses the mind.

And then a whirlwind grabs the handlebars and hoists the bike viciously to the left, then again to the right and really snaps you out of your stupor. That's "interesting" at 80mph (almost 130km/h), the posted speed limit here!
With the snow-capped mountains of Big Horn National Park to our left and the rolling high plains to our right, we drop into the ever-so-quaint Normal Rockwell-esque town of Buffalo.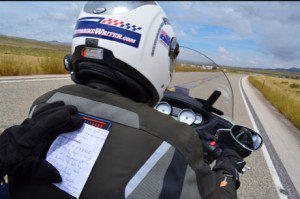 Finding our way here has been easy. There are about four turns. Some of our other days have been a little more complex, but so far we haven't needed maps or a GPS. We've been using Google Earth at night to plot our route, then jotting down some notes which Mrs MBW reads to me. It's all very lo-tech, but it works because American roads are so well signposted.
If you do get lost, stop at a small town and ask the locals. they are more than happy to show you the way.
Our lodgings at Buffalo are in Mansion House Hotel where our hosts Pam and John are so welcoming with cups of tea and more travel advice than you can take in. We now have a couple of nights here with a round trip over Big Horn tomorrow and some cowboy boot and belt shopping for Mrs MotorbikeWriter.