New Road and Hazard Design Study Released; Includes Worksheets for Road Safety Audits
The Association des Constructeurs Européens de Motocycles (ACEM) was founded in 1994 and represents the major motorcycle manufacturers in the European Union (either European or producing in Europe), as well as 12 associations at a national level.
They have just released a study entitled "Guidelines for PTW-Safer Road Design in Europe" in .pdf format (92 pages).  The report discusses best practices for road design for motorcycle and scooter safety in Europe, but it can also be used in other parts of the world as a guidebook.
The number of accidents in which "powered two-wheelers" (PTW's, or motorcycles and scooters) are involved is of major concern to European governments.  Motorcycles and scooters differ in their use of the road in a number of ways from other vehicles and riders have different needs.
Predictable road geometry, good visibility, obstacle free zones and good quality road surface with high levels of skid resistance are some major examples.  While important for all road users, they are essential for motorcycles and scooters.
The chart below indicates that motorcycle accidents involving road hazards are the second largest percentage of accidents in Europe.
Many of these accidents are caused by shortcomings of the roads and highway infrastructure.  Frequently, a motorcyclist gets injured or even killed due to deficiencies of and obstacles alongside the roadway.
To understand both nature and causes of motorcycle and scooter accidents, ACEM originally conducted the MAIDS (Motorcycle Accidents In Depth) study, which is claimed to be "the most comprehensive in-depth data currently available for Powered Two Wheelers (PTWs) accidents in Europe."
The investigation was conducted during 3 years on 921 accidents from 5 countries using a common research methodology".  This project was supported by the European Commission and other partners.
This new report, called "MAIDS2", is an extensive study in sampling five areas in Europe.  It indicates that – after the passenger car – the roadway itself is the obstacle that a motorcycle or scooter is most likely to be involved with in a crash.  This conclusion emphasizes the need for a thorough analysis of elements of infrastructure.
Recent publications in The Netherlands, Norway, The United Kingdom, Belgium, France and Germany show that a civil engineering handbook may well be a helpful instrument for improving traffic safety for motorcycles and scooters.  Particularly by emphasizing engineering items to consider in the appropriate design and maintenance of the infrastructure.
Therefore ACEM, taking into account the conclusions of the MAIDS study, took the initiative to integrate the existing national handbooks into one European handbook.  To further broaden the scope of this handbook information of two Eastern European countries – Poland and Bulgaria, two areas in which personal transportation is expanding rapidly – are included whenever deemed appropriate.
This handbook describes the specific needs of riders and contains guidelines for those responsible for road design and road maintenance. It includes recommendations and examples from all over Europe.
Predictable road geometry can be achieved by a good road design with consistent, clear traffic signs and road markings, and by improving traffic management, motorcycle and scooter riders can be better guided on the road.
In addition to road design and traffic management two other aspects have been included in this handbook: the use of a formalized and systematic assessment of road facilities and road safety
campaigns considering motorcycles and scooters, both are a vital ingredient in a mix of initiatives to address motorcycle and scooter safety.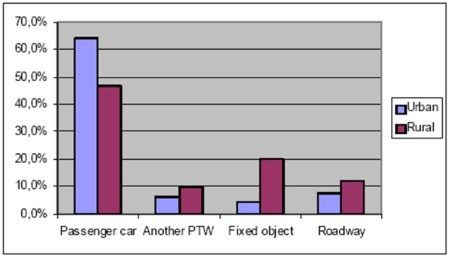 Motorcycle and Scooter (Powered Two Wheelers) accident levels.
More:  Books about motorcycle riding skills and techniques on the wBW Motorcycle Books Page