THE FIRST RIDE OF THE SEASON
The Rio Vista Delta Ride 2011, on Saturday, March 5, 2011, was just the latest installment of this popular ride through the scenic & historic Sacramento River Delta country, northeast of the Bay Area.
NEW MEMBER WELCOME
I just recently joined the BSAOCNC (BSA Owners Club-Northern California), and volunteered myself right into a spot on the Rides Committee, so I felt obligated to go on this first ride of the season on their Ride Calendar. It's not like you could have stopped me…after months of cabin fever. I'd been rushing to try to get my 1979 Triumph T140D Bonneville Special project bike going in time. But alas, it didn't happen. I got it running, but not nearly well enough to make the trip. It came down to the choice of not going, or…or…riding my Harley. There, I said it. But, I'm glad I did, because the weather was perfect, the scenery incredible, the company enjoyable, and the ride was a blast! And, in the end…it's all about the ride.
MEET ME UNDER THE BRIDGE…
As the Rio Vista Delta Ride 2011 begins, we meet in the quaint little town of Rio Vista, next to the bridge that crosses the river. A good little group of BSAOC diehards were already there when I pulled in on my Dyna. After some casual time, we had a quick meeting then hit the road.
---
The Rio Vista Delta Ride 2011: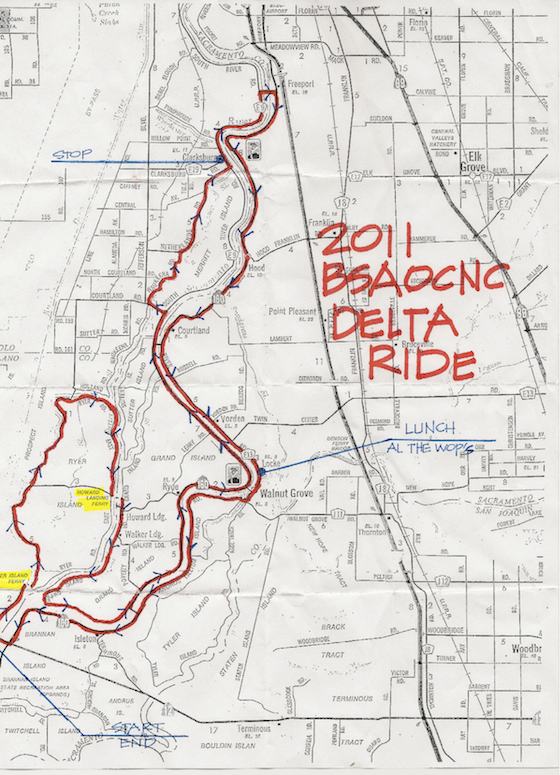 THROUGH HILL & DALE ALONG OUR MERRY WAY…
As you can see from the map above, the Rio Vista Delta Ride 2011 took a meandering 88-mile loop from Rio Vista up along the west bank of the Sacramento River, then down the other side.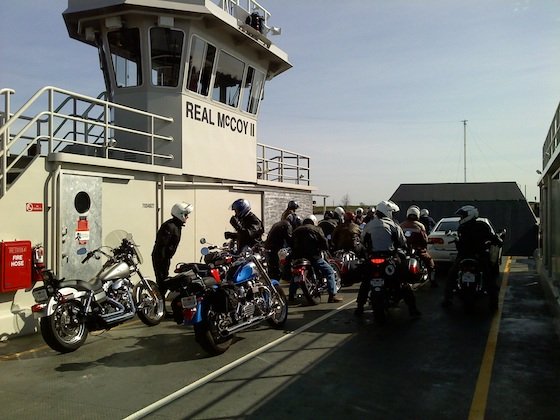 BRIDGES & FERRIES…
Our convoluted path took us along the twisting banks of the river, over more bridges than I can count & 2 ferries. This is the first one, "The Real McCoy"…really.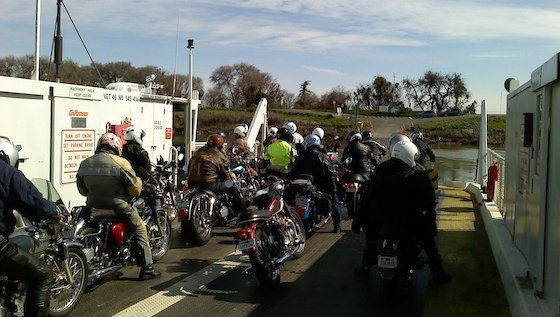 DID I MENTION THE FERRIES?
Here we sit on ferry #2 halfway across the river. I've gotta' tell you, this was one cool trip!!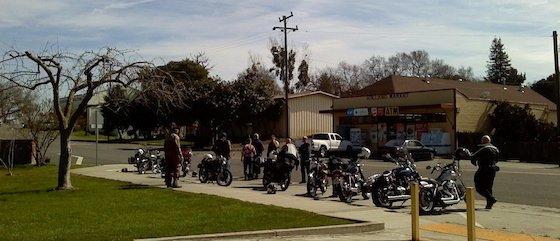 We take a break in beautiful downtown Clarksburg. You couldn't have asked for a nicer day. Or better people to share it with, on this Rio Vista Delta Ride 2011.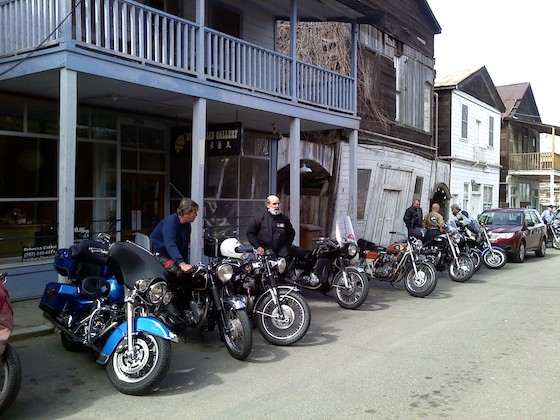 We stop for lunch in the tiny, but very historic Delta town of Locke. Built by the Chinese who also built all the levies throughout the Delta 100 years ago, this quaint little burg is loaded with charm. Check out how the buildings are leaning.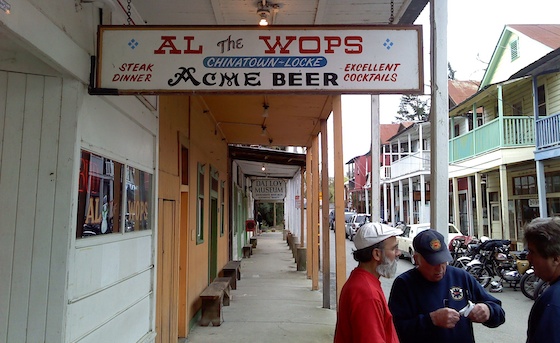 The Rio Vista Delta Ride 2011 converges for lunch on "Al, The Wops" restaurant & bar. Nice place, good food, lots of charm & about a thousand dollar bills stuck to the ceiling.
SO LET'S SEE SOME BIKES, ALREADY!
Since we at Classic-British-Motorcycles.com are really all about the bikes, we couldn't resist taking some pictures of the hardware. Not many pictures of people on this trip, but man we got the bikes covered…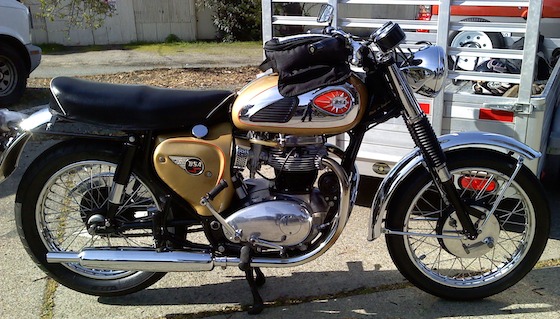 A good & true member of the BSAOC…he rides a Beezer!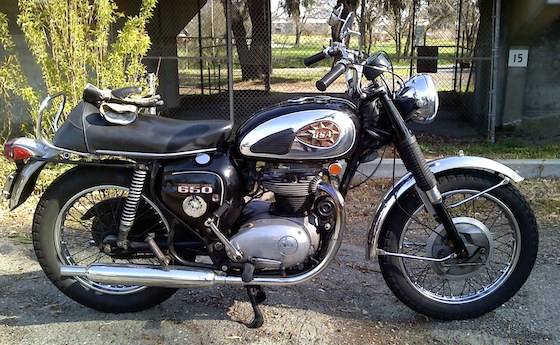 Another fine BSA owned by another fine BSAOC member.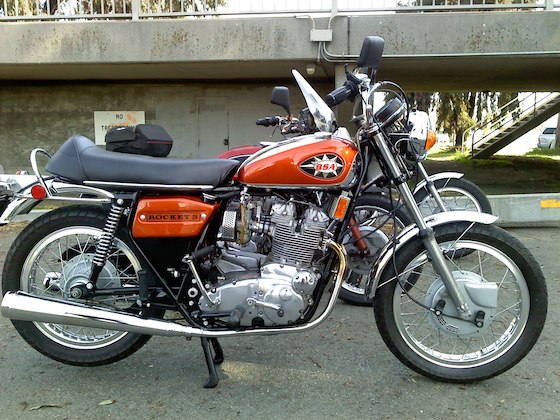 And as long as we're talking BSAs, how about this drop-dead-gorgeous Rocket 3?!
Seen on the ferry, Jerry Dahlinger's sharp 1972 BSA ROCKET 3 looks 'ready to go' with its low bars & British-spec "shoebox" tank.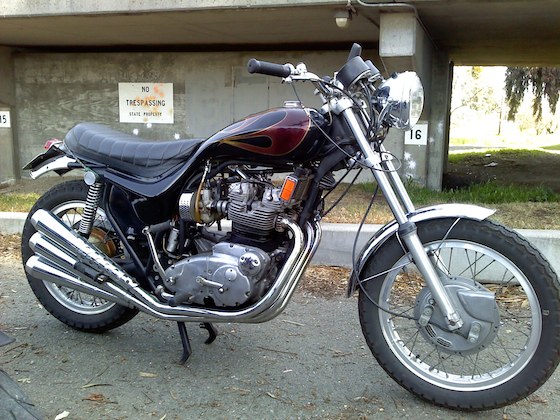 Now there's something you don't see everyday: A Triumph Hurricane that's been repainted, with flames no less. But hey, it runs great!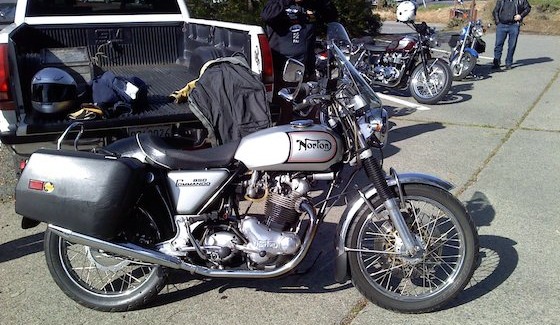 A nicely appointed Norton 850 Commando.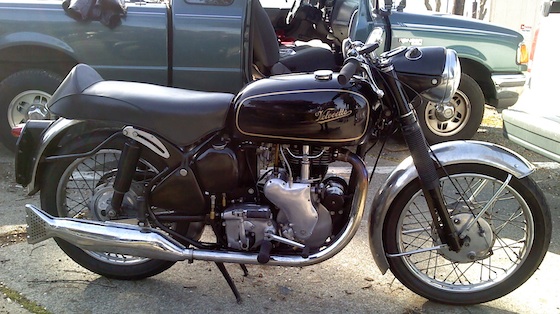 Check out this sweet Velocette.
I am especially fond of Cafe Racers, even more so when they're as nicely dialed-in as this one.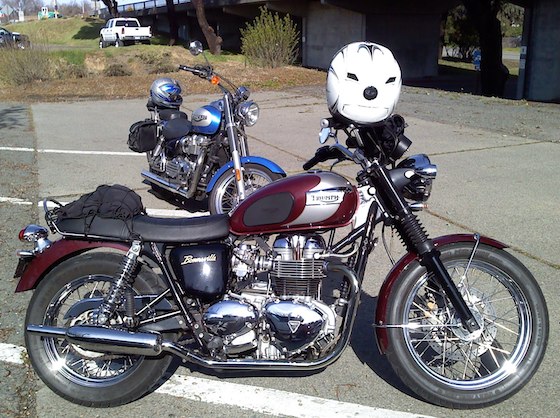 A few BSAOC members showed up for the Rio Vista Delta Ride 2011 on modern British bikes, like these two Triumph Bonnevilles. There's certainly a lot to be said for this approach.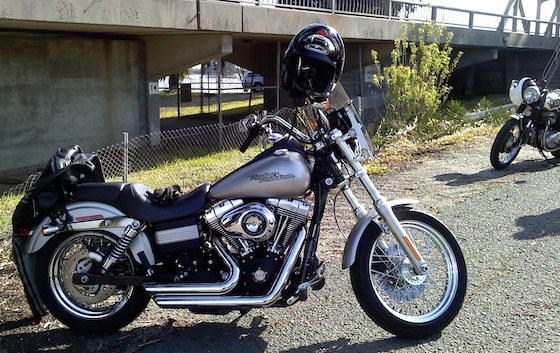 Like I have room to talk. This is what I rode. My 2008 Harley Dyna. It was 'ride the Harley' or 'don't go'. I'm glad I went. I had a wonderful time & enjoyed the company of lots of like-minded Classic British Motorcycle Nuts. It doesn't get any better than that.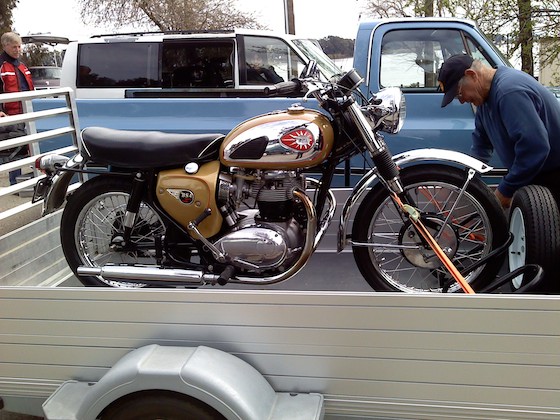 AND SO WE BID A FOND ADIEU…
The day is over. We've ridden some 88 miles around the Delta. We've crossed more bridges than I can count. We've been across two ferries. We've been past houses, farms & fields. And what a wonderful day it has been. The Rio Visa Delta Ride 2011 has drawn to a close. Thank you, thank you, thank you…and to all a good night.