Manufacturer's Information
Category:  Specialized wheel rim wax
Type: Jar, paste. 8 oz. (256 g)
Manufacturer: Smart Wax
Made In: U.S.A.
List Price: $16.95
Claims – "Quickly restores a bright, polished and protected wheel finish. The anti-static RimWax formula actually helps repel brake dust to reduce dust buildup by as much as 75%."
For Use On – "Chrome, polished aluminum and factory clear coat finish wheels".
Claimed Features – "Amino functional heat resistant wax for all wheels and metal surfaces.  Cleans, polishes, shines and protects. Bonds to wheel surfaces, delivering a slippery non-stick surface shield that deflects damaging brake dust and dirt.
Our Opinion
Motorcycle wheels — especially spoked wheels — are like magnets for dirt, dust and grime.
They are also very hard to clean, especially on motorcycles with large front brake disks, and wheels seem to go from clean to dirty almost as soon as you leave the driveway.
Some wheels are easier to clean than others, and the fewer the spokes, the better.  But who wants to spend time cleaning and polishing (or in this case, waxing) motorcycle wheels?
We've tried various formulas for cleaning; see the Motorcycle Cleaners, Polishes & Waxes Index for a list of all of our reviews.
And we've also tried applying various types of waxes and polishes to wheel rims in an attempt to keep the dirt from reappearing, with little success.
Rim Wax seems to work better than most.  It's specifically designed as a wax (not a cleaner) for wheel rims, and although they don't specifically mention motorcycles in the advertisements, they do say that the product works on "all wheel finishes including chrome and alloy wheels".
We tried it on a couple of different types of painted and chrome wheels, and it does indeed seem different.  It leaves a nice finish that feels "slippery".
We compared it to a few other types of basic car wax formulas that are not specifically designed for wheels, and there was a noticeable difference in both the surface feel and the amount of dirt/dust that appeared on the wheel afterwards.
It won't repel dirt and keep the wheels looking brand-new; we'll probably have to wait until the next century for that.
But it does seem to work as claimed, and treated wheel surfaces do seem to be easier to clean when they get dirty.
The problem?  Rim Wax very expensive, with a list price of $16.95 for 8 oz.  One container does go a long way on motorcycle wheels, and we did find this jar on sale for $12.95 at a local auto parts store, but even at 13 bucks, it's expensive.
It has a purple color and it has a "purple" grape-like aroma that smells very similar to Danasé Wet Glaze (review) or the Wizards Supreme Seal (review) products.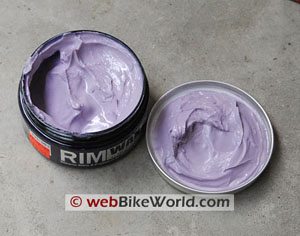 Conclusion
Rim Wax works as claimed, and although it doesn't specifically say so, we used it on painted and clear-coated wheels with good success.  But it doesn't last forever and doesn't magically repel all dirt and dust.  Our feeling is that it's also very expensive.
Score:  4 out of 5
Review Date:  October 2008
Note:  For informational use only.  All material and photographs are Copyright © webWorld International, LLC – 2000-2011.  All rights reserved.  See the webBikeWorld® Site Info page.  NOTE:  Product specifications, features and details may change or differ from our descriptions.  Always check before purchasing.  Read the Terms and Conditions!
Owner Comments and Feedback
Comments are ordered from most recent to oldest.
Not all comments will be published (
details
).  Comments may be edited for clarity prior to publication