Queensland is the first state to relax harsh travel restrictions and will allow riders back on their motorcycles for a ride up to a 50km radius from home.
Premier Anastacia Palaszczuk has announced the new rules (click here) from next Saturday (2 May 2020).
Meanwhile, NSW Premier Gladys Berejiklian says riding a motorcycle is exercise and therefore legal.
She says NSW Police have not booked anybody for riding a motorbike, "because that is akin to riding an exercise bike".
50km limit
In Queensland, adventure riders will also be allowed to ride through some national parks so long as they are within 50km of home.
For most Brisbane riders, that would mean they would get half way up Mt Glorious before having to turn back.
Gold Coast riders would get to Beechmont for a coffee before turning around while Sunshine Coast riders would be able to explore the Blackall Ranges.
Of course, you still can't cross the border and come back without a special permit and 14 days of isolation!
For a rough guide to a 50km radius from your house, click here.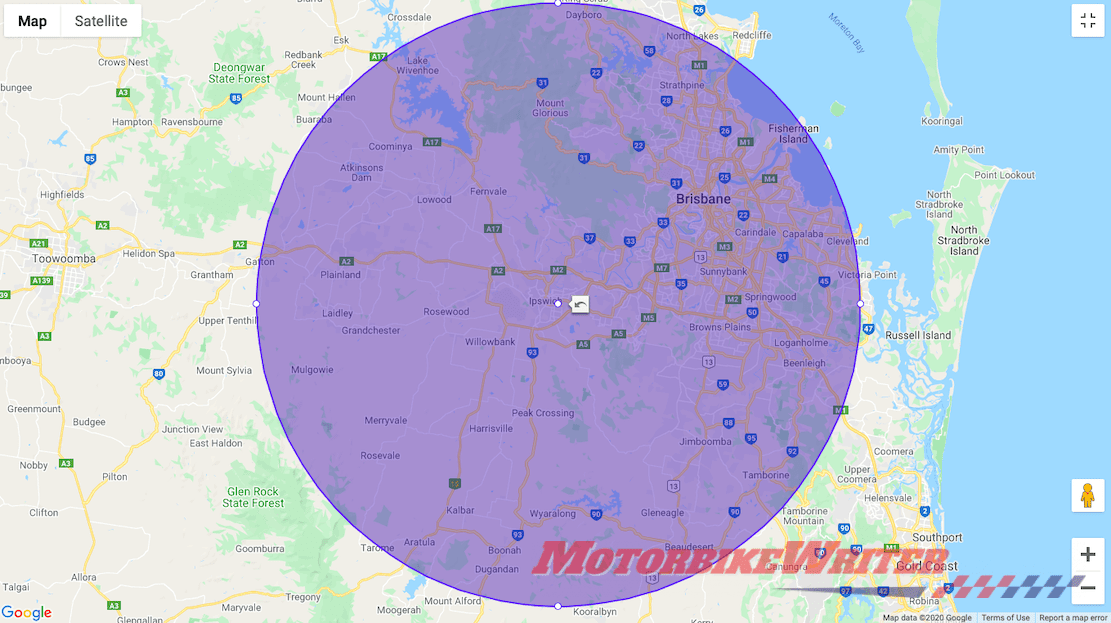 Policing restrictions
It is unknown if Queensland Police will strictly patrol the 50km rule.
This Queensland intra-departmental email from Assistant Commissioner Peter Crawford has been circulating since last Tuesday.
It advises officers not to fine errant riders, but practise "compassion".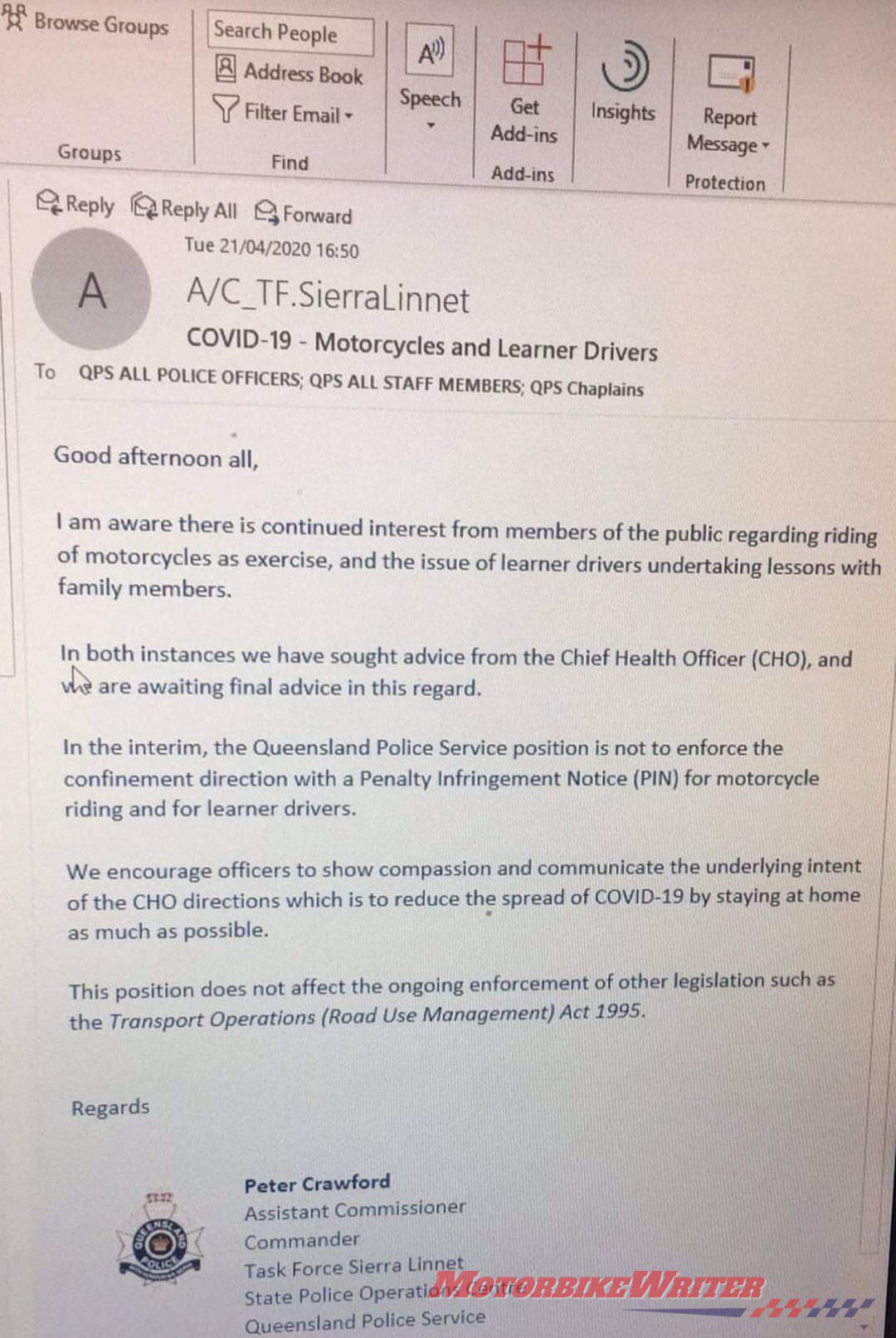 Queensland Police tis afternoon issued this statement:
Motorcyclists are permitted to travel up to 50km from their principal place of residence with a member of their household or an individual and one friend, except when permitted circumstances exist. The QPS thanks the community for their cooperation, police will continue to educate and show compassion when engaging with members of the public during these unprecedented times as we all work together to reduce the spread of COVID-19.
You can probably expect police to have a heavy presence on popular motorcycle routes next weekend.
Flagrant breaches
State Disaster Co-ordinator Steve Gollschewski says police will "assist people to understand the new rules but will still enforce flagrant breaches".
"Police will be understanding but this isn't an invitation for people to undo everyone's hard work," he says.
We saw Sydney beaches opened up last week only to be quickly closed again when they became crowded.
Riders are advised that social distancing still applies which means no congregating at stops.
We can ride with a pillion, or with one other rider or several members of the same household.
"We will closely watch the numbers of new infections and review the measures after two weeks," the Premier says.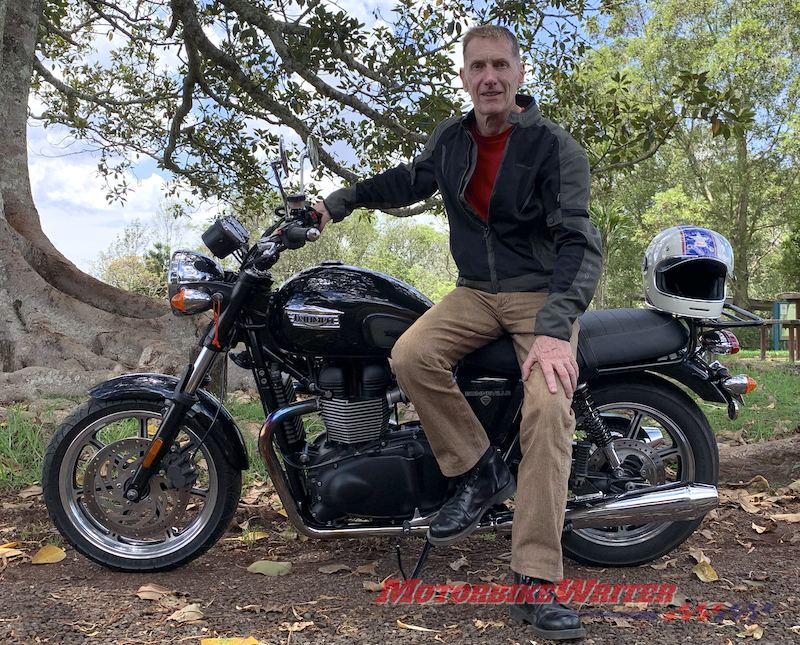 RACQ safety officer and Triumph Bonneville rider Steve Spalding has welcomed the move.
"It's a good start," says Steve who is hoping to get away for a three-day ride in June if restrictions are further eased.
"At least it will give riders the opportunity to get some fresh air and ride for enjoyment."
However, he warns that if your bike has been parked or stored since mid-March, you should check it before heading out.
"Riders can make sure their bike is ready by checking basic safety and maintenance items such as tyre pressures, chain adjustment, oil level and that all controls operate smoothly," he says.
"Always check tyre pressures when the tyres are cold and follow manufacturer's recommendations on pressure, while the air available in servos is convenient, buying a reliable pressure gauge is a worthwhile investment and will give piece of mind that you are setting the tyres at the correct pressure.
"Similarly with engine oil, check it's level according the manufacturer's recommended procedure, which is also usually when the engine is cold. You might need to call on the help of another person if the bike needs to be kept upright and doesn't have a centre stand.
"Basic checks such as making sure the brakes and clutch are working smoothly and not grabbing or sticking are essential to safe operation and should be part of any preparation before riding."
Further easing?
Further loosening of travel restrictions will be subject to flattening the curve and that may only happen if motorists obey these eased restrictions.
There is no change yet in other states, but we will keep an eye on developments.
Easing of restrictions in Victoria may depend on how well Queensland goes.
In Tasmania you can visit a family member and in the ACT you can visit anyone so long as there are not more than two of you visiting at the one time.
ACT Police are not yet issuing COVID-19 infringement notices as they are prioritising public education over coercive sanctions.
In South Australia and Northern Territory there are no fines for leaving the house for non-essential reasons, however unnecessary socialisation is discouraged.
West Australian riders can ride within nine zones, but not cross from one to the other.