Riders have been asked to stay away from bushfires in Queensland and northern NSW this weekend for their own sake and the lives of Fire and Emergency Services workers.
The Maranoa, Warrego, Darling Downs, Granite Belt, Gold Coast hinterland and New England areas districts are facing extreme fire danger.
Severe fire danger warnings are also in place for the Central Highlands and Coalfields District, Wide Bay and Burnett, and the south-east coast.
By all means, riders should head out into the country to spend their much-needed dollars in drought-stricken areas.
However, they should also be alert to the bushfire conditions.
Queensland Fire and Emergency Services have specifically asked all motorists to stay away from Lamington National Park Road, Illinbah and Upper Coomera Road in the Gold Coast hinterland.
They say motorists "rubbernecking" are putting their workers' lives at risk as well as the lives and properties of the public.
Emergency
Police have declared an emergency situation in Canungra over the bushfire threat.
It includes areas within the following areas (pictured):
West boundary – Lamington National Park Road
North boundary – Beaudesert Nerang Road
East boundary – Beechmont Road through to Binna Burra Road
South boundary – Binna Burra Road intersection with Beechmont Road and a direct line from O'Reilly's lodge to Binna Burra
People south of Rymera Road, on Sarabah Road, and people on Tabletop Road and Gray Road are advised to evacuate in north and easterly directions. A place of refuge is available at Tamborine Village Memorial Hall, 2720 Waterford Tamborine Road, if required.
You can get live details on Queensland bushfires by clicking here.
NSW burns
Northern BNSW is also on fire with emergency operations at Tenterfield, Drake, and Ebor.
A 66-year-old male Rural Fire Service firefighter sustained serious burns to his head, face, and upper body. He was taken to Royal Brisbane Hospital where he remains in a critical condition.
The New England Highway at Tenterfield, and Waterfall Way at Ebor, were closed yesterday but have since reopened.
Updates on fires can be monitored via the NSW RFS website and weather warnings via the NSW SES website.
You can check Live Traffic or call 131701 for road closures.
Dangers of bushfires
Bushfires can spread rapidly and even outrun a vulnerable rider, no matter how fast you are riding!
Riders are also in danger from smoke inhalation, low visibility and eye irritation.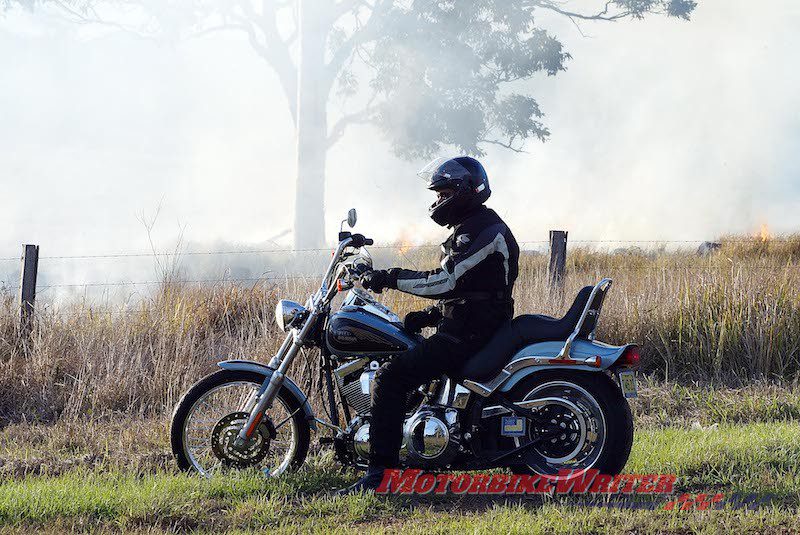 Rural fire services also point out that fires have been sparked by motorcycles in the past.
They say about 40% of all bushfires are accidentally started by humans dropping cigarette butts, campfires, discarding bottles, sparks from machinery and motorcycles.
Most riders who accidentally spark these blazes are off-road and adventure bikes riding in the bush and on forestry tracks.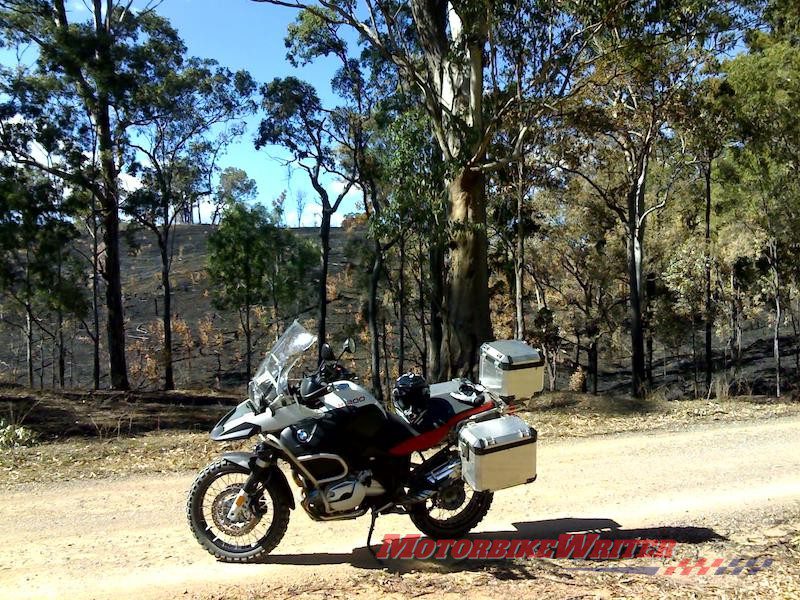 However, there is also the possibility of fires being started by road bikes if the rider pulls over to the side of the road where they may be long, dry grass.
The bike's engine, exhaust, or catalytic convertor can be hot enough to set dry grass alight.
The current bushfire conditions are being fanned by high winds.
Click here to read how to ride safely in windy conditions.