Riders could be exposed to an increased cancer risk caused by microwave radiation from autonomous cars (self-driving), according to a British engineer.
Mark Steele, chief technology officer at Reevu Helmets, says they have avoided problems of radiation with their upcoming Head-Up Display (HUD) helmet.
However, he says authorities around the world are turning a blind eye to the cancer threats from radiation in autonomous cars that use radar and lasers.
He says the radiation from one autonomous car at slow city traffic speeds might be minor, but the power density of the radiation is significantly higher and more continuous at faster speeds and with more autonomous cars sharing the road.
However, the Australian Radiation Protection and Nuclear Safety Agency says there is "no evidence that exposure to electric fields is a health hazard".
"Whether exposure to magnetic fields is equally harmless remains a more open question," it says.
"A large number of scientific studies performed on animals and cells have not found a health risk. Some studies of exposed populations, however, have suggested there might be a weak association between prolonged exposure to higher than normal level of magnetic fields and an increased risk of childhood leukaemia."
Microwave oven of radiation
"It will create a microwave oven of radiation on the motorways and riders will not be protected from it like motorists in cages (cars)," he says.
"The radiation from these transmitters as well as lasers would be reflected in mirrors on bikes directly at our heads.
"Visors and helmets would offer some protection but open-face helmets or helmets with the visor up wouldn't. This wouldn't protect the body unless special suits where manufactured."
While the radiation from a mobile phone is only minor, we notice some motorcycle jackets include a special phone pocket with reflective material to decrease the health risks of radiation.
There is plenty of scientific material that both supports and debunks the health risks of radiation from various electronic units.
Mark suggests we view this long 1.25hr video by Washington State University's Professor Martin L Pall who quotes the US Office of Naval Medical Research.
Mark says even though mobile phone radiation can cause fires in petrol fumes, the radiation is only minor compared with the power density of radiation from the many sensor systems required to keep an autonomous vehicle on the road.
"The transmissions are already classified cancer causing and the recent American $25 million National Toxicology programme study shows that even non-thermal radiation (microwaves), which do not have a thermal impact, can cause cancer," he says.
"Metal pins in broken bones, hip replacements and any other metal implants act as antennas increasing the cancer risk.
"Pacemakers can also be damaged and interrupt your heart and microwave radiation has been documented to cause cardiac arrhythmia and sudden death."
Radiation interferes with autonomous cars
Mark says the drive toward autonomous vehicles has not been thought out.
He says there have also been examples of radiation interfering with the autonomous systems in cars causing crashes.
Click here to read about some of the autonomous crashes.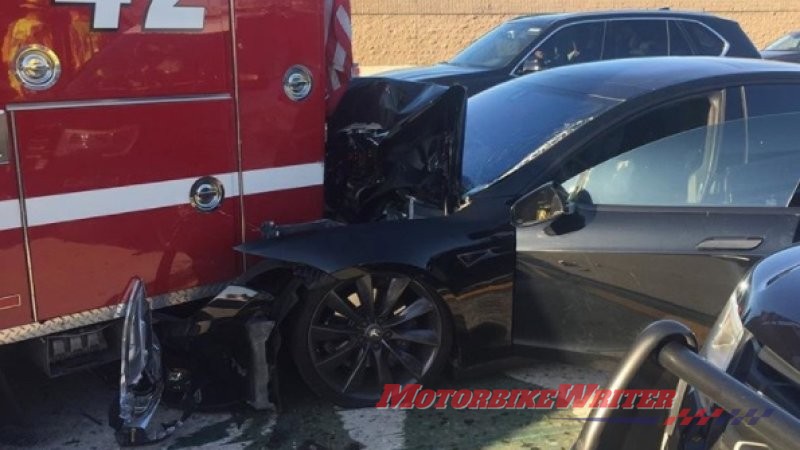 Mark points out that the world's top insurer, Lloyds of London, decided in 2015 not to indemnify any harm to a human caused by a transmitting device.
"But the greatest risk, apart from their systems failing which would lead to a catastrophe for other road users, is the microwave and optical radiation signals they emit continually. Motorcyclists are not protected by a cage," he says.
"Government agencies are driving the autonomous agenda and they will destroy the two-wheeled market.
"The negative biological and environmental effects from non-ionising radiation emitters have been shown to make people sick causing many neurological injuries and illnesses none of which have been factored in to the outlandish claims on the economic benefits from automation and the current hypothetical accident reduced data.  
"Roads will inevitably become more dangerous to vulnerable road users including women and children whose body density haven't been factored into the non-ionising radiation exposure guidelines.
"The race for automation on roads has led to technologists not fully exploring the significant detrimental health effects from non-ionising radiation transmitters.  
Killing off motorcycles
His views of the death of motorcycling caused by autonomous vehicles is shared by a group of American motorcycle industry experts called "Give a Shift".
"There is a very real risk of motorcycling being completely cut out of the conversation for future vehicle infrastructure systems," the group concluded in its report. 
"As this (autonomous vehicles) technology grows, contemporary motorcycles will be even further elevated into higher risk categories in the eyes of traffic systems technologies, insurance companies, city planners and autonomous vehicle manufacturers who currently own and direct the conversation."