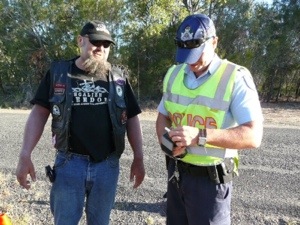 A second funeral has been interrupted by police in the crackdown on declared criminal motorcycle clubs.
Like the Townsville incident, a recent Ipswich funeral did not involved any bikies, yet it was interrupted by a police office in "stormtrooper" blue gear who photographed the riders attending to honour the deceased wife of a club member.
READ HOW COPS HARASSED A TOWNSVILLE FUNERAL
In other examples of police harassment or ineptitude reported to MotorbikeWriter and the Motorcycle Riders Association of Queensland in the past few weeks:
* a 73-year-old woman riding a Harley 883 Sportster was pulled over by Ipswich police, but let go after she pulled her helmet off with no apology offered for the inconvenience;
* a Ulysses Club member has been told by police to "get rid of the vest" or risk being pulled over;
* at least two riders have been told to sell their bikes or they will continue to be pulled over;
* a rider was pulled over three times in 1500m by the same officer; and
* a social rider with no involvement in any declared outlaw motorcycle club has been pulled over a dozen times.
These examples seem to be the tip of the iceberg of civil rights breaches under new laws which Premier Campbell Newman claims are the world's toughest anti-bikie legislation.
These laws make it either illegal or difficult to associate with these clubs, wear any of their insignia or ride in groups of three or more.
While the government has claimed some innocent riders may be inconvenienced, the real level of this "inconvenience" is only just starting to emerge.
But in the biggest affront to civil liberties, the so-called voluntary ride register may not be voluntary for long.
At a meeting with social ride clubs such as HOG and Ulysses last month Police Commissioner Ian Stewart suggested clubs notify the police first if they are planning any club rides to advise them of the number, destination, times and names and contact details of organisers.
The Australian Motorcycle Council and MRAQ said this was unacceptable.
Police replied that the register was voluntary and similar to the party register.
However, Keith Carnell of the Easy Riders Motorcycle Club has been told by police that they can expect to be pulled over unless they advise the police first.
"But we told them before we attended the funeral of a member's wife, yet they still turned up and took photos of us," he says.
"I went over and spoke to the officer and he said they had to check that no one percenters (outlawed bikies) attended."
While riders may be "inconvenienced" while out on their bikes, it is advisable that they know what rights they still have left. Read the story here about what to do if pulled over by the police.
* Meanwhile, the Australian Motorcycle Council has established a fighting fund to support any High Court challenge to any of the anti-bikie legislations. To read more about the fund and to donate, click here.