This fresh-faced pick-up driver who mowed down 10 motorcycles, killing seven people in New Hampshire USA last Friday, faces from seven to more than 100 years in jail.
Volodymyr Zhukovskyy, 23, was arrested near his home in West Springfield, Massachusetts, Monday morning on a fugitive-from-justice charge and was later charged with seven counts of negligent homicide.
Jail time
Under New Hampshire law, negligent driving can be charged as a Class A or B felony. If Zhukovskyy was intoxicated at the time, it becomes a Class A felony.
The truck company employee fled from the scene and was arrested a couple of days later at his parents' house, so it will be difficult to prove he was intoxicated.
However, he had two prior drink-driving convictions and police allegedly found heroin residue in his vehicle. 
In fact, the Massachusetts motor vehicles chief has now resigned because Volodymyr was able to keep his commercial driver's licence despite being busted for intoxicated driving last month.
If he is found guilty of a Class B felony, he can be sentenced to up to seven years in jail. For a Class A felony, the term can go up to fifteen years.
The judge may apply either concurrent or consecutive penalties, but there is now law requiring them to do so.
If they are consecutive, it could amount to 105 years in jail.
Zhukovskyy pleaded not guilty to the fugitive-from-justice charge and has waived his extradition to New Hampshire to face the murder charges.
The trial is scheduled for November.
He is a legal immigrant with a probationary green card who has been living in the USA for 13 years with his family. He may be deported back to the Ukraine if he is ever released from police custody.
Tragic crash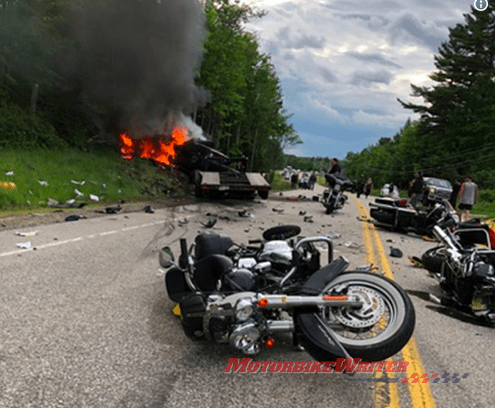 The victims were members and associates of the Marine Jarheads Motorcycle Club who had just left their accommodation to attend their AGM.
Among the dead were a husband and wife.
The club consists of active duty or honourably discharged Marines and FMF Corpsmen.
They were hit by a Dodge 2500 pick-up truck carrying a long flat-bed trailer.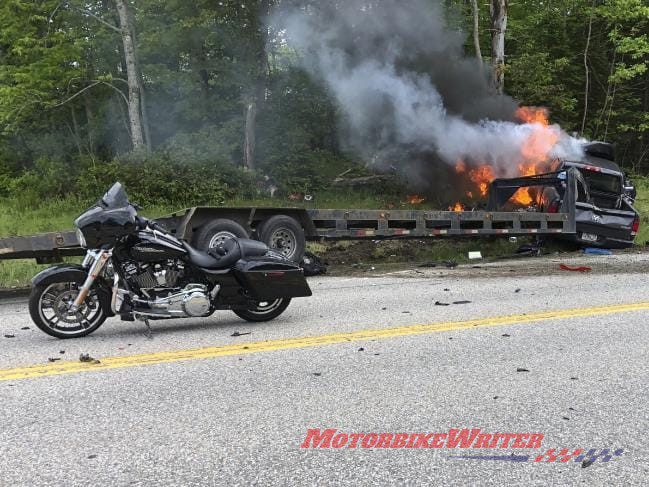 It appears Zhukovskyy was on the wrong side of the road and hit the riders head-on.
Three people were also injured and taken to nearby hospitals.
The ages of the victims ranged from 42 to 62.
A gofundme account has been set up to rally support for the families of the victims.
It raised nearly $229,000 in the first day from more than 4720 people from across the US. It has raised $US477,990 ($A684,284) from 9245 supporters in four days.