A male rider in his 70s has died and a 46-year-old male rider has been injured when their bikes collided on a quiet South East Queensland rural road yesterday afternoon (17 March 2020).
It's the second motorcycle-to-motorcycle collision in the state in the past few days.
Queensland Police say the riders were travelling west together along Memerambi Barkers Creek Rd, Wattle Camp, in the South Burnett, around 3.45pm when they collided.
One of the riders, a man aged in his 70s, suffered significant injuries after coming off his bike and was pronounced deceased at the scene.
The other motorcyclist, a 46-year-old man, was not seriously injured.
The Forensic Crash Unit is investigating.
Our sincere condolences to the deceased rider's family and friends and our best wishes to the other rider for a speedy and full recovery.
Motorcycle collions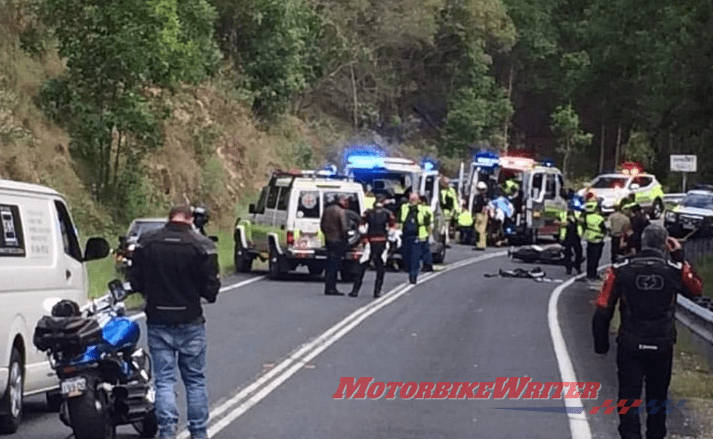 Motorcycle-to-motorcycle collisions are rare, but two motorcycles collided head-on at Advancetown on the Gold Coast hinterland on Sunday (15 March 2020) morning.
Police say they collided on a sweeping bend on Nerang Murvillumbah Road.
One rider, a 42-year-old Oxenford man, the other rider, a 58-year-old man and his 18-year-old female passenger, both from NSW, were seriously injured and transported to Gold Coast University Hospital
Investigations by the Forensic Crash Unit are continuing.
Our sincere best wishes to the riders and pillion for a speedy and full recovery.
If you have information for police on either of these incidents, contact Policelink on 131 444 or provide information using the online form 24hrs per day.
You can report information about crime anonymously to Crime Stoppers, a registered charity and community volunteer organisation, by calling 1800 333 000 or via crimestoppersqld.com.au 24hrs per day.