A 53-year-old male rider has died in a tragic twist of fate involving two other vehicles on the New England Highway, south of Toowoomba, Queensland, about 1.40pm yesterday (25 February 2020).
Police say a utility was waiting to turn right into Opportunity Drive at Clifton when it was struck from behind by a station wagon.
The utility was propelled into the path of the rider heading north on the highway.
Sadly, the rider was pronounced deceased at the scene.
"Police would like to take the opportunity to thank local and passer-by motorists who stopped to render assistance," says Senior Constable, Tyson Morris.
Our sincere condolences to the rider's family and friends for their tragic loss.
Twist of fate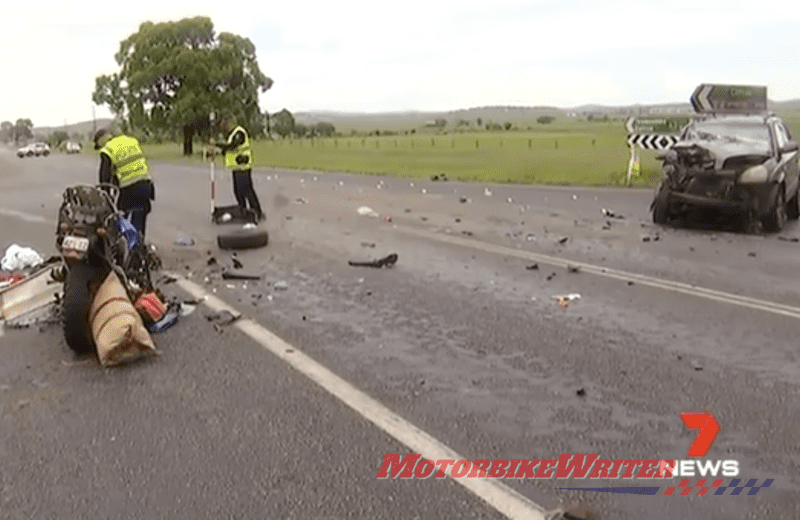 It was a cruel and terrible twist of fate that caused the rider's death.
Crashes like this seem unavoidable for a rider.
Riders always can the road for hazards, but there seems little we can do in such an unforeseen situation.
The best advice is to treat all vehicles on the road as if they are out to get you.
Investigators from the Forensic Crash Unit are appealing for any witnesses or anyone who may have dash cam vision to please contact police.
If you have information for police, contact Policelink on 131 444 or provide information using the online form 24hrs per day.
You can report information about crime anonymously to Crime Stoppers, a registered charity and community volunteer organisation, by calling 1800 333 000 or via crimestoppersqld.com.au 24hrs per day.